2022 CAA Football
CAA Games of the Week: Delaware-URI In A Top 20 Showdown
CAA Games of the Week: Delaware-URI In A Top 20 Showdown
With 3-of-4 games decided by one score, Delaware-Rhode Island has been a must-see CAA contest. They meet again in Week 3 sporting Top 20 rankings.
Sep 13, 2022
by Kyle Kensing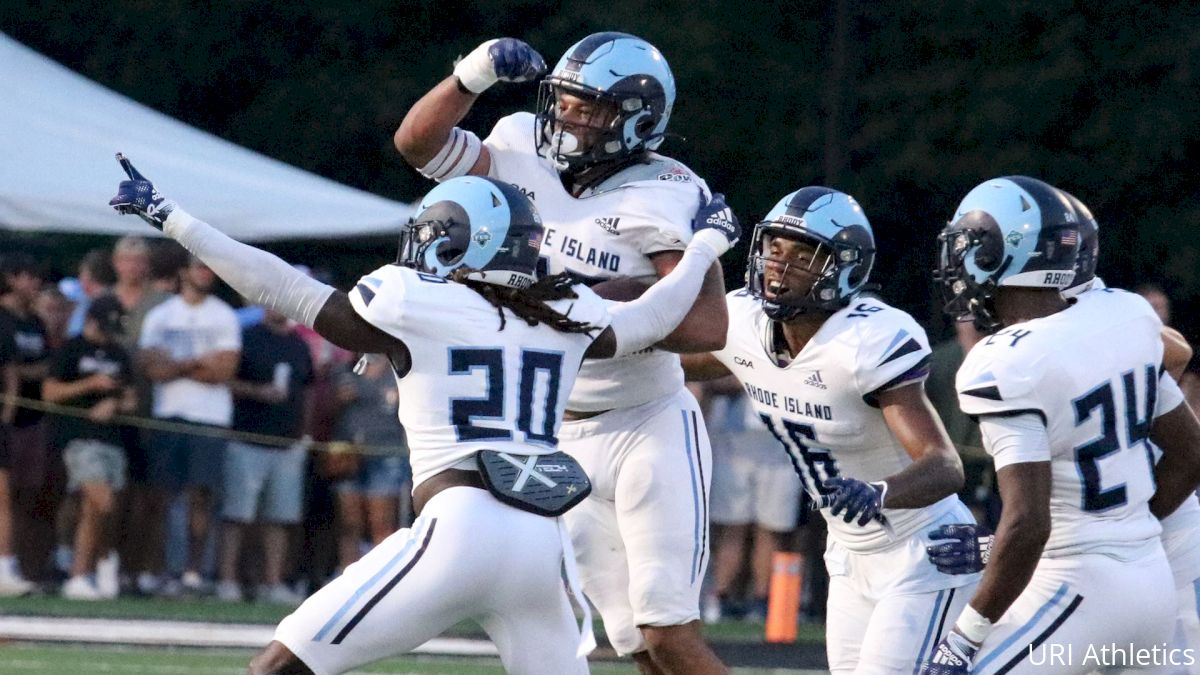 Delaware visited Meade Stadium three years ago this week for the venue's first-ever game under the lights. The visiting Blue Hens and host Rhode Island delivered a game worthy of the occasion, going three overtimes before Delaware escaped a 44-36 endurance contest.
That matchup is just one installment in a series that since 2018 has been among the Colonial Athletic Association's most hotly contested, and one of significance for Saturday's Week 3 showdown of Top 20-ranked teams.
Meade Stadium's first night game was spoiled in 2019 when Delaware rallied from a 13-0 halftime deficit. Although the winning touchdown in the third overtime came on a Pat Kehoe pass to Will Knight, a young Nolan Henderson made on impression on Rhode Island coach Jim Fleming.
"Been against Nolan too much," Fleming said with a laugh. "We chased him all over the place, and I said, 'Let's hope they go back to the other starter.' Never happened; Wally Pipp story."
In this particular Wally Pipp story, Henderson plays the role of Lou Gehrig. Henderson quarterbacked Delaware to the semifinals of the spring 2021 season's Playoffs, and his return from injury that limited him last fall is a key factor in the Blue Hens' current No. 9 national ranking.
Henderson is 41-of-68 through two games with five touchdown passes. Fleming said that while studying Delaware film, one throw in particular had the URI coach feeling nerves.
"He pulled one out, went to the right, backpedaled and threw a strike," Fleming said. "I'm going, 'Alright, it's going to be a long day.'"
2nd - 14:53 I @NolanHendersonn w/ the 18-yd pass to @t_pitts1 for the TD pic.twitter.com/1QyIOoLRmo

— Delaware Football (@Delaware_FB) September 10, 2022
Henderson went 17-of-22 for 190 yards and two touchdowns in Delaware's 35-21 win over Rhode Island in March 2021, and rushed for another 36 yards. He missed the Blue Hens' rematch with the Rams last October, the second URI win in the series since 2018.
The teams have split their matchups in that time, and all but the one were decided by single digits. The 2018 meeting in Newark was noteworthy, Fleming said, for the 21-19 Rams upset charting their course to Rhode Island's first winning season since 2001.

Reaching that milestone helped elevate expectations for a Rhody program that endured some particularly lean years; 2022, for example, marks the 10th anniversary of the Rams finishing 0-11 with an average margin of defeat of 29.7 points per game.
URI has completely flipped the script, coming off a 7-4 finish in 2021 and sporting the nation's No. 17 ranking coming into Saturday. Hope of reaching the Rams' first Playoffs since the back-to-back 10-win teams of 1984 and 1985 isn't just attainable, but expected.
"When you look back at it from when I was in the conference last, Rhode Island was a different team," said first-year Delaware head coach Ryan Carty. "They were making strides toward this. We always played competitive games against them, but they didn't always find a way to finish them. And now, they have...And it's coach [Fleming]. He does a great job, and those guys have had a consistent group of guys now."
Carty cited Rhode Island's "finding ways to win" as a hurdle to clear that turned the Rams from cellar dwellers into title contenders. Having talent has certainly helped, cultivated through some of the highest-ranked recruiting classes in all of FCS over recent years. And that talent's evident on both sides of the ball.
Quarterback Kasim Hill's blue-chip arm powers a potentially explosive Rhode Island offense, with Ed Lee emerging as a game-changing pass-catcher. Lee caught touchdown passes against both Stony Brook and Bryant.
Jordan Jones' game at cornerback was well established before this season, his six picks in 2021 equaling the conference's second-most behind only current Buffalo Bills starter Christian Benford of Villanova. So when Jones opened this season with two interceptions and a pick-six in the Week 1 win over Stony Brook, it was hardly a revelation.
But in a Week 2 win over in-state rival Bryant, freshman linebacker A.J. Pena a remarkable 3.5 sacks, the most in a single game for any FCS player thus far in 2022.
CAA Rookie of the Week honors goes to @AjPena21‼️#3MoreFeet🐏⚓️🌊 pic.twitter.com/3pxQLZoKAP

— Rhody Football (@RhodyFootball) September 12, 2022
Delaware, meanwhile, boasts the nation's leader for most tackles in a game thus far: Johnny Buchanan, who racked up 23 in the Week 1 win over Navy.
Buchanan is part of a typically stout Blue Hens defense, which has given up only 16 points combined through two weeks. The linebacker corps is the soul, featuring Buchanan; Drew Nickels, who recovered two fumbles against Navy and made a sack against Delaware State; and Liam Trainer, who has 21 tackles on the year.
The evenly matched rosters and mutual designs on a CAA championship promise another thrilling installment in what's growing into one of the conference's most exciting rivalries.
Elon Vs. Gardner-Webb
Elon put together a brilliant game in all three phases of its 26-0 shutout of Wofford: On offense, the Phoenix again flexed their passing-game muscles behind three Matthew McKay touchdowns; the defense allowed Wofford to cross the 50 just once; and special teams contributed both to Elon's scoring with Skyler Davis booting through a pair of fields, and the shutout with CAA Special Teams Player of the Week Jeff Yurk booming 3-of-5 punts inside the Terriers 20.
Congratulations to @YurkJeffrey on this week's recognition!

* 44.0 yard average on five punts
* Pinned Wofford inside the 15-yard line three times
* No punts returned#AED pic.twitter.com/mNH15jPTrj

— Elon Football (@ElonFootball) September 12, 2022
They'll look to replicate that effort in the rematch with Gardner-Webb, an opponent that left the Phoenix smarting when they met in February 2021. Gardner-Webb scored 35 unanswered points in a disastrous second half for Elon, which included the Phoenix surrendering a punt return for a touchdown.
Last Saturday's special-teams performance underscores just how much Elon has grown since the spring 2021 season. The Phoenix outscored Vanderbilt for three quarters in the season opener leading into last week's domination of Wofford, and are gaining traction for inclusion in the Top 25 by the time their conference slate kicks off.
But that means handing Gardner-Webb a receipt for the meeting 18 months ago first. And Elon coach Tony Trisciani notes that's no easy task.
"They're a good football team," Trisciani said. "Tre Lamb and their offensive staff, they do a great job. They're going to throw a lot at you as a defense."
Coastal Carolina experienced all the different looks Gardner-Webb will throw at a defense firsthand, barely escaping with a win in last week's matchup.
The Bulldogs didn't just give a Coastal Carolina bunch that appeared in the FBS Top 25 each of the previous two seasons a tough game: Gardner-Webb came minutes away from stealing a landmark win for the program. Coastal scored a touchdown with less than seven minutes remaining to halt a Bulldogs run not unlike their second-half burst against Elon in 2021.
Gardner-Webb scored 17 straight points in fewer than 10 minutes of game time from the late third into the early fourth quarter with quarterback Bailey Fisher capping two drives with touchdown runs.
Fisher — who previously played for Lamb at Tennessee Tech before rejoining him last season at GWU — has shown off his dual-threat capacity through the first two weeks with 64 rushing yards and two touchdowns against Limestone; and 403 yards with a touchdown against Coastal.
Bailey Fisher ➡ T.J. Luther

Our @HerculesTires Strong Move of the Week belongs to the @GWUFootball duo!#BigSouthFB🏈 pic.twitter.com/DRvpP7JnLw

— Big South Conference (@BigSouthSports) September 13, 2022
Saturday's affair under the Rhodes Stadium lights promises an exciting quarterback duel. Elon's Matthew McKay was dynamite in his first two starts, adequately filling the big shoes Davis Cheek left with three passing touchdowns in each of the past couple weeks.
New Hampshire Vs. North Carolina Central
After opening the season with a pair of CAA wins, New Hampshire plays its first non-conference game in Week 3. The Wildcats return home from a 28-23 win at UAlbany to host North Carolina Central, off to its own 2-0 start following a 28-13 defeat of future CAA member North Carolina A&T in Week 1, and a 41-0 deconstruction of Div. II Winston-Salem State last week.
Quarterback Davius Richard powers the Eagles with his two-way playmaking, boasting three rushing touchdowns and two passing through NCCU's first two games. The rushing attack is multifaceted with Latrell Collier and J'Mari Taylor sharing carries with Richard, while defensive back Khalil Baker has been a standout on the other side of the ball with a pair of interceptions.
"It's not just the dynamic playmakers: They have really good offensive and defensive lines," New Hampshire coach Rick Santos said. "They have a lot of momentum. They're going to be hungry coming in here."
Corey Bullock is an All-MEAC performer on the NCCU offensive line, while Jessie Malit and Quantez Mansfield hold down the defensive front. Building outward from great line play mirrors New Hampshire through its start.
The Wildcats defensive engine is All-American end Josiah Silver, and an offensive front Santos praised for its fast cohesion is coming off a dominant showing against UAlbany.
UNH's linemen paved massive holes for running back Dylan Laube, who rewarded their efforts with career-highs of 202 yards rushing and three touchdowns.
Dylan Laube rushed for a career-high 202 yards and three touchdowns on 32 carries to lead @unh_football to a 28-23 win over UAlbany

Taking a closer look at his final TD of the night ⬇️ pic.twitter.com/MKvfjZerWQ

— CAA Football (@CAAFootball) September 11, 2022