2019 Delaware vs Rhode Island | CAA Football
Rhode Island Will Play Under The Lights At Meade Stadium For The First Time
Rhode Island Will Play Under The Lights At Meade Stadium For The First Time
Rhode Island is set to host its first-ever night game at Meade Stadium when Delaware comes to town on Saturday.
Sep 4, 2019
by Kyle Kensing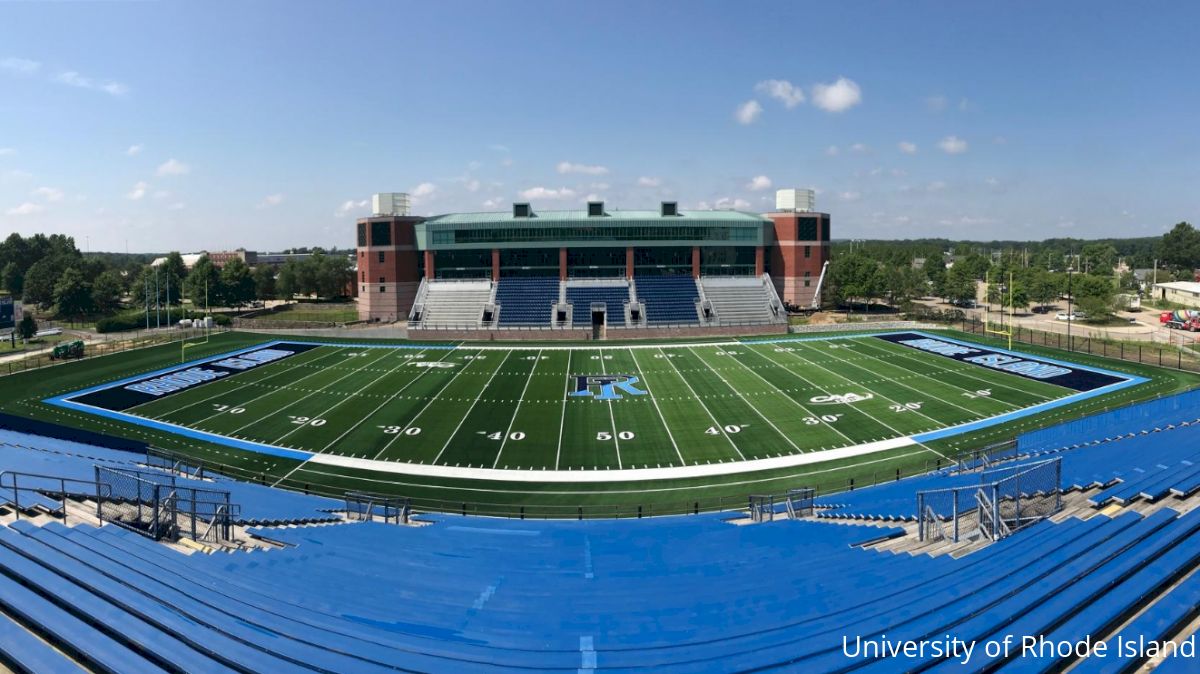 Rhode Island football's 2019 home and Colonial Athletic Association opener against Delaware marks a milestone 91 years in the making.
For the first time since its opening in 1928, Meade Stadium hosts nighttime football. And the addition of lighting structures works as a metaphor for the bright future Meade's ahead-of-schedule renovation signals for University of Rhode Island Athletics.
The $4.2 million project, announced last year, covers the installation of new artificial field turf and addition of lights. The Rhode Island athletic department received $2 million in private alumni donations.
Watch Delaware at Rhode Island LIVE on FloFootball
"The university really stepped up to help, in terms of our facility services people," said Rhode Island athletic director Thorr Bjorn. "We knew we had to go out and raise another $1 million, and (they) told us if we could have pretty much all that money in the bank by November, we'd be able to have the field ready to go this year.
"I was trying to cautiously tell our donors the project wouldn't be completed until next year," he added. "But then our donors stepped up and said, 'Here's the third million you need, let's go.' It was fantastic."
Originally scheduled for completion next fall, the expedited Meade Stadium renovation comes at an appropriate time for Rhody football. The Rams played their way into the top 25 for a stretch last season, finished above .500, and, as Bjorn points out, were "Fifty-one seconds from the playoffs."
That and two points were all that separate the Rams from a win over CAA champion Maine. Rhode Island took the lead on an Aaron Parker touchdown reception before the Black Bears responded with a game-winning field goal as time expired.
Rhody may have suffered heartbreak, but 2018 gave plenty of reason for optimism. The 6-5 finish marked the program's first winning season since 2001, and the squad welcomes back standout playmakers like Parker, offensive lineman Kyle Murphy, and defensive tackle Brandon Ginnetti.
And the modernized Meade Stadium is a tangible manifestation of the program's upward trend and future potential.
"The momentum has been really strong coming off of last year," Bjorn said. "And having the ability to talk about the renovation project for just about a year now, when we first received our two, $1 million gifts, there is a buzz we haven't had. That coupled with some really great football … it's a really exciting time."
Rhode Island's breakthrough season under coach Jim Fleming kicked off with a landscape-shaking win over a ranked Delaware team. The Fightin' Blue Hens come to Kingston again sporting a top 25 ranking for Saturday's historic matchup.
"When I looked at last season's schedule, you hate to say, 'This is a must-win,' but that was a must-win for us," Fleming said of the 21-19 win at Delaware last August. "It really got the ball rolling for us. We were able to ride that wave a little bit."
The top-to-bottom level of competition in the CAA puts a high premium on any win. Saturday's matchup carries particular significance as a game that will both live in Rhode Island lore, and set a tone for the future.
"Our kids recognize the importance of this football game for our season, and for our program," Fleming said. "It'll be an incredibly exciting week around here once the lights get turned on and we get a chance to get underneath them. It's another step forward in terms of where we want to take this football program."
Not only is the renovated Meade Stadium a cornerstone in Rhode Island athletics, but it's part of a busy few months during which the university as a whole has had nearly $300 million in projects underway. Included in that is the newly opened College of Engineering complex.
A common analogy describes a university's athletic department as the university's front porch: the first thing many outsiders see and that makes the first impression.
"It is the front porch, and it's the front porch because the sports page is written every day. There's a lot of great things happening on our campus, amazing professors doing amazing work, and they don't necessarily get the streamlined coverage that they would get in athletics. When we do things well, and do things right, it gives us a chance to highlight the other great things happening on campus. We have to think of that as a privilege, and we take great pride in that."
As for Rhode Island football itself, the stadium upgrade holds the potential to make success a self-sustaining thing. That begins for Rhody, as it does for every college football program, on the recruiting.
The excitement Meade Stadium's renovation is creating on campus is an opportunity to appeal to recruits, as Fleming said the team is welcoming a multitude of prospects to town for the home opener.
"Kids want to be in an exciting atmosphere, and if they're going to be witnessing this first game, it's going to be an exciting atmosphere," Fleming said. "If you're a recruiting coming into see that kind of excitement, it helps reinforce that vision we've been selling the last five years."
If there's any drawback to all the energy building up to this week, Fleming touched on it.
"The problem we have right now is getting enough tickets for the number of recruits who want to come," he said.