2022 New Hampshire vs UAlbany
CAA Week 2 Recap: Dylan Laube Brings An Early Winter
CAA Week 2 Recap: Dylan Laube Brings An Early Winter
Dylan Laube's career-high night powered UNH to a 2-0 CAA start, while explosive William & Mary and Elon offenses got support from great defenses.
Sep 11, 2022
by Kyle Kensing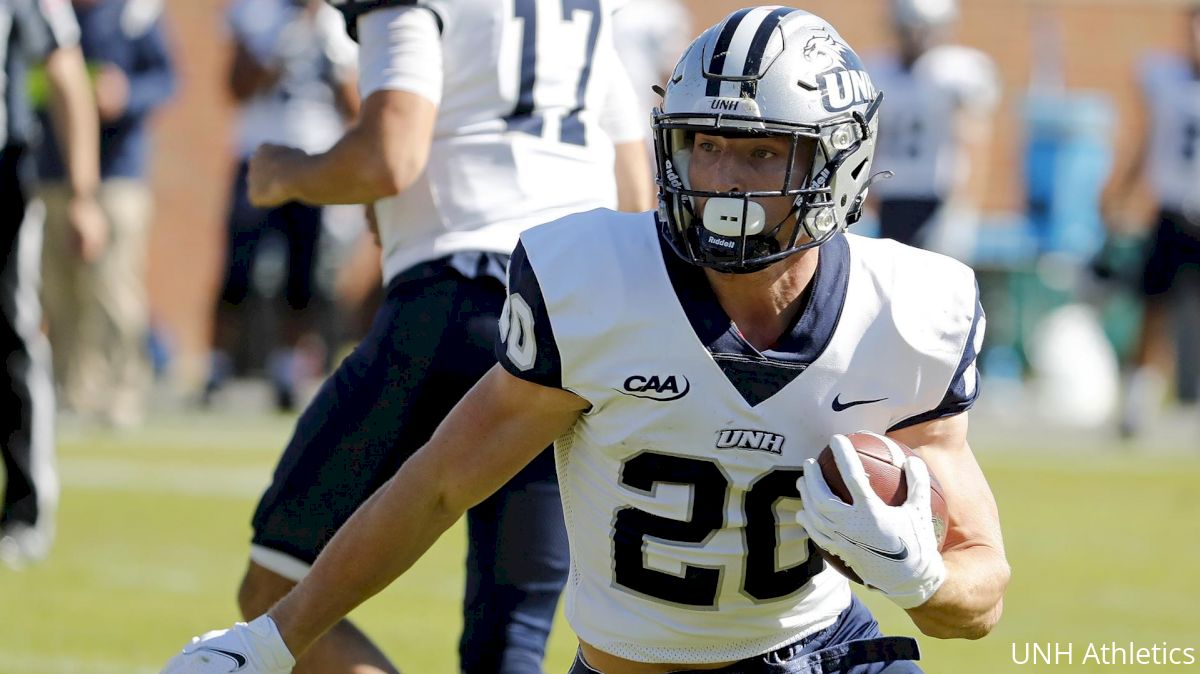 We may be in the waning days of summer, but New Hampshire brought on an early winter storm courtesy of running back Dylan Laube.
Winter is coming…❄️❄️

Fired up for Week 2 tonight @Albany at 7pm #CatJui23 😼🧃 pic.twitter.com/QrGouHpPhI

— UNH Football (@UNH_Football) September 10, 2022
The Wildcats, donning wintry all-white uniforms in contrast with UAlbany's black out, set the Colonial Athletic Association's early pace with their 28-23 win in Week 2. Laube was a one-man avalanche, rushing for career-highs with 202 yards and three touchdowns. And, the deeper New Hampshire went into the night, the more Laube's momentum snowballed.
UAlbany had rallied from down 21-3 to pull within a five-point margin in the final three minutes, and with all three timeouts remaining. Another stop would give the Great Danes an opportunity to drive for the winning score. But with 26 carries already to his credit — 10 more than his career-high coming into Saturday — Laube ran with the physicality of a completely fresh entrant into the contest.
Runs of 14, 24 and 37 yards, the last for a touchdown, iced New Hampshire's second CAA win of the season.
Dylan Laube with career highs in carries (29), rusing yards (196) and rushing TDs (three). #CatJui23 😼🧃

Game Day Central ➡️ https://t.co/SHntLHH2P7 pic.twitter.com/luAdUqG2PV

— UNH Football (@UNH_Football) September 11, 2022
And after putting the game in the cooler, the time came for Laube to go on ice.
"Banged up a little bit, to be honest," Laube said of how he felt shortly after the milestone effort. "Banged up, but happy...I have two giant ice bags on my calves right now."
One would never guess watching that final Wildcats drive, and that goes for the New Hampshire offensive line as much as for Laube. The running back noted that his three long carries all came off the same play call, "back-to-back-to-back," as the approach of the drive evolved from UNH seeking to run clock and force UAlbany to exhaust timeouts, to, "Hey, let's go score."
"Our line blocks tremendously," Laube said. "And you have to think, every single day [in practice] we go against a great defense with Josiah Silver, Dylan Ruiz, Niko [Kvietkus], the backers, the back four...Every day, we're playing the same guys and there's a couple All-Americans there."
Laube now has five touchdowns on the young season, having rushed for two including the go-ahead score in the Wildcats' Week 1, come-from-behind defeat of Monmouth.
His play has been undeniably important to a quick start after UNH ended last season on an eight-game losing streak, and also reflective of the Wildcats' mission coming into 2022.
"UNH has always been that staple, blue-collar team that's hard-nosed and will fight for all four quarters," Laube said. "Last year in most of those games, we did not play for four full quarters. This year, we've made a statement we're going to fight every quarter and we're not going to stop until we win the game. And these past two weeks, we've shown that."
Jalen Jones' First Impression
Making his first career start at cornerback in just his second game for William & Mary, Jalen Jones said he was expecting Campbell to test him. But by the end of the Tribe's 37-21 win, Jones had to wonder why the ball kept coming his way.
"It was definitely a lot of nerves coming. I was filling some pretty big shoes with Ryan Poole being down," Jones said following his three-interception debut, which included a 33-yard pick six of Camels quarterback Hajj-Malik Williams. "I know they [wanted to attack]. There were a lot of checks to my side. It was a test at first."
A test that Jones aced quickly, snagging the first of his interceptions in the second quarter. His first pick provided warm-up for the second, which broke the game open in the late third quarter.
Interception from Jalen Jones gives the Tribe another touchdown and the kick from Ethan Chang is good!

W&M 31, Campbell 14 | Q3, 3:42 pic.twitter.com/3jCJLGsO59

— William & Mary Tribe Football (@WMTribeFootball) September 11, 2022
"The route, I've seen it on film so many times," Jones said. "Back pocket, look back in the backfield, the ball's in the air and the ball was mine."
Jones may have came in with nerves, but by the fourth quarter and before his third interception, supreme confidence that a ball near him was resulting in a takeaway replaced any lingering trepidation.
"The single matchup to my side, I was like, 'I really hope they're not throwing this.' I wasn't expecting it, but when the ball's in the air it's just let me go get it," he said.
Although Poole's absence necessitate the freshman Jones stepping into the starting lineup, the senior Poole remained vital to the Tribe defense. Jones credited his teammate for being a resource leading up to Saturday.
"I really give a lot of props to him. He definitely prepared me for experiencing everything. He helped me throughout the week," Jones said.
The three-pick performance makes Jones the fourth CAA defensive back with a multiple-interception game already on the season. Rhode Island's Jordan Jones intercepted two Week 1 at Stony Brook, Randall Harris made a pair in New Hampshire's opener against Monmouth, and Richmond's Aaron Banks came through for two in the Spiders' Week 2 defeat of Saint Francis.
All four took one of those picks back for a touchdown.
Take It To The Banks
Aaron Banks' pick-six, punctuating both a two-interception and seven-tackle performance for the redshirt senior, and shut the door on a 31-21 win.
"Conversation was pretty simple," Banks said as the defense hit the field following a turnover on downs. "Stay tight knit. It's time to bow up and be the better team at the time....Somebody make a play and get us out of there."
That somebody was Banks.
Read it, saw it, took it to the house🙌@Aaron_Banks7 | #OneRichmond pic.twitter.com/cJZbE7RHAF

— Richmond Spider Football (@Spiders_FB) September 11, 2022
"I was just playing in the cylinder. We got pressure on him, and [Saint Francis quarterback Justin Sliwoski] ain't know what to do with the football," Banks said. "So he took his go-to read, and nobody was there but me. That was a credit to the linebackers and the d-line [for generating] pressure in [Sliwoski's] face."
The game-breaking, 35-yard return was the culmination of both a gutsy gamble from Richmond coach Russ Huesman, who opted to go for a fourth down-and-4 conversion deep in Red Flash territory instead of take three points and extend the lead to a still-tenuous six points; and a vote of confidence in the defense should the attempt fail.
"It helps a lot with the confidence," Banks said of the staff's trust. "We love when the offense goes for it on fourth down. If they get it, we're excited. If they don't get it, we're still ready to go. We can always back them. We can feed off each other, one end picks up the other."
Richmond wasn't alone in that regard in Week 2, either.
Dynamite Defense With Outstanding Offense
Before Banks' pick-six, Richmond's two preceding touchdowns capped offensive drives of 13 plays, 93 yards and 4:55 consumed; and 15 plays, 91 yards for 5:49 of clock.
Here's every positive-yardage play from @Spiders_FB 93-yard drive in the second quarter, first of two 90+ TD drives in the 31-21 win over Saint Francis @CAAFootball @FloFootball pic.twitter.com/bV2t7KwMDs

— Kyle Kensing (@KyleKensing) September 11, 2022
The former possession included the continuously impressive tandem attack of Savon Smith and Aaron Dykes in the run game. Both scored touchdowns as pass-catchers, and Smith gained a career-high 123 yards on 16 carries.
The drive extended thanks to some impressive third-down conversions, too, including a meme-worthy leap to the marker from Spiders wide receiver Nick DeGennaro.
Air Deeg😂😂 https://t.co/qx0wUdEEi8 pic.twitter.com/mCqj7Xaqhs

— NickDeGennaro (@GennaroNick) September 11, 2022
"It's a back-breaker for a defense," Richmond coach Russ Huesman said of the long drives. "Whether you score a touchdown or not, you flip the field."
Indeed, though the possession preceding Banks' pick didn't yield points, the Spiders ate 4:47 in the late fourth quarter and put the Saint Francis offense at its 11-yard line. That forced the Red Flash's urgency, creating the circumstances for the interception.
William & Mary, meanwhile, continued to leverage its own diverse rushing attack, in Week 2 with Bronson Yoder going for 95 yards; Malachi Imoh gaining 89 and scoring two touchdowns; Hollis Mathis picking up 36 and Donavyn Lester carrying for 33 with a touchdown.
But with the Tribe offense got plenty of back-up from the defense. Jones' play no doubt factored prominently into the win, most notably the decisive pick-six, but linebacker John Pius also continued to show out with two tackles for loss. Pius has 6.5 for the season.
Elon also built off its standout offensive performance in Week 1, with quarterback Matthew McKay again passing for three touchdowns (two to Jackson Parham). That nicely complemented a stifling defensive effort — Elon's program-best in a half-decade.
The first shutout in five years sealed Elon's first defeat of Wofford in 13 years. Four different Phoenix made sacks, including Marcus Hillman who finished with 2.5 tackles for loss, and Cole Coleman picked off a pass.
Not only did Elon keep Wofford off the scoreboard: The Phoenix almost entirely kept the Terriers on Wofford's own side of the field.
Wofford crossed the 50-yard line once the entire night — and that possession ended at the Elon 49.
We caught up with @TonyTrisciani after last night's big win at Wofford. #AED pic.twitter.com/LFWO1XfvOe

— Elon Football (@ElonFootball) September 11, 2022
Trophy SZN
Both Delaware and Towson added rivalry-game trophies to their resumes for the 2022 season with Week 2 wins. Delaware remained perfect in the Route 1 Rivalry, and made it consecutive weeks holding an opponent to single-digit scoring in a 35-9 romp over Delaware State.
Thyrick Pitts' seven receptions for 94 yards with a touchdown netted the game's Most Valuable Player award.
Tonight's Nate Beasley MVP award winner, @t_pitts1 ‼️ pic.twitter.com/NmFkOqU4Tj

— Delaware Football (@Delaware_FB) September 11, 2022
Johnny Buchanan, the nation's leading tackler after the first week with 23, added another 15 in the win.
Delaware heads into its CAA opener in Week 3 with a trophy en tow, and a high-profile opponent waiting. Rhode Island moved to 2-0, ensuring a Top 20 matchup next week, with its own in-state victory over Bryant.
There was no trophy at stake in just the second meeting all-time between the neighboring programs, but plenty of big-time plays worthy of display in a case: Specifically, Kasim Hill's touchdown passes of 63 yards to Kahtero Summers and 78 yards to Ed Lee.
Delaware's two most recent trips to Kingston produced two of the most memorable CAA games in their respective seasons. The Blue Hens survived a 44-36, triple-overtime shootout in 2019 to spoil the introductory of Meade Stadium's new lights, while the Rams scored revenge last year in a 22-15 fourth-quarter comeback.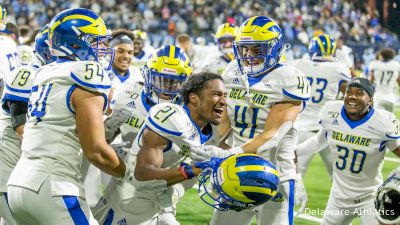 Towson closed the CAA's second week winning its in-state rivalry game. The Tigers retained possession of the prize in the Battle for Greater Baltimore. While the 29-21 Tigers victory marked their fifth straight in the series, Towson's margin of victory was the series' closest since a 12-9 Morgan State win in 2009.
Tyrell Pigrome's three passing touchdowns and 124 yards rushing powered a Towson offense that could be one of the most intriguing factors in the Colonial championship race. Coach Rob Ambrose's roster underwent an extensive offseason overhaul, with the former Maryland quarterback Pigrome among the newcomers.
As Towson continues to mesh, the Tigers could be dark-horse challengers in what looks like a collectively tough conference.
Play of the Week: Jaden Shirden Goes The Distance
Monmouth fell in another heartbreaker, this week losing in a 52-49 instant classic against Fordham. Despite the loss, Hawks running back Jaden Shidren delivered the Play of the Week when he took a handoff at his own five-yard line and proceeded to break the long run thus far in the 2022 season.
Jaden Shirden: HE GONE! @MUHawksFB RB now has the longest run in @NCAA_FCS this season. @CAAFootball @FloFootball https://t.co/Qw4Zn6EOq1 pic.twitter.com/N1DsHKz6RT

— Kyle Kensing (@KyleKensing) September 10, 2022
Shirden's misdirection to his left side, coupled with the offensive line shepherding the Rams defenders in that direction, leaves Fordham far enough out of position that Shirden can make a fraction-of-a-second fast cutback and have nothing but green ahead of him.
Not to be overlooked is Monmouth quarterback Tony Muskett making the complete 95-yard run at full speed to block if necessary.