2022 Delaware vs Rhode Island
Rhode Island's Jordan Jones Ready For One Final Push
Rhode Island's Jordan Jones Ready For One Final Push
Now heading into his senior season, Jordan Jones has gone from the community college ranks to leading the defensive backfield for Rhode Island.
Sep 1, 2022
by Stephen Kerr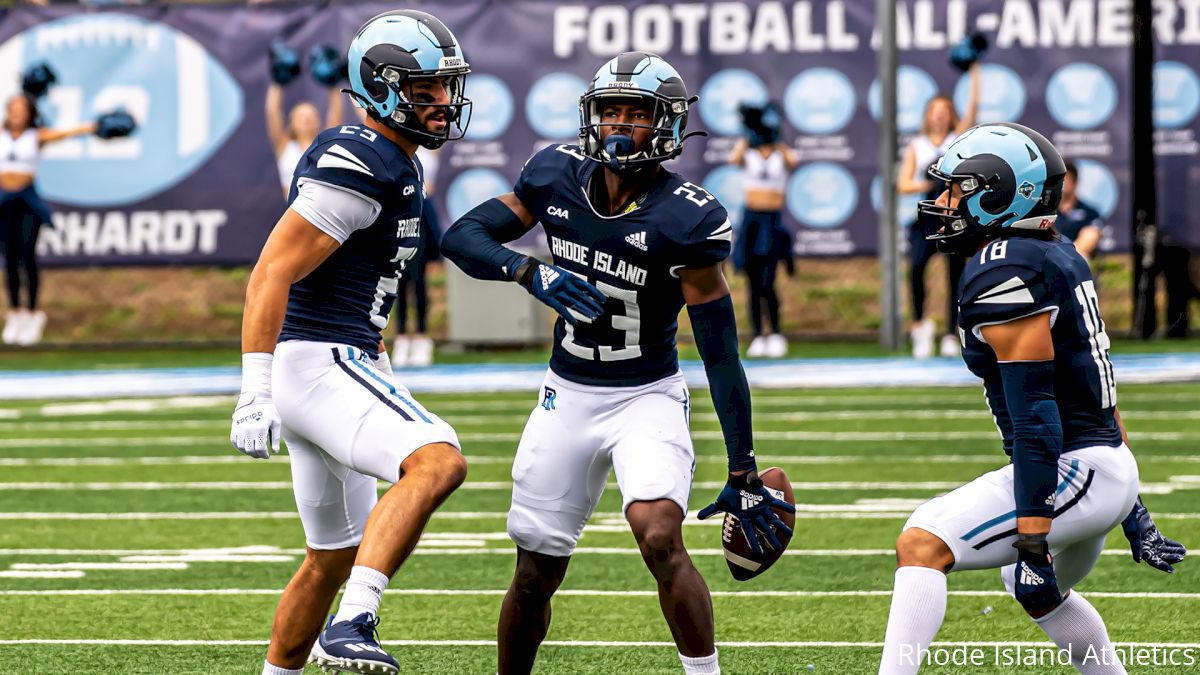 Superheroes come in different forms. There are the ones who fly through the air in a white cape or do cannonballs off tall buildings. Then there are the real-life kind, the ones who sacrifice a great deal to better the lives of others but don't get the same attention as the fictional characters.
University of Rhode Island cornerback Jordan Jones' superhero is his mom, Lillian Jones. Jordan's father, Charles, died when the boy was just three years old. Lillian worked as a gym teacher at a Catholic school to provide for him and his six other siblings. Born and raised in Brooklyn, Jones has never forgotten the sacrifices Lillian made for her family.
"I look at my mom like my superhero," the six-foot, 180-pound redshirt senior said.
"When anybody asks who is the person I look up to, it's always my mom. I watched her do everything by herself. (She's) my heart, my world."
With six other siblings, two of whom were adopted, Jones had no shortage of playmates, particularly when it came to sports. He attended Catholic school until second grade, when he was placed in public school. Every morning, kids formed a line in the schoolyard to be brought in. It wasn't uncommon to play football before getting in line, and that was Jones' first introduction to the sport.
"I didn't know anything about football," Jones recalled of his younger days.
"I just started playing with them in the yard. I never played organized football until high school."
Jones was on the junior varsity team until the end of his sophomore season at Abraham Lincoln High. He tried his hand at quarterback on the JV squad until his coaches felt he was a better fit at receiver and defensive back. Having not played organized ball growing up, it took some time to get adjusted to the high school game.
"It was hard at first because I didn't know what was going on," Jones said.
"After a while, I got the hang of it."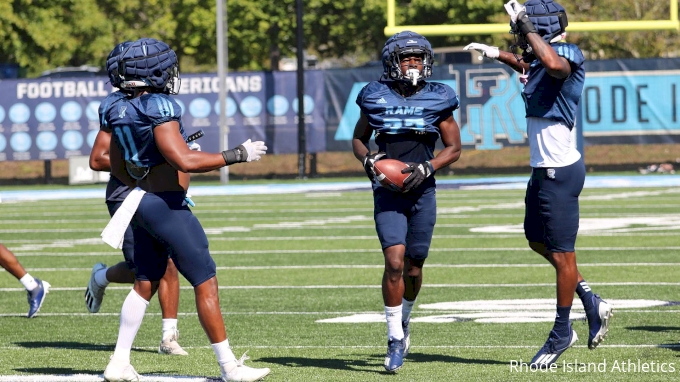 Lincoln got as far as the state quarterfinals in Jones' junior season and made the semifinals his senior year. Coach Shawn O'Connor played a key role in his development both on and off the field.
"He embraced me and let me know I had so much potential, that I could basically do anything I want as long as I kept working hard," Jones recalled.
"I tried to follow in his footsteps and his words. I started playing better and better."
Jones struggled to keep his grades high enough for eligibility at a major college. He talked with a number of programs, but didn't receive a scholarship offer. He considered being a walk-on but felt his skills warranted a better opportunity. That's when he decided to enroll at Nassau Community College.
"I didn't want to walk on somewhere and start myself off in debt when I could just go to community college and get a scholarship through the junior college route," Jones said.
It turned out to be a smart decision. In his two seasons at Nassau, Jones was a JuCo All-American in 2017 and a team captain the following season. He led the squad to the Red Grange Bowl as a sophomore, where he had an interception in a 46-6 romp over Northland. In 22 career games, he totaled 11 picks.
During his freshman year at Nassau, Jones became acquainted with Ahmere Dorsey, Naim Jones and Malik Wilder, all of whom went on to play at the University of Rhode Island. Following his sophomore season, he decided to join them. He played in four games for the Rams in 2019 on defense and special teams, making a tackle against Stony Brook in his debut.
In the 2020-21 season, Jones had his best game against Villanova, making a team-high five tackles, one tackle for loss and two pass breakups.
"We redshirted him when we got him, which was necessary for him," Rams head coach Jim Fleming said.
"His greatest assets are his ball skills. He puts himself in position, and he's been able to get in there and catch 50 (percent) of balls and take them away."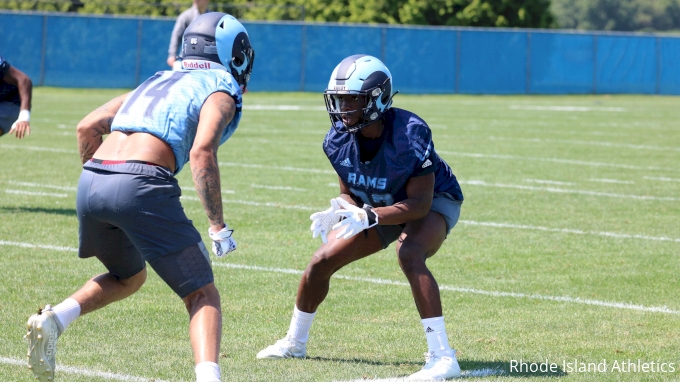 Last season, Jones started all 11 games, earning Associated Press Second Team All-America and CAA Second Team All-Conference honors. He recorded 36 tackles, a sack, six interceptions and eight pass breakups. Two of his picks came against Delaware, one of them in the end zone that prevented a potential game-tying touchdown in the fourth quarter. Another was a 100-yard return for a touchdown against Brown, helping the Rams to a 45-24 victory.
"The receiver ran a fade route, I looked back and saw the ball," Jones recalled.
"My first instinct was to turn around to see if there was anybody there. I saw a lot of my guys downfield (blocking) and when I saw green grass, I just said, 'I'm gonna go'."
Rams defensive coordinator/defensive backs coach Jack Cooper credits Jones' work ethic, consistency and ability to make plays as key factors in his breakout season.
"He'll take some gambles in coverage at times," explained Cooper, who's entering his third season at URI after serving as defensive quality control coach at Nebraska.
"He'll undercut a ball that maybe he shouldn't on paper or in playbook X's and O's. But his ability to time up the ball, whether it's a short, intermediate or deep pass, he's very gifted at that. We've been trying to take his strength, brace it up and keep working on the things we think he needs to get better at."
The Rams fell one game short of making the FCS playoffs in 2021. But their 7-4 record was the best in 20 years. Still, just missing the postseason was something Jones thought a lot about during the offseason.
"It was very frustrating," he admitted.
"We were so close, literally one game away. But that just shows we've got more work to do, hit the weight room a little bit harder, (study) our playbooks a little bit harder."
Cornerbacks don't always get opportunities to take down a quarterback. Jones enjoys racking up a sack the way a lineman enjoys making a pick or batting down a pass.
"When Coach is dialing up your number, he always says, 'go ahead and go, you gotta make it'," Jones said.
"When you get a sack, it feels real good. As a corner, that's not really our main objective."
Jones has learned lessons from watching athletes in other sports. One of his favorites is LeBron James, not just for his obvious talent but his charisma.
"LeBron James is the epitome of what it means to be an athlete," Jones said.
"He blots out the noise. You don't hear LeBron chattering too much with anybody or going back and forth with anybody. He just plays his game. That's why I don't try to talk to people during my games or in general. I just try to go out there and play my game."
In his spare time, Jones loves to play NBA 2K, and considers himself a great gamer. Could he take LeBron?
"Yeah, probably," he said with a laugh.
This season will be Jones' last shot at an FCS playoff berth. He believes his team has a chance to finally break a long postseason drought, as long as everyone is committed to getting at least 1 percent better every day.
If he is fortunate enough to play in the NFL, Jones doesn't have to think twice about what he'll do with his first paycheck.
"I gotta get my mom something, whether that's a car, house, something, to pay her back for all she's done for me," he said.
It's certainly a fitting gesture for a real-life superhero.