2022 Monmouth vs New Hampshire
Conference Showdowns Headline The Best CAA Games Of Week 1
Conference Showdowns Headline The Best CAA Games Of Week 1
Conference matchups pitting Monmouth against New Hampshire and Stony Brook vs. Rhode Island headline Week 1 of the Colonial Athletic Association season.
Aug 30, 2022
by Kyle Kensing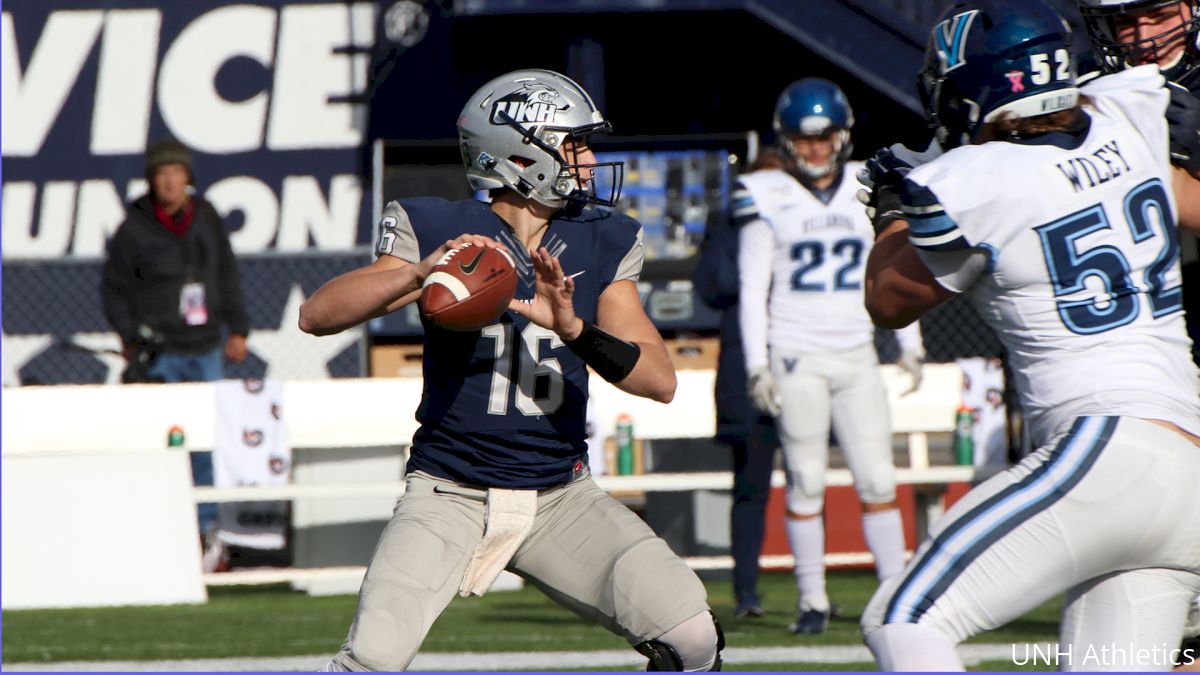 Week 1 is the most special date on the college football calendar. Optimism is boundless as records reset and summer gives way to autumn.
Opening of the 2022 season is particularly exciting for the Colonial Athletic Association, which undergoes some landmark changes. Hampton and Monmouth arrive, expanding CAA football membership to 13 teams.
And, of those 13 teams, just about any can emerge to win the conference championship.
The wide-open CAA race begins right out of the gate with a pair of high-profile league games on Thursday's opening night.
Rhode Island At Stony Brook
Expectations have arguably never been as high for a Rhode Island football as they are ahead of 2022; not in recent years, anyway. After knocking on the door of the program's first postseason bid in two decades, the Rams return several key contributors from a seven-win team.
Rhode Island takes its preseason Top 25 ranking into a serious test against Stony Brook. The Seawolves on an impressive upswing with wins in four of their final five. Three losses by a touchdown made the difference between Stony Brook earning a playoff bid and finishing on the wrong side of .500 — with one of those narrow defeats coming in overtime against Rhode Island.
"[Stony Brook head coach] Chuck [Priore] and I have been at it a number of years," said Rams coach Jim Fleming. "And we both know it's going to be a bloodbath. It's going to be a physical contest. Our games recently have been very close."
In addition to the 27-20 overtime matchup in 2021 — the first Rhode Island win in series history — the 2019 matchup came down to the wire in a 31-27 decision.
Another barnburner could come down to quarterback play, and for Rhode Island, that puts the spotlight on Kasim Hill. Hill passed for almost 2,200 yards a season ago with 18 touchdowns against just six interceptions. He added 261 rushing yards and another six scores.
While Hill is the embedded starter for URI, Stony Brook's situation is less clear. Priore said two quarterbacks will play Week 1, with Josh Zamot and Daron Bryden atop the depth chart. Regardless who's behind center, a stout offensive line with All-America candidate Kyle Nunez paving holes for last year's leading CAA rusher, Ty Son Lawton, eases the learning curve somewhat.
But Rhode Island comes in with a solid defense that returns All-American cornerback Jordan Jones, whose six interceptions were among the most in the CAA. Given how recent matchups have gone between these programs, a single pick could be the play on which their Week 1 meeting hinges.
Monmouth At New Hampshire
Monmouth dives head-first into its first CAA season with a trip to meet one of the nation's most historically rich programs. New Hampshire first played football in 1893 — exactly 100 years before the inaugural season of Monmouth football.
Kevin Callahan has been at the helm for Monmouth since its inception and steadily grown the program into a winner. The Hawks reached the FCS Playoffs in three of the last five seasons, and won the program's first-ever postseason game in 2019. Thursday's trip to Durham marks another milestone in Monmouth's ascent with its first-ever CAA contest.
"There's an energy and excitement to our team, and I think a lot of that has to do with being a new member, the new kid on the block so to speak, in the CAA," Callahan said. "We're just honored to be a part of this conference that is one of the premier, if not the premier FCS football conference in the country."
While there's undeniable excitement for Monmouth launching this new era, the Hawks are coming to compete. A lineup featuring preseason 1st Team All-CAA quarterback Tony Muskett and dynamic running back Juwon Farri is built to compete from the jump.
Year 2☑️ Year 3⏳@MUHawksFB pic.twitter.com/aVX15u5KxZ

— Tony Muskett (@TonyMuskett) December 18, 2021
Muskett is a 2022 Walter Payton Award contender, coming off a 2021 with 25 touchdown passes and only six interceptions and a completion average greater than 65 percent. Eddie Morales III is a difference-maker both in the secondary and on special teams, doubling as both the Hawks top cornerback and return specialist.
Monmouth won't be alone in its pursuit of launching a new era with a win on Thursday. New Hampshire kicks off 2022 in the first official year of the Ricky Santos era, as the former star Wildcat quarterback takes over his alma mater from mentor Sean McDonnell.
While his first game as the head coach, Santos went 6-5 and 5-3 in the CAA as interim coach in 2019. Quarterback Max Brosmer shined as freshman in '19, but was sidelined with a knee injury sustained just before the 2021 season opener. Brosmer's return sparks optimism for a New Hampshire program that reached the FCS Playoffs every year from 2004 through 2018 in its pursuit of starting a new postseason streak.
"It's great to have him back," Santos said of Brosmer. "He loves to be coached, so that's fun. He's a very accurate player, too, so that opens up some of the deeper passing game we maybe missed last year."
Santos said unleashing the downfield passing game will be especially critical against a "relentless" Monmouth defense that plays press.
Defensively, freshman phenom Josiah Silver begins the pursuit of a sensational sophomore campaign. Silver opens 2022 at the forefront of the initial Buck Buchanan Award conversation, coming off a debut season in which he recorded 12.5 sacks, 20.5 tackles for loss, and a team-best 80 total tackles.
Lehigh At Villanova
Villanova has won 10 of its last 11 against nearby Lehigh, including the last three by an average of 31.3 points per. Dez Boykin caught a pair of touchdown passes in last year's 47-3 romp, and he returns among a stacked wide-receiving corps. The Wildcats welcome back Jaaron Hayek, Rayjoun Pringle and Jaquon Allen, a rotation that — along with a multifaceted running back group and veteran offensive line — ensures a smooth transition at quarterback.
🎙 Mic'd up w/ @Dez_Boykin 🎙 pic.twitter.com/m2S96BSLRH

— Villanova Football (@NovaFootball) August 30, 2022
Week 1 marks the first time Villanova will start a quarterback other than Dan Smith since the 2018 season. Connor Watkins steps up after serving as the back-up during Smith's outstanding career.
Although Watkins' game reps have been limited, he's logged no shortage of practice time and impressed the Wildcats coaching staff in those opportunities. Most notably, Villanova head coach Mark Ferrante said Watkins "probably has a stronger arm" than Smith.
"Dan does a great job reading the defense, getting the ball out quick, going the right place with it and Connor now knows the system as Dan's back-up for three years," Ferrante said. "He has a strong arm. He has a cannon for an arm...We're excited about Connor, I know Connor's excited about getting out there and showing everybody what he can do."
Other high-profile changes in the lineup for Villanova heading into 2022 are the replacements of Christian Benford at cornerback and Forrest Rhyne at linebacker. Rhyne was one of the nation's premier ball-hawking tacklers, racking up a staggering 152 tackles in 2021. Benford, who has been impressive with the Buffalo Bills, made seven interceptions and broke up 18 passes for the Wildcats a season ago.
Ferrante mentioned Shane Hartzell, Brendan Bell and Tim Ferguson as standing out during the offseason, while transfers Antonio Montero (Rice), Danny Abraham (Harvard) and Danny Damico (a CAA standout at UAlbany) should figure into the corps. John Rhodan, Kshawn Schulters, Christian Sapp and Tyrell Mims, Ferrante said, will see time at corner.
In addition to some new defensive faces, opening the season at home is a new experience for Villanova. The Wildcats have not done so since 2004.
Howard At Hampton
A premier rivalry adds a new chapter in its 114th year, as Hampton begins the CAA era against Howard in the The Battle for the Real HU.
This season's meeting is the 97th in the series that Hampton has dominated in recent years. The Pirates' 48-32 last September marked their fifth straight over the Bison, four of which have been by 16 points or more.
Hampton used a dominant third quarter, outscoring Howard 21-0, in the 2021 installment. Preseason All-CAA wide receiver Jadakis Bonds hauled in a touchdown while three returning running backs — Elijah Burris, Darran Butts and Keyondre White — combined for four rushing scores.
Adding another win in this historic rivalry would put quite an exclamation point on a much-anticipated Week 1 for Hampton. Since the university announced its move to the CAA in the winter, excitement has grown.
"Everyone's ecstatic to be in the CAA," said Pirates coach Robert Prunty. "But then when you add Howard in there, with our new president [Darrell K. Williams]."
Hampton is replacing quarterback Jett Duffey, which led to a three-man competition that Prunty said may not be decided until game time. Sofian Massoud, a transfer from Houston, may be the player to emerge in that race. Massoud was a 3-star recruit in the 2020 signing class.