2022 CAA Football
From Ground Floor To The CAA, Kevin Callahan Built Monmouth
From Ground Floor To The CAA, Kevin Callahan Built Monmouth
As Monmouth joins the Colonial Athletic Association, it's worth noting that current coach Kevin Callahan grew the program from it's roots.
Mar 2, 2022
by Kyle Kensing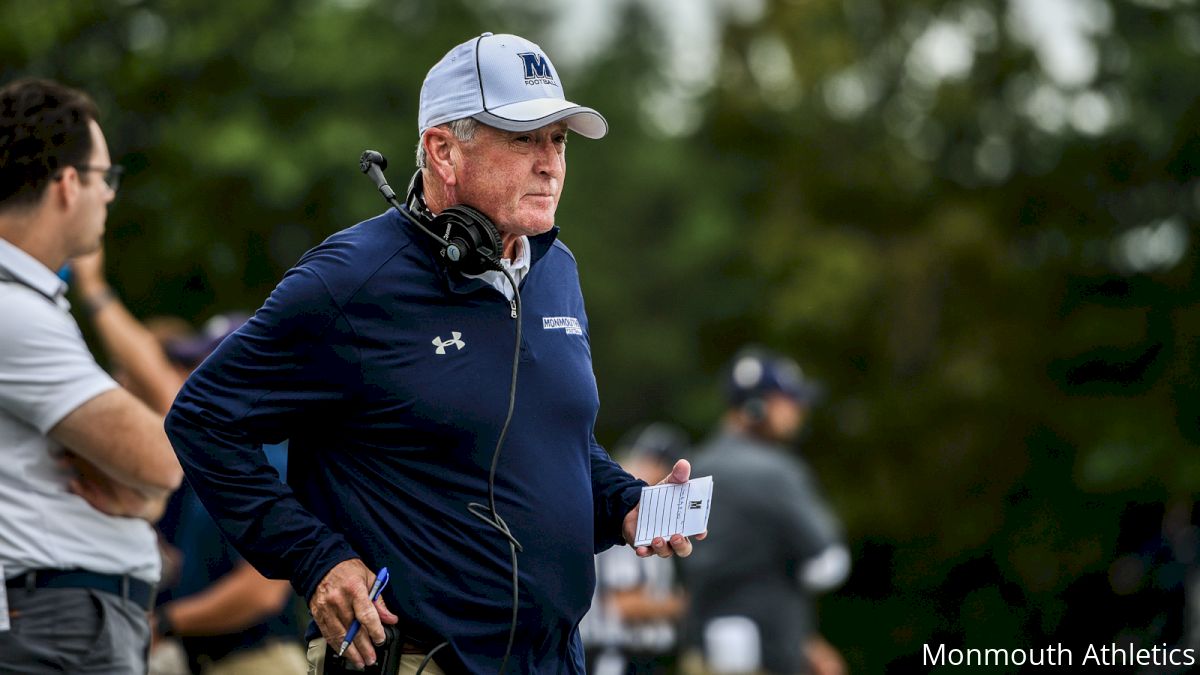 Kevin Callahan is Monmouth football–and Monmouth football is Kevin Callahan.
An exclusive club of football coaches attain a level of success and respect at a single school so profoundly that they become synonymous with the university itself. Callahan's tenure at Monmouth goes further.
This coming August marks the 30-year anniversary of his hire to head the program, which played its first-ever game a year later in 1993. The Hawks lost their debut at Stonehill, 13-8, and had to wait until their third game of the season to get in the win column.
Since beating Saint Peter's in a 44-42 on Oct. 2, 1993, Callahan coached Monmouth to 172 more victories in 29 seasons. The Hawks collected seven conference championships–five in the Northeast Conference and two in the Big South–and appeared in three FCS Playoffs over that span.
From its infancy as a partial-scholarship program to joining the Colonial Athletic Association in Season No. 30, Monmouth football is all grown up–and Callahan is a proud papa.
"It wasn't that long ago we first began the program here," he said.
"To be included in a conference that annually is one of the best, if not the best FCS conference out there, a conference that sends several teams into the FCS Playoffs every year, I think it speaks to the evolution of our program and how far we've come in the short time we've had football. It also speaks to how well we're recognized by people on the outside."
Recognition in this regard came via an invitation.
The Colonial's invitation to Monmouth, which becomes a league member on July 1, marks the culmination of an outstanding transition from the Hawks' days of offering just 30 scholarships to its growth into a perennial playoff contender.
Monmouth finished above .500 in six of its eight seasons after joining the Big South in 2014, peaking in an 11-3 finish and conference championship in 2019. The Hawks scored their first playoff win in program history that season in a 44-27 defeat of Holy Cross before running into departing CAA member James Madison.
"If we hadn't been so successful in the Big South, I don't know that we'd have been as attractive to the Colonial," Callahan said.
"What the Big South did–and they were very, very good to us here at Monmouth–and being a member of that conference allowed us to make the transition to scholarship football. Before we enjoyed the Big South, we were in a league where we had 30 scholarships. It took us some time to get up to the number we're at today.
"The Big South gave us that opportunity," he added.
Monmouth capitalized quickly on its opportunity in the Big South, going 4-1 in league play and 9-2 overall in the regular season to land the first of three playoff bids in four years. The Hawks' addition gives the CAA a ninth program to have reached the postseason since 2017.
The landscape for playoff positioning is crowded–and that's without noting three of the programs that have not made the postseason in the last five years, Rhode Island, Richmond and William & Mary, could be leading contenders in 2022.
Callahan said that, "quite frankly, we're not at the level of some of the teams in the Colonial right now. We've got some ground to make up."
But if there's any area in which Monmouth has excelled in Callahan's tenure, it's getting up to speed in a hurry.
Credit a background that has some CAA roots.
Callahan's role in growing Monmouth parallels the career of the first head coach to ever give Callahan an assistant's job, Bob Ford.
Ford became UAlbany's coach in 1970 when the Great Danes played club football, unsanctioned by the NCAA. UAlbany graduated to NCAA Div. III, had a cup of coffee in Div. II that produced a pair of Eastern Football Conference championships, then navigated a path akin to that of Monmouth.
The Great Danes joined the NEC in 1999 and won six league titles under Ford. UAlbany earned an automatic bid to the 2011 FCS Playoffs, then in 2013, joined the CAA.
"He had a tremendous impact on me," Callahan said of Ford. Callahan spent three seasons from 1977 through 1979 with the Great Danes, first as running backs coach then overseeing outside linebackers.
"I was 21 years old and I learned an awful lot–not just football, but organizational type things that honestly, I still use today."
Ford's influence went beyond merely bringing a fresh-from-University of Rochester Callahan into UAlbany, but tasking the young coach with responsibilities exceeding those typical of a first-timer.
"Back in those days, our entire staff was young guys right out of college," Callahan said "And we were the coaches even though we were grad assistants. You got to go on the road for recruiting, you had your own positions [groups]. We held all of that together. That's why, when you look at the Albany coaching tree, it's prevalent throughout all levels of football."
The Ford coaching tree includes Chuck Priore, who enters his 17th season at the helm of Stony Brook in 2022. Priore coached running backs at UAlbany from 1983 through 1986, and his Seawolves are one of Monmouth's closest new neighbors in the CAA.
Kevin Callahan's odyssey beginning in those UAlbany days is a remarkable story–and his story is Monmouth football's story.