2022 CAA Football
Santos and Stevens Continue McDonnell and Cosgrove Legacies at UNH, Maine
Santos and Stevens Continue McDonnell and Cosgrove Legacies at UNH, Maine
Maine alum Jordan Stevens and New Hampshire alum Rick Santos take over at their alma maters, each having learned from program legends.
Aug 3, 2022
by Kyle Kensing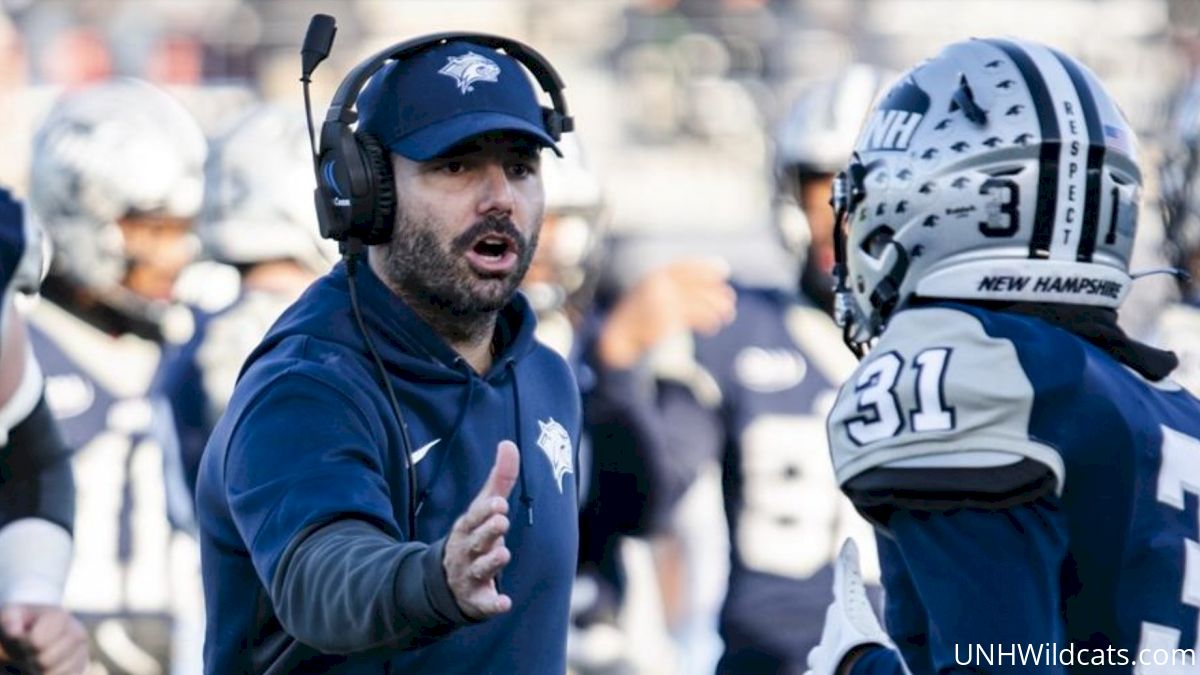 Since first playing in 1903, the histories of rivals Maine and New Hampshire are intertwined. So, it's only fitting both programs enter new eras simultaneously with new head coaches in 2022, Jordan Stevens and Rick Santos.
But as both the Black Bears and Wildcats take strides toward the future, each does so with deference to their past and arguably the two most important figures in shaping one of college football's premier rivalries.
Jack Cosgrove arrived at Maine as a player in 1974. Sean McDonnell joined the New Hampshire roster a year later. For the next 46 years, one or both represented either the Black Bears or Wildcats in some capacity for all but a short stretch in the first half of the 1980s.
In 1993, Cosgrove became the head coach at his alma mater. McDonnell did the same in 1999. And in having two graduates at the helm, McDonnell said before his final game leading the Wildcats in November 2021, the Brice-Cowell Musket rivalry only benefited.
Stevens and Santos continue that dynamic.
Stevens played defensive end for Maine from 2006 through 2009, earning All-Colonial Athletic Association recognition and a team-captain status as a senior. New Hampshire maintained possession of the Musket during Stevens' playing career, including the final two years of Santos' All-American tenure quarterbacking the Wildcats, but three of the games were decided by one possession.
"The Maine-New Hampshire rivalry, the Musket game, is one of the best rivalries in the country," Stevens told FloFootball.com shortly after taking over for Nick Charlton in the winter. "Having two head coaches who represented the universities…just adds to the importance of the game, and the importance of the meaning it not only for the two universities but the states as well."
When Stevens talks of the rivalry beyond the campuses and into the states, he does so from experience. He is a native of Temple, Maine, and represented the Pine Tree State while donning the illustrious No. 9. That jersey carries particular prestige in the Black Bears program, reserved for defensive leaders and handed down from player-to-player.
"Being a Maine kid, that's one thing he's got over me," Cosgrove said with a chuckle when talking of Stevens. "He's a born and bred Mainer; I'm a Bostonian who transplanted myself into Maine."
Cosgrove, now the head coach at Div. III Colby College, said the qualities that made Stevens stand out both as a recruit from Mount Blue High School and in his time as a Black Bear set Stevens up for success.
"I've always been a big fan of Jordan's since I first got the chance to recruit him," Cosgrove said. "His work ethic, the attitude he brought every day, his level of discipline. All of those things were the things we preached and he modeled."
It's no wonder, then, that Cosgrove welcomed Stevens onto the Maine coaching in 2011. The former defensive end came aboard in 2011, the same year that Joe Harasymiak arrived as defensive backs coach.
Cosgrove described Stevens and Harasymiak — the current Rutgers defensive coordinator who led Maine to a 2018 CAA championship as head coach — as having two very different personalities. He said that while Stevens is more outwardly reserved, "He's really more meticulous than most in this business."
In turn, Stevens looks to his time with Cosgrove for inspiration.
"He was such a consistent leader," Stevens said. "That's something I really took from him when I became an assistant. I might not have recognized it as a player, but he's the same guy every day.
He works incredibly hard and puts the players above everything else," he added. "And make sure the players are the focus of the work."
For Stevens, leading his alma mater is his first opportunity to head up a program. He spent the previous four years at Yale as associate head coach and co-defensive coordinator, and the three years before that coaching the Bulldogs defensive line.
His new Musket rival, Santos, is also in his first head-coaching position — but isn't new to guiding the Wildcats.
Santos served as interim head coach during the 2019 season while McDonnell battled bladder cancer. The Wildcats finished on the right side of .500 at 6-5, wrapping up the season with a 28-10 defeat of Maine.
"Being thrust into it during that time, I learned a lot," Santos said of his interim 2019 campaign. "It was quick, on-the-job training."
Along with stepping in to oversee day-to-day operations just before Week 1, Santos headed up recruiting efforts in the winter — a responsibility he said was critical in preparing him to lead the program full-time.
As invaluable as that experience was, though, McDonnell's tutelage both when Santos quarterbacked the Wildcats and after he came into coaching set the new UNH head man's foundation.
"He's somebody who I've learned a tremendous amount from, and the foundation of this great program that he's built – that's the great thing, we don't have to waiver from the things that got us to this point," Santos said "There's a blueprint already in this place."
Indeed, few have ever built a program with the kind of sustained success New Hampshire enjoyed in McDonnell's tenure. The Wildcats reached 14 consecutive Div. I-AA/Football Championship Subdivision Playoffs from 2004 through 2017.
If the postseason streak weren't enough to guarantee McDonnell's eventual induction into the College Football Hall of Fame, the rich coaching tree that sprouted from Durham solidifies his importance to the game.
Santos joins a fraternity of former McDonnell assistants that includes CAA counterpart Tony Trisciani at Elon, Chip Kelly at UCLA, and Ryan Day at Ohio State. Coach Mac's tree also features USC defensive coordinator Alex Grinch and James Bettcher, linebackers coach for the NFL's reigning AFC champion Cincinnati Bengals.
"He has such a great ability to find worth in people," Santos said of McDonnell. "There's been NFL head coaches, there's been Power Five head coaches, Power Five coordinators. He just does such a good job of identifying talent, not just in players but in coaches, in leaders, in mentors. And that's such another part of his success."
Santos' ascension keeps the spirit of McDonnell's Hall of Fame-worthy run in place, while adopting qualities to build on past glory.
"It's a new identity at New Hampshire," said wide receiver Brian Espanet. "We don't necessarily talk about getting back to where we were…We're not going to be those guys from '04 to [2017], we're going to be something new, something fresh."
While both Stevens and Santos will make their own, distinct marks on their programs, each will do so with undeniable influence from their mentors.