2023 CAA Football
Ryan Day Looks To Become First CAA Alumnus To Win FBS Title As Head Coach
Ryan Day Looks To Become First CAA Alumnus To Win FBS Title As Head Coach
Ohio State's Ryan Day looks to become the first alumnus of a current CAA program to win the FBS national title as a head coach.
Jan 11, 2021
by Kyle Kensing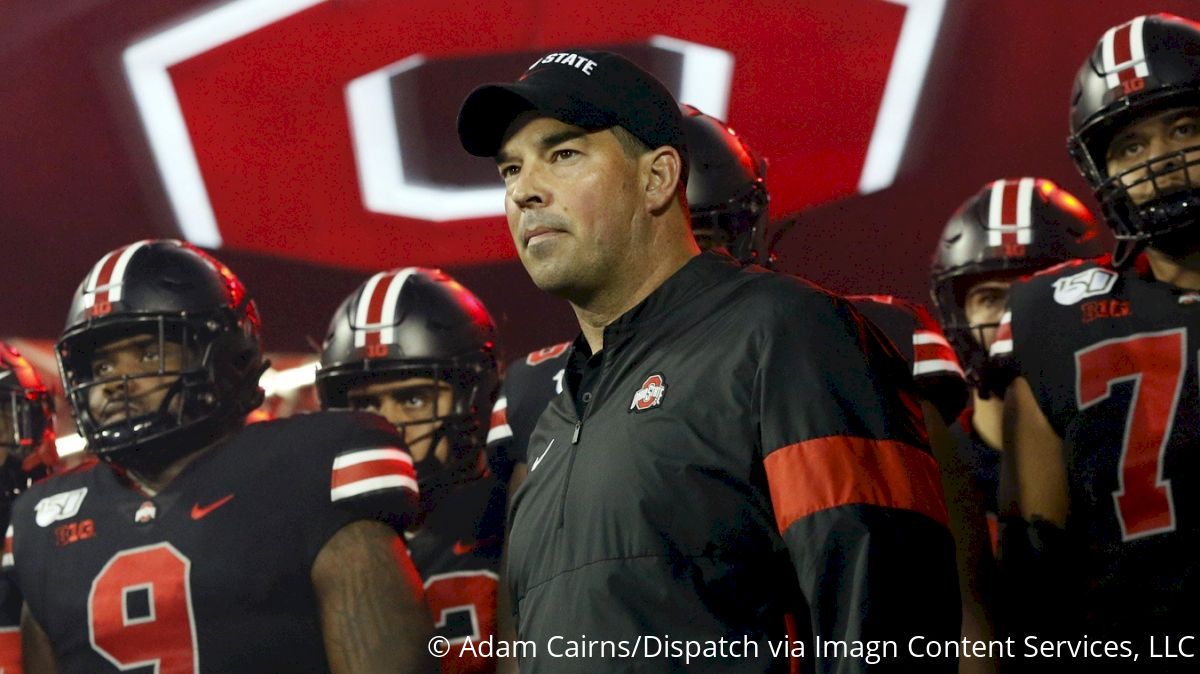 Ryan Day's last game as a college quarterback had playoff implications — just not for Day.
In the 2001 Battle for the Brice-Cowell Musket, Day passed for 338 yards and two touchdowns to cap his University of New Hampshire career. He left Durham having passed for more than 7,600 yards, which ranked second in the program's history at the time.
With a 57-24 loss to rival Maine, however, the Wildcats' season ended with no postseason bid. That honor belonged to the Black Bears, which used the rout to pad their resume for a spot in the 2001 Division I-AA Playoffs.
New Hampshire, then in its third season under head coach Sean McDonnell, did not begin its unprecedented run of 14 consecutive playoff appearances for another three years later. But it's fair to credit Ryan Day for playing a part in setting the foundation.
Day won the program's Bo Dickinson Spirit Award, and in the aftermath of New Hampshire's season-ending loss to Maine, McDonnell offered high praise of Day's outgoing class to the Boston Globe:
"I just hope we can recruit players with the same heart of the seven seniors who are graduating," he said.
Almost 20 years have passed, and Ryan Day is at another career milestone with playoff implications. This time, the circumstances are considerably more favorable.
A weekend in which three alumni of Colonial Athletic Association programs led NFL teams into the postseason concludes on Monday when New Hampshire alum Day coaches Ohio State in the College Football Playoff Championship Game.
WIth a win over national powerhouse Alabama, Day would be the first alumnus of a current CAA member to coach an FBS national champion (New Hampshire was in the Atlantic 10 during Day's playing career).
His coaching career began at New Hampshire one season after he finished quarterbacking the Wildcats, beginning an odyssey that included a stint at Boston College with current Maine head coach Nick Charlton.
"Certainly I would have no opportunity to be where I'm at right now without a lot of those people," Day said the Sunday before the Championship. "And Coach Mac was a huge part of it."
Day's ascension approaches the apex in just his second year as a head coach, but reaching the mountaintop pits him opposite the most successful coach of this generation, Nick Saban.
Saban offered effusive praise of Day during the Championship's virtual media session on Jan. 7.
"He does a great job of coaching," Saban said. "He's a very good offensive sort of play caller. He's got a great scheme on offense. Certainly does a great job of coaching his players to execute that scheme."
A coincidental twist, Day's first national championship game appearance comes exactly a decade after Kelly coached Oregon to the BCS Championship Game. Day later coached alongside Kelly with the NFL's Philadelphia Eagles and San Francisco 49ers.
Kelly, one of the most visible branches on McDonnell's impressive coaching tree, told USA Today in 2019:
"There's never been a time I've seen him where the situation was too big for him...whether he was 12 years old or 39 years old."
In between those two milestones Kelly cited were the formative years at New Hampshire with McDonnell. Day's UNH tenure has come full circle in Columbus; it's Day who is now the teacher for Coach Mac's son, Tommy, an intern on the Buckeyes staff.
As Day put it, "the coaching world is small."