CAA
The CAA Coaching Cradle Has Established A Significant NFL Presence
The CAA Coaching Cradle Has Established A Significant NFL Presence
With Raheem Morris taking over for the Atlanta Falcons, the CAA can now claim four of the 32 head football coaches in the NFL.
Oct 14, 2020
by Kyle Kensing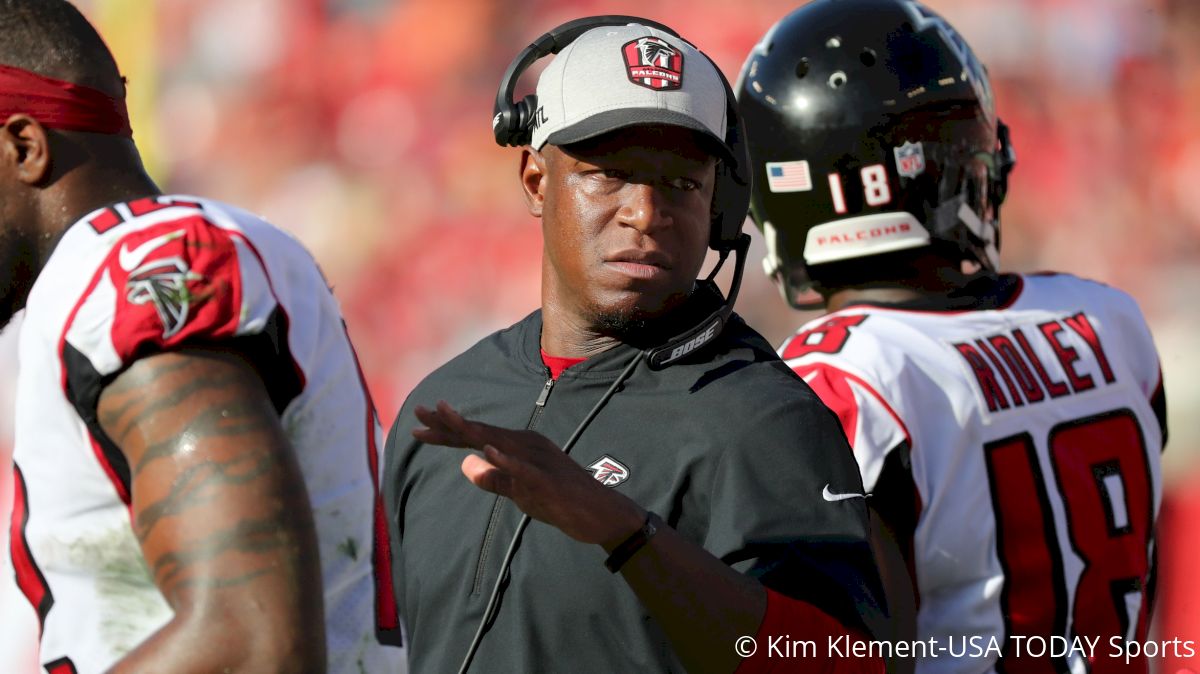 Just call the Colonial Athletic Association the new Cradle of Coaches.
With the Atlanta Falcons firing Dan Quinn on Oct. 12, and Raheem Morris taking over as interim, former and current CAA-program alumni now account for four of the NFL's 32 head coaches. That ranks second among all conferences, behind only the Big Ten's five, and outpaces the Big 12 and ACC, which each have three.
Morris, who last worked as a head coach for the Tampa Bay Buccaneers in 2011, spent his college days at CAA football charter member Hofstra. He played safety in the Pride's days as an independent, contributing to two Division I-AA Playoffs teams shortly after the program's transition from Div. III.
Through Morris, a proud Hofstra football legacy continues into a new decade despite the program's closure in 2009. Central to that legacy is longtime Pride coach Joe Gardi.
Gardi oversaw Hofstra's glory days, which included a perfect regular season and run to the Div. III national semifinals in 1990, his first season as the program's head coach. Gardi's 1995 team, which included Morris, won 10 games en route to the Div. I-AA Playoffs.
He went 119-62-2 in 16 seasons, retiring in 2005. Gardi died just a few months after Hofstra announced its intent to shutter football, but his impact endures through Morris -- a sentiment expressed when the interim Falcons head coach offered this tribute in 2010:
"He was such a special man, talented teacher, and gifted leader. When I teach my players, I call upon Coach's wisdom and passion for the game. Personally and professionally, I will forever be grateful for his presence in my life."
Such is a theme among the CAA-program alums heading up NFL franchises in 2020. Through their successes reflects the perhaps unheralded, but undeniably impressive careers of coaching luminaries who preceded them.
Consider William & Mary, which in the 2019 season commanded the national spotlight. Tribe alumni swept up the football world, with Sean McDermott coaching the Buffalo Bills to the NFL Playoffs, and Joe Brady's offensive brilliance leading both Joe Burrow to the Heisman Trophy and LSU to the FBS national championship.
Brady returned to the NFL this season as offensive coordinator of the Carolina Panthers, and the young, rising star of the coaching ranks appears on course to join his fellow CAA alumni as a head coach sooner than later.
McDermott, meanwhile, oversees what may be the Bills' best shot at a Lombardi Trophy since another coach with William & Mary ties — former Tribe head coach (1964-1968) and pro football legend Marv Levy — led Buffalo to four straight Super Bowl appearances.
Both Brady and McDermott played for longtime William & Mary head coach Jimmye Laycock. Were a Mount Rushmore-style monument ever erected in the CAA, Laycock is as much of a shoo-in to make the cut as George Washington was for the real thing.
Laycock's near-40 years heading up William & Mary produced 249 wins, 10 Div. I-AA/FCS Playoffs appearances, and shares of two CAA championships.
If McDermott were to coach Buffalo to an NFL title this season, it wouldn't be the first Lombardi produced from the Laycock tree, either. Mike Tomlin accomplished that feat with the Pittsburgh Steelers in the 2008 season.
Tomlin — whose 2020 Steelers are very much in the hunt through the season's early going — credited Laycock for setting his coaching foundation. Per an interview with the Patriot News in 2018, after Laycock announced his plans to retire:
"He's a good home base for me. That guy's been on this job 39 years. What better mentor to be able to call and share some experiences and gain some perspective?" Tomlin said. "It helps that he coached me, man. And I've known that guy since I was 17 years old.
"So, I love him on a personal level. Professionally, I admire him. I always have. He's been the blueprint for me."
Tomlin's Super Bowl XLIII title isn't the only championship among current CAA alumni. Defending Super Bowl champion Kansas City owes its crown in part to general manager Brett Veach, a former Delaware Blue Hen.
Like Tomlin, Veach played for a legend in his college days: Tubby Raymond.
The Hall of Famer Raymond coached Delaware to a Div. II national championship in 1979, 11 Div. I-AA Playoffs, and — in a tenure remarkably spanning from 1966 through 2001 — accounted for 300 of the program's 703 wins.
Veach played on some of Raymond's final Blue Hens teams alongside current Chicago Bears head coach Matt Nagy. Nagy set a UD record with 8,214 passing yards — a mark ahead of such noteworthy predecessors as Rich Gannon, and successors including Joe Flacco.
When Nagy was introduced as the Bears head coach in January 2018, just a month after Raymond's death. Thirteen months later, Nagy was named NFL Coach of the Year.
That's another high-profile honor for the growing influence of the CAA on the pros, which shows no indication of slowing any time soon.