2022 Georgetown vs Monmouth
Following Tragedy, Juwon Farri Found Healing Through Family And Football
Following Tragedy, Juwon Farri Found Healing Through Family And Football
Friends, family and football helped Juwon Farri deal with the sudden loss of his father, and he's ready to show the CAA how far he has come on the field.
Aug 26, 2022
by Stephen Kerr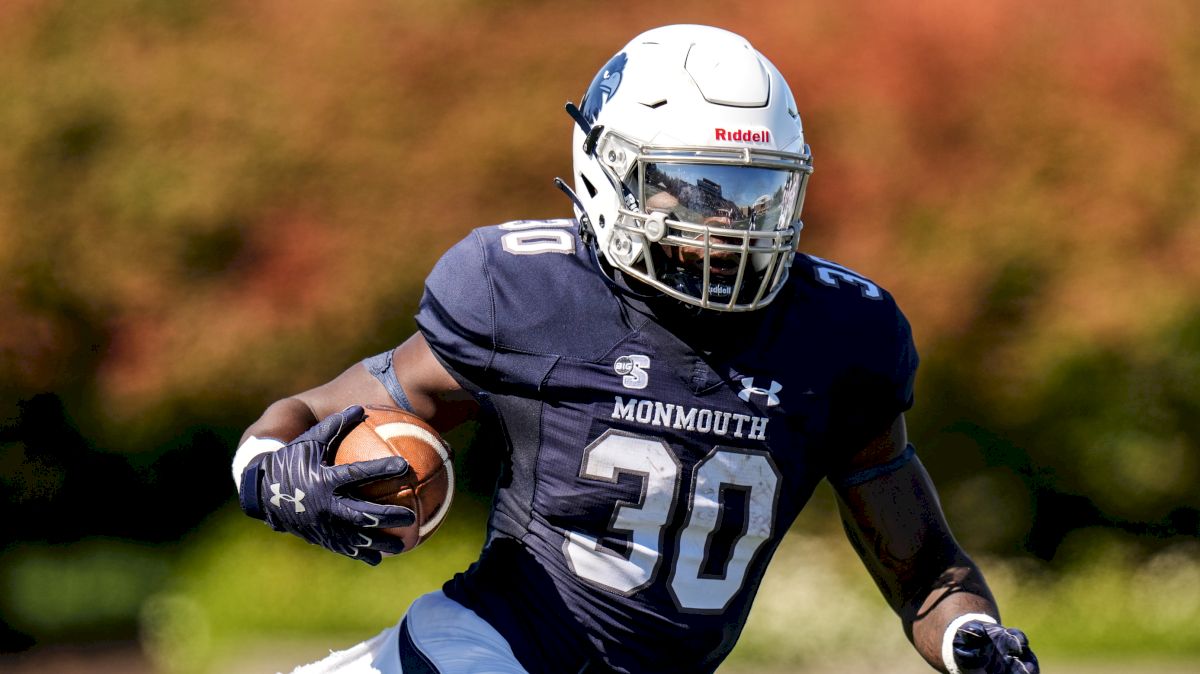 What started as a typical day in the life of a high school freshman ended with his world changed forever.
It was a rainy October day in 2014, and Juwon Farri was in class at Northwest (Maryland) High School, when he was abruptly summoned to the principal's office.
Farri couldn't imagine any reason he'd be interrupted so suddenly during class with no explanation.
"I was asking what was wrong," recalled the 5-foot-10, 205-pound running back who is beginning his redshirt senior season at Monmouth. "They couldn't really tell me to my face, so they brought me into my principal's office. When I saw my coaches and counselor, I knew something bad had happened."
The news Farri received shook him to the core.
His father, Shamsideen, a cab driver, had been found slumped over the wheel of his taxi earlier that day. After being rushed to Shady Grove Adventist Hospital in Rockville, doctors discovered a brain aneurysm. Shamsideen was in a coma and put on life support.
Farri's coach, Michael Neubiser, drove him to the hospital to see his father. Shamsideen never recovered, dying three days later after being taken off life support. He was 54.
Born in the United States, Farri moved to London with his mother, Tolani, when he was just a few months old. At age 10, he moved back to the United States to live with his father.
Shamsideen often took his son with him while working, teaching him how to interact with people and be independent.
"He taught me how to face adversity because he was facing adversity," Juwon said of his father. "I kind of had to grow up faster than usual because he was by himself and was moving around a lot. When (his death) happened, I had to do stuff for myself."
Tolani, an occupational therapist, scrambled to get back to the United States as quickly as she could following Shamsideen's death. Meanwhile, Juwon stayed with various friends and family members until she was able to return.
"She was devastated, she didn't know what to do," Farri said of his mother's return home. "My friends, uncles and aunts took me in, helped me out along the way. I had a lot of love and support coming from a lot of people."
Shortly after Shamsideen's death, Farri met Karim Bevans, who also knew a thing or two about adversity.
Bevans had served two prison terms for bank and real estate fraud and decided he wanted to use his experiences to teach life lessons to young people like Farri, hoping they wouldn't make the same mistakes he had.
"I had no one in my ear," Bevans told the Washington Post in 2017. "I made choices without thinking. I don't want (Juwon) to be like me - 41 years old and trying to turn your life around."
The two began spending time together on a regular basis. Bevans opened a barbershop in a cramped 10-by-20 space with no air conditioning. Farri helped him get set up, and they spent many weekends together. Bevans became the male role model Farri needed after losing his father.
"One of the first things he did was call me and tell me he's gonna be supporting me and try to help me out," Farri said. "He didn't have (a lot) to give me. He wasn't rich or anything, but any way he could help, any life lessons he could tell me, he would pass it on because he had a rough life himself."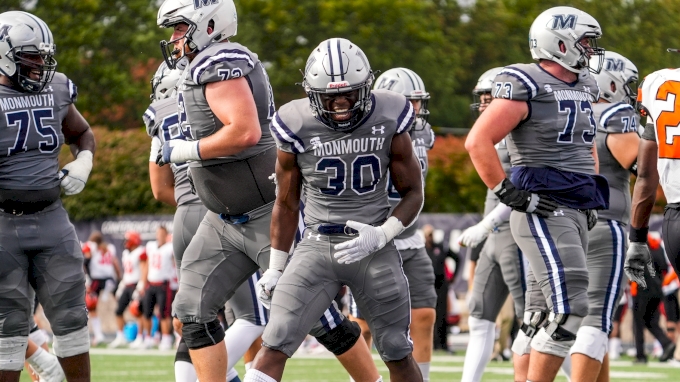 Football also helped fill the void in Farri's life.
As a senior, he rushed for 1,136 yards on 137 attempts and scored 14 touchdowns. He also caught 10 passes for 172 yards and two scores. As a kick returner, Farri was a second-team All-MET selection and made the All-Montgomery County first team as a running back. His exploits earned him the nickname 'Flash.'
Living in London during his early childhood, Farri enjoyed soccer. When he went to live with his father and saw how much his friends enjoyed American football, it was an easy transition for him.
"It was the switch that turned around for me and it made me want to pursue that," Farri said. "All my friends were playing and it made me feel like I belonged, too."
When Farri was being recruited, he particularly appreciated the way Monmouth's coaching staff treated him. They were straight shooters and made him feel at home.
"I knew a lot of the people here," he explained. "I'm very grateful to have these coaches and teammates I have up here."
Farri appeared in all 11 of the Hawks' games as a freshman, four as a starter.
He was an All-Big South first-team selection, leading the conference in yards per rush (7.4) and total yards (1,024). He finished second in rushing yards per game (93.1) and fourth with eight rushing touchdowns.
In a win against Campbell, he racked up 239 yards on the ground with two touchdowns, and he collected 183 yards and a score in a victory over Bucknell.
Farri was redshirted as a sophomore but came back in the shortened spring 2021 season, starting all four of the team's games. He led the NCAA with a 15.0 points per game average and earned Big South Offensive Player of the Year honors after rushing for 520 yards on 104 carries with 10 touchdowns.
Last season, Farri ran for a team-leading 705 yards and eight touchdowns, including 156 yards in a win over Fordham on 31 carries.
Heading into the 2022 season, he was named to the Stats Perform Walter Payton Award Watch List and was a CAA Preseason All-Conference honorable mention.
"He's got great vision and patience, and he combines that with an ability to accelerate," Hawks' head coach Kevin Callahan said. "People may not think he is the biggest back at 200 pounds, but he is a very physical runner. He has the ability to break a lot of tackles."
As Monmouth prepares to play its first season in the CAA, Farri is excited to see what being in a new conference will bring to him and the program.
"I knew about the conference since high school," Farri explained. "This is something a lot of teams in the FCS dream about, playing in a premier league like this. We're going to face a lot of adversity, but it's nothing we're not used to."
Champions continue to grow. A new era has arrived.

We're flying high into @CAASports!#FlyHawks pic.twitter.com/UaQpAar0NV

— Monmouth Hawks (@MonmouthHawks) January 25, 2022
Farri focused on improving his pass-catching over the summer and being more familiar with the playbook. Those are important qualities if he hopes to catch the eye of NFL scouts in his final season.
"He's come a long way since he's been with us," Callahan said. "He's grown a lot as a man. I'm not worried about his success on the field. I think that success will find him. He's already become a lot more diverse in his ability to do different things as a running back. As long as he continues to develop all of those things, he'll be fine."
While Farri is hopeful of getting a shot in the NFL, he's learned to stay focused in the present. He not only intends to honor his father's memory, but repay his mom for the sacrifices she has made.
"She made sure everything was safe for her to go back to London," he explained. "She stayed over here for five years just to make sure she had everything straight. That woman means a lot to me. The things she's done for me, I can't even account for. One thing I want to do is make sure I repay my debt in some type of way. Someday, I'm gonna make it happen."