2023 Gulf South Conference Football
Previewing The 2021 Gulf South
Previewing The 2021 Gulf South
Gulf South Conference football just might be the best league in Div. II with teams to watch up and down the board.
Aug 30, 2021
by Kyle Kensing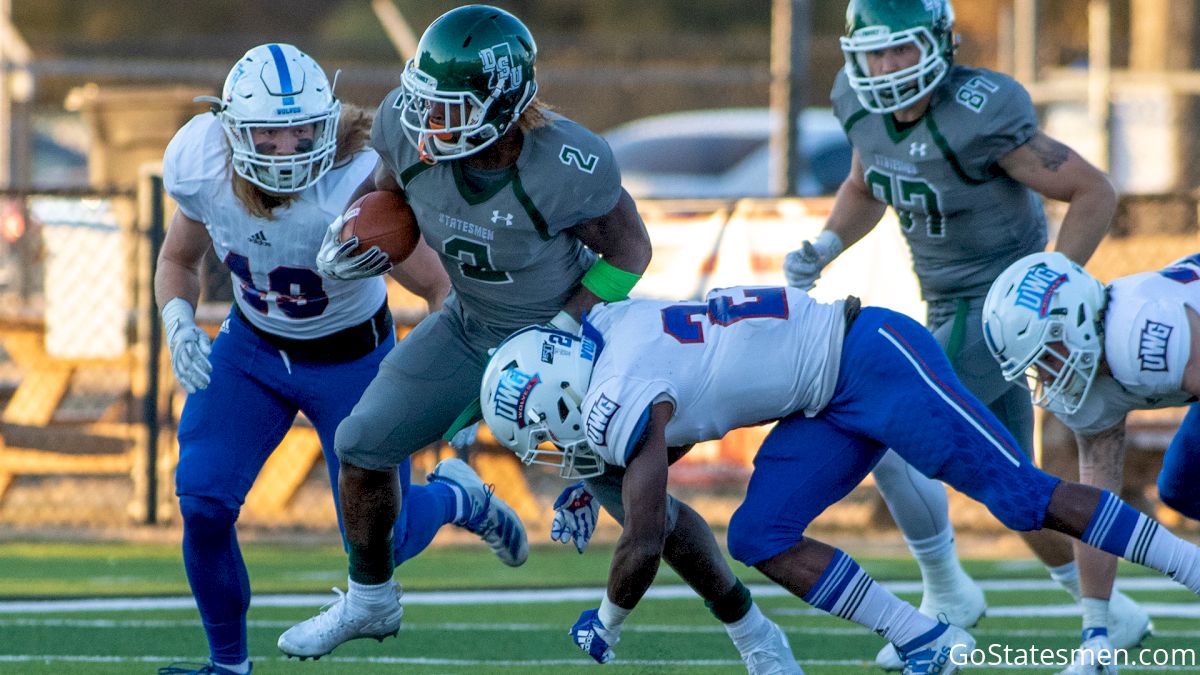 Gulf South Conference football boasts six national championships and 10 title-game appearances since the beginning of the 21st century. With the last two NCAA Div. II national championships to its credit, as well, projecting a title contender to emerge from the GSC is a pretty safe preseason call.
"It's not perhaps, it is. It is the best conference in Div. II football," said Delta State coach Todd Cooley at GSC media day. "Anybody that argues, I mean, the last four years there's been four different [National Championship Games] and we've had a Gulf South team play [in] or win every one of those games."
There's other good conferences and I'm not taking anything away from anybody," he added. "I just know what ours is all about."
Indeed, each of the last two title winners — West Florida and Valdosta State — appear in the top six of the national rankings heading into 2021. The Argonauts and Blazers are spotlighted individually.
Stiff competition in the GSC season awaits both West Florida and Valdosta State, however. Here's what to look for in the conference in its return to action in 2021.
DELTA STATE
The Statesmen received the third-most AFCA Top 25 poll votes of any GSC program, falling just out of the rankings. Featuring a loaded defense, however, Delta State will have plenty of opportunities to command attention and break into the poll — but more importantly, the NCAA Playoffs.
All-American cornerback Junior Faulk sets the tone. Faulk set a Delta State record in 2019 with nine interceptions, most in the country. He also led Div. II with 22 passes defended, and broke up 13.
"He's a really smart, intelligent football player," Cooley said. "He understands situations and he understands the game. Obviously, we're looking for big things out of him."
A pair of noteworthy transfers join Faulk in the secondary: Lamarques Thomas, who recorded 15 tackles in two seasons at Louisville; and Sherrod Paige, a versatile playmaker who lined up as both a linebacker and nickleback but was derailed due to injury at Northern Arizona. Meanwhile, Tim Hall returns from a campaign in which he defended four passes.
Wrapped up preseason #CampDelta21 with a DBs preview 💪#WhereChampionsPlay🏈 pic.twitter.com/0ZCCaEd9mh

— #DSUFamily (@DeltaStateFB) August 17, 2021
Linebacker Marvin Terry and preseason 1st Team All-GSC honoree defensive end Zane Samuel bring the heat from the front seven, combining for 12.5 sacks in 2019, while another preseason 1st Team All-Conference selection, Dante Williams, provides veteran leadership at linebacker.
First Team All-GSC guard Nicholas Melsop anchors the front five on offense, paving the way for All-GSC running back Rico Owens. Owens went for eight touchdowns and 631 yards in nine games of the 2019 season, averaging a whopping 6.5 yards per carry.
2018 GSC Freshman of the Year Patrick Shegog is back from a lengthy layoff, a combination of missing the final seven games of 2019 due to a collarbone injury and the 2020 campaign's cancellation. The dual-threat playmaker's return behind center is one key factor to watch for Delta State's chances of making the Playoffs.
Likewise, the Statesmen's playoff aspirations may well hinge on the first three GSC games of the season, as they open with a meat grinder stretch of trailing to West Georgia, hosting defending national champion West Florida, then hitting the road again for Valdosta State. Tucked into that critical stretch? A road trip to face Deion Sanders' Jackson State bunch out of the Div. I SWAC.
MISSISSIPPI COLLEGE
In 2018, Mississippi College introduced the triple option with the hire of veteran coach Tommy Laurendine as offensive coordinator. The Choctaws finished No. 23 in the nation at 223.7 rushing yards per game, and the scheme gives them a tough-nosed identity to help along the transition to NCAA Div. II.
"Right now, we're toe-to-toe with everybody," said Mississippi College coach John Bland of the program's growth. "The difficulty of going from Div. III to Div. II, in this league? Wow. It's like a non-scholarship team joining the SEC."
Despite the degree of difficulty, the Choctaws finished .500 in 2019 and proved their ability to go "toe-to-toe" with the best when they took national champion West Florida to a 27-21 final on the road.
Mississippi College could take another step in 2021. The Choctaws added Cole Fagan in 2020, a former standout at the Air Force Academy. The addition of an FBS performer with familiarity in the option gives an already potent rushing attack a considerable boost.
Mississippi College also returns Jaylin Jones, who scored six touchdowns in 2019.
The offensive line includes Matt Toles, who started the last season before going down with injury and came to Mississippi College from East Mississippi Community College of Netflix Last Chance U. fame. Jack Chavis, a starter in 2019, came to Clinton from one of the most prolific option offenses in FCS, Kennesaw State.
The ideal complement to the grinding style of a triple-option offense is an overwhelming defense, and Mississippi College returns key players to help to that end. Defensive end Fred Walls earned preseason 1st Team All-GSC recognition and produced a team-high four sacks in 2019.
Linebacker Jonathan Jones led the Choctaws with five quarterback hurries and 8.5 tackles for loss. In the secondary, Josh Miller — another EMCC product who forced two fumbles in 2019 — generated a turnover in Mississippi College's spring-season meeting with FCS program Tarleton State.
NORTH GREENVILLE
"When you bring up the Gulf South Conference...you can go back many, many years, it's very well respected as one of the top Div. II football conferences," North Greenville coach Jeff Farrington said at GSC media day. "And that goes way back."
Farrington, nearing a decade at the helm for North Greenville, learned about the strength of the GSC when the Crusaders moved into the league in 2018. A playoff team in 2016, North Greenville went 4-6 and 3-7 in its first two Gulf South seasons.
The program's third GSC season could provide the Crusaders with their opportunity to break into the upper half of the standings, thanks to familiarity both with the league and experience returning to the roster.
North Greenville features a pair of capable running backs in Semaj Lakin and Dre' Williams, both of whom cracked 400 yards rushing in 2019. Williams' return to action is especially intriguing, as he went for 412 yards in just four games and averaged an eye-popping 8.2 yards per carry.
Meet the RBs‼️#A22emble#RiseUp | #ForTheVille | #SwordsUp⚔️ pic.twitter.com/IkA30srxeN

— North Greenville Football (@NGU__Football) August 27, 2021
The run game will have to shoulder the load early in the season as a new collection of wide receivers acclimate to competition. Gone are four of the top five pass-catchers from 2019, with only Matthew Martin returning.
Bryce Fields is the most experienced of the Crusaders quarterback, but put together a pair of impressive games in GSC competition with two touchdowns apiece in games against West Alabama and West Georgia.
Replacing pass-rushing force Chauncy Haney and his 16 tackles for loss with 9.5 sacks and 11 quarterback hurries is a tall order for the Crusaders, but linebacker Dantevian Byrd will still provide consistent pressure.
2018 All-American Aaron Watson returns in the secondary. He's one of the premier cover corners in the GSC with carer numbers of 10 interceptions and 27 passes defended.
SHORTER
While the NCAA's decision to suspend the 2020 Div. II season prompted a majority of the nation to focus on 2021, Shorter began its build for this campaign playing four games in the spring.
The Hawks went 2-2 with wins over Erskine and a blowout of Edward Waters. That marked a non-insignificant step up for a program that won one game in 2019, and none before that since the 2015 campaign.
"Playing the four games in front of a home crowd was amazing," said Shorter coach and alum Zach Morrison at GSC media day. "A new season with new players and experience, returning every starter from the spring, is going to help."
Morrison came back to his alma mater in 2018 at the tail end of Shorter's years-long losing skid, and leading the Hawks to three wins in three seasons shows measurable progress. Getting on the board in GSC play could be a major milestone for Shorter this season.
Quarterback Harold Cook returns, while a dramatically improved defense retains safeties Hunter Poole and Nemo Reddish. Reddish can make Shorter history as the program's tackles leader this fall.
After today's performance, @NehemiahNemo is tied for second for total tackles in school history.#FlyHawks | #BelieveInTheMission pic.twitter.com/iYliKp0VjH

— Shorter Football (@Shorter_FB) March 27, 2021
WEST ALABAMA
The 18 months during which COVID-19 has impacted all facets of life have brought countless challenges, but along with them, opportunities for growth. West Alabama coach Brett Gilliland said at GSC media day that since March 2020, the Tigers "got a lot closer throughout the whole process."
"I'm excited that we're at least coming on the back-end of it, and we're all in the same town again, but I feel like there were a lot of silver linings that came out of it for our guys," he added.
Gilliland, the winningest coach in program history and a West Alabama quarterback legend, welcomes back a team with the make-up of a playoff contender. Quarterback Jack McDaniels passed for 17 touchdowns in 2019 and four in the Tigers' two-game spring season.
McDaniels' top target in 2019, Bayley Blanchard, returns, and Tyriq Martin is a preseason 1st Team All-GSC selection. The tandem packs a potent punch that will buoy an offense that averaged a little under 30 points per game in the last full season.
West Alabama's defense was solid in that campaign, holding opponents to around 22 points per game, but generated fewer turnovers than any other defense in the Gulf South. With 10 total, just four teams in the nation came away with less.
The Tigers' ability to generate a pass-rush in 2021 could help create more takeaway opportunities. Defensive end Undraez Lilly is back, and will team with a potential NFL-caliber lineman in Chris Terrell. Terrell was a 1st Team Preseason All-American at the FCS level for Central Arkansas before a 2019 arrest prompted his dismissal. Resurfacing with another chance at West Alabama, Terrell can be a considerable difference-maker.
Another new addition, TJ Newell, is one to watch in the secondary. The rangy Newell is 6-foot-3 with the size to cover any receiver, and defended three passes in the two-game spring season.
WEST GEORGIA
In the last full season, West Georgia sat at 6-3 heading into its final two contests. Losses at Delta State and to Valdosta State to close out the regular season dashed the Wolves' hopes of reaching a third straight playoff.
West Georgia aims to get back to the postseason in 2021, and will rely on a number of new faces in that pursuit. The good news for the Wolves is that coach David Dean knows plenty about building winning teams year after year.
Work Day #ShowMe pic.twitter.com/af3aOe5bku

— West Georgia Football (@UWGFootball) August 25, 2021
A two-time national championship-winner at Valdosta State, Dean-coached teams have missed the Playoffs just four times since 2007. In 2021, he has a roster that's young in eligibility but not lacking for experience.
Quarterback Garrett Bass took meaningful snaps late in the 2019 season, and had a monster game against Mississippi College with 349 yards and four touchdowns. Wide receiver Quan Harrison was West Georgia's leading receiver last season, finishing with just below 700 yards. He's back, and so is LaPerion Perry, who hauled in three touchdown receptions in 2019.
While much of the Wolves' run game is rebuilt from 2019, West Georgia isn't without familiar faces. Christian Royalston was an excellent second option on the 10-win 2018 team, racking up 453 yards and four touchdowns as a freshman behind Devontae Jackson.
"Christian had an outstanding true freshman year," Dean said at GSC media day. "We're counting heavily on him to provide a lot of leadership."
Dean also cited Ben Walters as a potential cornerstone, the sixth-year senior offensive lineman extending his experience to a very young front unit.
Experience is less of an issue for the defensive line, which returns Shahin O'Neal and Deandre Gardenhire. The two combined for 12.5 tackles for loss last time out.
Marzavion Dix is another lineman who Dean noted during media day. Dix is a big, physical presence who played in all 11 games in 2019.