2021 Savannah State vs Valdosta State
Perennial Power Valdosta State Reloads
Perennial Power Valdosta State Reloads
Perennial Gulf South Conference and NCAA Div. II championship contender Valdosta State returns from hiatus ready to compete for top billing once again.
Aug 27, 2021
by Kyle Kensing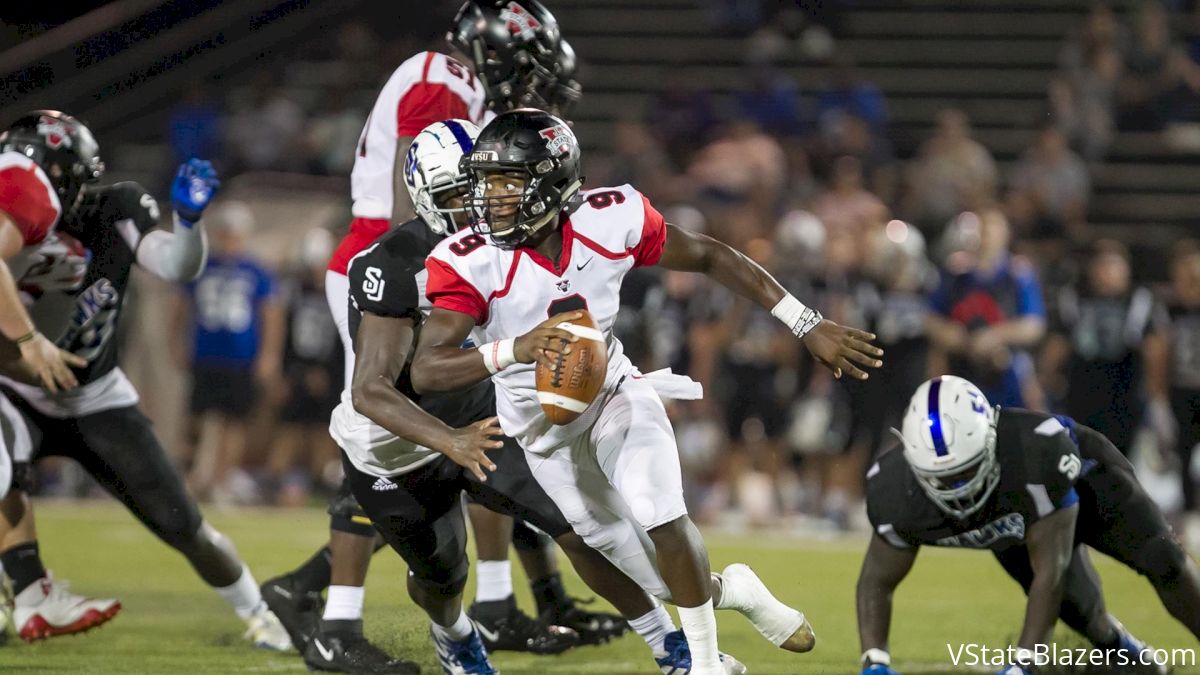 With four national championships since 2004, Valdosta State football serves as one of Title Town, USA's cornerstones. And in 2021, the Blazers will be in the hunt for NCAA Div. II national championship No. 5.
Led by alum Gary Goff — a player for Hal Mumme when Valdosta State was among the very first programs on the air-raid offense wave — the Blazers ran the table in the head coach's first regular season. An upset loss in the Playoffs to burgeoning Gulf South Conference rival West Florida may have been all that separated VSU from an undefeated march to a second consecutive national championship.
As Goff reminisced at Gulf South Conference media day of talking with UWF coach Pete Shinnick prior to the postseason matchup, "whoever won that game had a great shot at winning the national championship," he said. "And that's exactly what happened."
The Blazers had an especially long time to marinate on 2019's early postseason exit. The cancellation of the 2020 season delayed a return to competition, but the layoff won't change VSU's place as a leading title contender.
"Last year, we just practiced for the entire year. We're excited to get things back to normal," Goff said. "They're chomping at the bit to get out there and have a game."
After 15 fall practices and a 15-practice spring that included a few joint workouts with fellow Div. II heavyweight Grand Valley State, Valdosta State opens a promising 2021 against Savannah State on Sept. 4. Thus begins the road to adding another trophy in Title Town.
OFFENSE
From the moment Hal Mumme replaced Mike Cavan as Valdosta State's head coach, VSU became a program known for its offensive innovation and production. Things have changed since the Mumme days, with VSU implementing far more rushing into its attack as the scheme evolves.
Goff told FloFootball.com in 2020 that the current Valdosta State attack features concepts akin to Oklahoma at the FBS including usage of tight ends and a power-run game wrinkle.
Of course, Sooners head coach Lincoln Riley cultivated his take on the air raid working with Ruffin McNeill at East Carolina, who became an air-raid disciple working with Mike Leach at Texas Tech, who coached with Mumme at Valdosta State. All roads lead back to Title Town.
In Goff's 2019 debut, the Blazers averaged 38.9 points per game and is unlikely to slow down in 2021. A key contributor missing from the last campaign, quarterback Rogan Wells, transferred to Tusculum. The Blazers aren't lacking for an experienced playmaker to replace Wells, however, with Ivory Durham taking over.
"He's played ever since he was a true freshman," Goff said of Durham. "He threw a touchdown pass in the National Championship Game in '18. "He has some unbelievable talent...He has a cannon for an arm, he's as fast as anybody in the conference and he's developed into a phenomenal leader."
One of the craziest plays you'll ever see: Ivory Durham scrambles for 53 yards before halftime for a HUGE score for the eventual champs. Wow. 🏈🏆#GSCFB #SCtop10 pic.twitter.com/YZ1swkNY3t

— The GSC (@GulfSouth) November 11, 2018
Durham — who doubled as a running back in addition to back-up quarterback duties previously — speaks to the evolution of the Valdosta State offense. His ability to run as effectively as he passes gives the Blazers a dangerous complement to running backs Jamar Thompkins and Seth McGill.
Despite all the options on the ground, one of college football's cradles of the air raid won't exactly transition to a Wing-T look in 2021. Wide receivers Brian Saunds and Lio'undre Gallimore combined for 11 touchdowns and almost 1,600 yards in 2019.
All-GSC tackle Ralph Singleton anchors the line that adds transfer Jeremiah Campbell, an All-GLIAC performer under Goff at Tiffin; and Murray State transfer Kwan Stallworth, who earned plaudits for his performance in the 2020 offseason.
DEFENSE
Don't let talk of the historical importance Valdosta State's had on the evolution of offense nor its continued success on that side of the ball distract from the otherworldly play it had in recent years. The 2018 national championship-winning team held opponents to a solid 22.6 points per game, but in 2019, the Blazers trimmed that all the way down to 18.5 points per game.
Each of the Blazers' three defensive units feature a preseason All-GSC 1st Team selection: Ja'Davien Williams on the line; Nick Moss at linebacker; and Cory Roberts in the secondary.
Roberts was a true shutdown presence, breaking up eight passes in 2019 and intercepting four. Williams made 3.5 sacks and 6.5 tackles for loss and rejoins a promising tag-team partner in Arrington Dulin. The two up front will have plenty of pass-rush support from linebacker Jackson Bull, who made four sacks and eight tackles for loss in 2019.
Moss brings unparalleled experience in the linebacker corps as a sixth-year senior, taking advantage of the additional eligibility offered due to the pandemic.
SPECIAL TEAMS
Electrifying Brian Saunds is as much of a threat on special teams as at wide receiver. He earned 1st Team All-GSC recognition for his punt-return abilities, which in 2019 resulted in a hair fewer than 10 yards per opportunity.
Seth McGill and Jamar Thompkins split kickoff return chances in 2019, each producing at almost 30 yards per.
Both placekicker and punter feature new faces, but not newcomers to college football. John Miller is a transfer from GSC counterpart West Georgia, and Estin Thiele kicked previously at FIU.
THE SCHEDULE
Sept. 4 vs. Savannah State - FloFootball
Sept. 11 at Richmond Union
Sept. 18 vs. Albany State - FloFootball
Oct. 2 vs. Shorter - FloFootball
Oct. 9 vs. Delta State - FloFootball
Oct. 16 at West Alabama - FloFootball
Oct. 23 at Mississippi College - FloFootball
Oct. 30 vs. West Georgia - FloFootball
Nov. 6 vs. North Greenville - FloFootball
Nov. 13 at West Florida - FloFootball