Gulf South
West Florida, Valdosta State Embrace Budding Rivalry
West Florida, Valdosta State Embrace Budding Rivalry
Gulf South Conference counterparts Valdosta State and West Florida have met on the football field just five times, but there's a rivalry brewing.
Sep 29, 2020
by Kyle Kensing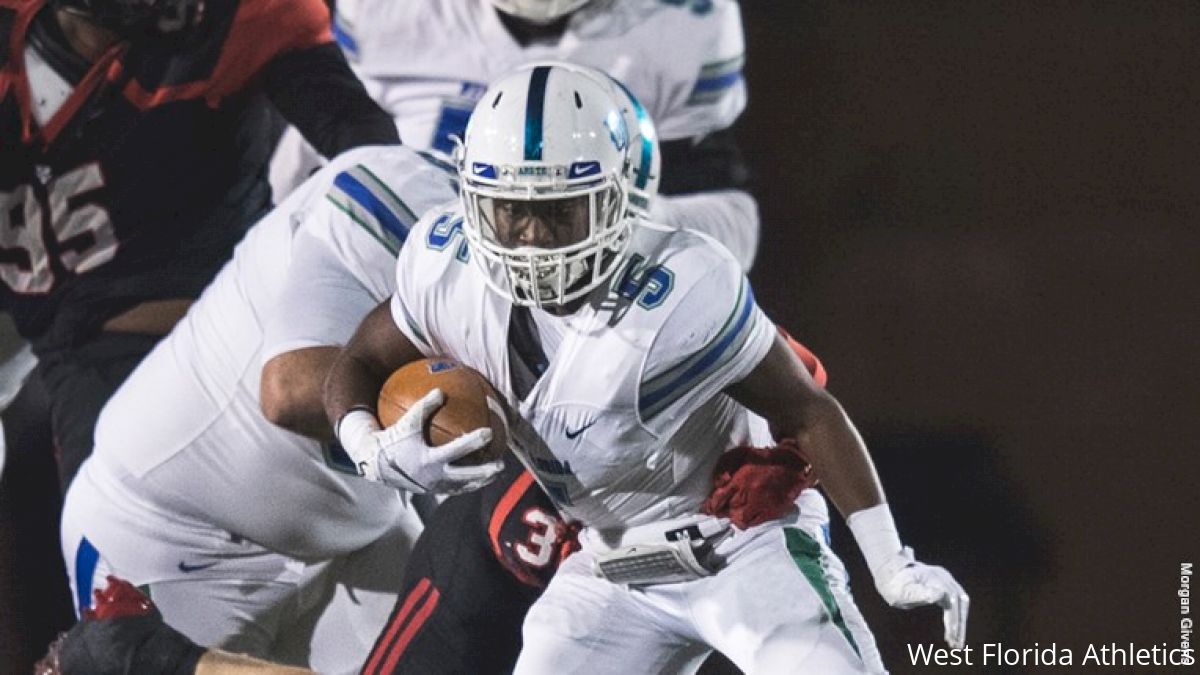 The process of building a rivalry often takes years and years of classic games with high stakes.
Gulf South Conference counterparts Valdosta State and West Florida have played just five times, once for every season since UWF launched its program in 2016 with a bonus postseason game.
But in that short time, the two have packed in more thrilling and important moments than some traditional rivalries deliver in decades of competition.
With head-to-head matchups that shape both the Gulf South and national championship races, including a classic in the 2019 Division II Playoffs, would it be fair to suggest a rivalry is blossoming?
"One-hundred percent," said West Florida quarterback Austin Reed. "With the talent we're starting to bring in, and the pedigree Valdosta has, it's becoming a rivalry."
At Valdosta State, the chief rival will always be West Georgia, Blazers coach Gary Goff said. The Battle for the Peach Basket began in 1983 and has not missed a year since -- that includes the years Goff played in the series as a Valdosta State wide receiver.
While the Blazers' historic rivalry is spoken for, the Argonauts and Blazers have started building something special for the future through a few key ingredients.
https://t.co/trgSeabnsx pic.twitter.com/2vbQFzYw7p

— Barstool VSU (@BarstoolVSU) December 6, 2019
"Obviously they're a contender," Goff said. "They're really well-coached, they've got great players, and they're pretty close to our campus."
West Florida's Pensacola campus sits 266 miles from Valdosta State, a roughly four-hour drive that traverses some of the most fertile recruiting ground in college football.
Valdosta State's roster is rife with players from the Sunshine State, including noteworthy Panhandle and border prospects Ivory Durham and David White (Jacksonville), defensive back Cory Roberts (Pensacola) and Troy transfer defensive lineman Travius Harris (Tallahassee).
Fewer Argonauts came from Georgia than the Florida imports up and down the Blazers roster, but Covington native D'Anthony Bell left an indelible impression on West Florida's championship season.
Bell's hits from the 2019 season included a team-high 12 tackles in a 26-21 loss at Valdosta State on Nov. 9 -- a game that, at the time, may have belied West Florida's credentials as a Blazers rivalry.
"They were the only team we hadn't beat [since joining the Gulf South]," Argonauts coach Pete Shinnick said. "The regular-season game took us to 0-4 [against Valdosta State all-time]."
In a perhaps ironic twist, Reed credited that game for positioning West Florida for its national championship run.
"We were a little bit upset with ourselves, because we felt like we should have beat them, to be honest," Reed said. "We felt like the first half was terrible."
The Blazers went 20-0 at halftime to put the Argonauts in a hole from which they never recovered. But that second half, which West Florida won 21-6, propelled it heading into the postseason.
The rematch flipped the script: A 17-7 Argonauts lead at halftime, a furious fourth-quarter comeback from Valdosta State that put the Blazers ahead -- on Florida product Jamar Thompkins' touchdown run, to boot.
And finally, an 11-play, 75-yard answering drive for West Florida. A touchdown scored with just seconds left on the clock. The program's first win over the conference's gold standard.
📽️ WIN #⃣🔟: VALDOSTA STATE 📽️

Took down the #1 team in the country in our second playoff win 😈#GoArgos | #Arete pic.twitter.com/rE8JutscXH

— UWF Football (@UWFFootball) April 7, 2020
It was the kind of possession that lives on in lore, and gets referenced when evaluating milestone moments in a rivalry. For West Florida, it also proved what the program could be.
"Ok, we just beat the top dog," Reed said. "From now on, the expectation is we should beat everybody….I thought they were probably the second-best team in the country -- being a UWF student-athlete, I'd like to say we were the best team in the country, and I think we proved it."
The Argonauts have the national title to prove it, though they need three more to match Valdosta State's trophy case. The most recent of the Blazers' title came in 2018.
That means when the two meet again, after the pandemic-delayed 2020 season kicks off, it's a showdown of the last two national champions.
"I'd like to think this is the start of a rivalry," Shinnick said. "I'd like to think both our programs can stay at a high level for a long time."
Nothing suggests that won't be the case. And if so, years from now, these Valdosta State and West Florida teams can be credited for starting a premier rivalry.