Delta State's Junior Faulk Is An Interception Machine
Delta State's Junior Faulk Is An Interception Machine
With Junior Faulk leading the way, a veteran-laden Delta State defense is ready to take on 2020.
Aug 3, 2020
by Kyle Kensing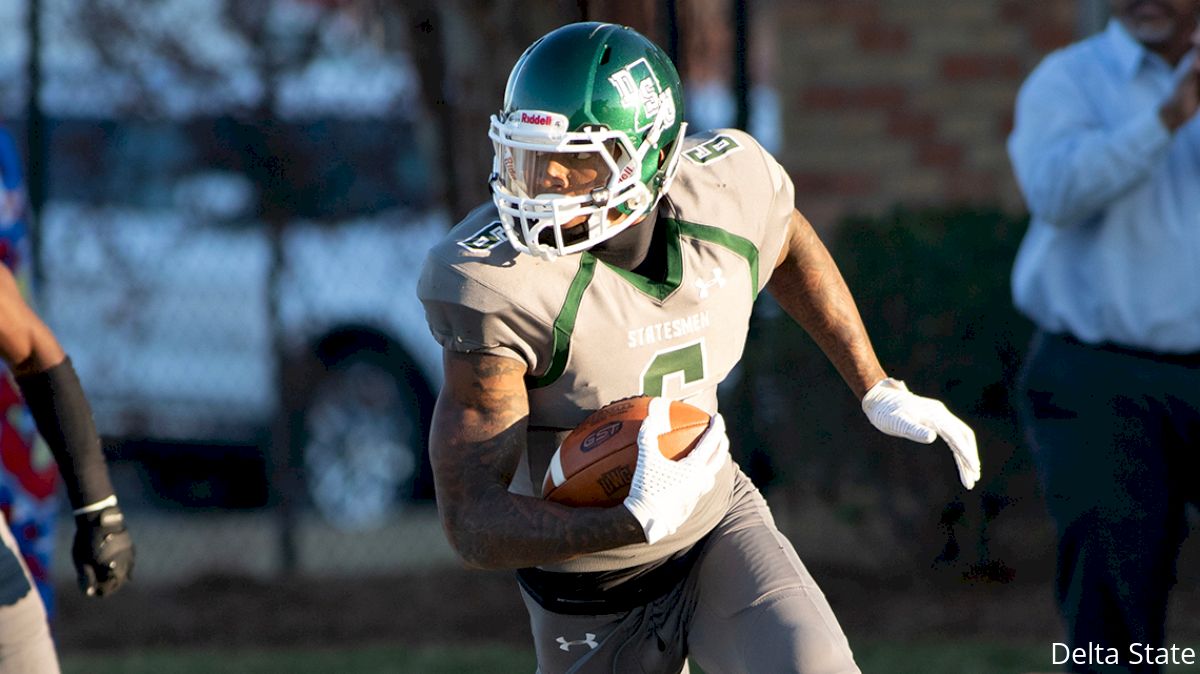 One benefit to a college football team returning a veteran lineup, Delta State defensive coordinator Kelvin Green explains, is the opportunity to build "a player-led team."
And with Junior Faulk among the Statesmen leading the way, the defense is in good hands.
"He's a great young man," Green said. "His character is amazing. Whoever gets the opportunity to coach him after me is going to be truly blessed."
To borrow a popular phrase from the college football lexicon, not so fast my friend. Faulk still has work to do at the college level before going to the pros.
Faulk intercepted nine passes in 2019, breaking Delta State's single-season record. He now sits just five shy of matching the program's career mark, set in 2011 by Gulf South Conference All-Decade honoree Dominique Davenport.
Junior Faulk gets his 9th interception of the year and sets a new DSU single season record! pic.twitter.com/7wn27omEzy

— #DSUFamily (@DeltaStateFB) November 16, 2019
Faulk's nine picks last season also tied for most in Division II — and he did so in one game less than Findlay's Chris Jefferson and two games fewer than Bowie State's Demetri Morsell. Faulk also broke up 13 passes and defended 22, the latter ranking an unmatched best in the nation.
The scheduling limitations due to COVID-19 imposed on both the GSC, and college football as a whole, result in even fewer opportunities for Faulk to match his nine picks of 2019. The GSC decided last week to play a conference-only schedule, kicking off in either late September or early October.
That adds another few weeks to what has already been a long and unusual offseason, one in which Faulk said was "frustrating, [because] you want to get out there with your brothers. [Working out] is better with them.
"It's not just about me," he added. "I want to bring everybody along."
Faulk's attitude that football's better together speaks to Green's concept of a player-led team, and reflects how Faulk has already made DSU history.
Fellow All-Gulf South Conference honorees Zane Samuel (defensive end) and Marvin Terry (linebacker) return. More key Statesmen like Dante Williams, RJ Jarrett and Tim Hall are back from a defense that led the GSC in yards allowed (309.2), rushing yards allowed (1,220/122 per game), rushing touchdowns yielded (11) and interceptions (14).
"The defensive line, the linebackers, man, we create a lot of havoc," Faulk said. "People don't know; they just see the man making the interception. But I ask you to go back and watch every snap and you have guys like Marvin Terry, Zane Samuel, Eric Sadler, Kahlil [Johnson] staying in the quarterback's face."
Sadler and Johnson were seniors in 2019, but Terry and Samuel combined for 26 tackles for loss last year, with Williams adding another six. Terry also generated 10 quarterback hurries.
The dynamic up front that creates interception opportunities for Faulk is symbiotic, too.
"It really frees you up to make calls and to let those guys up front loose, because you understand you've got someone like Junior who can not only defend their guy, but can come off and make plays," Green said.
"The athletic ability and the mindset Junior has, my biggest thing is don't waste it," Green added. "Don't try to make him a robot, let him use his God-given ability to play the game the way he knows how."
Faulk may not be a robot in Delta State's defense, but he's certainly a machine. Even ahead of an unprecedented and uncertain season, he'll have the opportunity to make more history. Can he pick off 10 passes in 2020?
After a laugh, he answered that question: "I think I can get twenty," adding: "I ain't going to try to do too much. Me playing my game is what's gotten me here, and I'm just going to continue to do that."