2021 Southwest Baptist vs West Florida
Reigning Champion West Florida Is Built To Last
Reigning Champion West Florida Is Built To Last
The 2019 Div. II NCAA champions return from a long layoff to defend their crown and continue a remarkable story of immediate success.
Aug 25, 2021
by Kyle Kensing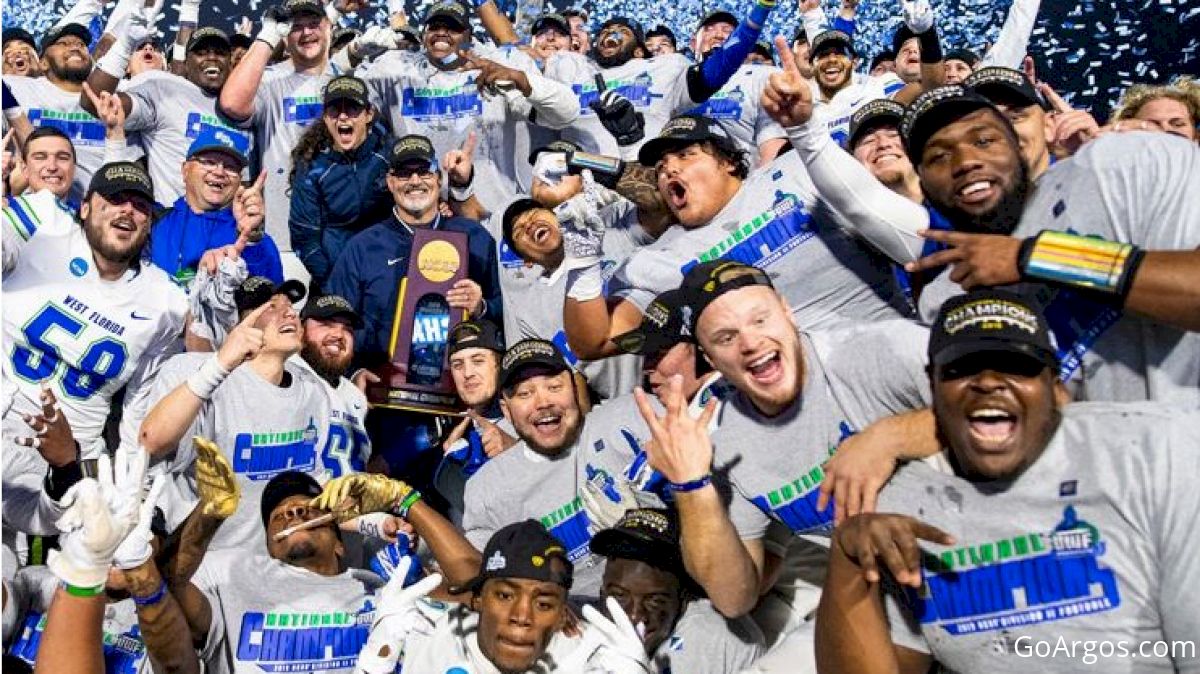 When University of West Florida brass introduced Pete Shinnick as the first-ever football coach in program history, he came with a track record for building a winner from the ground-up.
After a successful tenure in NAIA at Azusa Pacific, he was hired to relaunch a UNC Pembroke program that was dormant for more than a half-century. By his third season with the fledgling program, the Braves reached the Div. II Playoffs. He left with three nine-win seasons to his credit and three trips to the postseason.
But even with the success at North Greenville, projecting West Florida for a national championship in just its fourth season could reasonably be deemed overzealous. Who the heck starts a football team from nothing and becomes the country's best, particularly when playing against one of the deepest conferences anywhere, less than six years later?
Well, West Florida does. And the Argonauts are built to repeat in their fifth all-time campaign.
The jubilation of claiming the NCAA Div. II title transformed into a unique eagerness due to the COVID-19 pandemic. Defensive back D'Anthony Bell, one of the most dangerous playmakers in the nation, told FloFootball.com before the abortive 2020 season defending the championship had him "itching to get out there and prove ourselves again."
A year off has the defending champs ready to flip back into action.
Back-flipping into the new school year like #GoArgos | #Arete pic.twitter.com/uEqOBCkJDE

— UWF Football (@UWFFootball) August 23, 2021
OFFENSE
Quarterback Austin Reed finished the 2019 season ranked third in Div. II with 40 passing touchdowns, fourth with 4,089 passing yards, and 15th at 14.7 yards per completion.
Not bad for a freshman.
Because of the COVID-19 pause, Reed returns to again quarterback the Argonauts offense with the eligibility of a sophomore, but the time under his belt of a senior. The 2021 season is his fourth in college after redshirting at Southern Illinois in 2018 and being relegated to the sidelines due to the pandemic.
The experience — both on the field in 2019 and working out in 2020 and beyond — should help establish some new connections in the passing game. West Florida lost a pair of 1,000-plus-yard receivers in Quentin Randolph and Tate Lehtio, but return Rodney Coates (36 receptions, 471 yards, five touchdowns in 2019), Ka'Ron Ashley (26, 429, six) and Evan Mitchell (two touchdowns).
UWF's Rodney Coates ends the half with this spectacular catch. #GoArgos #Arete #EspnTop10 pic.twitter.com/Xh3uXAGHJI

— UWF Football (@UWFFootball) November 11, 2017
That trio of returning receivers combines to form one of the longest corps in the nation, as well, each standing 6-foot-2 or 6-foot-3.
Speaking of size, the offensive line has plenty of it. First Team Preseason All-GSC honorees Mike Dilla and Jacob Bruce anchor a front that should average well over 300 pounds across its starting five. The group returns 6-foot-5, 305-pound starter Kenneth Roman and welcomes highly touted JUCO transfer Desmond Bland (6-foot-4, 300).
A multifaceted rushing attack, led by running backs Anthony Johnson Jr. and Jervon Newton, operate behind that stout offensive line.
DEFENSE
The Argos held opponents to fewer than 20 points per game in 2019 — an impressive number, given the uptempo nature of their offense. West Florida's D saw 1,033 snaps and allowed 295 points for an average of 0.29 points-per-play.
That figure stacks up well with Harding, which led the nation in scoring defense at 12.3 points per game and allowed 0.22 points per play.
With the talent returning to UWF, it's not unreasonable to suggest the Argos could have the best defense in the nation in 2021. Four Argos are preseason 1st Team All-GSC honorees:
- Defensive backs D'Anthony Bell, who picked off two passes and broke up nine in 2019 to go with 77 tackles and four fumble recoveries; and Marcus Clayton, who broke up nine passes.
D'ANTHONY. BELL.

INTERCEPTION.

ARGOS BALL IN FSU TERRITORY WITH 4⃣5⃣ SECONDS LEFT IN THE HALF..#GoArgos pic.twitter.com/qWhgye2qlE

— UWF Football (@UWFFootball) December 14, 2019
- Defensive end Matthew Gotel, coming off a 6.5-tackle for loss, 2.5-sack season with six quarterback hurries and two forced fumbles.
- Linebacker Trent Archie, who made 91 tackles (10 for loss) with 5.5 sacks, five quarterback hurries and four forced fumbles in the championship season.
Add linebacker Gael Laurent, whose eight sacks led the Argos last time around, and opposing offensive lines will have their hands full in 2021.
SPECIAL TEAMS
Australia has proven a reliable pipeline for American colleges seeking punters, and Pensacola is the latest destination for products of that pool. Steve Dawson transferred in from Austin Peay, where he was All-Ohio Valley Conference, poised to replace the outstanding Dawson Hamlin.
The transfer portal also brings UWF a new placekicker, Danny Laudet. The native of Cabas, France, previously played at Concordia-St. Paul the previous two seasons.
All-GSC defensive back Marcus Clayton helped manage return duties in '19 and ran one kickoff back for a touchdown.
THE SCHEDULE
Sept. 4 at McNeese State
Sept. 11 vs. Southwest Baptist - FloFootball
Sept. 18 at Texas A&M Commerce
Sept. 25 vs. University of Fort Lauderdale
Oct. 2 at Delta State - FloFootball
Oct. 9 at North Greenville - FloFootball
Oct. 16 vs. West Georgia - FloFootball
Oct. 23 vs. Shorter - FloFootball
Oct. 30 at Mississippi College - FloFootball
Nov. 6 at West Alabama - FloFootball
Nov. 13 vs. Valdosta State - FloFootball