2022 CAA Football
CAA Week 5 Recap: Elon-Richmond 2OT Thriller Is An Instant Classic
CAA Week 5 Recap: Elon-Richmond 2OT Thriller Is An Instant Classic
The latest comeback win for Elon highlighted Week 5 in the Colonial Athletic Association.
Oct 2, 2022
by Kyle Kensing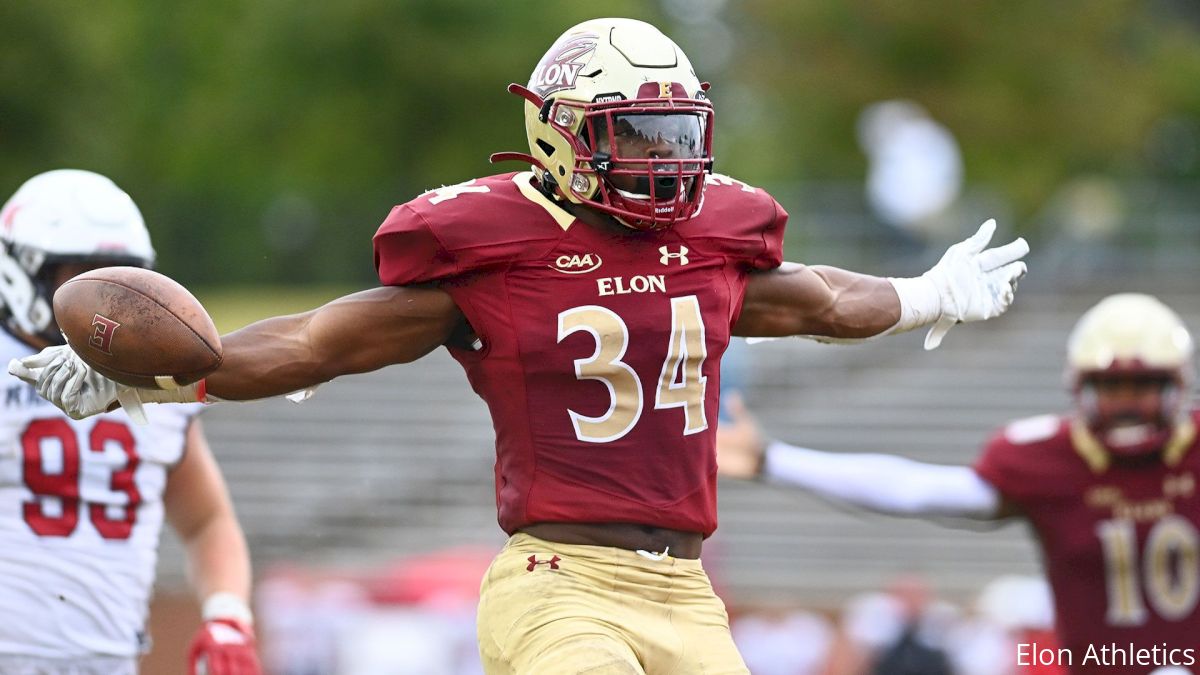 All three phases played crucial roles for an Elon team well-tenured in second-half comebacks. Perhaps a fourth phase impacted the Phoenix's third such win, a 30-27 thriller in two overtimes against Richmond.
"We were praying for it," Elon quarterback Matt McKay said with a chuckle, describing the vibe on the Elon sideline as Richmond's 42-yard field-goal attempt with no time remaining in regulation missed the mark.
How much influence outside forces had on the Phoenix scoring yet another come-from-behind win on the campaign, no one can say for sure. But in extending what had been a stalemate for almost the entirety of regulation, Elon went into overtime energized with at least one supernatural phenomenon on its side: momentum.
"Once that [Richmond's missed field-goal attempt] happened, we're at home. We've got a crowd behind us. And we've got one job: Go win the game," McKay said. "And we did."
For two of the teams at the forefront of a Colonial Athletic Association-wide offensive resurgence coming into Saturday's matchup — the only matchup of Top 25-ranked opponents on the entire FCS Week 5 docket — points came in short supply for 60 minutes. McKay's first-play-from-scrimmage dime to Bryson Daughtry for a 74-yard touchdown and a red-zone strike to Jackson Parham about nine minutes later accounted for the Phoenix's only points until the final minute of the fourth quarter.
TO. THE. 🏡.#AED | #CAAFB pic.twitter.com/PqV4BB3Qqu

— Elon Football (@ElonFootball) October 1, 2022
Finally ending the drought required the Phoenix to finish a drive that began at their own 5-yard line against a Spiders defense that played an outstanding game, and doing so with no timeouts.
Richmond spent plenty of its Saturday in the Elon backfield with three total sacks, four quarterback hurries, and linebacker Tristan Wheeler — destined for an All-America selection and contention for the Buck Buchanan Award — getting 2.5 tackles for loss to pace Richmond to eight.
"They're really disciplined," McKay said of the Spiders defense. "They had their eyes right and were doing everything they're coached to do. So then it comes down to execution on our part."
The game-tying sequence personified execution in all three phases, following the blueprint Elon laid out in its previous rallies against Gardner-Webb and in another Top 25 CAA win, last week at William & Mary.
First phase, defense. On fourth-and-goal at the end of a drive that had Elon back on its heels, Reece Udinski's would-be killshot pass to Leroy Henley was hurried by Josh Johnson. Johnson previously on the drive contained Aaron Dykes on second down, which Bo Sanders and Jake Luoro repeated on third down to force the critical fourth-down sequence.
Second phase, offense. Moving the ball on the Spiders was laborious all afternoon in situations not approaching the pressure of that final Elon possession in regulation.
The pressure was evidently the key Phoenix needed to unleash its "three-headed monster," as McKay described it: their ability to spread the ball in the passing game to a variety of pass-catchers, Jalen Hampton running downhill, and McKay extending plays with his feet.
And, indeed, a 29-yard Christian Da Silva reception and Chandler Brayboy's grab of 11, Hampton breaking off a 20-yard carry and McKay moving out of the pocket to create gains were all integral.
𝙈𝙊𝙊𝘿.#AED | #CAAFB pic.twitter.com/t4T1cj0yMb

— Elon Football (@ElonFootball) October 1, 2022
"It was pretty crazy, but we practice two-minute [drill] so much," McKay said of the final drive. "I just believed in my guys. I knew we were going to execute and drive it down. I don't think anybody doubted at all. It was good to get down there in field goal range and let Skyler [Davis] do his thing."
That leads into the third phase with special teams.
Elon special teams have been front-and-center in the Phoenix's strong start, and Week 5 was no exception with Jeff Yurk and the punt-coverage team pinning Richmond inside the 20-yard line four times — and twice inside the 6.
A Johncarlos Miller field-goal block marked another crucial special-teams play. Then Davis added the special-teams exclamation point with one of the biggest field goals of the program record-tying 59 he's booted through the uprights in his Elon career.
Davis drawing the score level and Richmond's subsequent missed field goal combined to build that momentum McKay described going into overtime. Another first-play-from-scrimmage touchdown pass, this one to Miller, then Hampton barreling into the end zone for the game-winning score were the manifestations of the Phoenix feeding off the energy at the end of regulation.
What a time to score your first touchdown of the season!

Johncarlos Miller II puts @elonfootball up, 24-17 in OT

📺 #CAAFB on @FloFootball
➡️https://t.co/wZhH1155bM pic.twitter.com/E6jMvb6w5w

— CAA Football (@CAAFootball) October 1, 2022
WHAT. A. GAME.

No. 23 @ElonFootball defeats No. 22 Richmond, 30-27, in 2OT!#FCS x 🎥 @CAAFootball pic.twitter.com/TkHkjTxLGM

— NCAA FCS Football (@NCAA_FCS) October 1, 2022
No matter the influences that determined the best game of Week 5, supernatural or otherwise, both Elon and Richmond looked every bit the CAA championship contenders and FCS Playoffs worthy teams each strive to be.
Udinski completed 42 passes for 383 yards with two touchdowns and no interceptions; with 102 yards, Dykes was one of the five CAA ball-carriers to reach the century mark in Week 5; Jakob Herres went for a career-high 174 yards receiving, a new CAA season-high; and Wheeler was his usual difference-making presence for Richmond's defense.
TOUCHDOWN SPIDERS‼️@_jakeherres takes it in and we are headed to a second overtime😤

🕷️ 24
🔥🐦 24#OneRichmond

Scoring Drive Powered by @serednitireauto pic.twitter.com/9fU5z9Z3P4

— Richmond Spider Football (@Spiders_FB) October 1, 2022
It's cliche to claim neither team deserved to lose a competitive game, particularly when the rules demand a winner; Elon knows that as well as any CAA program in recent years after losing a five-overtime decision to William & Mary in 2019.
But it's difficult to argue Richmond deserves to lose its Top 25 standing after such a performance.
Establishing The Run
Aaron Dykes finished among a quintet of 100-plus-yard rushers around the CAA in Week 5, as noted (and Jalen Hampton finished just seven yards off that mark). Also in that club, nation-leading rusher Jaden Shirden of Monmouth continued to build his Walter Payton Award resume with 108 yards in the Hawks' 35-7 rout of Lehigh.
Four straight over a hundo for @shirden_20!#FlyHawks pic.twitter.com/GbVBRwS1vn

— Monmouth Football (@MUHawksFB) October 1, 2022
Kyron Cumby hit exactly 100 yards on 15 carries with a touchdown as Delaware remained perfect, beating Towson 24-10. Marques DeShields led Rhode Island on a night the Rams totaled 289 rushing yards, going for 109 on just 11 carries in the 38-10 rout of Brown to keep the Governor's Cup.
And the high for the day in the CAA — and perhaps the most important rushing production in Week 5 — came from William & Mary's Malachi Imoh.
A Tribe squad that ranks among the nation's best in rushing offense has thrived with a multifaceted approach. However, the previous absence of Donavyn Lester was compounded in Week 5 when Bronson Yoder could not make the trip to Stony Brook. That left Imoh to tote the ball 21 carries, an unusually high number for any back in offensive coordinator Christian Taylor's uptempo scheme.
"The wide-zone, stretch-zone [offense] is also kind of a tempo run when you've got to time up when you've got to hit it downfield, when you might jump cut and all those things," William & Mary coach Mike London said. The Tribe's potent attack thrives both with the cycling of fresh players, and through a keen sense of timing.
As London described, Imoh nailing the timing element helped ignite William & Mary after a sluggish first half that could have gone worse for the Tribe had Ethan Chang not nailed a 57-yard field goal before half.
"Trusting the holes that were opening up," London cited as a difference for Imoh and DreSean Kendrick in the second half. "They did a really good job that second half. And then you saw what Malachi has; possesses that breakaway game speed."
When Imoh scored the first of his three touchdowns, he both gave William & Mary a lead it never relinquished and snapped a drought of four quarters for the Tribe without a touchdown.
𝙏𝙊𝙐𝘾𝙃𝘿𝙊𝙒𝙉‼️

Malachi Imoh puts W&M ahead with a 10-yd TD run

W&M 13, SBU 10 | 3Q, 0:55

💻 | @FloFootball
📻 | 92.3 FM The Tide | https://t.co/pqrf112Mhc
📊 | https://t.co/9CbkxmG8Rq
#GoTribe pic.twitter.com/YACmW6OGGV

— William & Mary Tribe Football (@WMTribeFootball) October 1, 2022
"Sometimes, it just takes one, really, for everyone to get going," Imoh said. "I knew when we got that first one, we'd really get going."
That first one, a 10-yard carry, initiated a tidal wave; three touchdowns in less than 10 minutes of game play. Caylin Newton returned a punt 32 yards, setting up the Tribe offense on a short field. Imoh capped the 30-yard drive with a goal-line carry, then went 28 yards for his third touchdown to push the score to its 27-10 final.
TOUCHDOWN #️⃣3️⃣ for Malachi Imoh‼️

W&M 27, SBU 10 | 4Q, 6:00

💻 | @FloFootball
📻 | 92.3 FM The Tide | https://t.co/pqrf112Mhc
📊 | https://t.co/9CbkxmG8Rq
#GoTribe pic.twitter.com/6GGshbFJVN

— William & Mary Tribe Football (@WMTribeFootball) October 1, 2022
It was a resounding response to what London described as calling "a gut check" when the Tribe went into the locker room trailing 10-6 at intermission.
Imoh broke off another run of 29 yards that very nearly went for a fourth score.
"I broke the one tackle and see nothing but green grass. I was a little bit tired, but I was kinda frustrated [because] I try not to get caught from behind," Imoh said of his reaction to the end-of-game near-miss. "I knew I had the opportunity to finish out the game strong."
Malachi Imoh goes over 100 yds rushing ... up to 128 yds on 21 carries with 3 TD!

💻 | @FloFootball
📻 | 92.3 FM The Tide | https://t.co/pqrf112Mhc
📊 | https://t.co/9CbkxmG8Rq
#GoTribe pic.twitter.com/wwnucCcZCx

— William & Mary Tribe Football (@WMTribeFootball) October 1, 2022
Even if he didn't go for a fourth second-half touchdown, Imoh finished the win plenty strong to punctuate the standout ball-carrying performance of the week in the CAA.
Hayek Shines
Although rushers ran wild in Week 5, the clear-cut offensive performance on the weekend belongs to Villanova wide receiver Jaaron Hayek.
Hayek came into the Wildcats' league matchup with Maine with two touchdown receptions on the season; he surpassed that mark in just the second quarter of Villanova's bounce-back, 45-20 win.
Here, via @FloFootball, are all four of Jaaron Hayek's touchdown receptions for @NovaFootball in its @CAAFootball win over Maine. pic.twitter.com/ww2oTpeXzm

— Kyle Kensing 👻 🎃 (@KyleKensing) October 2, 2022
Hayek snagged his fourth in the third quarter to match Fordham's Fotis Kokosioulis for most touchdowns reception in a game all season. Remarkably, Hayek needed just five total receptions on the day for 159 yards — 15th-most by any FCS pass-catcher this season.
A great receiver performance typically reflects a great quarterback performance, of course, so it's necessary the Notebook mentions Villanova quarterback and Hayek's roommate, Connor Watkins.
Watkins came into Week 5 already boasting the nation's highest single-game efficiency rating. After going for 13-of-16 for 255 yards and the four connections with Hayek — and completing each of his first 11 pass attempts — Watkins is now owner of the top two performances in terms of efficiency.
Connor Watkins stat line https://t.co/I9EQyRMuvp pic.twitter.com/pHAQz9fnC5

— Kyle Kensing 👻 🎃 (@KyleKensing) October 1, 2022
His 297.625 rating on Saturday was a little less than nine points off his Week 1 pace against Lehigh, yet more than 19 points ahead of the third-most efficient passing performance this season.
Rhody's Rare State Championship
Rhode Island's 38-10 romp over in-state rival Brown marked the Rams' fourth consecutive win in the series, URI's longest streak since winning five straight from 1988 through 1993. Combined with the Rams' Week 2 rout of Bryant, Rhode Island can claim its second unofficial Ocean State championship in as many years, and is 3-0 all-time in the fledgling series.
When Rhode Island swept its in-state counterparts in 2002 — beating Brown 38-28 in the 87th installment of the rivalry and blanking Bryant, 28-0, in the first-ever meeting between the schools — it was the first time in more than 60 years URI had an opportunity to claim state superiority in a round robin.
Providence College briefly sponsored varsity football, before World War II forced the program's closure. In their last few years of existence, the Friars gave Rhody fits — including denying the Rams' claim to best in the state in 1935.
That season, the then-Rhode Island State football program ended a run of futility against Brown that had lasted since the rivalry's inception in 1909. A 13-7 Rams win on October 5 generated befuddled headlines.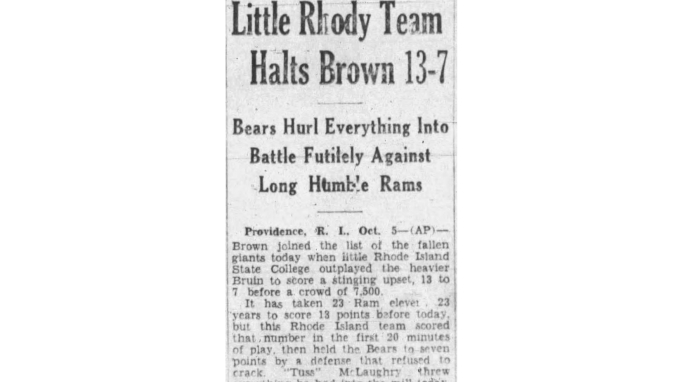 Indicative of just how profoundly the times have changed, Rhode Island needed 23 years to score 13 points on Brown in the rivalry's early days. The Rams put 14 on the board less than seven minutes into Week 5, courtesy of rushing touchdowns by Marques DeShields and Jaylen Smith.
The '35 Rams could have used DeShields or Smith's services; a 13-0 loss to Providence College in the regular-season finale denied Rhode Island state bragging rights — although the general populace in 1935 might not have been ready to process playmaking like DeShields' hurdling touchdown in Week 5.
Hey @ESPNAssignDesk, check out this TD by Marques DeShields ‼️WHO HURDLED A HUMAN‼️ to get @RhodyFootball into the end zone on its first drive of the annual Governor's Cup rivalry game against Brown University! 🏈🏃‍♂️↖️🤩 #SCtop10 pic.twitter.com/mqV9ln4voj

— Rhode Island Rams (@GoRhodyRams) October 1, 2022
Turning Defense into Offense
Three interceptions contributed to Rhode Island's dominance of the Governor's Cup showdown, with the Rams cashing in two of those takeaways for touchdown drives on the ensuing possessions.
Rhody was among the four-of-six CAA winners in Week 5 that scored at least one touchdown after a takeaway:
Emmanuel Gomes' interception of Brown's Jake Willcox set up DeShields' highlight-reel touchdown run; on the next defensive sequence, Jake Fire picked off Willcox and Kasim Hill parlayed the ensuing possession into a 28-yard touchdown pass to Caleb Warren.
Monmouth's Mike Reid forced a Lehigh fumble, recovered by Ryan Moran. Five plays later, Tony Muskett ran in a 10-yard touchdown.
Jamir Malone jarred loose a fumble against Richmond that Bo Sanders recovered, setting up Matt McKay's touchdown pass to Jackson Parham.
Jalen Goodman shut down a late-game Maine rally effort with a 23-yard pick-six midway through the fourth quarter.
Goodman's pick-six was the CAA's first of the day. The second, Robert Javier's 97-yarder (as it was officially marked) at Delaware is the second-longest interception return of the season.
Robert Javier with the 98 yard pick 6!! @Towson_FB

📺 #CAAFB on @FloFootball
➡️https://t.co/wZhH1155bM pic.twitter.com/7Pl8ix0Dug

— CAA Football (@CAAFootball) October 1, 2022
Credit the still-undefeated Blue Hens, though: That was the only touchdown the Delaware defense allowed Towson in a 24-10 win.
Blue Hens coach Ryan Carty said earlier in the week that, "a defensive coordinator's best friend is points." In Week 5, Delaware demonstrated that a lack of points allowed on the other end is the best friend of an offensive coordinator.
UD may not have scored a touchdown off the one turnover it generated against Towson — Kedrick Whitehead's interception preceded a Blue Hens field goal — but the overall defensive effort was arguably the best a CAA team has delivered all season.
Towson converted only nine first downs and was held to fewer than net 100 yards in both rushing (97) and passing (62).
"We would have loved to have scored more points; I don't think you're ever going to ask that question to me and I'm going to say, 'No, I wouldn't have wanted to score more points,'" Carty said in his postgame press conference. "But I thought we did a great job buckling down...continuing to play really dominant defense."
And dominant is indeed the word for it: Delaware ranks fourth nationally in yards allowed per game at 254.4, and third in points allowed with 50 all season — though the latter is a bit of a misnomer with Saturday's pick-six being tallied against the overall mark.