2022 CAA Football
CAA Week 3 Notebook: Punters, Linemen, And The Role Of Field Position
CAA Week 3 Notebook: Punters, Linemen, And The Role Of Field Position
Punt teams and offensive linemen may not typically get the star treatment, but their importance is shining through in the Colonial Athletic Association.
Sep 16, 2022
by Kyle Kensing
In a game in which the quarterback passed for three touchdowns, a single receiver caught two of those scores, and the defense didn't allow a single point, perhaps the biggest star of Elon's 26-0 win over Wofford was its punter.
Jeff Yurk did his part in the Phoenix's most defensively dominant performance in a half-decade with three punts pinned inside the Wofford 15-yard line. The byproducts of his efforts included the Terriers crossing the 50-yard line just once while starting drives with an average field position of their own 23-yard line. The Terriers faced a field of no fewer than 75 yards on 11 of its 12 possessions, and never any closer than its own 22-yard line on drives that began from Yurk punts.
Elon, meanwhile, enjoyed an average starting field of position on offense of its own 33-yard line, and the Elon 42-yard line on the Phoenix's five scoring drives.
Work so hard you don't have a free moment to hear any of the praise of the people watching from the distance; be the "Man in the Arena". The more you accomplish, the harder you work to get even better. #AED pic.twitter.com/pr3bEjU2oA

— Jeff Yurk (@jeff_yurk) September 12, 2022
Consider those numbers the tangible testament to the concept of "flipping the field," as Tony Trisciani lauded Yurk for contributing.
Yurk's work also speaks to the overall importance of winning special teams, which has become a hallmark for Elon early in 2022. Tre'Von Jones' electric punt-returning at Vanderbilt buoyed a Phoenix rally, and placekicker Skyler Davis wrote his name in program history after his two made field goals against Wofford.
"Milo Austin, our special-teams coordinator, is doing a real nice job with that group from a preparation standpoint and developing skills so when the moment of truth comes, we're prepared for it," Trisciani said, who also shouted out Yurk's duties in tandem with Davis. "He was recognized for his job punting, but he did a great job as our holder, getting one down for Skyler. We had a high snap, and Jeff did a great job getting that thing down."
Punters like Yurk could play pivotal roles in the direction of the Colonial Athletic Association championship race this season, if early-season results are any indicator.
In much the same vein as Yurk during Week 2, Delaware's Ben Dinkel earned commendations from his head coach after Week 1. Dinkel continued the outstanding punting that helped the Blue Hens to an upset at Navy in Delaware's 35-9 win over Delaware State.
Two of his three punts were pinned inside the 20, including a 57-yard beauty downed at the one-yard line. Delaware State's inability to move the ball with its offense's backs against the goal line resulted in Delaware scoring a punt-block touchdown.
.@TreyAustin24 w/ the block 👀 @QuincyWatson23 w/ the RECOVERY. Let's GOOOOO pic.twitter.com/M08PKgPWIk

— Delaware Football (@Delaware_FB) September 10, 2022
Dinkel ranks among the nation's best in average punt yardage at 44.2, and has booted two of 50-plus yards, but most importantly has already pinned five of his 10 attempts inside the 20. Dinkel's 50 percent of punts placed in the 20 ranks him among the nation's best, but he has competition in-conference.
Yurk has placed 5-of-12 inside the 20, New Hampshire's Sean Lehane is 4-of-10, Maine's Brian Cooey is 6-of-16 and Towson's Riley Williams is 4-of-6.
Offensive Line Excellence
There's more than one way to flip the field, and Richmond coach Russ Huesman certainly knows that.
"Sometimes when you get the ball down there on your own five-yard line, you get a little nervous," he said. "We've had a lot of success backed up, and it really helps. You can get the ball down there, go three-and-out, and the defense is right back on at midfield. To get first downs, to flip the field, is huge. We not only flipped the field, but probably scored on [three possessions of 75-plus yards, including drives of 91 and 93 yards Week 2 vs. Saint Francis] and had one turnover made on a big drive [73-of-75 yards before a fumble at the two-yard line]. That's a credit to our offense and offensive staff, they've done a really nice job with that."
Grinding for first downs to flip the field, or better yet score, starts up front. Richmond's offensive line, nicknamed the Boss Hawgs, did its part, holding blocks the length of the field as the Spiders ate clock and gradually ate yards.
#FindAWay Mentality- Proud of this group #BossHawgs #WhichWay 🔨⬇️ pic.twitter.com/J3edsfLbHQ

— Adam Ross (@CoachARoss) September 11, 2022
Not every long drive consumes clock through a steady diet of first-down plays, but the line's efforts are no less significant. As Jaden Shirden ran for touchdowns of 95 and 80 yards Week 2 vs. Fordham — tentpoles of his nation's best 299-yard outing — Monmouth linemen created the space up front through which the Hawks back erupted.
"The offensive line really took a major step forward from where we were in the opener just over a week ago," said Monmouth coach Kevin Callahan. "That was the first time that unit had played together, when we opened the season at New Hampshire. And [against Fordham], you could see they are really starting to jell and really get used to play with one another in game-type situations."
"That was really evident by the way they not only protected our quarterback [Tony Muskett], but also open some run lanes," Callahan added.
While Justin Szuba and Oliver Jervis are seniors (Szuba a sixth-year) and experienced starters, Tyler Williams and Jordan Hall were both reserves for the Hawks line a season ago. The fifth 2022 starter, Greg Anderson, started in five games last season.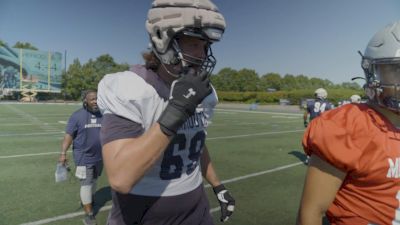 New Hampshire opened the season with a similar complexion on its starting line, featuring a veteran starter in Patrick Flynn and experienced rotational lineman Osho Omoyeni. But David Perry Jr., Matt O'Neill and Dylan Poirier stepped up into starting roles and Omoyeni moved to center for the first time in his career.
The unit has meshed on the job through two weeks, paving the way to Wildcat wins in conference with a pair of late-game touchdown drives against both Monmouth and UAlbany. The go-ahead possession in Week 1 and game-sealing drive Week 2 went 72 and 75 yards, each culminating in Dylan Laube touchdown runs.
Laube was effusive in his praise of the New Hampshire front five immediately following his career-best 202-yard, three-touchdown performance at UAlbany. Wildcats coach Rick Santos' tone was no different after a few days of reflection and film study.
"There's a trust system that we've worked hard to build between us in the coaching staff," Santos said of the line's play in the big picture of UNH's program framework. "[Offensive coordinator and offensive line] coach Scott in particular is doing a great job designing plays and calling it in critical situations. He's somebody who's done it at a high level for a long time, so I think he's got confidence in his ability.
"And we changed a lot of our offensive scheme in the spring," Santos added. "They had 15 spring ball practices, and then obviously some of the summer access and film study we can do with them, and then throughout fall camp. So, I think it's starting to come together where all that preparation and the stuff we've done well during practice is starting to show up during games."
Preparation plays a vital role to be sure. Synchronicity dictates performance for a line perhaps more than any other position group. To that same end, players who can ensure that prep makes its way into game day are of paramount importance.
For UNH, Santos said Flynn takes those reins.
"[Flynn] was voted [as a captain unanimously] by our team," he said. "That shows the conviction that our players have in him."
Whether it's flipping the field or producing points for teammates, the role of offensive linemen like Flynn in football's most defining quality — the fight for field position — cannot be overstated.
Fun With Numbers: A Field Position Breakdown
Keeping with the theme of this edition of the CAA Notebook, let's dig into field position through the first two weeks. As with any big-picture statistical examination, sample size matters; CAA teams have played two games, expect for Stony Brook, which has played one. We'll revisit these numbers throughout the season to see how they evolve.
Still, there are interesting plot points that stem from field-position statistics thus far. The CAA's top four teams in terms of offensive starting field position are all undefeated; 4-of-5 with opponents facing the longest average starting field position are unbeaten.
Hampton has dominated the field-position battle in its first two games, starting offensive drives approaching midfield on average and beginning scoring drives almost at the 50. Pirates opponents, meanwhile, have started possessions at about their own 25-yard line.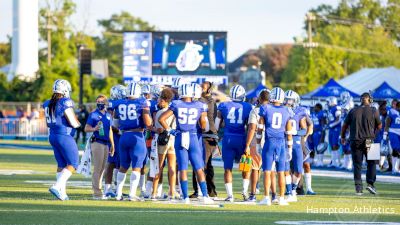 Rhode Island has the CAA's third-best average starting field position through Week 2, yet the Rams' scoring drives average more than five yards in length than all of their possessions combined.
Average Offensive Starting Field Position:
Hampton: 59.5 (own ~41)
Delaware: 65.2 (own ~35)
Rhode Island: 65.4 (own ~35)
Villanova: 65.8 (own ~34)
Elon: 67.6 (own ~32)
William & Mary: 68 (own 32)
New Hampshire: 69.4 (own ~31)
Towson: 70.5 (own ~30)
Monmouth: 70.7 (own ~29)
Maine: 70.9 (own ~29)
Richmond & Stony Brook: 74 yards (own 26)
UAlbany: 76.5 (own ~24)
Average Defensive Starting Field Position:
Hampton: 75.1 (opponent ~25)
Villanova: 75 (opponent 25)
Delaware & Elon: 73.8 (opponent ~26)
New Hampshire: 72.9 (opponent ~27)
Richmond: 72.6 (opponent ~27)
Towson: 71.7 (opponent ~28)
Rhode Island: 71.5 (opponent ~29)
Monmouth: 71.4 (opponent ~29)
Maine: 69.5 (opponent ~31)
William & Mary: 69.4 (opponent ~31)
Stony Brook: 67.3 (opponent ~33)
UAlbany: 65.2 (opponent ~35)
Average Starting Field Position of Scoring Drives:
Hampton: 52.7 (own ~47)
Towson: 57.6 (own ~42)
Villanova: 59.3 (own ~41)
Delaware: 61.7 (own ~38)
Elon: 62.6 (own ~37)
Monmouth: 65.5 (own ~35)
William & Mary: 67.1 (own ~33)

New Hampshire: 67.9 (own ~32)

Maine: 68.3 (own ~32)
Rhode Island: 70.7 (own ~29)
Richmond: 71.3 (own ~29)
UAlbany: 74.2 (own ~26)
Stony Brook: 77 (own 23)
Average Opponent Starting Field Position on Scoring Drives:
New Hampshire: 73.7 (opponent ~26)
Hampton: 73.2 (opponent ~27)
Monmouth: 71 (opponent 29)
Stony Brook: 70.8 (opponent ~29)
Towson: 70.5 (opponent ~30)
Delaware: 68 (opponent 32)
Richmond: 67.7 (opponent ~32)
Elon: 66 (opponent 34)
William & Mary: 65.1 (opponent ~35)
Villanova: 65 (opponent 35)
Rhode Island: 62.8 (opponent ~31)
UAlbany: 60.8 (opponent ~39)
Maine: 60.1 (opponent ~40)
Below illustrates where each team is starting drives on both sides of the ball, as well as points scored and allowed per game.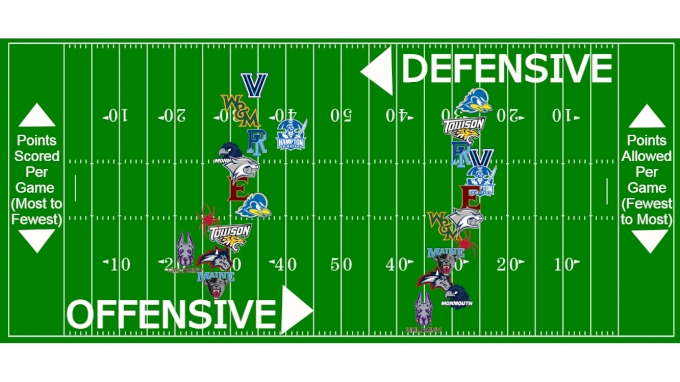 Teams that have scored the least thus far have also faced longer fields. Three of the four lowest scorers through two games have also started drives inside their own 30; all of the eight leading scorers start at no worse than their own 30, save Monmouth that falls between the 29 and 30.
Defensively, the 30-yard line again stands out as the unofficial line of demarcation. Of the six teams that have given up the most points in 2022, only Monmouth and Richmond opponents are taking possession inside the 30-yard line on average.
CAA Notebook promises a revisit of these numbers in a few weeks. Until then, enjoy as the last days of summer give way to autumn and CAA action shifts into a higher gear.