2023 CAA Football
CAA Week 5 Notebook: The Colonial's Offensive Revolution
CAA Week 5 Notebook: The Colonial's Offensive Revolution
With eight teams averaging more than 30 points per game through the first month, the 2022 season has seen an offensive eruption in the CAA.
Sep 30, 2022
by Kyle Kensing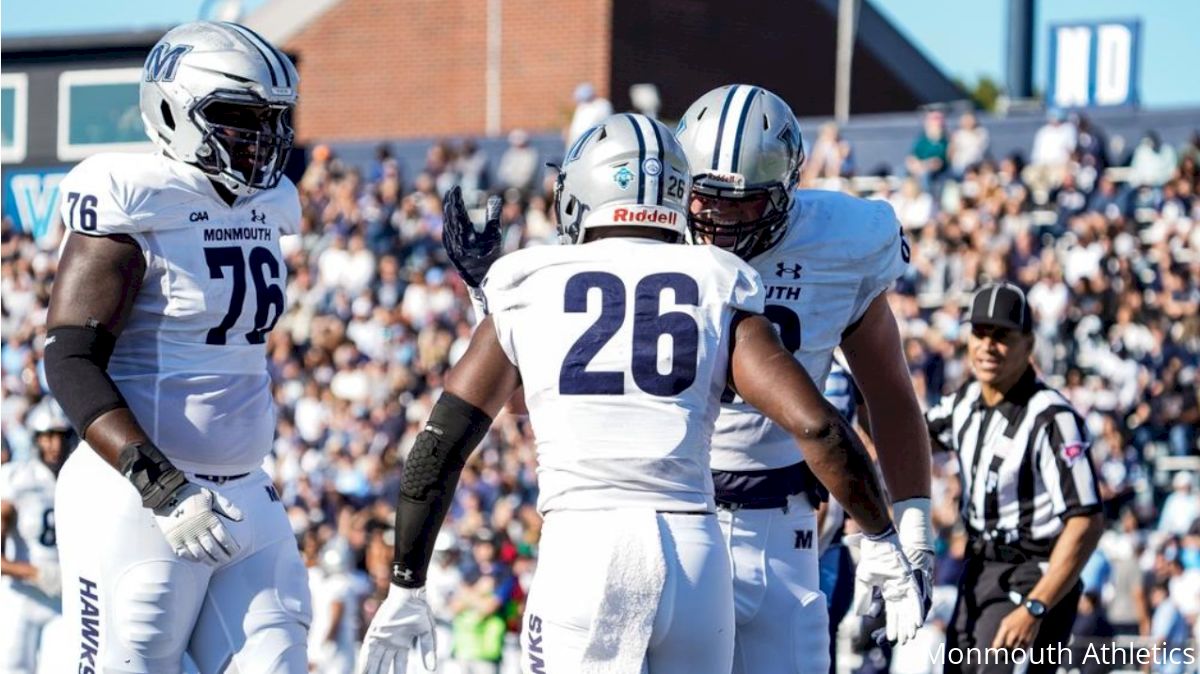 Russ Huesman's Richmond Spiders may be at the forefront of an offensive eruption around the Colonial Athletic Association, but that doesn't mean he has to like it.
"I hate seeing a bunch of offense. It makes my stomach churn every week putting the film on," Huesman said.
Given Huesman's defensive background, one can understand his distaste for high-scoring football. He played in the secondary at Chattanooga, coordinated the defense for Richmond's national championship-winning team in 2008, and would admittedly "run the ball 90 times a game if I could."
Don't expect Richmond to adopt the Wing-T any time soon, though. In their first season with Billy Cosh coordinated the offense, the Spiders rank No. 11 nationally in passing offense at 289 yards per game, with quarterback Reece Udinski seventh among all FCS quarterbacks with 1,118 yards.
Richmond ranks in the top 30 for both total and scoring offense, and are within striking range of a 40-point per game average against FCS competition after posting 51 points in Week 4.
Reece Udinski completed 35-of-42 passes for 357 yards and five touchdowns in less than three quarters of action as @spiders_fb rolled over Stony Brook, 51-7 pic.twitter.com/Oq8s1XJDt8

— CAA Football (@CAAFootball) September 25, 2022
If such displays of offense make Huesman's "stomach churn," he gets little relief scouting Richmond's CAA opponents this season. The Spiders and their multifaceted passing attack are key contributors to an offensive renaissance for a conference that has long been synonymous with stifling defense.
"Our league goes back-and-forth," said UAlbany coach Greg Gattuso, whose Great Danes went for 45 points in both Weeks 3 and 4. "Some years, it's 17-10. Now, you look at these scores, and who'd have thought Monmouth-Villanova would have been whatever that was [49-42]. It's a different league, and this year, it seems like the offense has the upper hand."
Led by Monmouth's 41 points per game, the CAA hosts eight of the 37 highest-scoring FCS teams. Each of the eight — Elon, UAlbany, New Hampshire, Delaware, Richmond, Villanova, William & Mary and Monmouth — averages at least 30.5 points per game through the first month.
Historical context: Since 2007, the CAA has never had a season in which more than four of its teams averaged 30-plus points per game. In that same vein, the 2021 CAA season's second-highest scoring squad, Villanova, would be the ninth-most prolific scoring team in 2022 at 30.1 points per game.
Of no coincidence, CAA teams and individual players rank near or at the top of a variety of offensive statistical categories, including:
Three of the top 10 rushing offenses (William & Mary, 253 yards per game; Villanova, 245.8 yards per game; Monmouth, 243.8 yards per game)
Four of the top 15 offenses for total yardage and seven of the top 30
Three of the five longest carries
The nation's leading rusher, Monmouth running back Jaden Shirden
Four of the top 10 top rushers with UAlbany's Todd Sibley, New Hampshire's Dylan Laube and William & Mary's Bronson Yoder joining Shirden
Shirden boasting two of the top five top individual rushing games, including the Div. I-leading 299-yard performance against Fordham
Reece Udinski with the third-and-fourth-most completions in a game with 37 and 35
Villanova's Connor Watkins with the most efficient passing performance of the year (306.213 vs. Lehigh)
Saturday was Jaden Shirden's second 200+-yard outing in the past three games for @muhawksfb and he became the first back with 200+ yards vs. Villanova since 1995 pic.twitter.com/fAqFcYcVkQ

— CAA Football (@CAAFootball) September 26, 2022
And that's only scratching the surface.
But what explains the sudden uptick in offensive performance?
Coaching staff changes, like Cosh's hire at Richmond or Jared Ambrose taking over the offense at UAlbany contribute. For William & Mary, which consistently ranked near the bottom of the CAA for offensive production during the late 2010s, Mike London's hire of coordinator Christian Taylor in 2020 is beginning to pay dividends.
Linemen deserve their flowers for contributing to the offensive revolution. Villanova builds around veterans who were All-CAA in 2021, with Colin Gamroth and Michael Corbi, and Corbi was an Associated Press All-American, for example.
Experience — or lack thereof, in Monmouth's case — isn't predictive of success, though. The Hawks' CAA-best offensive pace begins behind a front five that's almost entirely different from a season ago; the Asbury Park Press examined the unit's on-the-job growth following the 49-point outpouring at Villanova.
Fresh perspectives from coordinators, talented skill-position players and road-paving lines existed in past CAA seasons. Something else this year is different, and someone especially familiar with both the conference and the game's overall offensive transformation sees complexity in the present.
Villanova coach Mark Ferrante graduated from playing quarterback to coaching on the offensive side of the ball, including overseeing the line for some Wildcats teams that set the scoring benchmark for the CAA.
His last year before taking over for Hall of Famer Andy Talley, Ferrante's offensive line blocked for the last Colonial player to win the Walter Payton Award, John Robertson, and Villanova scored a league-high 37.7 points per game.

The Wildcats' pace in Ferrante's tenure as head coach remains torrid, with the 2022 squad on pace to post 30-plus points per game for a third time since 2019. Villanova would be the only current member of the CAA to have such sustained scoring consistency over the last four seasons if its current, 33.8-per game output holds steady; and the lone deviation was a 29.2-point average in the truncated spring 2021 season.
From an offensive-minded coach's perspective, what's fueling the league-wide move in this direction?
"It's hard to put a single answer on that," Ferrante said. "People are spreading the field a little more, people are spreading the ball around to more people a little bit more. If you talk to our defensive guys, with the linemen being able to block three yards downfield, it kind of puts those linebackers in a little bit of a bind as far as [if] is it run or is it pass? Where do I need to be? Do I need to fit my gap, cover the run, cover the pass?
"But right now, that just seems to be the way things are trending," he added. "You've got to be able to have some balance."
Balance in the context Ferrante presented refers specifically to equally effective run and pass production. But maximizing the potential of a high-scoring offense means striking a balance between putting up points in a hurry and the defense keeping opponents from matching.
Delaware is striking just such a balance.
The Blue Hens have put up 31.5 points per game — that figure jumps to 37.3 when removing their 14-7 win Week 1 over FBS opponent Navy — running an offense first-year head coach Ryan Carty oversaw at Sam Houston.
The Bearkats never scored fewer than 30 points per game during Carty's four seasons as offensive coordinator, and their output increased in each of those campaigns — peaking last season at 41 a contest.
Sam Houston averaged 74.1 plays per game en route to its astronomical 2021 production; Delaware has run 71.8 plays per game in 2022, a considerable jump from last season's 63.2.
UD has done it without sacrificing defense, however, holding opponents to just 10 points per game. And speaking of holding, the Blue Hens are holding onto the ball while racking up offensive numbers.

"There's a misconception with tempo and keeping the defense on the field," Carty said. "I'd like you to go back and look at the time-of-possession number for the first four games, if you could, and you'll see why the defense is doing just fine."
The Blue Hens are on the positive side of possession averaging at a little more than 30 minutes per game. Other CAA offenses checking in at 30-plus points per are also maintaining ball control — Elon ranks ninth in the country at almost 34 minutes of possession an outing.
"We're still a balanced offense that can chew the clock when we need to, but we're just going to score when we can, as fast as we can," Carty added. "Any defensive guy will tell you his best friend is points."
That friendship may require a side of Pepto, as Huesman laid out. But it's a winning friendship, all the same.
The Times, They Are A-Changin'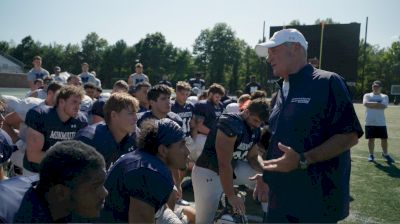 For perspective on just how much more effective the '22 Hawks are offensively than their '02 counterparts, Monmouth scored a full touchdown less over the final six games of its 2002 season, 43 in total, than the Hawks posted at Villanova.
Indeed, much has changed for Monmouth in the last 20 years — and yet, remain remarkably similar. Through its first four of the 2022 campaign, Monmouth has been in three barnburners. The Hawks led in the fourth quarter of their losses to New Hampshire and Fordham, and went to the wire with Villanova. The '02 team lost an astounding three games by one point each.
Overall, six of its 11 decisions that season came by one possession. Despite the 2-8 finish, the bevy of close calls foreshadowed a breakout in 2003 with Monmouth winning 10 games, a share of the Northeast Conference championship, and a bid in the ECAC Bowl.
The More Things Change...
Monmouth advancing to the 2003 ECAC Bowl has particular relevance to the 2022 CAA: The Hawks met a Duquesne team that was nearing the end of a dynastic run atop the now-defunct (in football) Metro Atlantic Athletic Conference. The Dukes won six consecutive MAAC titles from 1999 through 2004, and eight from 1995 through 2004 under Greg Gattuso.
Duquesne played in five ECAC Bowls during its dynasty, including each of the final three. Remarkably, all three are precursors for the present-day CAA.
With the Dukes' 12-10 win over Callahan's Hawks in the final ECAC Bowl — offenses really have come a long way since the turn of the millennium — they snapped a streak of heartache in the postseason. Gattuso's team lost the 2002 bowl game to the UAlbany program he leads now, facing the coach for whom the Great Danes' field is named, Bob Ford.
In 2001, Duquesne faced a veritable buzzsaw in undefeated Sacred Heart. The Pioneers completed a perfect season in a 31-15 ECAC Bowl romp (one week after capping the regular season with a 44-14 win over Monmouth). Coaching Sacred Heart that day — and, as fate would have it, working as a head coach for the final time for 13 years — Jim Fleming, the current leader at Rhode Island.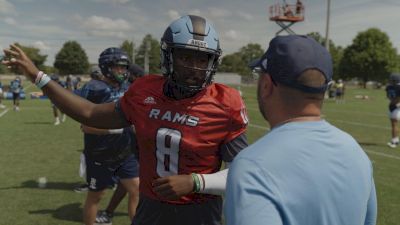 In a bit of foreshadowing two decades into the future, Gattuso told the Hartford Courant ahead of game day: "I hope it isn't too high-scoring. It's a little tough on the heart."
Playing In The Rain
The National Weather Service forecasts Hurricane Ian's northwest movement to pass through Alamance County on Friday, with 100 percent chance of rain throughout the day. By scheduled kickoff of the CAA's marquee game of the week between Richmond and host Elon, the NWS lowers the likelihood of rain to a mere 90 percent.
Richmond began preparing for the weather — according to Huesman, going over scenarios in which the offense played with wind, against wind, rain falling and not — during the week's practice. That included the quarterbacks throwing water-slicked balls, which Udinski admitted was a struggle on Tuesday.
"It was my first time throwing a wet ball [since] I don't remember when," Udinski said. "It just took me some reps, took me some time to get used to it. When I went out [Wednesday] I felt a lot better and felt we looked pretty good."
Should Saturday's game go ahead as scheduled — and as of late Thursday, Elon University reported it would — it won't be the first time Udinski's quarterbacked a team in such weather. He cited a 2019 contest when he was at VMI and the Keydets played Mercer during Tropical Storm Nestor.
Spiders safety Gio Seigler said his most extreme weather experience came in a game his senior year at Heritage High School in Leesburg, Virginia.
"Honestly, it was probably one of my most fun games [in] high school," he said. "Just running around in the rain, tackling people, making plays, it's memories you won't ever forget."