2022 CAA Football
CAA Games Of The Week: October Means Conference Intensity
CAA Games Of The Week: October Means Conference Intensity
A standout first month of the season in the CAA leads into an exciting October. The new month begins with a loaded Week 5.
Sep 27, 2022
by Kyle Kensing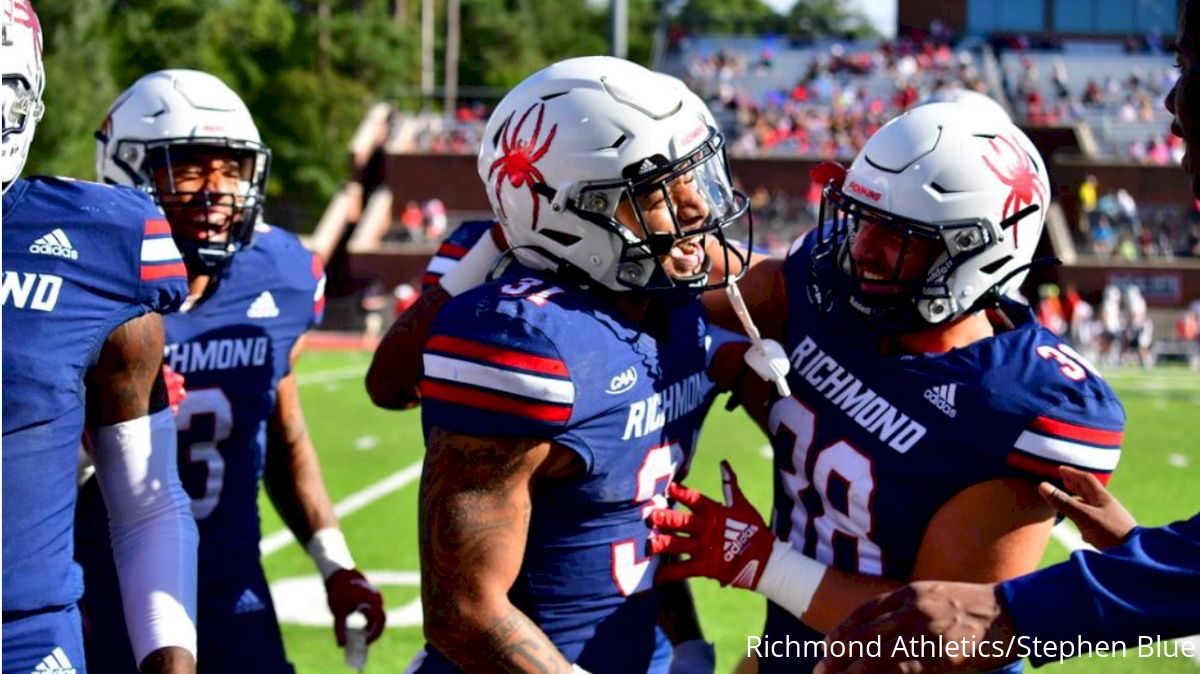 One month into the 2022 season, the Colonial Athletic Association rides a stronger collective wave than much of the FCS into October.
The CAA opened the campaign with four teams ranked in the Top 25, only two of which cracked the Top 20. A month's worth of competition has revealed the conference's top-to-bottom strength, however, with six teams ranked — four in the Top 20 — and two more receiving votes.
A deep conference promises two more months of intense and exciting contests, like the instant classics that headlined Week 4.
With Colonial newcomer Monmouth outlasting reigning league Villanova in a 49-42 shootout, and Elon setting a Div. I-era program record for biggest second-half comeback at William & Mary, the theme for October and November became clear: Be prepared for anything.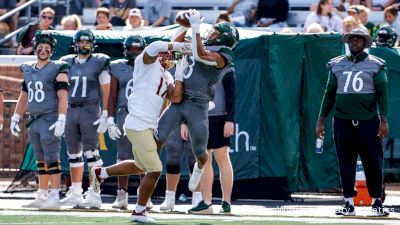 And, of course, more ranked teams means more Top 25 matchups. One such pairing headlines the Week 5 slate.
Richmond Vs. Elon
Elon's historic rally to knock William & Mary from the ranks of the undefeated catapulted the Phoenix into the polls and set the foundation to build toward their first playoff appearance since 2018.
"Once you get into CAA play, it's a different deal," Elon coach Tony Trisciani said. "For us, it give us that confidence, when you beat a ranked opponent and a good team like William & Mary who's talented and got playmakers and play real hard and physical, it certainly gives us some confidence as we move here into our CAA schedule."
Another week, another ranked conference opponent awaits. This time it's surging Richmond, which played perhaps its best all-around game of the season in a league-opening, 51-7 rout of Stony Brook.
The Spiders allowed a 38-yard touchdown early when Khalil Newton broke a tackle off a short pass and raced to the end zone. From there, it was all Richmond.
Quarterback Reece Udinski's performance stole the show and earned National Player of the Week honors.
🚨𝙉𝘼𝙏𝙄𝙊𝙉𝘼𝙇 𝙋𝙇𝘼𝙔𝙀𝙍 𝙊𝙁 𝙏𝙃𝙀 𝙒𝙀𝙀𝙆🚨@ReeceUdinski becomes the first Spider to earn @CFPerformance National Player of the Week honors since @kylelauletta in 2017 ‼️

🔗 https://t.co/9xsnoMXlgH#OneRichmond pic.twitter.com/yx3kceryz2

— Richmond Spider Football (@Spiders_FB) September 26, 2022
That's no surprise to Trisciani, who's had Udinski on his radar for years.
"I'm very familiar with Reece," he said. "He's from North Penn High School [in Landsale, Pennsylvania]. I recruited him when I was at Villanova when he was coming out of high school."
Udinski ranked among the most highly rated quarterback prospects in Pennsylvania during his North Penn days, and has only evolved since. Trisciani praised Udinski's "efficiency" and field awareness, and credited Richmond's bevy of playmaking pass-catchers for maximizing the potential of Richmond's retooled offense.
Jasiah Williams heads into Elon with 34 catches through four games and two touchdowns, Leroy Henley has scoring grabs on three of his 24 total catches, matching running back Savon Smith for team-high, and six Spiders total have touchdown catches.
"That's awesome. It's like a quarterback's dream to have so many guys who can catch the ball well," Udinski said. "It just makes my job easier. Sometimes play aren't there, but I know my guys are going to make plays for me. It doesn't matter who it is, we have a lot of guys who are going to make plays. I have a lot of trust in my receivers, and I think they trust me back, that goes a long way."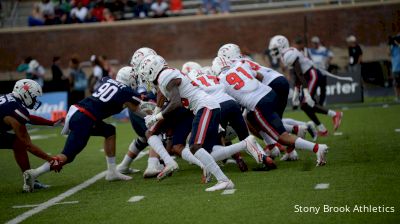 Richmond's offense is clicking, while the Elon defense has been lights out in critical spots. The Phoenix have yet to surrender a second-half touchdown to an FCS opponent this season, and held a William & Mary offense that was averaging more than 500 yards per game through Week 3 behind the 50-yard line for all but one possession of last week's second half.
However, Saturday's marquee matchup isn't so simple as the Richmond offense vs. Elon defense. A Spiders defense that had to replace some big-time players in the offseason, including lineman Kobie Turner who has been a star for nationally ranked Wake Forest, is rounding into form.
Likewise, the Elon offense scored with the addition of quarterback Matthew McKay from the transfer portal. His distribution to a talented wide-receiving corps has been impressive, and the recent breakout play of running back Jalen Hampton makes the Phoenix offense especially dangerous.
Villanova Vs. Maine
Prior to Saturday's shootout with Monmouth, Villanova hadn't lost consecutive games since the 2019 season when a three-game skid interrupted the Wildcats' 6-0 start. That Villanova team rebounded, however, closing out the regular season with three straight wins to earn a postseason bid.
The 2022 Wildcats aim to respond to a dip with a similar surge, starting in Week 5 against a refreshed Maine side.
The Black Bears went into a Week 4 bye off their best collective performance of coach Jordan Stevens' brief tenure, a closer-than-the-final 38-17 loss at Power Five-conference program Boston College. Quarterback Joe Fagnano passed for a pair of touchdowns against the Eagles, including one to Montigo Moss and another to Shawn Bowman.
Stevens said getting the tight end Bowman going in an increasingly prominent role in the passing game would be of emphasis. Maine will also aim to establish its run game more than in the first three weeks, a pursuit that gets a boost with Freddie Brock expected to be available for more carries.
Maine aiming for consistent offense contrasts against a Villanova defense seeking answers after giving up 49 points in consecutive weeks.
The Wildcats came into 2022 replacing two of the CAA's best individual defenders in recent memory with linebacker Forrest Rhyne and cornerback Christian Benford, the latter who's established himself as an immediate standout for the Buffalo Bills defense.
"Those big plays and explosive plays are what you need to try to knock down," Villanova coach Mark Ferrante said. "You need to get off the field on third down."
Ferrante noted the Wildcats held Monmouth to 0-of-3 on third-down conversion attempts in the first half, and Villanova finished 2-of-7 for the game, but the Wildcats giving up four total first downs off of penalties, including a third-and-long pass interference, are areas Ferrante said the team aims to "clean up."
Rhode Island Vs. Brown
In-state rivals Rhode Island and Brown played the first of 105 games on Sept. 29, 1909, and in 1981, officially introduced a trophy for the series. The Rams broke a 19-all tie in matchups played for the Governor's Cup with last season's 45-24 win at Brown.
Rhode Island can claim the Cup for a fourth straight time and fifth in the last six meetings since 2016 (the Rams and Brown Bears didn't play in the 2020 season with the Ivy League opting out due to the COVID-19 pandemic; it was the series' first disruption since World War II).
"You go back in the history of this thing, and it's back-and-forth all the time," Rhode Island coach Jim Fleming said.
Indeed, the Rams' current stretch owning the Cup comes after a five-year streak of Brown Bears' wins from 2011 through 2015. Predating the introduction of the physical Cup, Rhode Island really made it a competitive series beginning in the 1950s and it's remained that way since.
The series is certainly rife with twists, turns and history; most recently, the 2021 installment was the first Div. I football game ever played in which one team had a woman overseeing a positional group.
Trailblazing quarterbacks coach Heather Marini is in her second season at Brown, having coached NFL prospect E.J. Perry a year ago. Perry graduated, but Fleming said successor Joe Willcox has been as impressive through the Bears' first two games of 2022.
Bruising our way past the Bulldogs.

Presented by The Pizza Gourmet | #3MoreFeet pic.twitter.com/3Dc0F4xlgV

— Rhody Football (@RhodyFootball) September 12, 2022
For Rhode Island, carrying the state's banner with a win is of utmost importance to the Rams.
"When you start looking behind the scenes, it's the public school-private school thing," Fleming said of the aura of the rivalry. "There's a lot of pride in this state. We carry the anchor, which is the symbol on our state flag. We like to think of ourselves as representatives of a hard, blue-collar state that works very hard and [is] very tough-minded and believes in preparation and togetherness."
A Rhody victory gives the Rams statewide bragging rights. URI posted more than 500 yards of offense in a 35-21 win over Bryant in Week 2.