2022 CAA Football
Six CAA Teams In The Top 25 As Elon Joins The Mix
Six CAA Teams In The Top 25 As Elon Joins The Mix
Elon's comeback win at William & Mary in Week 4 elevated the Phoenix into the Top 25, giving the CAA six ranked teams as September draws to a close.
Sep 26, 2022
by FloFootball Staff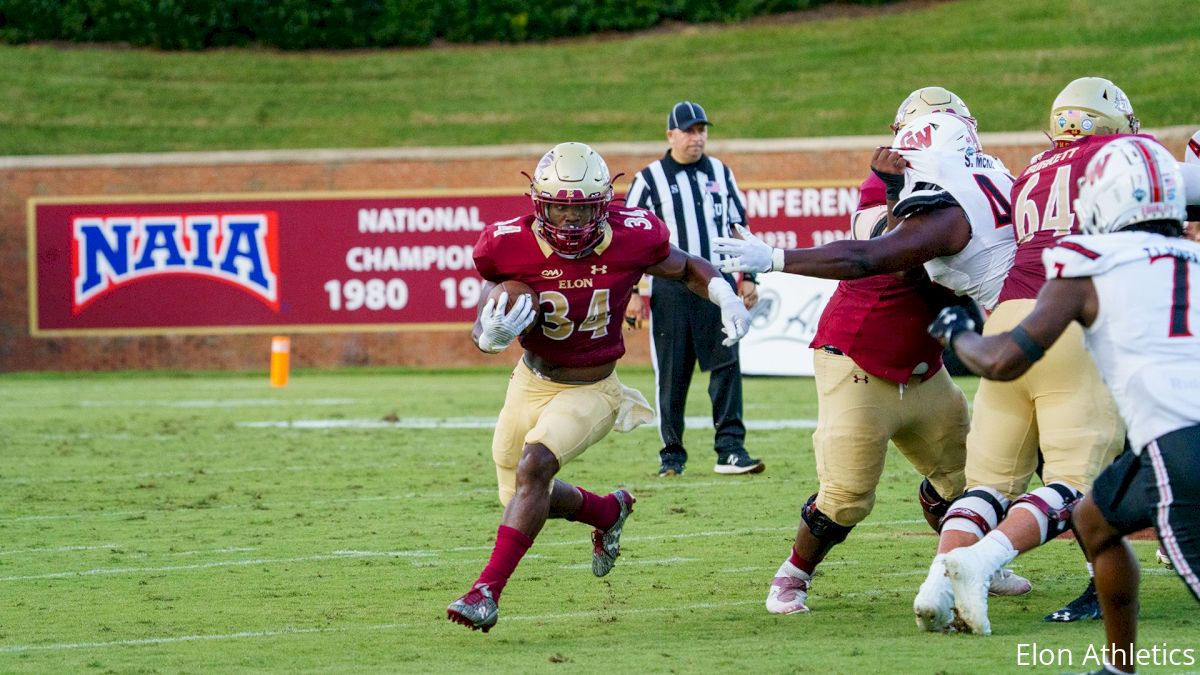 A season-high six CAA Football teams were ranked in the AFCA Coaches Top 25 poll that was released on Monday, while five squads were ranked in the Stats Perform Top 25.
The six ranked teams were the most of any FCS conference.
Delaware (4-0) climbed to a season-high No. 6 in both polls after defeating previously unbeaten Hampton, 35-3, last Saturday. The Blue Hens are back at home this week to face Towson.
Villanova (2-2) is ranked No. 14 in the Stats poll and No. 15 in the AFCA poll after a 49-42 setback to Monmouth last week. The Wildcats travel to Maine for a conference contest on Saturday.
Richmond (3-1) vaulted to No. 17 in the Stats rankings and No. 22 in the AFCA rankings after beating Stony Brook, 51-7, for its third straight win. The Spiders visit nationally ranked Elon on Saturday.
William & Mary (3-1) slipped to No. 18 in the Stats poll and No. 21 in the AFCA after suffering its first loss of the season to Elon, 35-31, last week. The Tribe hits the road to face Stony Brook this week.
Elon (3-1) moved into the Top 25 for the first time this season at No. 23 in both polls after rallying past William & Mary, 35-31, to push its winning streak to three. The Phoenix host nationally ranked Richmond on Saturday.
Rhode Island (2-2) is ranked No. 25 by the AFCA and received votes in the Stats poll following its 45-24 setback to ACC member Pitt. The Rams welcome in-state rival Brown for the Governor's Cup on Saturday.
New Hampshire (3-1) and Monmouth (2-2) were among others receiving votes in both polls.
STATS PERFORM FCS TOP 25 POLL – Sept. 26
North Dakota State
South Dakota State
Montana
Montana State
Sacramento State
Delaware
Missouri State
Weber State
Jackson State
Holy Cross
UIW
Chattanooga
Mercer
Villanova
UT Martin
Samford
Richmond
William & Mary
Southern Illinois
Eastern Washington
Southeastern Louisiana
Austin
Elon
Southeast Missouri
Eastern Kentucky
RV: North Carolina Central, Furman, Rhode Island, Stephen F. Austin, North Dakota, Fordham, New Hampshire, UC Davis, Kennesaw State, ETSU, Idaho, Monmouth, Youngstown State
AFCA COACHES FCS TOP 25 POLL – Sept. 26
North Dakota State
Montana
South Dakota State
Montana State
Sacramento State
Delaware
Weber State
Jackson State
Missouri State
Chattanooga
Holy Cross
UIW
Mercer
Stephen F. Austin
Villanova
Austin Peay
UT Martin
Eastern Washington
Samford
Fordham
William & Mary
Richmond
Elon
Southeastern Louisiana
Rhode Island
RV: Southern Illinois, Furman, Eastern Kentucky, Youngstown State, North Carolina Central, New Hampshire, Southeast Missouri, Harvard, Princeton, Davidson, ETSU, Idaho, Tarleton, Florida A&M, Monmouth, Stetson, UC Davis, Kennesaw State