RMAC
GLIAC Games of the Week: Ferris State, GVSU Face Top 25 Road Challenges
GLIAC Games of the Week: Ferris State, GVSU Face Top 25 Road Challenges
GLIAC front-runners Ferris State and Grand Valley hit the road for Top 20 matchups, while Saginaw Valley State has a huge opportunity against No. 10.
Sep 8, 2022
by Ron Balaskovitz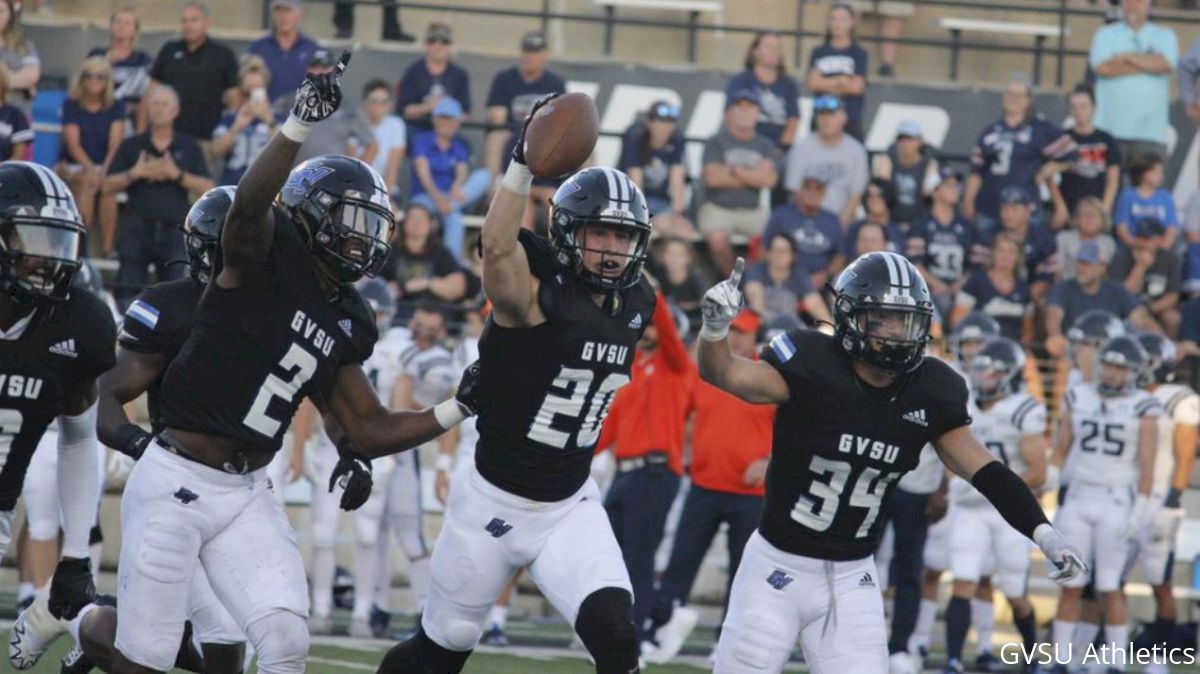 GLIAC football opened the 2022 campaign on a strong note, going 5-2 with a few statement wins and thrillers in non-conference matchups.
Grand Valley State's 25-22 defeat of Colorado School of Mines in a showdown of Top 5-ranked foes headlined opening week. The Lakers are back in action against another nationally ranked opponent, one of two such matchups for GLIAC teams in Week 2.
Another of the six GLIAC games on this weekend's docket sees a Top 10 team visit the conference's footprint.
No. 1 Ferris State at No. 14 Lenoir-Rhyne
After facing a real test against Central Washington a week ago, before eventually pulling out a 36-20 win, the defending national champions make their first road trip of the year, and it's a big one against No. 14-ranked Lenoir-Rhyne.
Mylik Mitchell shined in the starting QB spot against Central Washington, passing for 339 yards on 19-of-29 completions and led the Bulldogs in rushing with 34 yards. Central Washington held Ferris State's usually dynamic rushing attack mostly in check. The Bulldogs needed 49 carries to get 143 yards. That could be an angle to follow this week with Ferris State opposite a Lenoir-Rhyne defense that held opponents to 3.5 yards per carry a season ago and that held Virginia State to just 81 rushing yards on 39 attempts in Week 1.
Defensively for the Bulldogs, All-American Caleb Murphy picked up where he left off in 2021 with a team-high 10 tackles, including 1.5 sacks. Ferris State collected four sacks as, with Olalere Oladipo also posting 1.5 sacks.
That defense will again be tested by a Bears team that downed Virginia State in its opener, 38-19. Lenoir-Rhyne boasted one of the nation's most effective rushing attacks last year thanks to running back Dwayne McGee. McGee rushed for 71 yards and a touchdown in Week 1, but the Bears finished with only 94 yards on the ground in total.
Turnovers also plagued the Bears in last week's win, with the offense giving up possessions five times: three through the air and twice on fumbles, which Virginia State used to remain relatively competitive.
L-R cannot compete with the defending champs coughing it up so routinely again this week; keep an eye on the Ferris State defense bringing heavy pressure early to try generating takeaways.
No. 4 Grand Valley State at No. 21 Colorado State-Pueblo
The Lakers opened 2022 in a classic, rallying to earn a 25-22 win over then-No. 5 and 2021 national semifinalist Colorado School of Mines.
Laker defense closes it out 🔒

GVSU stops the Orediggers hail mary attempt to take the opener 25-22 and move to 1-0 on the season!#AnchorUp pic.twitter.com/Cjo7ti0eHN

— GVSU Football (@gvsufootball) September 2, 2022
It doesn't get any easier in Week 2, with GVSU making the long trip out to Colorado to face at a Top-25 ranked CSU-Pueblo ThunderWolves squad.
The Laker defensive line shined in the win over the Orediggers, holding them to 51 rushing yards on 27 attempts, and delivered three sacks. Although the GVSU run defense excelled, the 'Diggers did what they wanted through the air with 350 passing yards and two scores on 26 completions.
That pass defense will be tested again by a CSU-Pueblo team that roared out of the gates in Week 1, topping No. 24 Midwestern State by a 59-27 final. ThunderWolves quarterback Steven Croell finished with 396 yards and five touchdowns, while top target Andrew Cook caught for 160 yards and two of those scores.
As a team, the ThunderWolves posted 576 total yards of offense.
If Grand Valley is going to make it back-to-back ranked wins, the defense needs to find stops — or the offense might need to be perfect. The Lakers will try to replicate last year's defensive effort in a 34-14 win, during which CSU-Pueblo gained just 133 passing yards and 29 rushing.
No. 10 Bowie State at Saginaw Valley State
The HBCU Celebration Game sees Saginaw Valley set for a major step up in competition after a Week 1 romp. The Cardinals played host to West Virginia Wesleyan, and crushed the visiting Bobcats by a 72-0 final.
SVSU rushed for a whopping nine touchdowns against WVW and the 72 total points were the program's most in over 25 years. As a team, the Cardinals finished with 372 rushing yards while five different players amassed at least40 yards. Dante Barthwell had a game-high 82 to go with three scores.
On defense, the Cardinals swarmed to the ball to hold WVW to just five first downs in the game, and 102 total yards of offense.
They'll face a big test in No. 10-ranked Bowie State, a national quarterfinalist a season ago, and a 27-20 winner in its opener against New Haven.
The Bulldogs trailed 17-7 heading int the fourth, then erupted for 20 points in the final eight minutes, capped by Dion Golatt Jr. hitting Kwincy Hall for the game-winning touchdown with eight seconds left.
Bowie State Interim Head Football Coach Kyle Jackson on the win: @BSU_Sports_Info @bowiestatefb @wusa9 pic.twitter.com/UmHw2BqScy

— Darren M. Haynes (@DarrenMHaynes) September 3, 2022
The two teams met last season in Maryland, with Bowie State earning a 28-19 win under conditions similar to the Bulldogs' 2022 Week 1 win. Bowie State scored two touchdowns in the final eight minutes last year against SVSU.
Bowie State offers a big measuring stick for the Cardinals' potential as a GLIAC title contender, and a win would likely be a considerable resume-booster for at-large playoff consideration at season's end.