2022 South Atlantic Conference Football
Game-Changing Lenoir-Rhyne RB Dwayne McGee Looks For More In '22
Game-Changing Lenoir-Rhyne RB Dwayne McGee Looks For More In '22
Record-setting Lenoir-Rhyne running back and All-American Dwayne McGee is one of the nation's most exciting players — and he's just getting started.
Aug 14, 2022
by Kyle Kensing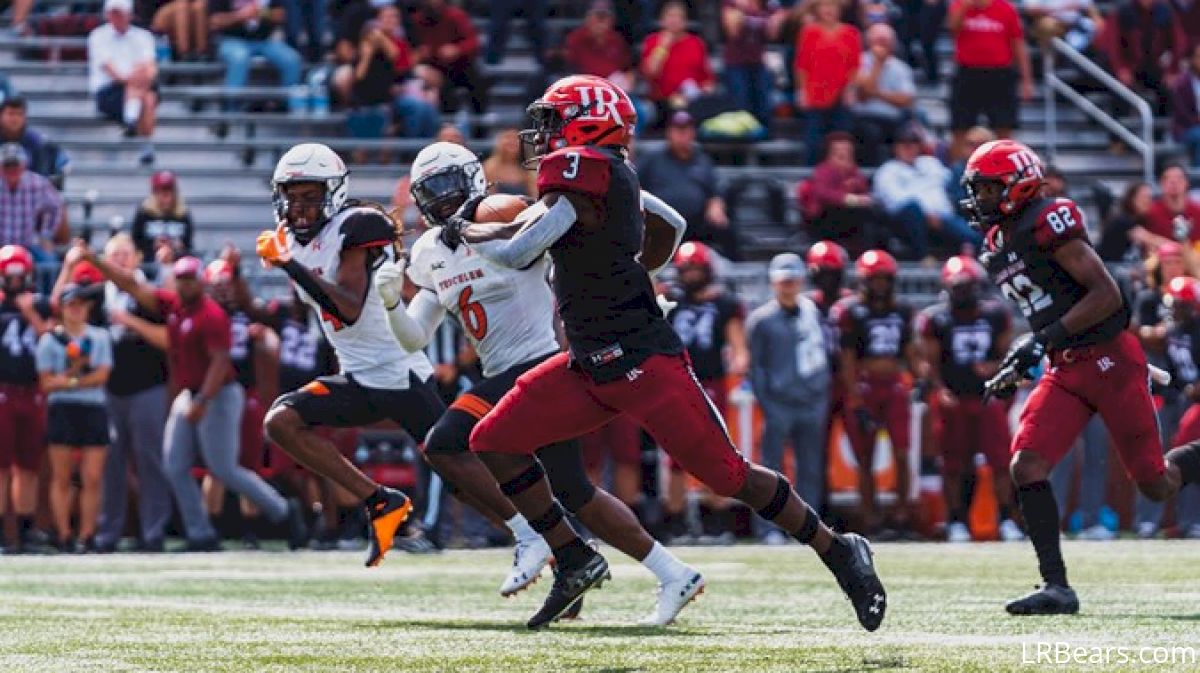 It wasn't long into Dwayne McGee's burgeoning career at Lenoir-Rhyne that the Kissimmee, Florida native showed he could be a game-changing college running back.
He needed exactly one game.
Debuting during the pandemic-shortened 2020 season, a freshman McGee rushed for 160 yards to set the first of numerous records he's established in a little more than one season's time.
"At first, I had a little doubt in myself," McGee said, reflecting back to his March '21 coming-out party. That's perhaps a bit surprising, given McGee's impressive resume coming into Lenoir-Rhyne out of Osceola High School.
He averaged about a first down per carry in his junior and senior seasons for the Kowboys, scored 25 combined rushing touchdowns in those campaigns — part of the 32 he totaled in four years — and tacked on another seven receiving scores in 2019.
But there's an undeniable learning curve when transitioning from preps to college, which makes McGee's program record for rushing yards in a Lenoir-Rhyne debut so remarkable. His Bears teammates and coaches "made it very comfortable," to dive in so quickly, McGee said, adding: "So it was easy to just come in and play my game."
And what a game. Through the four-game truncated season, he rolled up 511 rushing yards with four touchdowns, a fifth score via reception, and flirted with 200 yards in just his second-ever college game.
Lest his breakthrough be dismissed as a spring fling, McGee was even better in his first full season.
He broke 200 yards twice against South Atlantic Conference counterparts Carson-Newman and Catawba; he scored multiple rushing touchdowns in 6-of-11 games, including four straight during the meat of league play; and McGee's 1,669 yards set yet another program record.
With this carry, Dwayne McGee breaks the single season rushing yards record which has stood since 1994! #GOBEARS | @DeeWeeBig3 pic.twitter.com/CdbuO9ReRd

— #GOBEARS (@LRbears) November 13, 2021
That production also propelled the Bears into the top 10 nationally at more than 2,600 rushing yards for the campaign, and almost 240 yards per game.
"We take pride in wanting to run the football," Lenoir-Rhyne coach Mike Jacobs said. "And having an All-American running back certainly helps."
And it's not just the run game. McGee is poised to be a cornerstone for the Bears' pursuit of a SAC championship in 2022.
Gone from last year's NCAA playoff are Grayson Willingham, who Jacobs referred to as Lenoir-Rhyne's "all-time, everything quarterback," and Dareke Young is quickly catching on with the NFL's Seattle Seahawks. However, four returning Bears were named preseason 1st Team All-SAC offense in wide receiver Deondre Lester and linemen Blake Jefferson and Bryce Heidinger.
Count McGee among that quartet. His production on the ground will no doubt be vital to reestablishing Lenoir-Rhyne as one of college football's best rushing teams, but as Jacobs noted: "Dwayne's an integral part of our whole team, not just our offense."
The coach's assessment is a testament to McGee's playmaking complementing the defense, with the ball-control inherent from a productive ground attack extending drives to keep the other side of the ball. Jacobs' sentiment also reflects the goals McGee has for himself in his sophomore season.
"Last year, I was more playing a role as one of the young guys," he said. "I'm still one of the guys, but I want to be more vocal."
In finding his voice, McGee might also find even more production. His aspirations are lofty, including "double-back as an All-American."
𝐀𝐋𝐋-𝐀𝐌𝐄𝐑𝐈𝐂𝐀𝐍 🇺🇸🐻🇺🇸

Dwayne McGee has been named a D2CCA Second Team All-American! pic.twitter.com/z3TXGCJ67Z

— Lenoir-Rhyne Football (@LRBearsFootball) December 15, 2021
Another?
"I want to be a Harlon Hill winner," he said.
Putting together a case for the Harlon Hill Trophy won't be difficult if McGee builds from his historic 2021 levels. He finished fourth in the nation in rushing yards per game, third in total rushing yards, and fifth in touchdowns on the ground.
But even higher on McGee's list of priorities: "Bring a championship to...the town of Hickory," he said.
Lenoir-Rhyne dropped its 1st Round playoff matchup with Bowie State last November, leaving "a bitter, bitter taste" for McGee and his Bears teammates. They'll get an early measure of their national title worthiness, welcoming the 2021 champs Ferris State to Hickory in Week 2.
It's just one game, but as Dwayne McGee's transcendent first season-and-change at Lenoir-Rhyne have proven, one game can foreshadow big things.