2022 CAA Football
CAA Week 1 Recap: Outstanding Offense Highlights A Memorable Start To 2022
CAA Week 1 Recap: Outstanding Offense Highlights A Memorable Start To 2022
Week 1 ushered in the 2022 CAA season in celebratory fashion, with two wins over FBS opponents, a record-setting performance and more.
Sep 5, 2022
by Kyle Kensing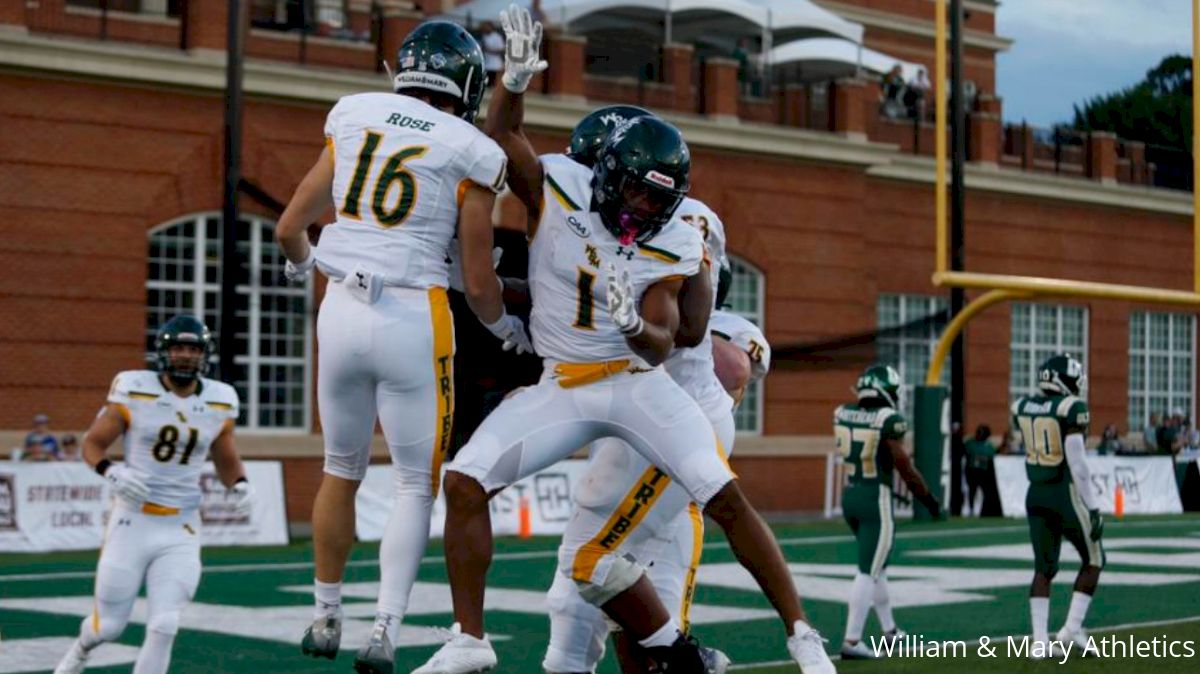 Labor Day weekend marks a time to celebrate the end of summer. Around the Colonial Athletic Association, Labor Day weekend was a football fiesta.
William & Mary commemorated the conference's three-day pigskin bash partying like it was 2009. That was a special season for the Tribe, which went 11-3 en route to the national semifinals, dominating top-ranked Southern Illinois on the road along the way.
The Tribe opened that campaign with an emphatic defeat of a Football Bowl Subdivision opponent, 26-14 over Virginia. That was the last time a William & Mary team beat FBS competition — until Friday, anyway.
A multifaceted rushing attack produced three touchdowns from three ball-carriers, and four produced at least 46 yards. Bronson Yoder's 120 yards set the pace for William & Mary's 303 total on the ground, and his fourth-down touchdown began a 21-0 fourth-quarter deluge to seal the 41-24 rout at Charlotte.
Bronson Yoder eclipses 100 rushing yards - 103 yds on 10 carries.#GoTribe pic.twitter.com/0Ls6LoKJDM

— William & Mary Tribe Football (@WMTribeFootball) September 3, 2022
Malachi Imoh and Donavyn Lester added 54 and 46 yards on just six and five carries, with each getting into the end zone, and Darius Wilson rushed for another 67 yards. Wilson's passing helped make the run game effective, as well, punishing the 49ers when they played too heavy in the box to the tune of 237 yards on 12 completions.
Tribe coach Mike London praised the team's balance in his postgame press conference, and that sentiment wasn't limited to the combination of Wilson's home-run passing with the multidimensional rushing.
"Defensively, we did a good job in terms of big plays," London said. "We had a couple fourth-down stops, with third-and-long situations. [Charlotte was] pinned back. Had a fourth-quarter pin-back coming out of their own territory, made them punt out of their own end zone twice. That was huge. When you have complementary football, your offense is moving the ball, then you have the opportunity to...score points and win a game like this."
Nova Nation Out in Force for Watkins Monster Start
Certainly Villanova wouldn't mind a party like 2009 this season, given how that year concluded for the Wildcats. In the meantime, a celebration delayed since 2004 proved more than sufficient for the reigning CAA champs.
Villanova's first Week 1 home game since 2004 — seriously! — created the party atmosphere from down on the Shore up to the Mainline.
When I say NOVA you say NATION 🗣

Thanks for showing out tonight #NovaNation! @TheNationVU pic.twitter.com/R8DPIg17Uj

— Villanova Football (@NovaFootball) September 3, 2022
No one was having more fun during the 45-17 blowout of Lehigh than the Wildcat players — on one occasion, maybe a little too much, at least one official felt. Wide receiver Jaaron Hayek drew an unsportsmanlike conduct penalty for celebrating the second of his two touchdown receptions with a pantomimed home-run swing, his patented move on a score.
"The refs told us it just has to be the first thing. It can't follow other celebrations," quarterback and Hayek's roommate, Connor Watkins, said with a wry smile. "That's why he got flagged for it on the last one. So moving forward, just going to make sure it's the first one."
So there's a procedure to the party; lesson learned. Otherwise, however, Villanova gave the energetic crowd, decked almost exclusively in baby blue, reason to rock.
Watkins' debut could not have been much more impressive, as he set a program record in a first career start with 298 yards on just 11-of-15 passing. He threw two touchdown passes to Hayek and a third to Dez Boykin.
Expect that offense to have Nova Nation partying all season long. Watkins' outstanding deep ball works well in concert with an effective run game that produced three touchdowns spread among Watkins, Jalen Jackson and DeeWil Barlee in Week 1.
Special Play on Special Teams
Delaware, which joined William & Mary in the win column against FBS competition, owes a fair portion of the credit for its 14-7 victory at Navy to special teams. Certainly the Blue Hens defense showed out in a way reminiscent of the spring 2021 season when UD reached the national semifinals, stifling the Midshipmen's triple-option offense and allowing just one score all afternoon.
Linebacker Johnny Buchanan in particular was excellent, recording more tackles in Week 1 than any player in the nation with 23. Buchanan also forced fumble. His efforts earned recognition as both the CAA Defensive Player of the Week and FCS STATS National Defensive Player of the Week.
But Delaware coach Ryan Carty made sure to give particular praise to the Blue Hens punting game for setting the table for the defense. Navy's average starting field position for the day was at its own 28; on seven possessions beginning from a Delaware punt, the Mids' average starting position was at its own 26.
"Ben Dinkel was enormous for us," Carty said of the Blue Hens punter. "Got us out of a lot of jams. We could rely on him to get us a consistent punt...I'd say the punt team was unsung. Kaelin Costello did a great job running down and had a huge [tackle]."
Dinkel pinned almost half of his total punts inside the Navy 20, including twice in the fourth quarter.
Likewise, New Hampshire's 31-21 defeat of CAA newcomer Monmouth was partially a byproduct of some key special-teams efforts. The Wildcats scored touchdowns in all three phases against a very-much game Hawks bunch, including Charles Briscoe III's return of a Josiah Silver punt-block in the second quarter.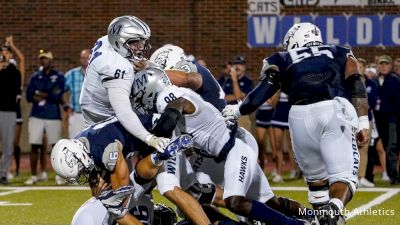 Silver coming through on special teams reflects the kind of all-hands approach Santos said he aims to preach in his first season as Wildcats head coach.
"It shows if we're going to put an All-American like Josiah on a special-teams unit, all the younger guys on the team it shows [them] the onus we're going to put on [special] teams," Santos said. "You have to win it in three phases if you're going to be competitive...Josiah shows that."
How The Play Comes Together
Connor Watkins' RPO Touchdown Pass
Watkins' first touchdown pass of the season was a beauty in just about every phase. First and most obvious, Watkins showed off remarkable arm strength for a second time on the night after having connected with Jaaron Hayek on a 42-yard bomb in the first quarter.
But each element leading up to Watkins' 66-yard hook-up with Dez Boykin in the second quarter deserves mention: from Watkins' sell of a handoff before unloading; to offensive coordinator Chris Boden's recognition and call; to the offensive line's sustained blocking, including Jake Pickard clearing a Lehigh pass-rusher as Boykin ran a fast deep route.
While the sequence resembled a designed play-action passing play in real-time, Watkins was entrusted to make the call with split-second accuracy as it developed.
"It's an RPO [ that we have," Watkins said. "I was just trying to hold onto the ball as long as possible to let him clear out as much field as possible. Luckily, [Boykin] can run under it and get it."
This was sold so well, I initially thought it was a botched exchange. Then Watkins uncorks this for a @NovaFootball TD. Via @FloFootball https://t.co/hHka5cYk1i pic.twitter.com/sHU69UTkvv

— Kyle Kensing (@KyleKensing) September 2, 2022
"On that play, we ran it earlier in the game," he said. "It was there early on, so after that drive we went to the sideline and talked it out. [Boden] said 'Don't be surprised if we go back to that.' We went back to it, and they gave us a similar look. I saw the safety carrying No. 3 and Dez popped right down and out the seam."
Bring it in and take it to the house!#FCS x 🎥 @NovaFootball pic.twitter.com/xzZNk4f9uP

— NCAA FCS Football (@NCAA_FCS) September 3, 2022
Second Verse, Same As The First?
Football fans who tuned into Sunday's showcase matchup between Florida State and LSU may have heard mention of the game's star, Seminoles defensive end Jared Verse, landing in Tallahassee by way of UAlbany.
Verse may have switched from Great Danes Purple to Garnet & Gold via the transfer portal, but the talented playmaker still has support from within the UAlbany locker room.
"We're excited for him and what he's accomplishing. He's one of the positive stories of the transfer portal," Greg Gattuso said last week after Verse made his Florida State debut in a rout of Duquesne, which the Great Danes coach said he watched live.
The 2021 1st Team All-CAA honoree Verse followed his Week 0 performance up with two sacks, 2.5 tackles for loss and a blocked kick in Florida State's 24-23 defeat of LSU.
Jared Verse just blocked a field goal 👀
What can't this guy do? pic.twitter.com/dMGReE9fUL

— The Transfer Portal CFB (@TPortalCFB) September 5, 2022
"It can be beneficial for kids. It was hard for us, but I'm happy for Jared and what's going on for him," Gattuso said, though added: "But we feel like we've replaced him with some quality people."
Among those quality people is UAlbany's own transfer addition, A.J. Simon. An All-PSAC selection at Bloomsburg University last season, Simon debuted with a pair of sacks in the Great Danes' Week 1 matchup with reigning Big 12 and Sugar Bowl champion Baylor.
*channels inner DJ Khaled*

ANOTHA ONE 🗣️@asimonxxi with his second sack of the half! #UAUKNOW #WinTheDay 🟪🟨 pic.twitter.com/iEOAzTKjbW

— UAlbany Football (@UAlbanyFootball) September 4, 2022
"You would've said Jared Verse leaves, you feel good about it," said New Hampshire coach Rick Santos, whose Wildcats face UAlbany in a conference clash in Week 2. "But then another [No.] 96 is in there just making plays all over. Baylor struggled to block him. Credit to that coaching staff plugging some guys in there with key pieces they were missing."
More Week 1 Game Balls
Matthew McKay, Chandler Brayboy and Jackson Parham, Elon
NC State transfer quarterback Matthew McKay emphatically answered the offseason-long question of how Elon would replace Davis Cheek behind center. McKay passed for 333 yards and two scores while carrying for another another two scores in the Phoenix's 42-31 loss against Vanderbilt out of the SEC.
Of course, a great quarterback performance is often dependent on the play of the wide receivers, and Elon's were excellent.
Jackson Parham and Chandler Brayboy both eclipsed 100 yards against the Commodores, with Parham continuing his role as the possession-receiving rock of the Phoenix passing game at eight catches for 143 yards with a score. Brayboy, meanwhile, added big-play pop with 105 yards on four receptions. He went 75 yards for a touchdown in one of the highlight moments of Week 1.
@ElonFootball Clip of Chandler Brayboy's 75-yard touchdown reception. By our very own @caleighlawlor pic.twitter.com/3Dx4YzXxZv

— Elon News Network Sports (@SportsENN) September 4, 2022
Jordan Jones, Rhode Island
A breakout performer for Rhode Island in 2021, Jordan Jones wasted no time getting back into the swing for his season campaign with two interceptions in the Rams' 35-14 win Thursday at Stony Brook. The first of Jones' interceptions was a 42-yard pick-six.
Hello pick-6 we missed you!@rhodyfootball takes a 14-7 lead in the 2nd thanks to this Jordan Jones play pic.twitter.com/HyCBQ02Ddj

— CAA Football (@CAAFootball) September 1, 2022
Kyle Lepkowski, New Hampshire
UNH coach Rick Santos called tight end Kyle Lepkowski "an absolute monster" following Lepkowski's seven-catch, 121-yard showing against Monmouth. Indeed, Lepkowski was the driving force of the Wildcats offense for much of the night. First-year offensive coordinator Brian Scott called plays that had big No. 84 both adjacent to the tackle and out in the slot, and quarterback Max Brosmer was more than willing to target Lepkowski on routes from either position.
"The one thing that he does really well is find space," Brosmer said. "When things get tough, find Kyle Lepkowski on the field."
Beyond the impressive statistical output, or some of his clutch catches as New Hampshire mounted a fourth-quarter comeback, Lepkowski was monstrous for even being in the lineup.
Santos said the tight end's status was questionable ahead of game night, the result of an ankle and Achilles' injury sustained during preseason camp.
"Once it's game time, you have the jitters at first, but you don't feel anything," Lepkowski said. "My mindset is just all football. There's nothing else around me."
Devin Matthews, Towson
Both scores in Towson's 14-13 overtime win at Bucknell were courtesy of running back Devin Matthews. Matthews rushed for seven scores in 2021, so he's no stranger to the end zone, but he capably took on the role of feature back, too, producing 112 yards against the Bison — nearly half of his total rushing yardage a season ago.
Most impressively, Matthews had been third on the Tigers depth chart previously, but coach Rob Ambrose said he went to work to earn his opportunity as the No. 1 option.
"Because he worked his butt off, not complaining about what he didn't get, put himself in a position to be order. When his number was called, he answered the bell," Ambrose said. "I'd say this is a great teaching lesson for all my kids, but to be honest, if anybody's listening, it's a great teaching lesson for all your kids."
TOUCHDOWN TOWSON! Devin Matthews bursts forward for 5-yard score, 7-0 Tigers! 2:07 left in the 3rd.
📺- ESPN+ ($) - https://t.co/hjolWgWEXJ
📊- https://t.co/ht6jEGmEz9#GohTigers | #UnitedWeRoar | #NCAAFCS pic.twitter.com/l6FHfntoDW

— Towson Football (@Towson_FB) September 4, 2022
John Pius, William & Mary
One of the X-Factor players to watch ahead of the season, John Pius demonstrated exactly why in the Tribe's Week 1 win. He matched Trey Watkins' team-high nine tackles and Nate Lynn's game-high 1.5 sacks. Pius also posted a career-high 4.5 tackles for loss — not a single-game career-high, but a career-high in that he totaled more on Friday than in his entire fall 2021 freshman campaign.
"It was awesome to watch the process of his maturation, having been here last year and him playing in a game where he seldom goes out," London said of Pius. "John's is to going to keep getting better and better and better about rushing the quarterback...We needed that. We were able to get the long touchdown pass to Lachlan Pitts [early in the fourth quarter] to go up, and knew they were going to have to throw the ball to get back in it. If you've got guys hwo can rush the passer, it helps.
"It was Game 1, but he looked pretty good doing what he's good at," London added.
Tristan Wheeler, Richmond
The linebacker and veteran heart of Richmond's defense racked up 19 tackles, was in on a sack, and produced a quarterback hurry in the Spiders' closer-than-the-score 34-17 loss at Virginia.
Wheeler's energy and sideline-to-sideline effort ignited an excellent second half for Richmond, which gained two takeaways right out of the locker room and held the Cavaliers to a single score after intermission.
"The offense was busting their ass, so it's like to us, we have to help them. We can't put all the weight on their shoulders, we have to get the ball back. We have to go three-and-out, keep their offense pinned when we can," Wheeler said of finding the right balance between for a young Spiders defense with a potent, revamped offense.