2022 CAA Football
The X-Factor: CAA Players Poised To Play Big Parts In The 2022 Season
The X-Factor: CAA Players Poised To Play Big Parts In The 2022 Season
In a wide-open CAA, one play can mean the difference in winning a championship or not. For those monumental moments, watch out for these X-Factor players.
Aug 26, 2022
by Kyle Kensing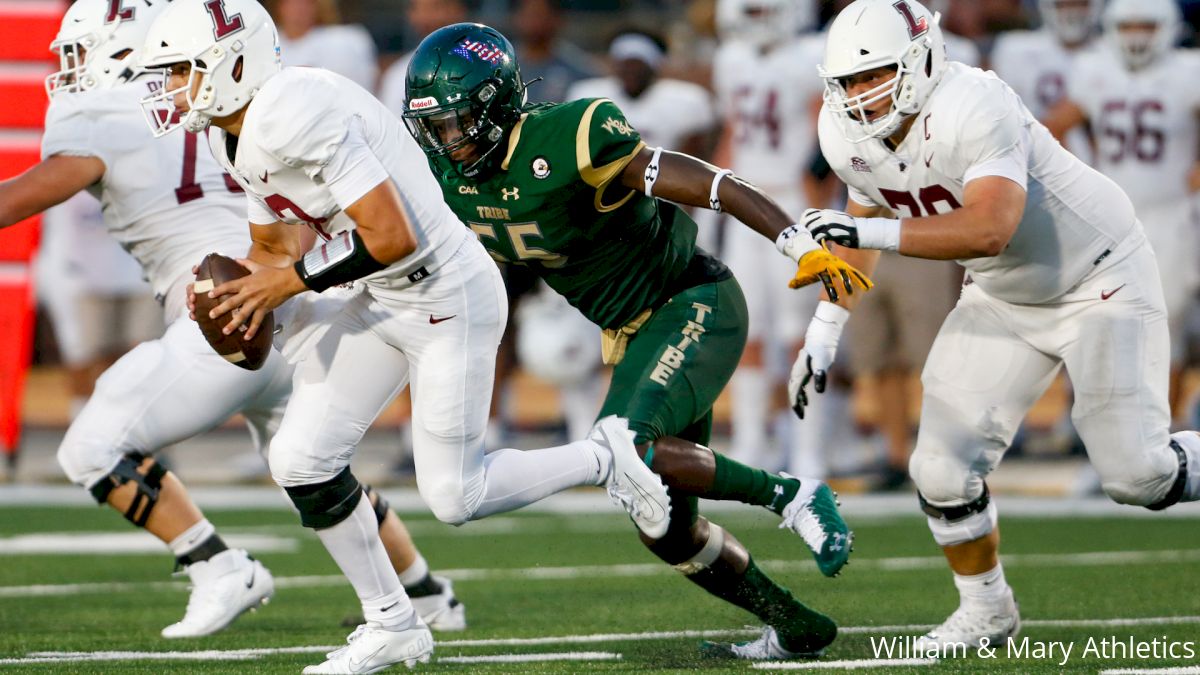 Competition in the 2022 Colonial Athletic Association championship race promises to be fierce. More than perhaps any season in recent memory, a single play could change the entire complexion of the title picture. That's where the X-Factors come in.
Every team features potential X-Factors; players who are perhaps not the headline performer but deliver on difference-making moments that can swing a game in an instant.
Roy Alexander, WR - UAlbany
Roy Alexander led UAlbany in receiving yards, receptions and receiving touchdowns, so his significance to the Great Danes offense isn't exactly a secret. However, the breakout freshman only scratched the surface of his potential in a 560-yard, 37-catch and three-touchdown debut campaign.
Wide receiver Roy Alexander from @UAlbanyFootball. Multidimensional playmaker who led the Great Danes in receiving yards and can make big plays on special teams. pic.twitter.com/vZ3lLBZ95P

— Kyle Kensing (@KyleKensing) August 25, 2022
He doubled as UAlbany's leading kickoff returner. Look out for him making pivotal plays on special teams as well as lined up at wide receiver.
Chase McGowan, DE - Delaware
Motor is one of those football buzzwords that can be difficult to explain for the uninitiated. It's an approach to each play that is better understood when observed than labeled, as is the case with preseason 1st Team All-CAA selection Chase McGowan.
McGowan attacks every defensive snap with unbridled energy and aggression, always giving opposing linemen a workout and opposing quarterbacks something to think about while they're in the pocket. That's good news for a Blue Hens secondary featuring such playmakers as Kedrick Whitehead who are skilled in turning into the quarterback miscues McGown can generate into takeaways.
Chase McGowan made a team-high 4 sacks for @DelawareFB in '21. He's so fast at the snap, whether it's upright or with a hand in the dirt like on this play against Stony Brook. pic.twitter.com/xhnnqyVgZB

— Kyle Kensing (@KyleKensing) August 25, 2022
Bryson Daughtry, WR - Elon
Their Elon teammate and defensive end Jon Seaton has a Name/Image/Likeness deal with World Wrestling Entertainment, but Bryson Daughtry and Jackson Parham combine to form one of the most exciting tag teams in football.
With Parham as the Phoenix's quintessential possession receiver, a reliable target to keep the chains moving and defenses guessing, Daughtry works in tandem as the big-play threat. The duo will keep the Elon offense flying high even without Davis Cheek behind center.
Davis Cheek may have graduated, but @ElonFootball's passing game should be just fine thanks to the loaded receivers room. Along with Jackson Parham is big-play threat Bryson Daughtry, averaged almost 15 YPC and had a streak of 5 games with TD catches. pic.twitter.com/yJztoOExjt

— Kyle Kensing (@KyleKensing) August 25, 2022
What a rush.
KeShaun Moore, DE - Hampton
Ohmante Jenkins forces the fumble and KeShaun Moore scores for @Hampton_FB! We're knotted up at 14-14.#BigSouthFB🏈 pic.twitter.com/R8qTUeKTbH

— Big South Game Day (@BigSouthGameDay) November 13, 2021
KeShaun Moore terrorized opposing quarterbacks in the Big South Conference last season, leading Hampton with 7.5 sacks and 14.5 tackles for loss. He put his stamp on the 2021 season with a remarkable four tackle-for-loss performance against North Alabama.
And as far as leading the Pirates into their first CAA season, Moore is the ideal candidate to steer the ship: He knows the league from his time at James Madison before transferring to Hampton.
Shawn Bowman, TE - Maine
Coming off a 2021 in which he caught multiple passes in eight games, Shawn Bowman was already building toward a breakout 2022. But with the Black Bears replacing elite pass-catcher Andre Miller, and returning Joe Fagnano at 100 percent from injury, look for Bowman to be one of the most active receiving tight ends in college football.
Shawn Bowman of @BlackBearsFB is exactly what you look for in a modern tight end. Great blocker, and as seen with back-to-back catches (including a deep-route TD) on a two-minute drill last season, one helluva receiving option. pic.twitter.com/tyZcm4mj1z

— Kyle Kensing (@KyleKensing) August 25, 2022
At 6-foot-5, he has the size to be a threat on red-zone jump balls but Bowman's also capable of running an effective deep route. Maine loses nothing when utilizing Bowman as a blocker, either.
Jaden Shirden, RB - Monmouth
One great running back combined with a productive quarterback can make an offense click. Monmouth has that in preseason All-CAA selections Juwon Farri and Tony Muskett. Now add another explosive ball-carrier to the mix, and the results can be downright combustible.
Jaden Shirden take this one ALL THE WAY!@MUHawksFB ties up the score at 7-7.#BigSouthFB🏈 pic.twitter.com/pO8RCyr3KM

— Big South Game Day (@BigSouthGameDay) November 13, 2021
Jaden Shirden split carries with Farri last season, giving Monmouth a potent change-of-pace. Shirden averaged more than six yards per carry, and down the strech of the '21 campaign produced his first 100-yard collegiate game. Expect plenty more from the elusive Shirden.
Noah Stansbury, CB - New Hampshire
A bounce-back season in Ricky Santos' debut as the full-time New Hampshire head coach starts with a talented defense. The Wildcats welcome back '21 freshman phenom Josiah Silver to generate pressure on opposing quarterbacks off the edge, and there to turn opportunities into takeaways is a talented secondary with Pop Bush and Noah Stansbury.
While Silver stole the show as the nation's premier freshman defender, Stansbury was excellent immediately out of the gate in his frosh campaign. After helping fill gaps at safety a season ago, Stansbury will play cornerback in 2022. Expect him to be a difference-maker for the Wildcats.
Youngsters had to step into prominent roles for the @UNH_Football secondary last season - like Noah Stansbury, who made an immediate impression. He's back (and moving to corner) along with standout senior safety Pop Bush. pic.twitter.com/e9lRaJzklc

— Kyle Kensing (@KyleKensing) August 25, 2022
Westley Neal Jr., DT - Rhode Island
Rhode Island football's profile has risen in recent years, thanks to outstanding recruiting classes and a surprising, seven-win 2021 finish. Westley Neal Jr. contributed to both, signing with Jim Fleming's program out of Golliver Prep in Miami.
Neal worked his way into a contributing role immediately, and the big man returns as an anchor for a squad with designs on a playoff bid in 2022.
Interceptions were a big part of @RhodyFootball's defense in 2021. That starts with pressure up front, and Westley Neal Jr. excels at creating pressure from the interior. Recruit from Miami shined as a freshman and should be sensational as a sophomore. pic.twitter.com/pDDFzSN1IS

— Kyle Kensing (@KyleKensing) August 25, 2022
Savon Smith, RB - Richmond
Among the most intriguing storylines heading into the season is the revamped Richmond offense under coordinator Billy Cosh. Cosh inherits some rock-solid pillars around which to build the Spiders attack, starting in the backfield with Aaron Dykes and Savon Smith.
While Dykes has established himself as the primary ball-carrier, Smith is an undeniable X-Factor for his ability to do just about everything: operating on the perimeter as a pass-catcher, running between the tackles, and returning kicks.
A new-look, air-raid offense @Spiders_FB will have no shortage of ways to let Savon Smith cook - which he does equally effectively as a ball-carrier or pass-catcher. With Aaron Dykes also back, UR has maybe the most electric RB duo in the nation. pic.twitter.com/57qqrMmzue

— Kyle Kensing (@KyleKensing) August 25, 2022
Shawn Harris Jr., WR - Stony Brook
A strong finish to the 2021 season positions Stony Brook as a dark horse to watch going into 2022. The Seawolves return CAA-leading rusher Ty'Son Lawton, and there to keep defenses honest for him is one of the premier big-play targets in the conference, Shawn Harris Jr.
Harris led Stony Brook with 31 catches for 586 yards, including three touchdowns. His open-field speed is a doubly dangerous weapon for the Seawolves, with Harris also returning kicks.
The top rusher in @CAAFootball returns to @StonyBrookFB, and so does big-play receiver Shawn Harris Jr. Between his deep-ball catches and returning ability, you can call him Home-Run Harris pic.twitter.com/6jYjr0Ni9F

— Kyle Kensing (@KyleKensing) August 25, 2022
Vinnie Shaffer, DT - Towson
Plenty of effective interior linemen flourish without making a tackle, using their size to occupy blockers and free up teammates. Vinnie Shaffer certainly does that, but the Towson big man also shows off a unique ability to shed those blockers and get into the backfield.
Having the presence of mind to swipe at the ball so effectively while still wrapping up for the sack provides some insight into Shaffer's playmaking ability.
Big. Man. Football. @Towson_FB lineman Vinnie Shaffer combines the power you'd expect of a 5-11, 300+ pounder with surprising speed and agility. Was limited to five games in '21 but will be a key cog in the Tigers D in '22. pic.twitter.com/Af3wEInxjb

— Kyle Kensing (@KyleKensing) August 25, 2022
Note: Shaffer played in all 11 games of 2021.
Jalen Jackson, RB - Villanova
The Villanova offense has been an embarrassment of riches in recent years, featuring a dual-threat quarterback; big-play receivers; and a bevy of outstanding running backs. Because there were so many options in the run game with Justin Covington, DeeWil Barlee and Jalen Jackson, as well as two-way quarterback Dan Smith, Jackson didn't break 100 carries.
Expect that to change in 2022 with Covington gone. Jackson's poised for a breakout season as Villanova's feature back.
The running back room @NovaFootball was so loaded, Jalen Jackson only accrued the third-most rushing attempts in 2021. But he'll have an opportunity for more big plays like these - on the same drive! pic.twitter.com/k26zecTW4n

— Kyle Kensing (@KyleKensing) August 26, 2022
John Pius, LB - William & Mary
John Pius wasted no time making an impression in his first full college season. In his first five games of the 2021 campaign, Pius went for:
four tackles at Virginia
two sacks and a quarterback hurry — the first of a team-high eight last year — Week 2 vs. Lafayette
two quarterback hurries against Elon and UAlbany apiece, with a fumble recovery against UAlbany
Here's @WMTribeFootball linebacker John Pius, who emerged as a frosh to play an integral role in the W&M defense. On a team that had absolute beasts Carl Fowler and Nate Lynn, Pius led the Tribe in QBH with 8. pic.twitter.com/VSjZr4wUmV

— Kyle Kensing (@KyleKensing) August 26, 2022
With 10 starts to his credit, Pius heads into his sophomore season a proven commodity working in tandem with the outstanding Tribe defensive line.