2023 CAA Football
Unique Opportunity One Benefit Of NIL For Hampton's Moore, Elon's Seaton
Unique Opportunity One Benefit Of NIL For Hampton's Moore, Elon's Seaton
NIL opportunities can be about more than money in the short-term and open career paths for the long run - including in some unconventional avenues.
Jul 2, 2022
by Kyle Kensing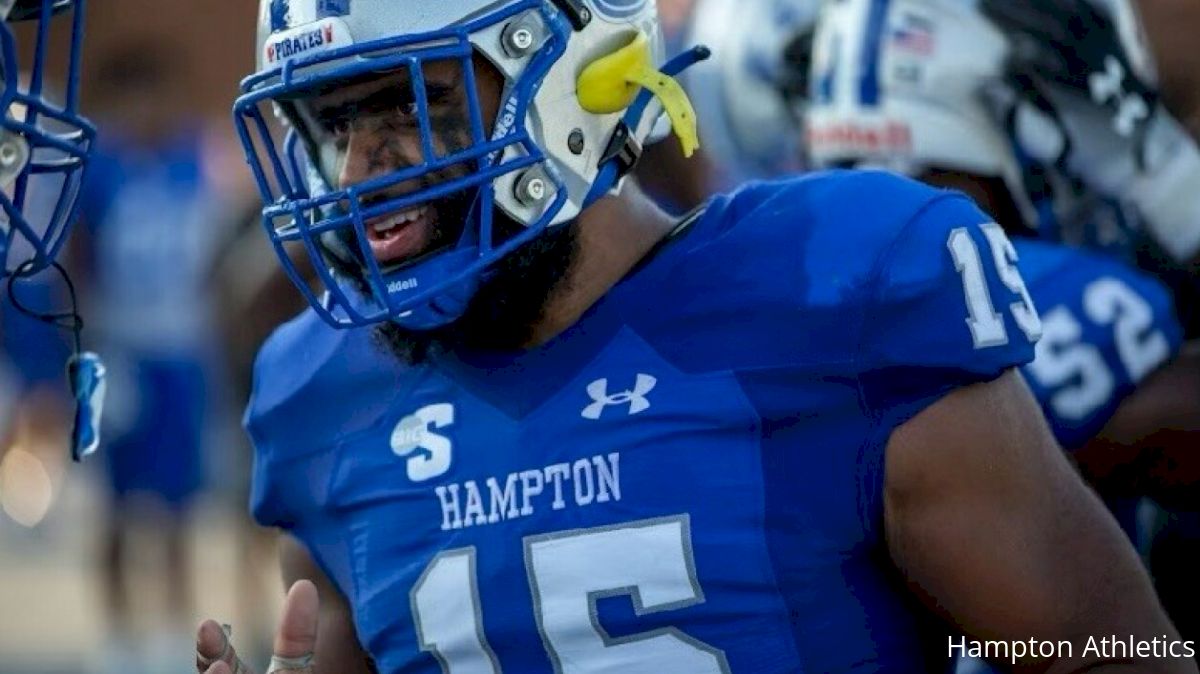 Part of the college experience is the student's exposure to different career options, but that's not always easy for athletes with their rigorous schedules.
Name Image and Likeness opportunities can be about more than money in the short-term and open career paths for the long run - including in some unconventional avenues.
Two such examples of that residual NIL benefit are Hampton's KeShaun Moore and Elon's Jon Seaton, signees to the fledgling World Wrestling Entertainment's NIL program.
Nicknamed "Next In Line," the WWE program zeroes in on college athletes with potential careers in professional wrestling after their athletic careers.
"It helps me have a better idea what I can do after college," said Moore of the deal he brokered in June. "I want to go to the NFL, hopefully, after college, but if that doesn't work out, I like the opportunity [to pursue wrestling]."
Hampton LB KeShaun Moore recently signed an NIL deal with @WWE. So if we see him in the ring, what will his wrestling name be? We asked him that hard-hitting question this afternoon.@WTKR3 @keshaunmoe @Hampton_FB @HUAthletics1868 pic.twitter.com/wHpe2grVDh

— Marc Davis (@marcdavissports) June 16, 2022
Moore is the first HBCU representative to sign with the program, but he would not be the first pass-rushing standout from an HBCU to transition to wrestling if he chooses that route.
"Big Cat" Ernie Ladd, a legend of the old AFL after starring at Grambling, became one of the squared circle's top box-office draws in the 1970s. Ladd also followed in a long-running tradition of gridiron talent transitioning to grappling, which dates back to Bronko Nagurski wrestling in football's offseason in the 1930s, and continues today.
Many of the genre's most popular personalities of more recent times played college football, some of whom Moore watched as a young wrestling fan.
"Everyone knows John Cena, everyone's pretty much a fan of him. I don't know how you can't be," Moore said.
If Cena gets to see game film of Moore's 7.5 sacks and 13.5 last season at Hampton, the wrestling superstar might say the same of Hampton's defensive leader. Cena would have unique perspective on the difficulty of blocking a pass-rusher like Moore, as Cena played offensive line at Springfield College.
Like Moore, Elon defensive lineman Seaton said he grew up watching wrestling.
"Friday Night Smackdown and Monday Night Raw were always on," Seaton said. "[Hearing from WWE via Instagram] was a cool, full-circle moment."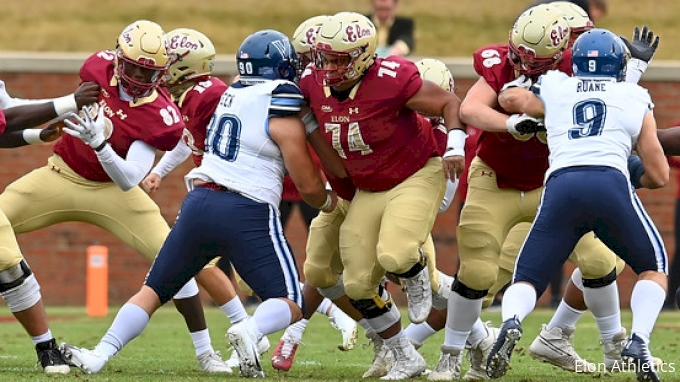 Seaton's story, in a variety of ways, reflects positives of the NIL regulations opened to college athletes last July.
Specific to the opportunity WWE offers, he explained how the demanding schedule football players undertake - which might sometimes prevent them from exploring different career options while in school - becomes a positive.
"Having a schedule as regimented as being part of the WWE is something that meshes well with the football schedule," Seaton said "How we're essentially on the clock, when we're talking about the hours we put in 200-some days a year. It's really just a familiar feel overall."
More generally, Seaton said NIL provides "a level playing field with every other student.
"Anybody on a music scholarship can sign with a record label," Seaton cited as an example. "When it comes to athletics, this was a long time coming."
Social media resides on that more-level playing field to which Seaton alluded.
Former UCF kicker Donald De La Haye was at the center of an NCAA controversy in 2017 when the governing body ruled him ineligible for profiting from his YouTube channel.
De La Haye's suspension feels like something of a test-case for the new NIL landscape. The rewards of a popular social-media presence are the residuals of name, image and likeness in the purest sense.
A walk-on not yet in the starting lineup wouldn't necessarily command an NIL offer for the same reasons as Moore. But Seaton's presence on TikTok, where he's amassed 1.7 million followers, opens doors the old rules would have closed.
That includes earning income to, as Seaton put it, "lessen the burden" of affording college.
"[NIL is] very helpful in paying for school, since I'm a walk-on," Seaton said. "I'm just happy I'm able to contribute in any way that I can."