2022 CAA Football
CAA Notebook: Kickers Earn the Spotlight, Maine's Passing Attack
CAA Notebook: Kickers Earn the Spotlight, Maine's Passing Attack
It was a week for the kickers in the CAA. Elon's Skyler Davis hits from afar and JMU's Ethan Ratke becomes the NCAA's all time points leader.
Nov 17, 2021
by Kyle Kensing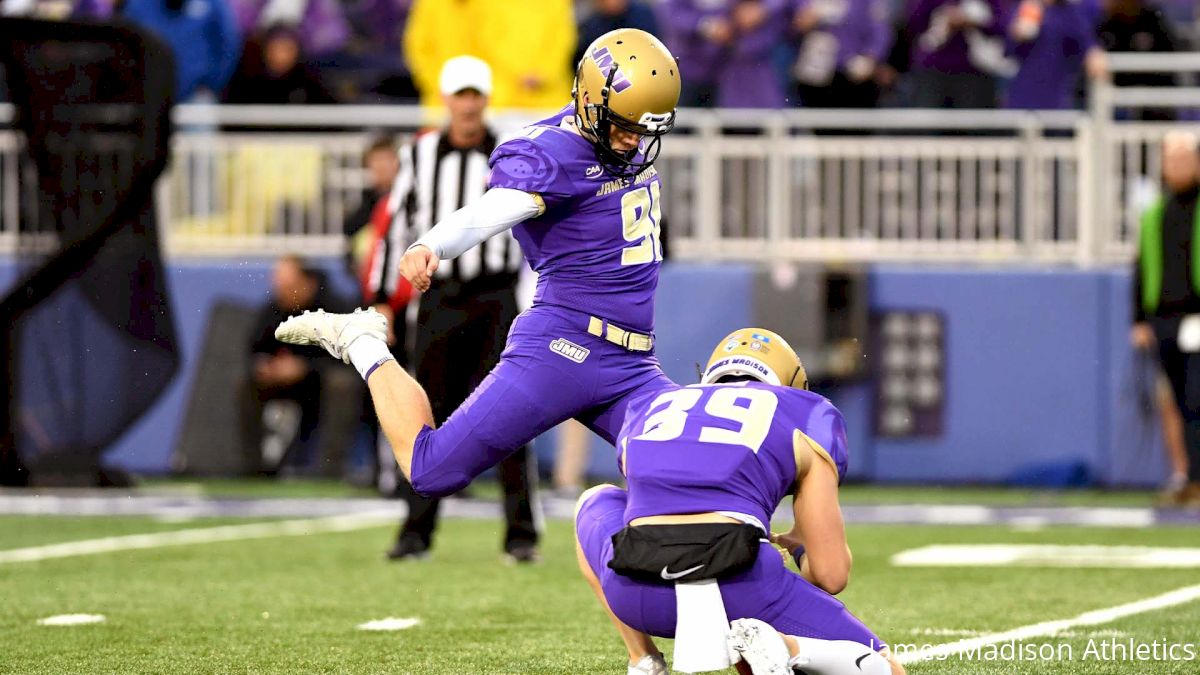 Prior to Elon's 37-14 defeat of Towson, Skyler Davis gave a bold proclamation to Phoenix coach Tony Trisciani.
"He told me in pregame, 'Coach, I'm good from 45,'" Trisciani said of the kicker Davis.
Though "extremely confident" as Trisciani described him, Davis actually short-changed his pregame estimate. He booted through a 52-yarder, matching the program's all-time longest made field goal.
ʟᴏɴɢᴇꜱᴛ ꜰɪᴇʟᴅ ɢᴏᴀʟꜱ ɪɴ ᴘʀᴏɢʀᴀᴍ ʜɪꜱᴛᴏʀʏ
52 - Skyler Davis, Saturday
52 - Paul Mullen, 1986
52 - Paul Mullen, 1985
52 - Phil Renn, 1982
52 - Mitch Rippy, 1977#AED pic.twitter.com/iP8fkwI6RL

— Elon Football (@ElonFootball) November 14, 2021
Week 11 belonged to kickers in the Colonial Athletic Association. Often overlooked and typically only in the spotlight not for succeeding, but for failing, three from the CAA earned their way into history.
With each week of the 2021 season it feels like James Madison kicker Ethan Ratke reaches another milestone, and this past Saturday was a biggie. Ratke eclipsed 500 career points, the most in NCAA history and a mark not likely to be matched any time soon.
History made.#GoDukes pic.twitter.com/GDvk9m2xst

— JMU Football (@JMUFootball) November 13, 2021
As he approached each record—for the James Madison books, the CAA, the FCS and all of college football—Ratke sought to keep those figures off of his radar. Accurate kicking relies on psyche and focus, and the pursuit of personal accolades doesn't fit that motif.
But avoiding the buzz wasn't entirely up to Ratke to decide.
"When it gets this big," he said following the Dukes' 32-22 win over William & Mary, "it's hard to avoid. I hear about it from other guys all the time."
And others who come through Harrisonburg will hear about Ratke's exploits for a long, long time, too. JMU staff secured the memento to ensure it.
The football that made NCAA history.#GoDukes pic.twitter.com/nrkyJ6Wjq8

— JMU Football (@JMUFootball) November 13, 2021
"Really a master of his craft and it goes down to his discipline as a person and how he goes about everything," said Dukes coach Curt Cignetti. "And that leads to consistency."
Consistency is a worthwhile trait in a placekicker. Trisciani touched on another two when discussing Davis.
"Confident and resilient," he said. "He's a guy where, if he misses a field goal—which he doesn't do very often—I've got all the confidence in the world he's going to go back out there and make the next one."
Resiliency is invaluable for a position from which causal observers seemingly demand perfection, despite perfection being unattainable.
Even the best kickers miss sometimes. Ratke has missed just twice this season, but both were in the fourth quarter of the Dukes' sole loss of the campaign.
Since the Villanova game, Ratke has gone 4-for-4 at Richmond; 5-for-5 at Delaware; 3-for-3 vs. Campbell; and a remarkable 6-for-6 at William & Mary.
"I'd rather take six PATs than six field goals," Ratke said. "But, we got the points we needed to win, and that's all that really counts."
Ratke cheering for touchdowns over field goals in spite of his own scoring opportunities underscores a point Rhode Island coach Jim Fleming made when saying kicking records function "kind of a team tribute to how many points you put up offensively."
And to that end, Rams kicker C.J. Carrick is a testament to Rhode Island's collective offensive strides through his four years. Carrick became the program's all-time leading scorer in the Rams' 28-3 defeat of New Hampshire.
A HUGE accomplishment by C.J. Carrick who just became the all time leading scorer in program history with 257 points on his senior day!#GoRhody #CAAFB pic.twitter.com/GTT5OVW1Wq

— Rhody Football (@RhodyFootball) November 13, 2021
"That amount of points always surprises me," Fleming said. "Sometimes it sneaks up, almost every year, how many points kickers really put up."
Carrick is responsible for 57 points this season, off his pace of 78 in 2019, but that's due to Rhode Island scoring more touchdowns and attempting fewer field goals.
Three-pointers or one, Carrick's been stacking them up since his freshman year in 2017. Not every kicker gets that chance from day one. UAlbany's Dylan Burns wasn't among the Week 11 record-setters, but his road to being among the seniors to take a final bow in Week 12 is worthy of the limelight.
"His first year, I thought he had no chance," said Great Danes coach Greg Gattuso. "I really didn't think he could ever be our kicker."
Burns worked his way into the role and by 2019, earned the starting job—but not before receiving a scholarship.
Video | Congratulations to Dylan Burns, Will Haag, Prince Klutsey and AJ Mistler, who got a sweet surprise from @UAlbanyFootball and the University Police Department after practice on Friday! pic.twitter.com/VcFWbyQaai

— UAlbany Sports (@UAlbanySports) August 16, 2019
He scored 52 points for the playoff-participant UAlbany team, and he's been "a weapon" for the Great Danes in 2021 at 10-for-12 on field-goal attempts, 20-of-22 on PATs and the team's kickoff specialist.
"He's a great story," Gattuso said. "He's an incredible person who's very popular on the football team.
"You take those guys for granted sometimes when you're solid at kicker, and we're going to really miss him," he added.
Kickers might be taken for granted in general, but this outstanding crop from the CAA leaves an imprint on the game that should be impossible to overlook.
Rhode To The Playoffs
In the beginning, 2021 looked like a season of destiny for Rhode Island with a 5-0 start that included a dramatic, marquee win over Delaware. The Rams hit a variety of milestones not reached in years; decades, in some cases.
A three-game losing skid in October seemingly doomed their chances of achieving a primary goal no Rhode Island team has since 1985: reaching the Playoffs. But with back-to-back wins over UMass and New Hampshire, Rhode Island is right back in the mix for an at-large berth.
Our defense balled out this weekend!#3MoreFeet pic.twitter.com/zZW9xR7QRY

— Rhody Football (@RhodyFootball) November 15, 2021
"It's everything we all aim to do," Jim Fleming said of making the Playoffs. At 7-3, the Rams are right at the typical cutline for inclusion. "Seven's a good year in the CAA, and eight definitely gets you in. I'm still hoping that remains the case."
Rhode Island goes for win at No. 8 Elon. If there's any theme for this season—or really, any season—in the CAA, it's that no win comes easy.
That's especially true for a trip to the league's southernmost destination to face a Phoenix team with standout quarterback Davis Cheek on Senior Day.
Coincidentally, Cheek helped Elon to a season-ending win over Towson to close 2019 that denied the Tigers their eighth win, and a berth in the postseason as a result.
Indeed, a win to close out the regular season is not given—neither is an at-large bid with a win. But precedent suggests the formula is as simple as win-and-they're-in.
"There's always that little bit of doubt out there. We made our own bed; we lost three in a row in the middle of the season," Fleming said.
But if Rhody can do it, ending the 36-year drought will be "a significant step for our program," per Fleming.
Touchdown Turner (Again)
A defensive tackle scoring a touchdown is a rarity, but Richmond's Kobie Turner accomplished just that Week 10 against Towson.
The Conductor then delivered an encore in Week 11, scooping-and-scoring after a devastating Philip O'Connor sack.
🚂 ⏩ 🎶@philoconnor11 brought the 💥 on the sack and #TheConductor 🎼 @TurnerKobie scooped up the ball for the score in this week's @CoStarGroup Play of the Game in the 🕷 win over Delaware Saturday!#OneRichmond x #CoStarUS @SpiderAthletics pic.twitter.com/Ltdy1eu3Gk

— Richmond Spider Football (@Spiders_FB) November 14, 2021
The Future Of Maine's Passing Attack
Seniors Andre Miller and Devin Young shined in their final season as Maine Black Bears, but the program's passing offense should remain in good hands after the outstanding duo leaves Orono.
Saturday's win over UMass offered a sneak peek of what to expect in the future when sophomore Joe Fagnano, back from injury, dropped a beautiful deep ball to Montigo Moss.
Fagnano ✈️ Montigo Moss

58 yards 😎

#BlackBearNation | #ChampionshipMentality | #CAAFB pic.twitter.com/GSVSNjIC7a

— Maine Football (@BlackBearsFB) November 13, 2021
"That really got us going," Maine coach Nick Charlton said of the long grab. "He's got tremendous ball skills. It's really impressive to watch him play the ball in the air...He's bringing a lot to the table, and he's really stepped up with [Miller] out the last two games."
Keeping Wardell Turner's Memory Alive
Programs throughout college football honored the servicemen and servicewomen of the United States Military in recognition of Veterans Day. At Towson, donning alternate uniforms for its game against Richmond took on special significance.
The Tigers wore special uniforms designed to commemorate the life and service of Sgt. Maj. Wardell Turner.
Remembering Sgt. Maj. Wardell Turner, our fallen Tiger. pic.twitter.com/guQyTP7DUM

— Towson Football (@Towson_FB) November 14, 2021
"The uniform thing has been in the works for years. We've been in negotiation with [Under Armour] to get a military uniform that kind of fits what we're trying to get done here," said Towson coach Rob Ambrose. "I definitely thank our administration for a long, longtime, deep-seeded effort to get that done."
Turner, a 1989 Towson graduate and defensive back in the Tigers football program, was killed in Afghanistan in November 2014.
The uniforms are only one facet of Towson's celebration of of Turner's life. The program has awarded a scholarship in his name every year since 2016.
"You spend enough time going to Arlington [National Cemetery], you spend enough time around military people, you start to understand you die twice," Ambrose explained. "You die physically, and then you die when you're forgotten.
"For a man like Wardell who served as well as he had, has made just a difference in so many people's lives, has done so much for his family, his community, our country, it's kind of my thing here where as long as I'm around, I'm going to make sure he don't die twice. His name will live on."