CAA
Passing Game Propels Maine Into Playoff Picture
Passing Game Propels Maine Into Playoff Picture
The tandem of Devin Young and Andre Miller has Maine in the middle of a three-game win streak.
Nov 5, 2021
by Kyle Kensing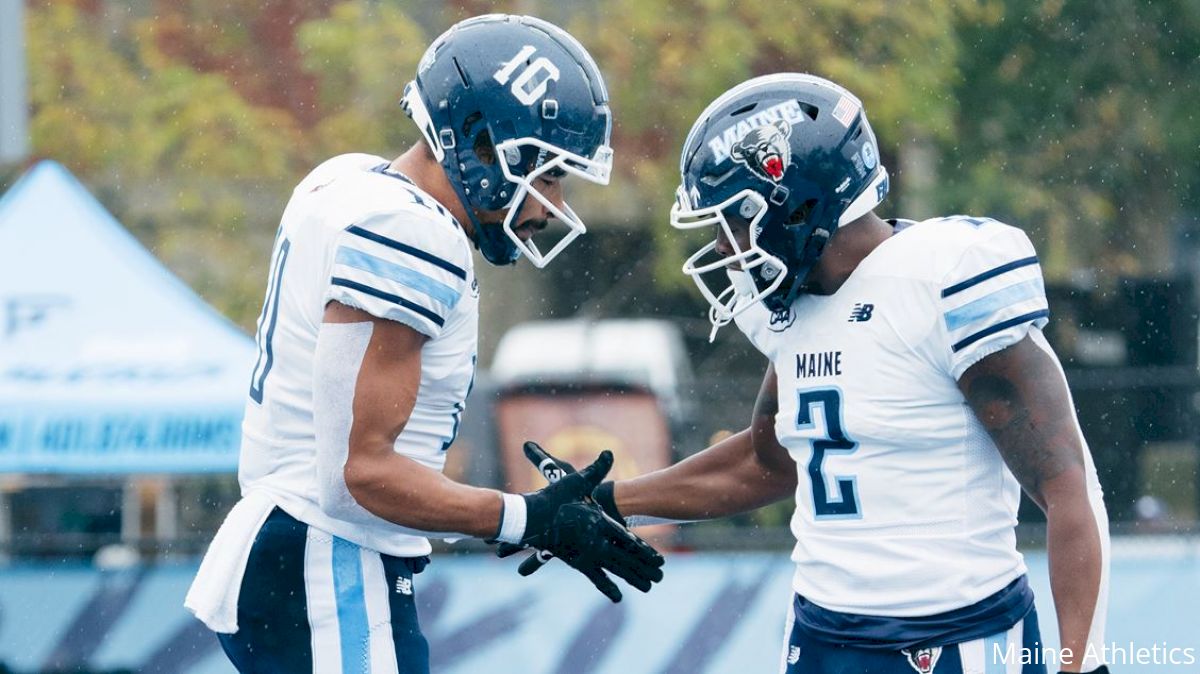 Devin Young expected a flag. He got a touchdown.
"I saw the ball and thought, 'Alright, I've got to come back to this.' I thought it might've been a [defensive pass interference], so I didn't expect anything out of it," Young described. "It was just one of those weird plays that goes in your favor."
TOUCHDOWN MAINE!!

Devin Young shows incredible composure and concentration to haul in this 35-yard touchdown!

WM - 0
Maine - 24
3Q | 6:13#BlackBearNation | #ChampionshipMentality | #CAAFB pic.twitter.com/m4JpDrwWPA

— Maine Football (@BlackBearsFB) October 16, 2021
The Maine wide receiver's 35-yard scoring grab in a 27-16 defeat of William & Mary on Oct. 16 gained attention from around the nation—"It was three, "Young pointed out, on ESPN's countdown of the week's best plays in all of college football.
"Initially," said quarterback Derek Robertson, who threw the pass to Young. "I thought I under-threw him, and I was like, 'Aw, man.' And then Dev went out there and made an unbelievable play."
The catch works as an unofficial avatar for the second half of the Black Bears' 2021 season. From a 1-4 start, including an 0-3 beginning to Colonial Athletic Association play, Maine has come from behind to emerge in the FCS Playoffs chase.
Wins over William & Mary, UAlbany and Rhode Island in succession have the Black Bears rolling into November with three more opportunities to make a statement.
"I remember '19, it's kind of the same thing," Young said. "We just kept on running. And it's a confidence booster. At first, many people might have thought the Playoffs isn't even a thing for us. Now, we see it and we've got the vision for it."
Young is among the upperclassmen who played a big part in the 2019 season when, after starting 2-5, Maine ripped off four straight and went into the regular-season finale with a strong playoff resume building.
Falling short of the postseason, then, adds some motivation to the confidence Young said the Black Bears are building up. Circumstances behind Maine's latter-half push this time around are similar to 2019 with a freshman quarterback stepping in.
Joe Fagnano got that call two years ago and went 121-of-184 with 17 touchdown passes against just three interceptions.
Fagnano sustained an ankle injury Week 2 of this season against James Madison, thrusting the freshman Robertson into the starting job. The unexpected change wasn't without a learning curve.
"We just had to get a little adjusted to Derek," said Young. "He hadn't thrown to us much before, he just got here not too long ago."
Robertson came to Maine from Bridgton Academy by way of Iona Prep in suburban New York. A true-freshman year impacted by COVID-19, and Maine returning its starter in Fagnano, Robertson assumed his new role in the Black Bears offense, having had little opportunity to work with the first string of receivers.
"When I first came in, it wasn't there," he said of his chemistry and timing with pass-catchers, adding bluntly: "We all know it."
Audiences only see what happens on game day, but those three hours every Saturday are a fraction of what goes into building a football team.
When a program experiences a midseason turnaround the magnitude of Maine's, it resembles a switch being flipped. In reality, the process behind the scenes is exhaustive.
Both Young and Robertson credited the intensity of Black Bears workouts for fueling their push into the home stretch, and helping cultivate the dynamics behind what has evolved into a potent passing attack.
"We really started having some high-level practices, which helped translate to Saturday," Robertson said.
What's shown up on Saturdays over Maine's three-game winning streak is impressive.
Robertson has thrown seven touchdowns—he threw three in his previous four appearances—and been intercepted just once.
Young stood out as the primary target, hauling in 17 of his 38 catches thus far on the season during the winning streak. Both of his touchdowns have also come in the last three games, including the circus grab against William & Mary.
He hasn't limited the highlight-reel receptions to that play, either. Young's knack for making difficult catches look effortless is part of his consistency.
"Young doesn't drop anything"

Fact.

First down Black Bears!#BlackBearNation | #ChampionshipMentality | #CAAFB pic.twitter.com/EK7dpasrVJ

— Maine Football (@BlackBearsFB) October 30, 2021
Another veteran presence, Andre Miller, has been central to the potent passing offense. His 548 receiving yards lead the Black Bears on the season, with almost 200 coming in the last three weeks.
Miller was on the receiving end of the first career touchdown passes that both Fagnano and Robertson threw, a testament to the receiver's steadiness in the Maine offense.
"Those two are really high-level players," Robertson said of Miller and Young. "I've just got to put it out there and I know they're going to go out there and make a play."
The dynamite duo brings experience that works well in contrast with the young quarterback. It also doesn't hurt that Miller and Young are two of the most electric pass-catchers in the FCS.
"You know you've got somebody next to you who's just as good as you...defenses got to worry about both of us," Young said. "We can both play wideout [or in the] slot. It's a nightmare for defenses, and it makes the game easier when you've got someone who's been around and made plays."
In the same way that Miller and Young elevate each other as playmakers in the same attack, Robertson's received a boost from someone in his position room: Joe Fagnano.
"Me and Joe are really good friends," Robertson said. "He's been great through this whole thing. I just hope he continues to get as healthy as he can so he can get back here on the field."
Black Bears coach Nick Charlton, who said earlier this week that Fagnano is returning to practice, has a unique luxury heading into the final few games of 2021.
Not many teams have a quarterback on the roster that led to a dramatic midseason turnaround; Maine has two. Continuing to produce big plays and lofty passing numbers will prove critical to the Black Bears finishing this come-from-behind pursuit of the Playoffs, whether it's Robertson or Fagnano.
The 2019 chase came down to Rivalry Week and New Hampshire, where the Wildcats spoiled Maine's postseason aspirations. A chance at redemption awaits, but only if the Black Bears keep winning.
A veteran like Young knows better than anyone how much a season can change on one Saturday—or even on one play.
"In the CAA," he said, "anything can happen."
Anything, like an improbable, behind-the-defender's back-touchdown catch.