2022 CAA Football
Elon's Davis Cheek Making A Loud & Clear Statement
Elon's Davis Cheek Making A Loud & Clear Statement
To return from two major injuries and play the best ball of one's career is a major accomplishment. Davis Cheek is playing some of the best ball in FCS.
Oct 28, 2021
by Kyle Kensing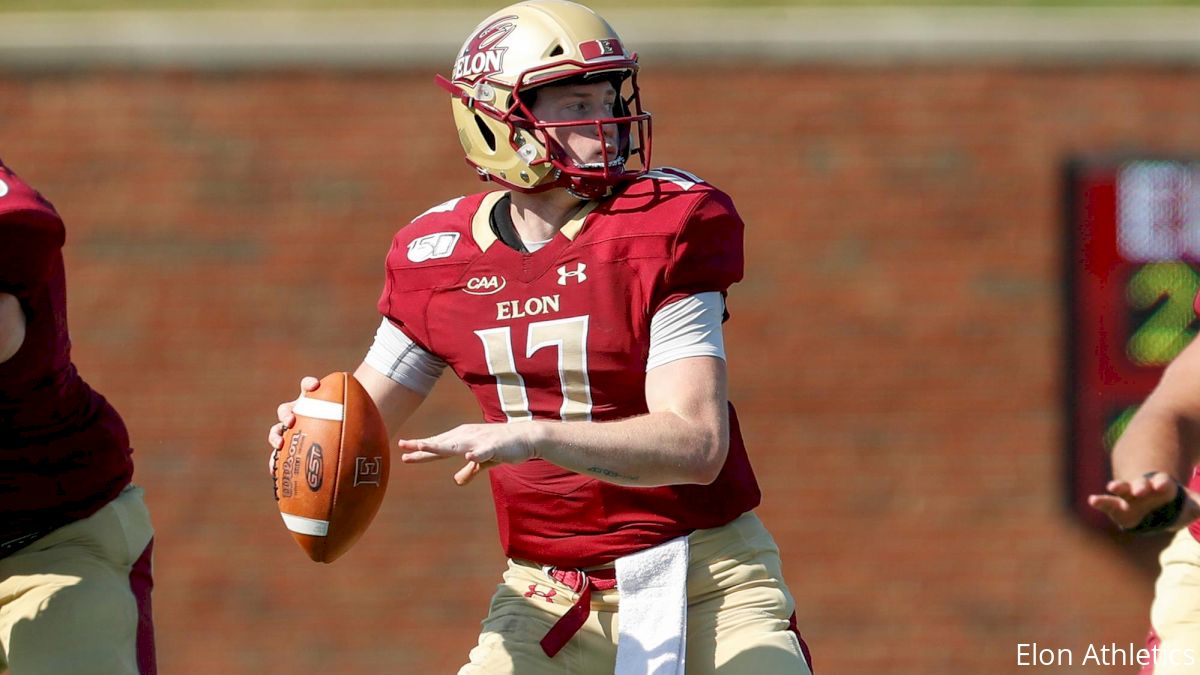 Two years have passed since Davis Cheek last saw New Hampshire, but the Elon quarterback remembered the feeling of a 26-10 loss in Durham like it was yesterday.
"Four picks will do that to you," Cheek said plainly. "I gave the game away."
Cheek also remembered "everything [their] players were saying."
The quarterback cited a "short memory" when it comes to moving on from missteps. But filing some moments away, like that feeling two years ago, can serve a purpose. It motivated Cheek, making the win "personal."
And the result was that just about everything was a mirror opposite this time around, right down to the score: Elon 24, New Hampshire 10. Cheek threw for 328 yards, completed 17 straight attempts over a stretch lasting two quarters, and was 20-of-22 at one point.
At 27-of-31, he finished with as many incompletions this time around as interceptions in the previous matchup. With a couple of passing touchdowns—including a 58-yarder to Bryson Daughtry on the game's second play, and a goal-line end-zone carry—Cheek produced almost as many scores as he'd had turnovers previously against the Wildcats.
Davis Cheek is 17-19 for 202 yards but here, he's rushing for a touchdown pic.twitter.com/ZRPl2XDPFv

— Kyle Kensing (@kensing45) October 23, 2021
"He's a different Davis Cheek than they saw in 2019," said Elon coach Tony Trisciani. "We had a purpose this week, and he had some late nights, watching film, preparing himself and he did a great job managing the football game for us today."
Cheek's reversal of fortunes against New Hampshire reflects the larger turnaround from various misfortunes over the last few years. The rough game in Durham two years ago is a minor setback in comparison to the other obstacles Cheek navigated to reach what is shaping up to be a special senior year.
In 2018, the Phoenix were 4-1 midway through the season and coming off a program-defining win at James Madison. Early into a road game at Delaware, however, Cheek tore his ACL.
His 2019 return produced 15 touchdowns and 2,175 yards, but his impressive finish to that season—six touchdown passes against just one interception and more than 200 yards in four of the final five games—set the standard for 2020.
Then came COVID.
The pandemic pushed the FCS season back to spring 2021. In the lead-up to the unprecedented season, Cheek suffered a foot injury that ended his campaign before it began.
In four years of college, Cheek experienced as many injury-shortened or negated seasons as full campaigns. A player coming back from one major injury is noteworthy. Doing it twice is a rare feat because of the effects physical, mental or emotional such adversity presents.
"With any injury, you kinda learn more about yourself. The first time around, I learned a lot about determination and grit," Cheek said at CAA media day before the season. "This time around, it hasn't been easy. This has been a very different injury...The ACL was more strength-involved, and this was kind of a freak thing.
"There's been good days, there's been bad days, and people around me have really made the bad days a lot easier," he added.
A few months have passed since then, and game days appear to have brought plenty more of the good days than bad.
Cheek quipped on his way into the post-New Hampshire press conference that Elon's "the hottest team in North Carolina." The Phoenix owe a considerable portion to one of the hottest quarterbacks in all of college football.
To return from two major injuries and play the best ball of one's career is a major accomplishment. Cheek is playing some of the best ball in FCS.
"I expect it of myself. I expect myself to be perfect. That's the standard for me, and I think every other guy, they hold me to that standard as well," he said. "And the thing is, I can't do it without them. It's a very cliche thing to say, but it's true."
Elon's offensive line play has been excellent for much of 2021, and the rotation of pass-catchers is deep and diverse.
How about this flick of the wrist by Davis Cheek 👀#AED | #CAAFB pic.twitter.com/n9E0qqHANc

— Elon Football (@ElonFootball) October 23, 2021
Daughtry's long-bomb catch against UNH marked his fourth scoring grab of the season; running back Jaylan Thomas has emerged as an outstanding receiver out of the backfield (and sometimes, lining up wide); Chandler Brayboy has 27 grabs and three touchdowns, and Jackson Parham leads the Colonial in receiving yards.
Along with Kortez Weeks, five Phoenix pass-catchers have at least 21 grabs. That's a testament both to the collective ability of the group, and reflective of Cheek's efforts in building chemistry.
"The one thing is definitely involvement," Parham said. "He texts me, [Donovan Williams], Kortez, Bryson, [Jordan Bonner] just to come in and watch film on nights after practice. That just shows his commitment to us and the team.
"From a wide receiver's perspective, when your quarterback tells you to come in and watch more film, that's exactly what you want. You can't say no," he added. "That's just a credit to Cheek."
With that dynamic built among the offense, Cheek is rolling and quietly building a resume worthy of Walter Payton Award discussion.
Should Elon and Cheek continue on their current trajectory, that case won't be so quiet for long.
"I would love to see him in that conversation, but his stats are speaking louder than I could ever speak," Trisciani said.
In case you need the volume turned up:
Cheek ranks No. 10 nationally in passing yards with 2,047. Every quarterback but one leading him has attempted more than his 276 passes.

Cheek is responsible for 304.8 total yards per game.

His touchdown-to-interception ratio is better than 4:1, about on pace with presumptive Payton Award frontrunner Eric Barriere of Eastern Washington.
Is that Lamar Jackson or Davis Cheek?! 🏃‍♂️💨💨💨#AED pic.twitter.com/FwHs4hMb9J

— Elon Football (@ElonFootball) September 4, 2021
The final stretch of Elon's 2021 regular season will shape Cheek's case for the subdivision's top individual honor, and determine the Phoenix's FCS Playoffs prospects. They draw two top 10-ranked opponents in the next two weeks, starting Halloween eve against James Madison.
Bridgeforth Stadium was the site of a crowning achievement in Cheek's college career. There, he passed for 286 yards and found Avery Jones with just over a minute left in regulation to give Elon the game-winning score in a 27-24 contest.
Current Dukes coach Curt Cignetti was on the Elon sideline that day and knows Cheek well.
Cignetti called Cheek one of the very best quarterbacks he's had to prep for in three seasons at James Madison, a group that includes 1st Round NFL draft pick Trey Lance.
Cignetti is familiar with plenty of other great quarterbacks from his coaching career, too, and he compared Cheek to a notable playmaker from the coach's time with Chuck Amato in Raleigh.
"He's always reminded me, since day one, of Philip Rivers when he was at NC State, in terms of being able to get the ball out quick, process things quickly. Very accurate," Cignetti said. "When Rivers was at State, he had a strong arm. Cheek's got a strong arm. He's a great player."
The journey to this point has been more challenging for Davis Cheek than it is for most elite quarterbacks. But in his senior season, at the end of a road filled with injuries and misfires, he has made a resounding statement that he is among the top players in college football.