2022 CAA Football
CAA Notebook: Chaos Overtakes The Season
CAA Notebook: Chaos Overtakes The Season
Pandemonium reigns in the CAA, with only one team still undefeated in conference play. Meanwhile, Towson is ascending and familiar foes clash this weekend.
Oct 19, 2021
by Kyle Kensing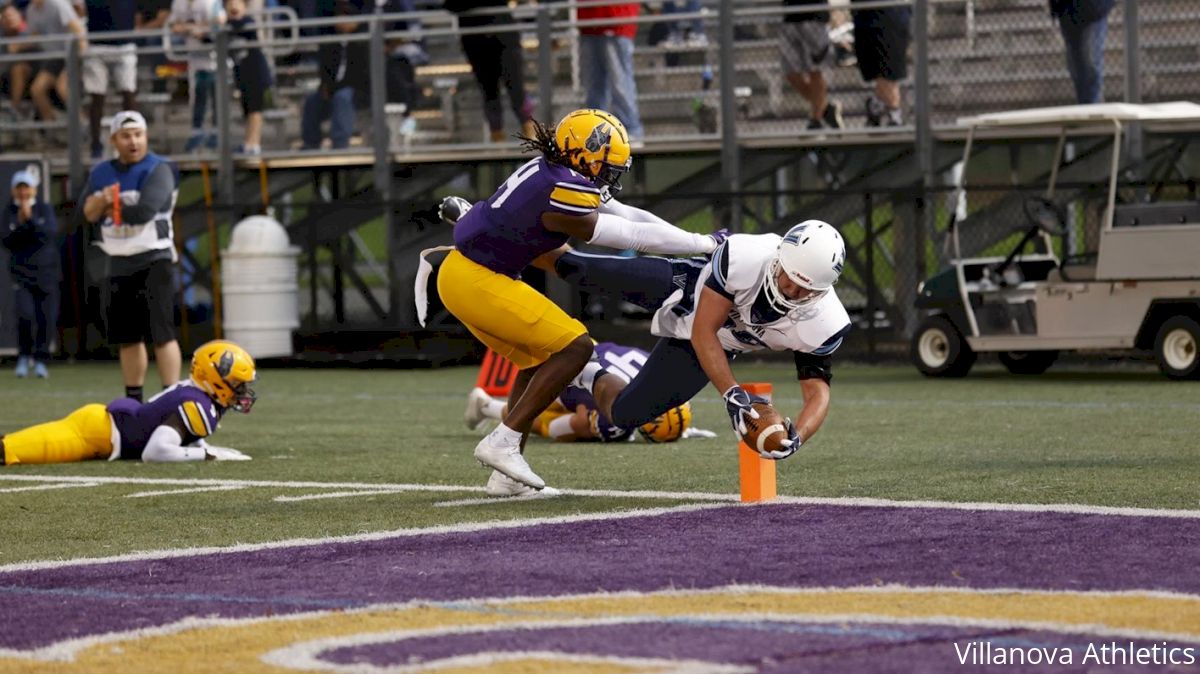 The C in CAA may as well stand for chaos.
Recent weeks in Colonial Athletic Association competition have turned the conference upside down, leaving only one team with a perfect league record.
Villanova's rain-soaked, 17-10 defeat of UAlbany, coupled with William & Mary and Rhode Island losses at Maine and Towson, left the Wildcats as the sole unbeaten team. Meanwhile, 15 points are all that separate Villanova from 3-0 and 0-3 in a fitting encapsulation of the tightrope walk that is the CAA.
"We just were fortunate enough to have a big play on special teams," said Villanova coach Mark Ferrante. "Which really, when it comes down to it, had a huge outcome on the game."
𝗦𝗰𝗼𝗼𝗽 ➡️ 𝗦𝗰𝗼𝗿𝗲@tsizzle34 pic.twitter.com/mzpvOuMp45

— Villanova Football (@NovaFootball) October 17, 2021
TD Ayo-Durojaiye's broken punt returned-for-touchdown just before halftime made the difference, giving the Wildcats a cushion to weather both torrential downpours and a scoreless second half. Villanova going scoreless after intermission was a complete flipping of the script from the previous week's upset of James Madison, when the Dukes went without a point in the final 30 minutes.
William & Mary had the opposite problem in a 27-16 loss to a Maine bunch previously winless in the CAA. The Tribe's scoreless first half marked the only first-half shutout Maine pitched since the 2018 Black Hole Defense paved the way to a conference championship.
This Black Bears team might be out of the title chase, but their excellent showing against William & Mary demonstrated that all 12 Colonial members can and will contribute to the chaos.
"The CAA? Toughest FCS conference, to me, in the country," said William & Mary coach Mike London. "[It] has teams in it, as we've all seen, any one of us can emerge as far as being a competitor or competing for the conference championship."
That isn't just hyperbole heading into Week 8, either. Six teams behind undefeated Villanova have just one loss in the conference: James Madison, Rhode Island, William & Mary, Elon, Towson and New Hampshire.
The prospect of a five-team tie atop the conference's loss column by this time next week is very real. One of either Elon or New Hampshire and Towson or William & Mary is guaranteed to remain at one loss, while Rhode Island travels to Villanova looking to hand the Wildcats their first defeat.
Towson Turning The Tide
Towson went into its bye on Oct. 2 riding a three-game losing skid. Since, the Tigers are winners of back-to-back CAA contests, including a 28-7 rout of previously undefeated Rhode Island.
The resurgence after bye week has Towson in a spot where, if it can knock off William & Mary in Week 8, TU could be in the playoff conversation for the home stretch.
"Mike [London] made a really good point about being relevant this time of year, not going backwards," Tigers coach Rob Ambrose said. "As long as you can do that, all the preseason stuff doesn't matter and it comes out in the filter in November."
If Towson does play into November vying for postseason consideration, it can thank the rough stretch it faced in September.
"We created a circumstance where it has become advantageous. We're going to challenge you and travel. We're going to challenge you with who you play. We're going to make it as hard as humanly possible basically, unless we were to have played Alabama, and let's see what you learn from it."
Ambrose may not have been on the sideline opposite from Nick Saban, but the Tigers faced undefeated North Dakota State and San Diego State, one of only 11 unbeatens remaining in FBS and the AP Poll's No. 22-ranked team.
Coupled with a trek north to open CAA competition against New Hampshire, Towson logged both miles and lumps. But through the difficulty has emerged a team that looks rugged, particularly on defense giving up a combined 21 points its last two times out.
Christian Dixon's 11-tackle (including four for loss), two-sack and forced fumble performance set the tone for the defeat of Rhode Island.
Q1 | HAT ON THE BALL.

What a shot from Christian Dixon to jar the ball loose in the sloppy weather. Sam Gyeni with the recovery.

💻- https://t.co/GZkV5hamtW
📻 - https://t.co/oWV3WDczv7
📊 - https://t.co/ae3E7tzadG#UnitedWeRoar x #NCAAFCS pic.twitter.com/yVhCBzW4cr

— Towson Football (@Towson_FB) October 16, 2021
"Instead of taking those losses on the chin and letting them wear on you, they've taken it as an opportunity to learn and get better, and understand what the true bar is," Ambrose said. "All we're doing is going out every day and trying to get better. And I know that sounds small and simple and nerdy, but if we're all doing that every single day, we are going to get better. And you keep getting better, you usually win."
Defensive Dukes
Coming off the heartbreaking loss to Villanova, in which it gave up a season-high in rushing yards and points, did the James Madison defense feels an added sense of motivation to prove its strength against rival Richmond?
"Absolutely. Absolutely," said linebacker Kelvin Azanama.
The Dukes made an emphatic statement in their 19-3 win over Richmond, going from giving up the most points they had all season to the fewest. JMU also racked up six sacks on the afternoon, including two apiece from Tony Thurston and Bryce Carter.
Bring the heat, defense! Six sacks for the Dukes and the defense takes us to the end of the third with a big stop.#GoDukes pic.twitter.com/WHhOQpOhKl

— JMU Football (@JMUFootball) October 16, 2021
"We just needed to take a step back and focus on where we fit in the defense and where we fit as a team and everybody just doing their job," Azanama said.
Familiar Foes (And Friends)
New Hampshire head coach Sean McDonnell has one of the most impressive coaching trees in all of college football. Saturday at Elon, his Wildcats face an opponent under the direction of one of his former assistants, Tony Trisciani.
Trisciani coached running backs at UNH in 1998 and 1999 and defensive backs from 2001 through 2004. His tenures overlapped with current Ohio State coach Ryan Day's time as Wildcats quarterback and UCLA coach Chip Kelly's time as offensive line coach and offensive coordinator.
While they met previously in Trisciani's tenures at Villanova and Elon as an assistant, Saturday marks the first time McDonnell and his former colleague faced each other as head coaches. The Phoenix visited the Wildcats in 2019, Trisciani's first year at the helm, during Ricky Santos' interim season while McDonnell fought a bout with bladder cancer.
"I know what Tony brings to the table," McDonnell said. "He's a tough New Hampshire kid, tough New Hampshire guy.
"He's been at two or three places that he's gotten better as a coach," McDonnell added. "Whether it's at Villanova (with Hall of Famer Andy Talley) or Elon (on Curt Cignetti's staff), he's gotten better as he's gone along."
McDonnell also cited Trisciani's playing days at Springfield College for giving the Elon coach a foundation. Springfield is the same program that, a few years after Trisciani's time, featured a starting center named John Cena—of note, given Trisciani is looking to have the Phoenix in the championship hunt.
Beating New Hampshire is crucial for keeping Elon in the CAA title picture — and vice versa for the Wildcats—so don't expect anything less than a typically hard-hitting affair.
"I'm sure Coach Mac and I will share our pleasantries before the game and all that. We are close friends," Trisciani said. "But we're going to play a physical football game and go head-to-head once we kick it off."
Play Of The Year Contenders
CAA players delivered two of the most spectacular touchdowns anywhere in college football season thus far—each for unique reasons.
Devin Young's 35-yard touchdown reception for Maine is about as difficult and improbable as a grab gets, going behind the defender's back.
Off the back of the defensive back!

What a TD for @blackbearsfb's Devin Young

Maine extends the lead over William & Mary, 24-0 pic.twitter.com/9smacgpT5J

— CAA Football (@CAAFootball) October 16, 2021
Conference Offensive Player of the Week Ty Son Lawton's highlight touchdown run was improbable in its own right.
The Stony Brook running back is the second CAA player to carry for a record-setting 99-yard score in 2021—former James Madison running back Jawon Hamilton went the distance in the Dukes' spring playoff defeat of VMI—and was unfathomably one of two players to go virtually end zone-to-end zone in Week 7. Ohio University quarterback Armani Rogers accomplished the feat against Buffalo.
However, it's an exclusive company Lawton joined.
Ty Son saw nothing but green as he took it 99 yards to the 🏠

🌊🐺 x @Lawtyy7 x #HOWL pic.twitter.com/iA4WzknBwX

— Stony Brook Football (@StonyBrookFB) October 16, 2021
That Lawton still looks fast in a slo-mo version of the run makes it all the more impressive.
1⃣ play. 9⃣9⃣ yards.

𝗧𝗢𝗨𝗖𝗛𝗗𝗢𝗪𝗡 🤯🤯🤯

🌊🐺 x @Lawtyy7 x #HOWL pic.twitter.com/nU8ZJ9BWUc

— Stony Brook Football (@StonyBrookFB) October 16, 2021
"To get that run out and have it happen that way certainly was a huge lift for our program. He as a player has fought some injuries in '19 and the spring of [2021]," Stony Brook coach Chuck Priore said. "When he takes the field and he's healthy...he's a very good football player."