CAA Articles
Jawon Hamilton's Run Into History Will Never Be Topped
Jawon Hamilton's Run Into History Will Never Be Topped
Jawon Hamilton's 99-yard run was the early boost JMU needed to overcome VMI and advance to the FCS quarterfinal round.
Apr 26, 2021
by Kyle Kensing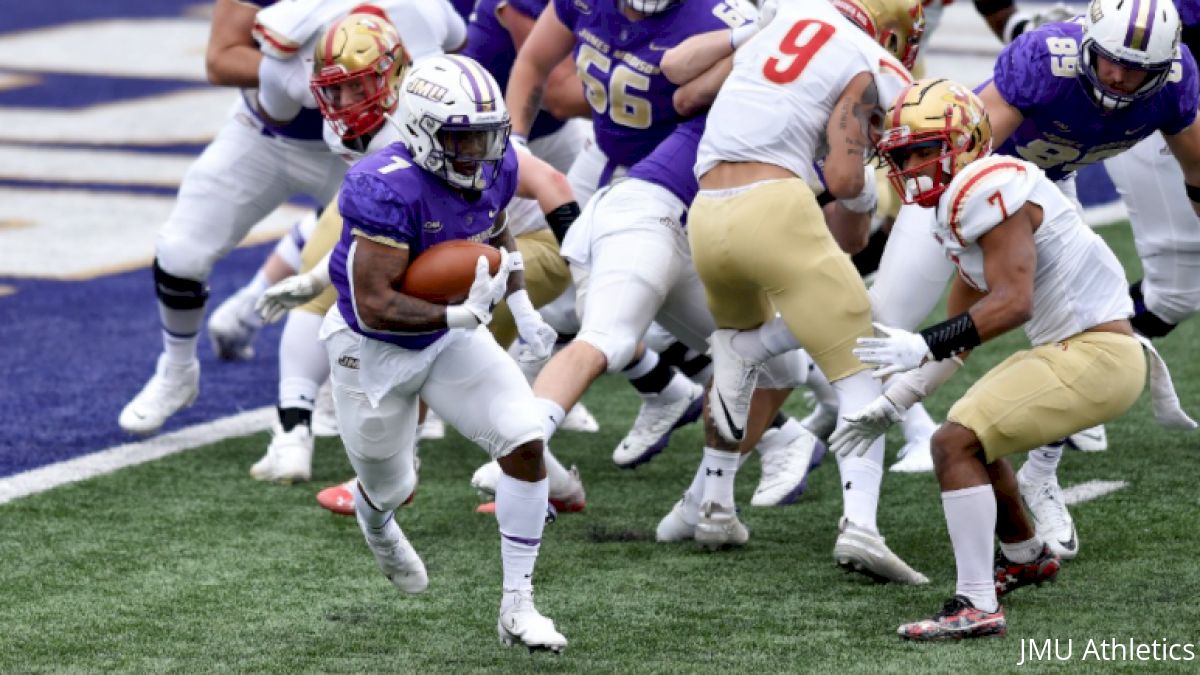 Jawon Hamilton accomplished the next-to-impossible feat in James Madison's 31-24 FCS Playoffs win over VMI of setting a record that will never be broken.
Now, applying the word never to any accomplishment in sports might come across like a hot take; a hyperbolic, knee-jerk reaction to witnessing the improbable and wanting to assign it particular gravity.
But in the case of Hamilton's first-quarter touchdown run, the longest in FCS Playoffs history, it can never be broken — not without the NCAA adding an extra yard to field length sometime in the future.
Someone could technically match Hamilton's 99-yard scoring scamper, but it's only slightly more likely than never. Just ask James Madison coach Curt Cignetti, who has seen a lot of football in his day.
"I've only ever seen a 99-yard touchdown run one other time in my life. That was Tony Dorsett on Monday Night Football against the [Minnesota] Vikings," Cignetti said. "That was a long time ago."
Thirty-eight years ago, to be exact.
Tony Dorsett rushes 99 yards for a touchdown against the Minnesota Vikings on Monday Night Football.
In 2018, Derrick Henry matched Dorsett's iconic, 1983 touchdown. But like Hamilton, Dorsett's record can never be broken, and any replication of the feat will always come with the qualifier of who came first.
Hamilton's 99-yarder did not come with just 10 offensive players on the field like Dorsett's, but the Dukes came onto the field after VMI quarterback Seth Morgan's pooch punt was downed at the 1-yard line showing a new look.
"That was kind of a new personnel group, a new look they hadn't seen from us," Cignetti said.
One player in that changed-up personnel grouping central to Hamilton's dash to history was fellow running back Solomon Vanhorse.
Hamilton and Vanhorse lined up with quarterback Cole Johnson, not quite halfway into the end zone. Hamilton took the handoff from Johnson, then at about the line of scrimmage, cut right off-tackle.
"He spit out of there, and I knew he had a chance," Cignetti said. "And then here came Vanhorse. Vanhorse outran everybody, he made a key block, and there was never any doubt after that."
Hamilton described his approach when taking the handoff from Johnson as simply looking for positive yards; giving the offense more room to operate on second down. But upon seeing the opening to his right where he cut, the prospect of the unimaginable with a 99-yard touchdown became possible.
And Hamilton got to watch the play unfold with the best view thanks to the Bridgeforth Stadium jumbotron.
"I looked up on the big screen, and I seen all the space, then I seen Solomon running behind me," Hamilton said. "Made a key block, then I knew I was good then."
Vanhorse's tenacious sprint down the right side outpaced the entire Keydets defense and held off the two deepest would-be tacklers as Hamilton trotted to pay dirt.
Jawon Hamilton.

FCS playoff record holder. #GoDukes pic.twitter.com/1sXbmlytpo

— JMU Football (@JMUFootball) April 25, 2021
The teamwork from the Dukes running backs to make the moment possible reflects the camaraderie that has made that position so vital to James Madison's success.
"That running-back room, for a long time's been a really good room," Cignetti said. "That all started with coach [Matt] Merritt."
Merritt left for a position at UCF — which, when Josh Heupel accepted the opening at Tennessee, became a job in the SEC — but the attitude established in the 2019 season remains.
Hamilton — who came to James Madison from UCF, coincidentally, told FloFootball in 2019 that "if Solomon scores a touchdown, I'm just as excited as if I just scored a touchdown."
The record is Hamilton's, but Vanhorse's contribution embodies the same spirit.
With Hamilton getting his jumbotron view of the play, he doesn't need to relive the clip on YouTube. He said he's ready to look to whatever's next, which starts May 2 when the Dukes host North Dakota in the national quarterfinals.
And even if Hamilton never watches a replay, Cignetti put it best: "That's something he'll remember forever."
So will the NCAA record books.