2019 Villanova vs James Madison | CAA Football
Healthy Again, Jawon Hamilton Provides The Juice For James Madison
Healthy Again, Jawon Hamilton Provides The Juice For James Madison
Jawon Hamilton gave James Madison just the jolt it needed to outlast Stony Brook on Saturday.
Oct 8, 2019
by Kyle Kensing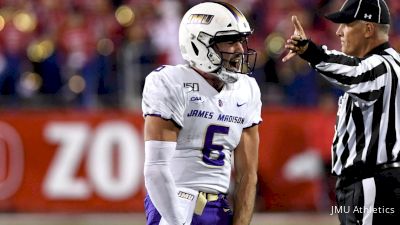 Positivity is paying off in a big way for James Madison running back Jawon Hamilton.
The redshirt junior from Miami delivered in the second-ranked Dukes' Top 25, Colonial Athletic Association showdown at Stony Brook Oct. 5, going for 105 yards on 13 carries with two touchdowns. His second score sealed the win in overtime.
Watch No. 5 Villanova vs No. 2 James Madison LIVE on FloFootball
"A momentum boost to me, kind of a confidence boost," is how Hamilton described his showing at Stony Brook. "I've battled so many injuries. To see myself back 100 percent, doing my thing and doing what I love, it's a great feeling. I feel blessed."
A three-star prospect out of South Dade High School in 2016, Hamilton attracted recruiting interest from a bevy of programs. His offers included Power Five conference members like Syracuse and Miami, but he ended up on the ground floor of a rebuild at UCF.
TOUCHDOWN!!

THAT was #UCFast ??

From the 3️⃣0️⃣5️⃣ Jawon Hamilton punches it in in 1min 50 seconds for a 7-0 lead ✊#WarOnI4 ⚔️ pic.twitter.com/dqi7gXpNaZ

— UCF Football (@UCF_Football) November 26, 2016
Hamilton contributed in the reversal from a winless 2015 to a bowl game in 2016. His 495 yards rushing fell just a yard shy of the team lead, and he scored four touchdowns.
With a young corps, big things lay on the horizon for UCF that season — and they came to fruition with the Knights finishing the only undefeated 2017 campaign in Div. I. But Hamilton missed the majority of it due to a knee injury sustained in the first month.
Being on the sidelines, not able to contribute can be defeating. Hamilton said while rehabilitating from the injury, he sought to "think in a positive way." His road back included an offseason transfer to James Madison.
Hamilton owns a championship ring from UCF's defeat of Auburn in the 2018 Peach Bowl. Now, he gets to play a direct role in the pursuit of more jewelry with a Dukes team built to compete for a CAA and national championship.
His rushing has becoming a primary weapon from a running-back rotation that is arguably the deepest in the country. He rushed for a team-high 81 yards at Elon one week prior to the game-changing effort at Stony Brook. Hamilton's also contributed with a touchdown in the passing game.
ICYMI... last night was a wild one at LaValle Stadium.#GoDukes pic.twitter.com/vK5DbPFfsN

— JMU Football (@JMUFootball) October 6, 2019
Coming into the season, his chops on special teams were well-established, and he's continued on a third team All-CAA pace last year with a 42.25 per-kickoff return average this year.
The chance to get back on the field contributing to a contender attracted Hamilton to James Madison, but was hardly the only motivation he had for landing in Harrisonburg.
"I just did my research. James Madison's a great school," he said of picking it as his landing spot. "There's something about this campus when I visited…This is the perfect fit for me. The guys on the team welcomed me, it was all just great vibes around the room."
That positive camaraderie carried over into Hamilton's transition onto the team and into the university. This season in particular, the Dukes run game ranks 12th in the nation with four backs who could all potentially post more than 1,000 yards if called on to carry more.
But sharing the work and the glory is something Hamilton celebrates at James Madison.
RB FILM STUDY:

This third-and-one play was absolutely dead. Jawon Hamilton's quickness gave the Dukes a first down. pic.twitter.com/206rFLLNEq

— JMU Sports News (@JMUSportsNews) September 30, 2019
"It's special. Everyone in the running back supports each other 100 percent," he said. "If Solomon [Vanhorse] scores a touchdown, I'm just as excited as if I just scored a touchdown. Same thing for Percy [Obese-Agyei], Austin [Douglas], Latrele, C.J. [Jackson], Eric Kirlew. The brotherhood in that room is very special."
The relationship is special, and so is the production. Being part of the latter didn't come without Hamilton's positivity once again being tested, though.
He missed spring practices and part of fall camp under new Dukes coach Curt Cignetti with injury.
"You remember the 'why' to keep doing this," Hamilton said. "Keeping that in the back of my head motivated me to keep doing the right things."
"My 'why' is my family," he explained. "I want to one day be able to provide for all of them. That's my why."