2023 Gulf South Conference Football
Gulf South Notebook: A Dominant Return To Action
Gulf South Notebook: A Dominant Return To Action
A 7-1 start to the 2021 season sent an emphatic statement: The Gulf South may be the best conference in Div. II.
Sep 8, 2021
by Kyle Kensing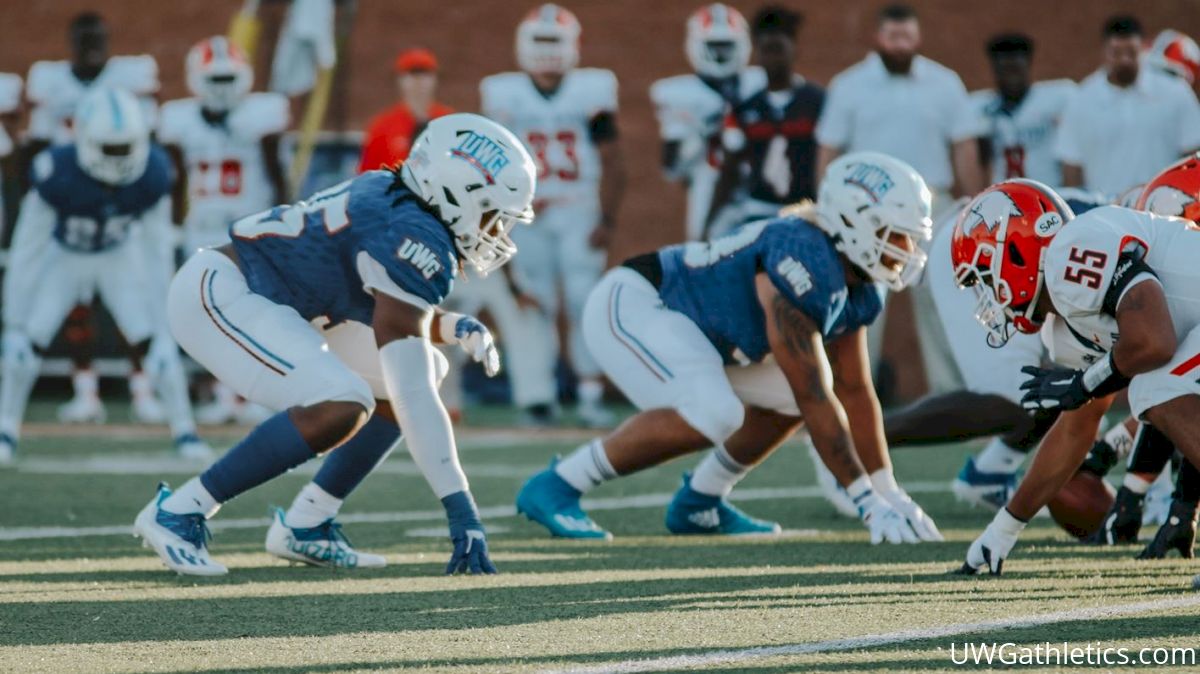 Eight up, seven down: The Gulf South Conference could not have had a much better start than its opening week to the 2021 season.
More than just the GSC combining to open with seven wins and just one loss, how the conference collectively barreled into the season sends an emphatic statement to the rest of Div. II football.
Gulf South teams won by an average of 30 points, including West Georgia's 45-7 deconstruction of Top 25-ranked Carson-Newman. Meanwhile, the league's only win by a single-digit point margin was West Florida's 42-36 defeat of Football Championship Subdivision opponent McNeese State.
A common refrain among the Gulf South's coaches at preseason media days said that this is one of, if not the best conference in the nation. So far, on-field performance backs up those words.
PICKING UP WHERE THEY LEFT OFF (& COMING HOME)
When West Florida quarterback Austin Reed last suited up, he set an NCAA Div. II National Championship Game record with 523 passing yards and six touchdowns. Despite a layoff of almost 21 months, he showed no rust; in fact, the Argos went right back to setting records. Their 8.3 yards per play down in Lake Charles, Louisiana, set a new program single-game high via GoArgos.com.
The defending champion and No. 1-ranked West Florida's offense showing out against a Div. I opponent sets a high bar for the remainder of 2021, namely the prospect of more records in the program's young history being set. UWF will reach at least one more milestone in Week 2, playing its first game on campus.
"This date probably came earlier than anticipated," Argos coach Pete Shinnick said at GSC media day of the home opener at Pen Air Field. West Florida has, and will continue to play other home games at Blue Wahoos Stadium.
But as Shinnick noted, with Major League Baseball taking over direction for Minor League clubs, a one-week move to Pen Air became a necessity.
It's a welcome one, though.
"It's going to be an atmosphere people don't want to miss out on," Shinnick said.
DRE' DAY
Turn the sliders on Madden all the way down, and you would still be hard-pressed to replicate the jaw-dropping run that Dre' Williams broke off in North Greenville's 37-16 romp over Limestone.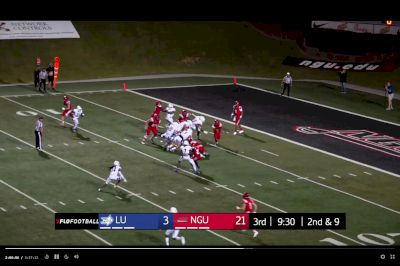 The pinball, 94-yard touchdown run fueled Williams' 12.3-yard per carry average and complemented on quarterback Kaelen Riley's four passing touchdown performance. Riley acquitted himself well in his debut with North Greenville after transferring in from Mercer.
The Crusaders will take that impressive start into a long road swing, playing their next three games on the road before opening GSC competition Oct. 2 against Mississippi College.
HUNGRY LIKE THE WOLVES
Despite its well-earned reputation, the Gulf South embarked on 2021 with just two teams ranked in the Top 25. West Georgia made a statement pollsters couldn't ignore.

The Wolves dominated No. 25-ranked Carson-Newman in all phases of a 38-point win, but most notably limiting the Eagles to just 2.7 yards per pass attempt and 67 total for the game. Cody Gast's otherworldly debut at defensive end contributed, as the Freshman of the Week set up residence in the Carson-Newman backfield.
Meanwhile, West Georgia finished with three receivers who each individually caught for more than C-N posted as a team: Quan Harrison hauled in three passes for 69 yards; Terrill Cole closed with 82 yards; and Mechane Salde went for 80 yards and two touchdowns.
Harrison Frost to Mechane Slade for the first TD of the year! #WeRunTogether pic.twitter.com/ngJXH8Q1J3

— West Georgia Wolves (@UWGAthletics) September 2, 2021
The blowout was enough to land West Georgia in this week's poll at No. 22. The Wolves take their ranking into a two-game homestand, starting Week 2 against a Morehouse team that Gulf South counterpart West Alabama routed, 48-7; followed by the GSC opener against Delta State on Sept. 18.
DELTA STATE STARTS WITH D
Div. III Bethel put up little resistance against Delta State in the Statesmen's not-as-close-as-the-closer 48-14 rout. Outside of the mismatch, however, the strong start serves as a promising bridge between seasons for Delta State, which ranked among the most effective turnover-generating defenses in the nation in 2019.
The Statesmen picked off four Bethel passes, including one from All-American and '19 national INT leader Junior Faulk, while Sherrod Paige snagged two.
With seven takeaways in the opener, Delta State sets the pace for all of Div. II.
DARIUS DOMINATES
Speaking of pace-setting, only two players caught for more yards in Week 1 than West Alabama's Darius Nall. Nall's 200 yards and two touchdowns highlighted West Alabama's blowout of Morehouse.
"It started with the coaches for giving me a chance," Nall said in his postgame press conference. "The quarterback believing in me that I could do that, that's what allowed me to have a great night.
"As long as the quarterback [Jack McDaniels] keep believing in me, I'll keep making plays," Nall added.
FUMBLEROOSKI
Valdosta State's staked its reputation as one of the best programs in Div. II on its innovative and potent offense — and with 53 points scored Week 1 against Savannah State, the Blazers look poised to keep that tradition alive — but Mondrell Jefferson accounting for two of Valdosta State's scores with fumble returns (just 1:25 apart) showed how the Blazers can turn defense into offense.
STARTING STRONG

Shorter has endured some lean years, but positive momentum built in the shortened spring season could provide a boost in 2021. Part of building on that includes getting out of the gate fast, and the Hawks won their season opener for the first time since 2015 in a 38-14 rout of Div. III Brevard.
No Hawk started faster than Jaiden Dollard, who scored each of Shorter's first three touchdowns on carries of 14, two and three yards.
Shorter gets to test itself in Week 2 against a quality Albany State squad. The Rams coincidentally open 2021 with three straight games against Gulf South competition, having blanked Mississippi College to hand the GSC its lone defeat of the first weekend, then finish with Valdosta State.
Albany State reached the SIAC Championship Game in 2019, so Saturday should be a telling measuring stick for Shorter's progress under coach Zach Morrison.