2021 Delaware vs Maine
CAA Notebook Sept. 1: Welcome to Week 1
CAA Notebook Sept. 1: Welcome to Week 1
The Colonial Athletic Association returns to fall with great games, nods to history, and the best comeback in football.
Sep 2, 2021
by Kyle Kensing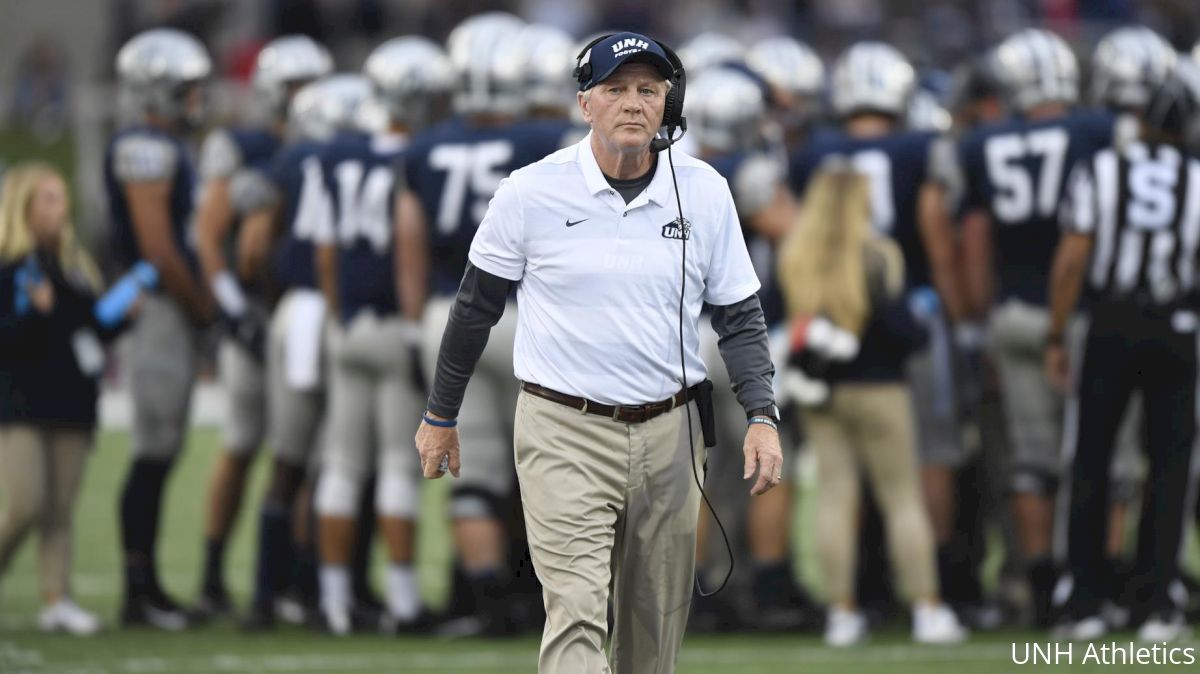 UCLA hosts LSU Saturday in one of the marquee matchups of FBS Week 1, but Bruins coach Chip Kelly will have an eye on the Colonial Athletic Association while making preparations in California.
Kelly, a University of New Hampshire alum and part of Wildcats future Hall of Fame coach Sean McDonnell's illustrious coaching tree, fought back tears talking about Coach Mac following UCLA's 44-10 win over Hawai'i on Aug. 28.
"I've talked with Sean a ton, [and] what he went through to have bladder cancer and beat it, is special. He's a really special person, and he belongs on the sideline," said Kelly, a Wildcats assistant every year from 1992 through 2006 but one.
When McDonnell and New Hampshire take to Stony Brook's Kenneth P. LaValle Stadium Thursday, it won't mark Coach Mac's official return after a season-long absence. But the COVID-19 pandemic cut the Wildcats' spring season to a single game, thus delaying the entirety of college football's best comeback story for another half-year.
To that end, there's something poetic about New Hampshire playing in the first CAA game of the fall 2021 season with the program's second-most all-time winning coach overseeing autumn action for the first time since November 2018.
Chip Kelly summarized it best, saying: ""It'll be pretty cool when he gets back out there."
Kicking Off In Conference
The Colonial has a well-earned reputation as one of, if not the deepest conference in the Football Championship Subdivision. A 2021 season rife with experience across the league promises to make this campaign even more competitive, to the extent every team could be a playoff contender.
Considering the premium at which conference wins will come, Thursday's two in-league contests — New Hampshire at Stony Brook and Delaware at Maine — arguably have higher stakes than the typical season opener.
Teams improve over the course of a season; a squad on Labor Day Weekend is rarely the same around mid-October, like when Stony Brook and New Hampshire last met in a 20-14 nail-biter in 2019.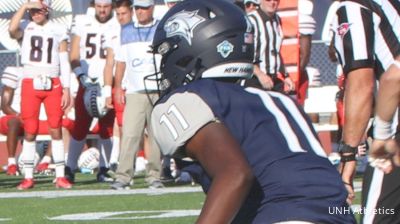 But Seawolves coach Chuck Priore sees the inherent importance of a Week 1 conference matchup as a positive.
"I honestly thought it gave us a little bit of extra incentive during summer and preseason, knowing your opponent and knowing you were going to have to start off with that conference game," he said. "You don't want to lose a game in conference."
Priore noted that Week 1 brings Stony Brook full circle in a way, as a scheduled date with New Hampshire awaited the Seawolves before COVID-19 intervened.
McDonnell's stance on opening in the CAA, meanwhile, is pretty straightforward.
"Who cares? You're opening up!" he said.
The football season, from this perspective is pizza: Whatever the toppings, it's sure to taste good. And after spending last fall out of action, the first slice of 2021 will be especially delicious.
For Maine, the opener is a chance to get a bad taste out of its mouth.
The Black Bears kicked off the spring season giving up an opening kickoff touchdown to Dejoun Lee, and Delaware cruised from there, 37-0. The emphatic opening win set the Fightin' Blue Hens on course for a CAA championship and run to the national semifinals.
With last year's success earning Delaware a preseason No. 5 ranking, Maine welcomes it to town with a prime opportunity to position itself in the CAA title picture.
A repeat of the kick-return touchdown in March could be out of the cards; Black Bears coach Nick Charlton cited special teams as an area in which Maine showed improvement in the offseason.
"Any time you have an experience in the past, whether it was good or bad, we talk about how you've got to use that," Charlton said of the spring matchup. "You want to use them to learn; it's not about living in the past."
A Date In The Dome
Following a breakthrough 2019, UAlbany endured a challenging spring but returns to the fall built to make another run at the Playoffs. The fall 2021 Great Danes face quite a measuring stick for their progress toward that goal, opening the season against perennial national championship contender (and oftentimes winner) North Dakota State.
"It's something I've always done in my career," said UAlbany coach Greg Gattuso. "When I was a high school coach [at Seton La Salle in Pennsylvania] and took over a program, I immediately scheduled scrimmages against the highest level I could get. When I was at Duquesne, we were playing scholarship programs when we were non-scholarship."
In that vein, the Great Danes' historic 2019 opened with UAlbany at 1-2 with non-conference losses to FBS Central Michigan and an overtime thriller at Monmouth. Central Michigan went on to play in the Mid-American Conference Championship Game, and Monmouth won the Big South Conference to earn a playoff berth.
This year's out-of-conference slate sends UAlbany into domes for marquee matchups twice. After the Great Danes visit North Dakota State and the Fargodome, they'll take to the Carrier Dome on Sept. 18 to face Syracuse.
"It's important for our kids to get to play these kind of games," he added. "When this opportunity presented itself, it was an easy decision."
Week 1 marks the first of two matchups between CAA members and North Dakota State in the first month of the regular season. Towson hosts the Bison on Sept. 18.
Speaking of the nickname "Bison," knowing the North Dakota State mascot can earn you a scholarship.
OK — so that's not exactly true. But Elijah Haynes learned about his athletic scholarship when he successfully answered that question.
What the Danes thought was a simple trivia at the end of practice today, turned into 4 Great Danes rewarded with well-earned scholarships! Congrats Gentlemen! 🏈📚 #WinTheDay pic.twitter.com/oZaoiYx7iJ

— UAlbany Football (@UAlbanyFootball) August 29, 2021
"We knew they'd be caught off-guard...to some hard-working walk-ons, which is so important," Gattuso said. "It's literally my favorite day of the year.
"The emotion that comes out when someone is loved on a football team like that, and receivers some scholarship aid to help out his family, it's just a great day," he added.
Elon's Got Options
With Davis Cheek back behind center and an offseason to turn the page from a trying spring season, Elon opens the fall Saturday matched up with perennial Southern Conference contender Wofford.
Under longtime head coach Mike Ayers, the Terriers ran a powerful triple-option offense with influence from the Wishbone coaching legends Darrell Royal and Barry Switzer popularized from the late 1960s into the '70s.
Former Ayers assistant Josh Conklin took over in 2018 and a year later, promised some more passing from the Terriers. This summer, Conklin hired new co-offensive coordinator Tyler Carlton, an old peer for Chad Morris when Clemson revamped its attack behind quarterback Tahj Boyd.
Boyd attempted more than 400 passes every season he was Clemson's starter, and nearly 500 in 2012.
Wofford won't exactly be going to the air raid when it visits Rhodes Stadium; triple-option principles remained the foundation of the Terriers' scheme when they reached the 2019 FCS Playoffs.
Wofford combines Triple Option + TE/Wing

➗Split Zone to the Boundary TE

3️⃣ Triple Option to the Field

⤴️ Wing Wraps for Mid-Safety

🔑 QB reads Sam LB as the Pitch Key pic.twitter.com/RdTixWB9xC

— Coach Dan Casey (@CoachDanCasey) September 26, 2019
But talk of a more balanced look suggests an interesting wrinkle for which Elon must prepare.
"We still expect to see them run the football with some type of option flavor to it," said Phoenix coach Tony Trisciani. "It may not be split-back veer like we've seen over the years from coach Ayers...I would expect to see some more RPO game, more RPO schemes off their run game."
The proliferation of run-pass option has marked the newest evolutionary phase in an offensive scheme that has been central to college football for decades.
It's also a layer that differentiates schemes. But with this marking the second season Elon's opened in 2021 against an option-based team — the Phoenix opened springtime with a win over Pioneer League champion Davidson — enough similarities exist to aid in game prep.
"I'm pretty certain Wofford's going to prepare to run the inside-zone play and cut it back on some of the surfaces Davidson had success with," Trisciani said. "It is two different types of option offense, and the personnel is different, but I'm sure there will be some carryover."
Davidson rushed for 267 yards in the 26-23 Elon win, but the Phoenix also sniffed out reads in the backfield with some regularity.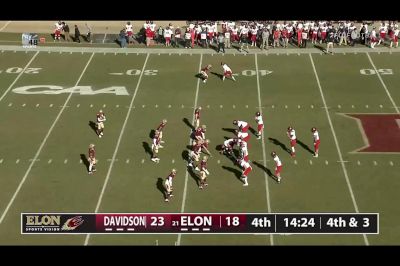 Although triple-option-based or inspired offenses aren't common in the CAA, matchups like Wofford and Davidson can carry residual benefit further down the road.
"We have got to be prepared schematically to defend option teams," Trisciani said. "If you make the Playoffs and you're in North Carolina, you're going to be facing either Kennesaw State or The Citadel or Wofford or Furman; teams that have some type of option flavor to their offense."
Ball Is Life
As James Madison celebrates its 50th year of football throughout the 2021 season — like this retrospective on the undefeated Dukes of 1975 — Dukes coach Curt Cignetti will soak up the history.
Growing up in a football house with his dad and longtime coach Frank Cignetti, it's what the James Madison leader knows.
"Football's pretty much been my life, being the son of a coach," Cignetti said. "It's like any other industry: If you grew up in an industry and know the ins-and-outs...[you have] an appreciation for the history and the people and events that shaped the history."
To invoke a cliche, you could call Cignetti a student of the game. And indeed, his name appears with an endorsement on the dust jacket of the 2020 book The Origins of Southern College Football: How an Ivy League Game Became a Dixie Tradition by Andrew McIlwaine Bell.
Being immersed in learning the history and shaping the future of the game was Cignetti's destiny.
"I never entertained anything else other than coaching," Cignetti said. "I love the pageantry of college football, the success stories of institutions like James Madison that started up from nothing.
"It's made for an exciting life," he added.