2022 CAA Football
If North Dakota State Is 'The Model', Let's Take A Look At The Blueprint
If North Dakota State Is 'The Model', Let's Take A Look At The Blueprint
A look behind the curtain at one of college football's all-time dynasties at North Dakota State.
Jan 7, 2020
by Kyle Kensing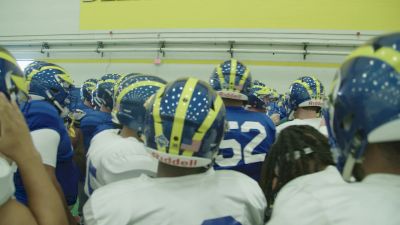 Since college football split Div. I into two groups in 1978, both subdivisions have produced dynasties.
The first in the present-day Football Championship Subdivision was Georgia Southern, which won three national championships under legendary Erk Russell from 1985 through 1989, a fourth under Tim Stowers in 1990, and two more with Paul Johnson in 1999 and 2000.
Appalachian State took up the mantle after Johnson's exit from Georgia Southern, both in the SoCon and the FCS. Jerry Moore coached the Mountaineers to three championships from 2005 through 2007.
Likewise, Jim Tressel coached Youngstown State to three national championships in the 1990s, twice at the expense of Marshall. And while the Thundering Herd had more runner-up finishes than titles, they spent a decade consistently in the mix – and twice brought the hardware to Huntington.
For as excellent as its predecessors were, however, none were North Dakota State.
The Bison capping the 2018 season with their seventh national championship since 2011 broke the tie with Georgia Southern for the subdivision's most. North Dakota State clashes with the only program to break up its dynasty amid this run, James Madison, in the 2019 season's national championship game.
It's fair to say NDSU has grown into the model program – and that isn't mere conjecture. Just ask Danny Rocco, head coach of a University of Delaware that, in its own right, boasts a national championship and is one of only 39 programs all-time to reach 700 wins.
"I have spoken to my team about North Dakota State to my team here since my arrival," Rocco said ahead of the Fightin' Blue Hens' matchup with NDSU in September. "Before I was here, I was at another university [Richmond] that lost in the national semifinals in Fargo. When I left that game, I said, 'There's the model I want to emulate.'"
Emulating the result is an obvious goal for any program, and the model is the necessary infrastructure. But where exactly does a program start?
Try every doorstep in the Upper Midwest.
Speaking at Mountain West Conference media day in July 2015, in his current post as head coach at Wyoming, former Bison coach Craig Bohl said his NDSU staffs built championship rosters by "knocking on every door" in a radius of roughly 500 miles from Fargo.
The philosophy worked for Bohl, continued with current Kansas State coach Chris Klieman, and now has the Matt Entz-led Bison back in Frisco.
Entz's arrival in Fargo as an assistant followed Bohl's departure for Wyoming, but the current Bison coach has maintained the same philosophical approach to constructing a roster.
"We'll win with kids within a six-, seven-hour radius, and we have a Midwest feel to our program. And we recruit some outlying areas, of course, just out of need. But those kids buy into what we do and buy into how we go about our business."
The 2019 North Dakota State roster features players from Texas, Georgia and California, with the most representation of non-Midwestern players coming out of Florida. All four states are traditional recruiting hotbeds, and each state is critical recruiting ground for any FBS program with championship aspirations.
The smattering for Sunshine State Bison mixed with the bevy of players from the Dakotas, Minnesota, Iowa, Wisconsin, Nebraska gives the North Dakota State roster a look not unlike the outstanding Nebraska Cornhuskers teams of the 1990s.
It's no coincidence Bohl, a Nebraska alum, spent eight seasons as an assistant for the Huskers during some of those glory years. He was on staff for the last Nebraska run to a championship game, which featured the program's last Heisman Trophy winner: Eric Crouch, a recruit from Omaha.
NDSU's 2019 roster offers a nice distillation of the model through its All-American selections. Tight end Ben Ellefson from Hawley, offensive lineman Dillon Radunz hails from Becker, and quarterback Trey Lance out of Marshall represent an impressive Minnesota contingent.
Defensive end Derrek Tuszka comes from Warner, South Dakota. Linebacker Jabril Cox is the furthest outlier, 600 miles south of Fargo in Kansas City.
However, KC isn't far from the Iowa stomping ground both Klieman and Entz called home before North Dakota State.
The inherent irony lies in the relative shallow local pools where NDSU has thrived. Refer to 247Sports composite rankings, and both North Dakota and its outlying stats have a historic dearth of blue-chip prospects.
And yet, NDSU now consistently sends players into the NFL, a hallmark of blue-chip talent. Entz explained the dichotomy.
"We try to be as thorough as we can," he said. "One of the great things — and the things that our strength staff has helped with, our assistant coaches do an outstanding job with — is our ability to develop long-levered athletes into being NFL-caliber offensive linemen, or taking a quarterback and making him a free safety, and trying to project kids into fitting a role for our program."
Certainly these are logical ideas, and the program's success verifies their usefulness. But if it's that simple, why haven't, say, more of NDSU's neighbors in the Big Ten Conference followed this formula?
For North Dakota State, its model has been successful for so long, the Bison have something of a self-sustaining machine, reflected in Trey Lance's discussion of his recruitment with FloFootball in September.
"Winning national championships. That's one thing that's pretty common throughout all the guys who chose to come here," he said.