CAA Articles
Strong Spring Can Propel Delaware In Fall Return
Strong Spring Can Propel Delaware In Fall Return
Delaware claimed a CAA championship in spring 2021, and will be in the hunt for a national championship in the fall.
Aug 23, 2021
by Kyle Kensing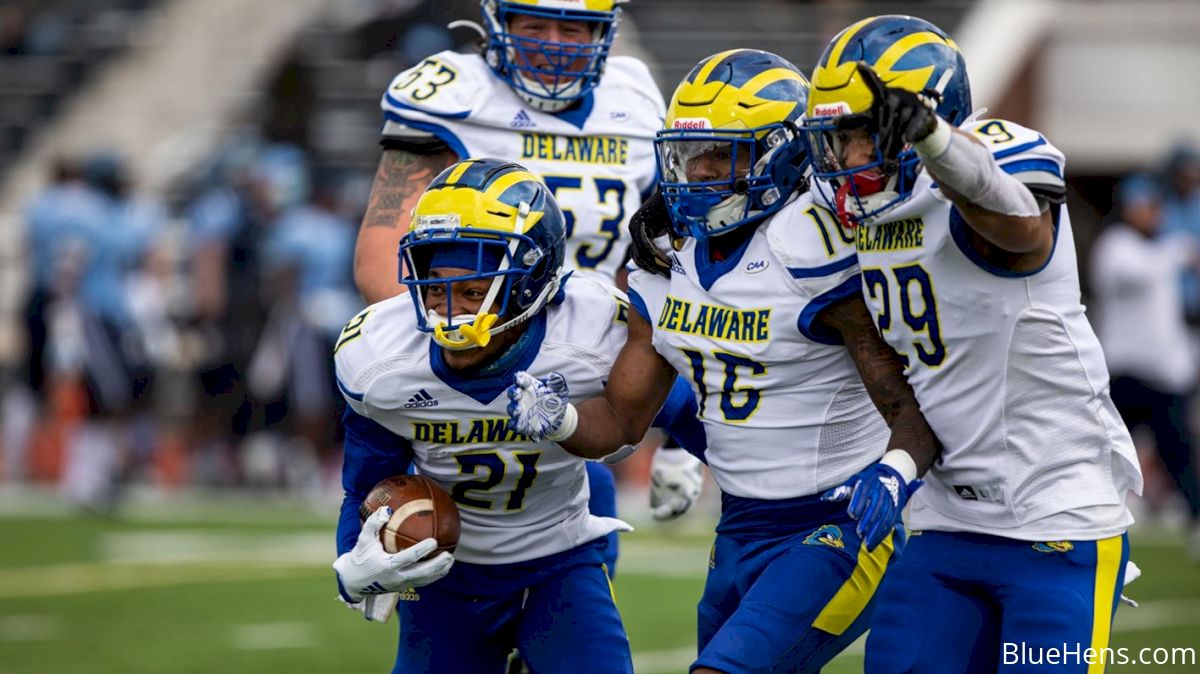 From quite literally the first play, it was evident Delaware was in for a special spring football season.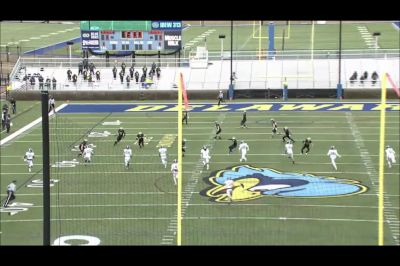 Dejoun Lee's kickoff-return for a touchdown to open the unique campaign set the Fightin' Blue Hens on a course to run the table in the regular season, score the program's first win over rival Villanova in a decade, win the Colonial Athletic Association championship and reach the Football Championship Subdivision semifinals.
The quick turnaround of an unprecedented short offseason allows Delaware to build off the momentum of its spring success and turn it into autumn aspirations.
"Our roster's pretty much back in tact," said Blue Hens coach Danny Rocco. "Almost all of our seniors are coming back, so I think that's a really good sign of our culture.
"We're in a really good spot," he added. "We've got to learn from the spring season. There are things we've got to do better."
Good news for Delaware is that any improvements made from the spring could translate to a January 2022 trip to Frisco and the National Championship. The Blue Hens advanced to the national semifinals behind a deep and dominant defense that produced at near-historic levels.
Offensively, Delaware built around the CAA Player of the Year and an improving veteran quarterback. With these playmakers back and more, the Blue Hens are built to make a push for their first national title since 2003.
OFFENSE
Dejoun Lee sets the tone with his versatile playmaking, coming off a spring in which he won CAA Offensive Player of the Year with 564 yards and six touchdowns rushing and another 119 yards on 16 receptions. This jack-of-all-trades even popped up on The Today Show this summer to serve as guest meteorologist.
#ICYMI @DelawareFB's @DejounL was on the @TODAYshow where he took part in a unique opportunity that led to a new Guinness World Record!

Way to go! @CAAFootball @NCAA_FCS pic.twitter.com/RdBv0WsET4

— #BlueHens (@UDBlueHens) June 21, 2021
"Not accepting anything that's not perfect," Lee said at CAA media day was the mindset for improving on Delaware's offensive production, particularly on the ground, in the coming season. While the rushing attack might have room for improvement, it will get help from how balanced the passing offense looks.
While Lee's do-everything ability ignites an explosive spark, Delaware boasts plenty of combustible pieces around him. Thyrick Pitts and Gene Coleman II give veteran quarterback Nolan Henderson a pair of uniquely skilled, primary receiving targets. The 6-foot-3 Pitts is both a dependable possession receiver and threat to break off big plays, evident in his 15.6-yard per catch average during the spring and team-best three touchdown catches.
Coleman and Lee combine to give offensive coordinator Jared Ambrose's scheme the necessary targets in space that, in part, spreads out the defense. And then in traffic, tight end Bryce De Maille is a big, physical presence able to exploit size mismatches when defenses try to counter Delaware's speed. De Maille was crucial in the Blue Hens' playoff defeat of Jacksonville State, catching five passes for 69 yards.
The offensive line is big and experienced. Preseason 1st Team All-CAA selection David Kroll is one of three fifth-year starters along with Ben Trent and Carter Lynch. All three weigh in at over 300 pounds. The Blue Hens front five also return Bradly Anyanwu, who made his first two starts of the spring during Delaware's playoff run.
DEFENSE
At 14.4 points allowed per game, only Drake was better among FCS defenses that played a complete spring season. The Blue Hens held opponents to 121 rushing yards per game and just 3.5 yards per carry, then parlayed their stifling presence on the ground into takeaway opportunities against the pass. Their 11 interceptions were fifth-most in the nation.
"This defense has a lot of experience together," said safety Kedrick Whitehead. "These past eight games [were] our first eight games learning the new defense. Having a deeper understanding of our new defense coming into a full season...makes playing way easier, way faster, and way more fun."
Fun for the Delaware defense will be anything but for opposing offenses, particularly given the depth that the Blue Hens displayed in the spring. Their near-historic production came with Manny Rojas, a former inside linebackers coach at Delaware, returning with a rotation that went two deep. Eighteen Blue Hens recorded at least 12 tackles.
That includes Chase McGowan, a young defensive end who made more than half of his tackles for loss (7.5 of 12). He also finished with five sacks, all in big spots against Rhode Island (where he made three), in the Battle of the Blue vs. Villanova, and against Jacksonville State in the Playoffs.
#CAAFB Defensive Player of the Week

Chase McGowan recorded four total tackles, 4.0 TFL and 3.0 sacks in @DelawareFB's 35-21 win at Rhode Island

📰 https://t.co/D2ncLvNcPN pic.twitter.com/QmDW9kunXF

— CAA Football (@CAAFootball) March 29, 2021
Veteran defensive back Nijuel Hill also had a knack for coming through in key spots, recording a pick against JSU and limiting Villanova's explosive quarterback Dan Smith with an interception and pair of pass break-ups. With Hill, Whitehead and Noah Plack among the backs returning in the fall, UD will feature one of the most dangerous secondaries in the CAA — if not the nation.
SPECIAL TEAMS
A special-teams play opening the spring so dramatically served as a reminder of just how valuable that facet of the game was in the last complete CAA season. Lee is an electrifying returner, part of his deep bag whenever he's on the field. Jourdan Townsend is back, as well, and can prevent opponents from focusing exclusively on kicking away from Lee. Townsend was the primary punt returner each of the last two seasons, and in 2019, averaged almost 21 yards per kickoff return.
Delaware also returns punter Tyler Pastula, who pinned nearly one-third of his kicks last season inside the 20-yard line; and placekicker Ryan Coe, who missed just twice on 13 attempts from 49 yards or closer.
THE SCHEDULE
Sept. 2 at Maine - FloFootball
The reigning CAA champs face a test right out of the gate, pitting a deep and stout defense against a dangerous offense that includes Andre Miller, one of the best wide receivers in the FCS.
Sept. 11 vs. Saint Francis - FloFootball
The home opener pits Delaware against an opponent from the Northeast Conference.
Sept. 18 at Rutgers
The Blue Hens face a Power Five conference foe for the first time since nearly knocking off Pitt in 2019.
Oct. 2 vs. UAlbany - FloFootball
Delaware's defense takes on another potentially explosive opponent in the Blue Hens' second CAA contest of the season.
Oct. 9 at Rhode Island - FloFootball
A rematch of one of the best defensive performances of Delaware's spring when the Blue Hens held a talented Rhody offense to 21 points.
Oct. 16 at Stony Brook - FloFootball
Chuck Priore's always hard-nosed Seawolves promise a slugfest.
Oct. 23 vs. James Madison - FloFootball
A highly anticipated showdown of spring 2021 semifinalists, both of which finished the regular season undefeated.
Oct. 30 vs. Dixie State - FloFootball
FCS newcomer Dixie State is a charter member of the revamped and relaunched Western Athletic Conference.
Nov. 6 vs. William & Mary - FloFootball
Delaware completes a three-game home stand against a William & Mary squad that thrived late in the season in coach Mike London's debut 2019.
Nov. 13 at Richmond - FloFootball
A dark-horse contender for the CAA title, Richmond's a team built similarly to Delaware with a deep, veteran defense and promising playmakers on offense.
Nov. 20 vs. Villanova - FloFootball
The Battle of the Blue adds its 55th installment with Delaware seeking back-to-back wins for the first time since 2004-2005.