CAA Articles
Delaware Defense Drawing Comparisons To 2003 Title Team
Delaware Defense Drawing Comparisons To 2003 Title Team
An outstanding Delaware defense is drawing very rare comparisons to the Blue Hens' last national championship team in 2003.
Apr 23, 2021
by Kyle Kensing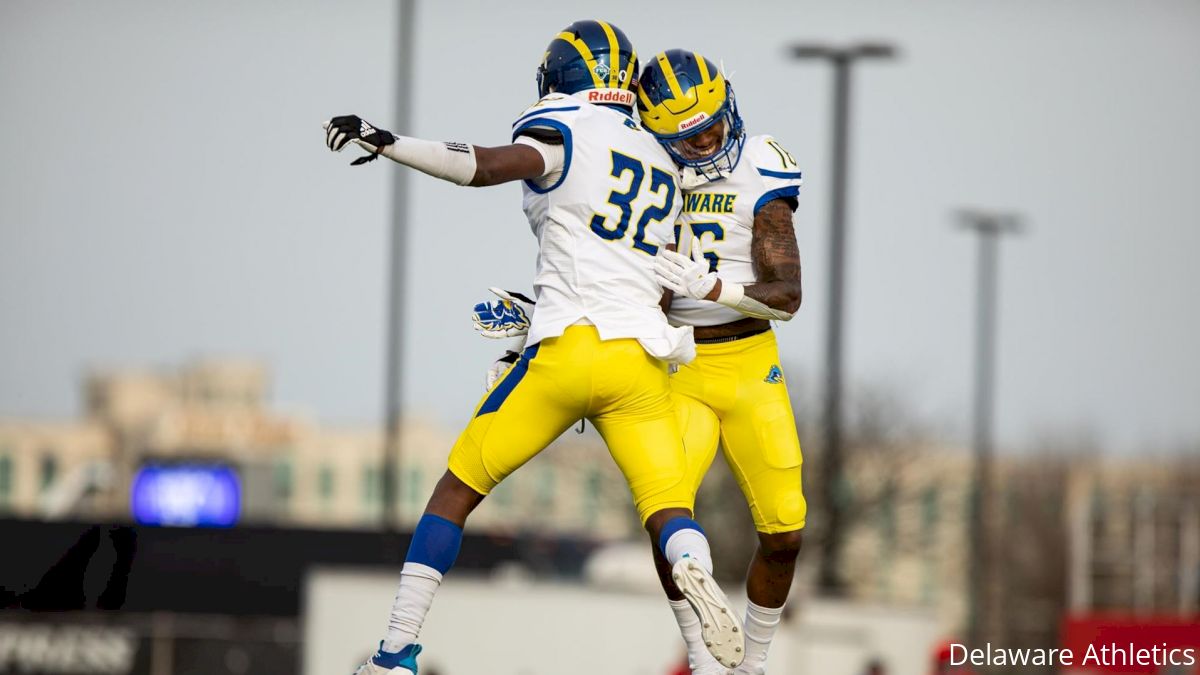 Seven, seven, nine and zero: These were the point totals the Delaware defense allowed in its four playoff games en route to the 2003 Div. I-AA National Championship.
A little more than 17 years have passed since one of college football's winningest programs and owner of six national title claimed what is still its only Division I crown. The spirit of 2003 emanates from the spring Fightin' Blue Hens, who embark on the postseason with a defense reminiscent of the championship campaign.
Of teams in the spring 2021 FCS Playoffs field, only one allows fewer points per game than Delaware's 11.6-per game yield — that being Colonial Athletic Association counterpart James Madison.
The Blue Hens also forced the most turnovers of any CAA defense with 14, tied for 11th-most in the nation. Every defense with as many or more takeaways than Delaware played more games, making the Blue Hens the most prolific turnover-creating defense at 2.8 per game.
Shades of 2003, when the Blue Hens generated 39 turnovers and finished with the country's fourth-best turnover margin.
Despite similarities, however, this season's Delaware defense thrives through its own identity — an identity born of the unusual circumstances leading into this campaign.
"There's a lot of things when we went into this season, trying to manage this spring and still knowing that the fall was kinda right around the corner," said coach Danny Rocco. "I didn't want to have Drew Nickles play 750 plays this spring like he did [in the 2019 season]."
The A-1 question facing just about every FCS program that opted into this pandemic-shortened spring season asked if teams would use the season to pursue a championship, or build to the return of normalcy come fall.
Delaware's performance heading into a playoff matchup with NEC champion Sacred Heart is a resounding, Why not both?
"The biggest thing for us defensively, in our front seven, we are freely substituting," said coach Danny Rocco. "We are absolutely, positively, 50/50 at linebacker: Bandit, MIKE, WILL. Reps are split kinda down the middle.
"We're playing six, seven guys on the d-line, we're playing six, seven guys at linebacker. They're all fresh when they go in the game, they're all playing hard, they're all productive."
Rotating players to avoid fatigue and the potential of injury with a full slate just six months after the spring opener comes with an expectation that there might be some drop-off. There's a reason that 1s are where they are on the depth chart, after all.
Thirty-three different Blue Hens have multiple tackles in just five games, capped at 27 by Johnny Buchanan. Ten players have broken up a pass attempt, 12 have at least contributed on a tackle for loss, seven have forced fumbles, and five have at least an interception.
Spreading the production so evenly isn't conducive to individual honors: Three Blue Hens made 1st Team All-CAA, the same as counterparts Villanova and Richmond. All-American honors have yet to be given out, but the spring 2021 Blue Hens matching the 2003 defense's two selection with defensive lineman Shawn Johnson and defensive back Sidney Haugabrook seems unlikely.
But individual accolades aren't fueling Delaware's outstanding play. One of the team's 1st Team All-Colonial selections, safety Kedric Whitehead, demonstrated as much when he was ejected from the Battle of the Blue on a bang-bang targeting call.
"One of the most impressive things I saw the whole game," Rocco said. "Kedric was an amazing teammate for the remainder of the game. He was bringing guys water. He was encouraging. He was cheering. He was jumping up and down. He was asking guys questions when they came off the field.
"He was acting how a captain's supposed to act," Rocco added. "It's really not the norm [on other teams]."
Uncommon action such as Whitehead's, and the rest of the deep Delaware defense, just might be what separates it from the FCS field for the first time in 17 years.