CAA Special Teams Play Has, In Fact, Been Special
CAA Special Teams Play Has, In Fact, Been Special
If it seems like every week in the Colonial Athletic Association produces a new round of breathtaking special teams highlights, well, that's the case.
Oct 1, 2019
by Kyle Kensing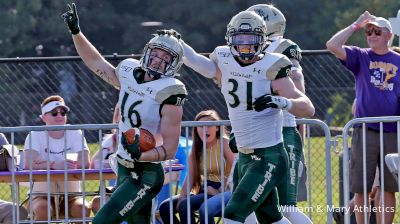 If it seems like every week in the Colonial Athletic Association produces a new round of breathtaking special teams highlights, it's because that's the case.
Five weeks into the 2019 season, no conference has as many members performing as well on special teams as the Colonial. Week 5 also highlighted the pivotal role special teams have, and will likely continue to play in shaping the CAA race.
Starting with the contest that featured the Special Teams Player of the Week feels appropriate, as it might be the quintessential example thus far. UAlbany placekicker Dylan Burns went 4-for-4 on field-goal attempts, including knocking through three early in the game to provide a stabilizing presence for the Great Danes in their 39-31 win over William & Mary.
After setting a program record with 4️⃣ field goals in Saturday's win over William & Mary, Dylan Burns is the @CAAFootball Special Teams Player of the Week! ???

?: https://t.co/68IXW5kTQA#GreatnessLivesHere // #CAAFB pic.twitter.com/XdhSTIboGD

— UAlbany Football (@UAlbanyFootball) September 30, 2019
"We went into this season with brand new kickers in all phases, and it was a big concern," said UAlbany coach Greg Gattuso.
Ethan Stark handled field goals, extra points, and punts for the Great Danes in 2018. His college career ended on a game-winning kick to knock off rival Stony Brook in the Battle for the Apple.
Replacing him has been a two-man effort between the redshirt junior Burns and freshman punter Joey Mitchell, and Gattuso said the tandem has "stepped up."
William & Mary countered with crucial special teams play of its own, though. Bronson Yoder ran back a kickoff return for the second time in three games. He's one of only two players in the nation with multiple kickoff returns for touchdowns.
The other is Earnest Edwards of the Colonial's Maine Black Bears.
And that's only one phase of special teams in which the CAA has collectively shined. Here's a snapshot of the conference's performance:
Eight of the top 33, six of the top 22, five of the top 11, four of the top eight, and three of the top six teams in kickoff return yardage come from the CAA.
Only 14 teams in FCS have a kickoff return for a touchdown; six come from the Colonial.
The nation's only two teams with multiple kickoff returns for touchdowns are Maine and William & Mary.
Delaware is one of just seven teams with multiple punt blocks. James Madison is one of only eight teams to have blocked three or more kicks, and Delaware is one of just 27 with two or more.
Richmond has not allowed a single punt-return yard, and just one returnable kick. That ranks fifth nationally. James Madison is No. 14 at six yards allowed on two punts, and Rhode Island ranks No. 19 with 21 yards allowed on six returns.
With so many teams that flourish in that phase, making one play more can be what turns the course of a game.
For Rhode Island in Week 5 against Stony Brook, it was two plays.
The Rams went down 21-7 to the Seawolves in the early fourth quarter, and mounting much offense against Stony Brook's always-excellent defense looked futile. Rhode Island got the spark it needed on special teams when Ahmere Dorsey returned the ensuing kickoff 99 yards for the score.
You won't often see a play as vital to turning the tenor of a game as Dorsey's — and you can take the word of someone who's spent the past 34 years coaching on that.
"The 99-yard kickoff return by Ahmere Dorsey was maybe one of the most inspiring things I've seen through the course of my career," said Rhode Island coach Jim Fleming.
TO THE HOUSE!@RhodyFootball's Ahmere Dorsey returns it 99 yards to pull the Rams back within seven! #CAAFB pic.twitter.com/Aycwdkztma

— CAA Football (@CAAFootball) September 29, 2019
Rhode Island took the lead late on a Vito Priore touchdown pass to Aaron Parker, set up on another spectacular special teams play: This time, Isaiah Coulter snagged a C.J. Carrick onside kick executed so precisely, one might assume the Rams spend hours perfecting it.
And one would be wrong.
"It's not a significant part of our practice," Fleming said of the specific onside play, adding it has its place on the Sunday, Thursday, and Friday workout dockets, "three to five times over the course of the week."
"Those are situations you hope you don't have to count on that bounce right and the execution," he added.
Although such a specialized and rare call may not require extensive emphasis during the practice week, general philosophy around the Colonial places a premium on special teams.
Maine coach Nick Charlton said one-third of practices are devoted to that phase, which began with his predecessor, Joe Harasymiak. Likewise at New Hampshire, interim coach Ricky Santos is filling in for legendary Wildcats coach Sean McDonnell this season with no intention of straying from a proven formula.
"Three-quarters of our Sunday practices are designed with special teams in mind," Santos said. "We always start the week with it. That's always been something that coach McDonnell has believed in. He always coached punt team himself, that's how important [it was]. That's something as a young coach I'm trying to take myself."
Such dedication is manifesting for New Hampshire this season in its last two wins. The Wildcats beat Rhode Island in Week 4 on a 29-yard Jason Hughes field goal as time expired.
Hughes came up big against Week 5 with three field goals in a 23-6 defeat of Duquesne. Pop Lacey helped set the table for New Hampshire's offense with four punt returns for 57 yards.
UNH will start its first offensive possession of the second half in Dukes territory thanks to this return from Pop Lacey bouncing off of tacklers on his way to the 48!#CAAFB #GraniteStrong #BeTheRoar pic.twitter.com/hhT3UA4hmQ

— UNH Football (@UNH_Football) September 28, 2019
"Hidden yardage that we're winning in those games ultimately have been a factor in why we've been successful," Santos said.
Another element to special teams factoring into the overall framework that Santos cited was the opportunity those plays provided for reserves to get meaningful experience – experience "that's crucial."
Special teams isn't exclusively a place for reserves to see the field, of course. When discussing Edwards and his two kickoff return touchdowns, Maine's Charlton said such moments are the result of talented players delivering.
The Colonial's special teams excellence is owed to elite players.
Maine's Edwards and William & Mary's Yoder are the only players in FCS with two kickoff returns for touchdowns. With six for his career, Edwards is tied for the all-time FCS record and one shy of tying the NCAA record.
UAlbany's Donovan McDonald, James Madison's Devin Ravenel, Elon's Shamari Wingard, and Rhode Island's Dorsey all have kickoff return touchdowns. Combined with Edwards and Yoder, CAA players account for 42 percent of such scores in the entire FCS this season.
James Madison's D'Angelo Amos is one of only seven players with two blocked kicks.
Villanova's Dez Boykin ranks third in the nation with 430 total kickoff return yards.
Delaware's Brian Dennis is one of 14 players with a punt return for a touchdown.
While great special teams is sometimes the result of players making plays, coaches can be responsible for finding fits for these roles. When Mike London was putting together his first recruiting class at William & Mary, he found the potential for a difference-making in Yoder.
"His Hudl tape, there's a lot of good plays – whether it's an interception caught in the air as a safety or corner – there's return ability," London said. "So you know he's got the skill set that he's fast enough and elusive enough that he can take it the distance."
Opposing coaches are quickly seeing the same qualities in Yoder.
Of the significance special teams played in Week 5's win, Gattuso credited UAlbany's response to Yoder's early touchdown as a key to victory.
"We gave up the one return that really hurt us, but after that, we shut it down," he said. "We moved our kicks around a little bit."
Special teams is a game-within-the-game; it's a layer that, with as many outstanding special teams units as exist around the CAA, could shape the championship landscape in 2019.