2019 Maine vs Villanova | CAA Football
Meet Earnest Edwards, Maine's 'Master Of Chaos'
Meet Earnest Edwards, Maine's 'Master Of Chaos'
Maine wide receiver Earnest Edwards has been terrorizing opponents on kickoff returns for the entirety of his career as a Black Bear.
Sep 25, 2019
by Kyle Kensing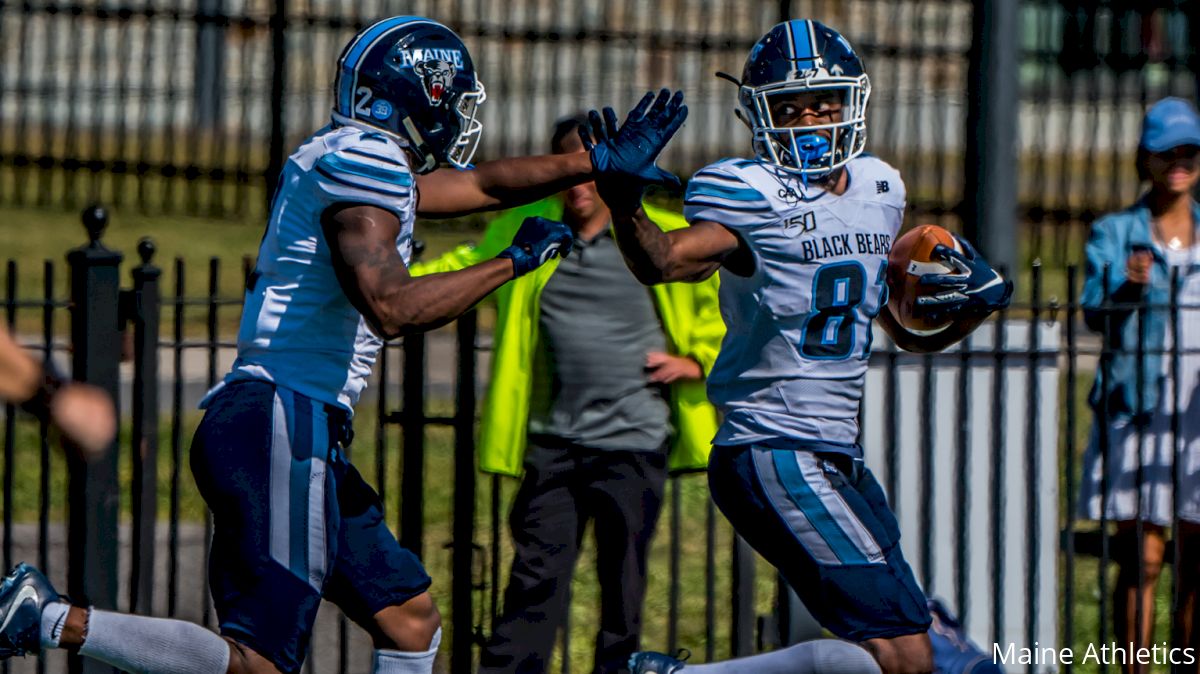 Just call Maine Black Bears wide receiver Earnest Edwards a master of chaos.
"It's actually crazy when you first get the ball, everyone's flying around like mad men trying to blow each other up," said Edwards, describing the scene on a kickoff return.
But trusting both "the crew in front" and his own speed, Edwards excels in the mayhem. He's returned six kickoffs for touchdowns in his time at Maine, one behind the Division I record held by four players: C.J. Spiller, Rashaad Penny, Tyron Carrier, and Tony Pollard. In Week 4 of the 2019 season, Edwards tied Jerome Mathis for the most in FCS history.
Watch Maine vs Villanova LIVE on FloFootball
With another game like his performance at Colgate, Edwards will become college football's all-time career kickoff return-for-touchdown leader. He ran back a pair in Maine's 35-21 win over the Raiders — and what a fitting homecoming for this upstate New York native.
Edwards came to Maine from Aquinas Institute in Rochester where he starred on an undefeated state championship team. He caught for 295 yards in the 2015 state title game and finished his senior season with scores via reception, interception, and, of course, kickoff return.
It was in his youth football upbringing that Edwards began to master the chaotic art of the return.
"I've actually been doing it since I first started football, at 5 or 6 years old," Edwards said.
As he would in high school, playing receiver, cornerback and on special teams, his contributions in the return game were meant to maximize his speed.
This who I do it for, for the fam ? https://t.co/QmJvO8uztL

— Earnest Edwards IV (@EdwardsEarnest) September 21, 2019
"It's a way to get me the football and let me do what I do best," he explained.
The approach continued at Maine. He's a more-than-capable pass-catcher, so far this season leading the Black Bears with 333 yards and three touchdowns. He also posted team-highs of 53 catches for 839 yards and 10 scores in 2018.
Not a bad complement to his All-CAA recognition as a returner.
As the country's leading return man through four games, Edwards is making a strong case for 1st Team All-American in 2019 — assuming he continues to get touches.
His coaches have long played him on special teams as a means of getting him play-making opportunities, but return duties are unique in that any other position that gets the ball is the result of the offense putting it into play.
Return team boils down to the defense giving the ball to the other side. Thus, one might assume opponents kicking off to Maine would do whatever it takes to avoid Edwards getting the ball: onside, squib, sacrifice depth for hang time.
Does it surprise Black Bears coach Nick Charlton to see Edwards get opportunities to break kickoffs for scores?
"No comment," Charlton laughed. "A little bit."
Edwards had the two touchdowns at Colgate, and he chuckled a bit, too: "They actually kicked to me three times."
ICYMI: Take a look back at the ✌️ kickoff return touchdowns which helped Earnest Edwards garner both @FCS_STATS National Special Teams Player of the Week and @CAAFootball Special Teams Player of the Week accolades!#BlackBearNation | #Elevate | #CAAFB pic.twitter.com/lVSNeCat5Y

— Maine Football (@BlackBearsFB) September 23, 2019
Although a kickoff team can plan to boot the ball away from Edwards, execution isn't so simple. He's dangerous without even touching the ball, because too much of a conservative approach concedes field position to Chris Ferguson and the dynamic Black Bears offense.
Edwards said that special teams coordinator Jared Keyte has a knack for disguising and changing up looks in order to keep the opponents guessing.
"The one credit I'll give our staff, we probably spend more times on special teams than anybody I know," Charlton said. "That's something we started doing three years (ago). It's literally about one-third of our practice."
And the actual returns themselves are part of an 11-man effort. Any missed block, hold or block-in-the-back can undo the plan. Keyte's efforts and Charlton continuing the emphasis on special teams that began at Maine under Joe Harasymiak locks all 11 in.
Ultimately, though, it takes a special talent to set a record as Edwards has. Charlton is quick to point that out.
"It's about players. It's our job to organize and motivate, and make sure the team's ready to play from a week-to-week basis," Charlton said. "But at the end of the day, you need players. Without players, it's going to be hard to win. And Earn's a great player."