2022 CAA Football
The CAA Is Prepared To Tackle The Unknown Of Spring Football Season
The CAA Is Prepared To Tackle The Unknown Of Spring Football Season
As CAA programs all over the country embark upon a spring football season for which there is no roadmap, coaches and officials weigh-in on the challenges.
Feb 10, 2021
by Kyle Kensing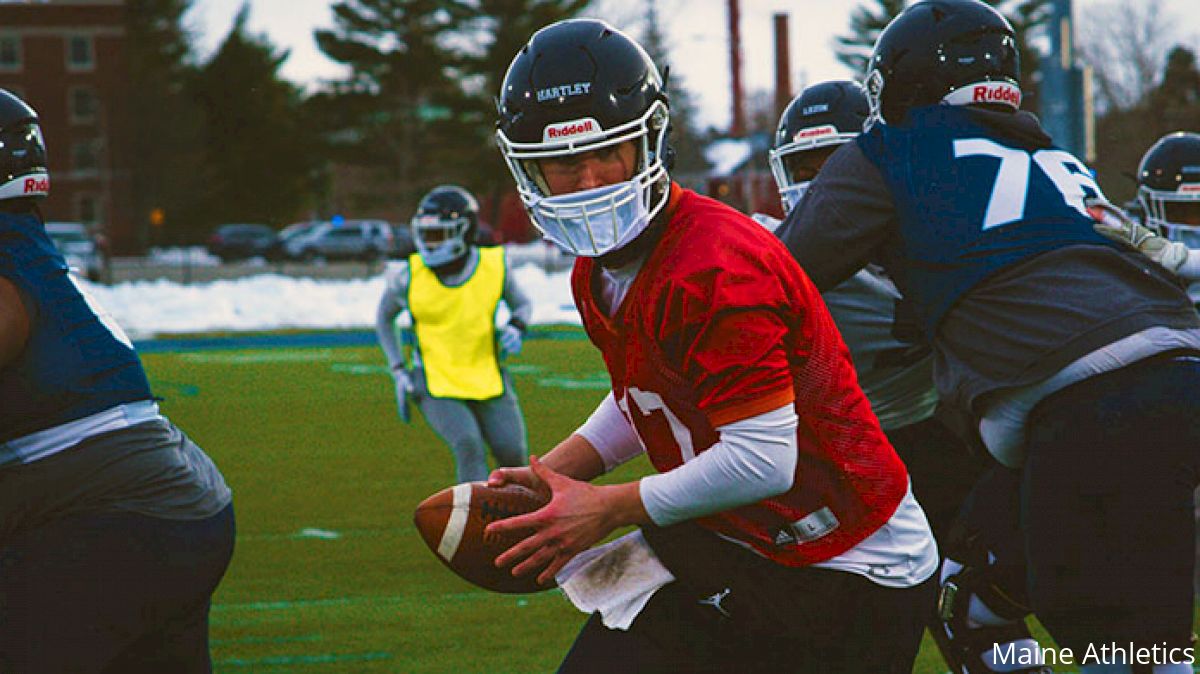 As COVID-19 cases surged in the summer, without truly relenting in the months since, college football decision-makers faced a precarious choice with little time for debate: to play in the autumn, or postpone?
The NCAA opting not to sponsor a fall-season championship made the decision for a majority of programs, and conferences like the Colonial Athletic Association instead shifted focus to a never-before-tried spring season.
"It's great to be back in season," said James Madison coach Curt Cignetti, whose Dukes played in the 2019 season's National Championship Game 13 months ago — the last time any CAA program competed. "I think everybody feels a breath of fresh air to be back in the routine and have something to prepare for."
Spring football comes with no roadmap, having never happened — at least, not since the forward pass was instituted. Navigating this season presents a variety of challenges, not the last of which is the continued spread of COVID-19.
Meeting this obstacle starts with a fundamental question, as Cignetti described.
"What price are we willing to pay, what are we willing to do to be the best we can be, to stay away from the virus and what are we willing to give up to stay away from the virus?" he said.
On this front, CAA teams do in fact have some experience.
While the FBS all gradually committed to a fall season, programs in the CAA were without games but still able to participate in the game. Maine coach Nick Charlton described the process as "flipping spring ball to fall ball."
Teams utilized the offseason practice time typically allotted for the spring during fall 2020.
Ending fall on a high note with eyes set towards 2021.#AED pic.twitter.com/zUgaqiw4GV

— Elon Football (@ElonFootball) November 16, 2020
"The fall was a sacrifice. wanted to practice," said Richmond coach Russ Huesman. "To accomplish that, we had to stay COVID-free."
Now with games for which to prepare, Huesman added that he told his team they "have got to ramp things up even three times more than what did in the fall" in terms of precautionary measures and following COVID-19 prevention protocols.
FBS proceeding with its season as it did offers some guidance in how to get to game days amid the pandemic.
Huesman said he and members of his Richmond staff reached out to FBS and Power Five-program contacts for insights into their experiences. They asked such questions as: "How did handle it, all the protocols they were using just to get to a trip, pregame meals," and so on.
Such extraordinary measures made "behind closed doors, all the things they had to go through just to show up for a Saturday game," as Huesman described, made for what he said "looked like a normal college football season" in the best possible way.
It's not an easy nor an infallible process — every week of the FBS season included some postponements or cancelations, peaking in November with multiple consecutive weeks of more than a dozen impacted games.
Part of the surge in November can be attributed simply to more conferences joining the fray, including the Big Ten, which followed especially strict protocols for determining a team safe to play.
In some instances, teams had enough players collectively for a game, but certain position groups were impacted enough through either positive tests or contact tracing to be unable to play.
CAA commissioner Joe D'Antonio said the conference has "a guideline — I'm not going to call it a hard-and-fast policy" to direct these types of game-day decisions.
"Ultimately," D'Antonio said, "It will be the decision of that individual institution...as to whether or not they'd be able to play the game."
It's official, @mhowardd1 had himself a night at the 🕷 scrimmage Friday night! 🏠 call! #OneRichmond x #TouchdownTuesday pic.twitter.com/SdY2WNfZPx

— Richmond Football (@SpiderFootball) November 18, 2020
Along the same lines of individual program decisions, Maine could face a set of circumstances wholly unique to it among the CAA.
The state currently sets permissible outdoor gatherings at "5 people per 1,000 sq. ft of occupiable outdoor space or not more than 100 persons whichever is less," per the executive order of Gov. Janet T. Mills.
The Black Bears practice within these guidelines, both in the fall and during their present preseason "building camp," as Charlton calls it. The team splits and works out in groups that are "shorter in duration" but "high intensity."
Now, split groups obviously isn't an option on game day. Depending on how, or if, the state adjusts protocols in the weeks to come, the Black Bears would have to play exclusively on the road.
"If, by the time we get to the scenario of Maine having to play a home game that is not practically possible based on the rules implemented by the state of Maine, we're going to work with to hopefully pivot and get that game to different location where that game can be played," D'Antonio said.
It's not a wholly unprecedented scenario: After Santa Clara (Calif.) County implemented similar limitations on group gatherings in the fall, Stanford football played its final four games of 2020 on the road.
Maine is scheduled to open its home slate on March 13 against UAlbany. A lot can change in six weeks, as the pandemic era has reminded us all time and again.
Until the time comes when it needs to be addressed, Charlton said: "We're not having that conversation yet.
"If we get to a point where we are unable to have a home game, that's going to be a conversation with our players how they want to handle that," he said.
We finished the fall ball period on a STRONG and POSITIVE note. But, there's no hibernation for the Black Bears as we continue to prepare for our spring season!#BlackBearNation | #ChampionshipMentality | #CAAFB pic.twitter.com/b1PBL0Wo2j

— Maine Football (@BlackBearsFB) November 20, 2020
Player feedback is central to Maine's spring season, as it was in Towson's decision to forgo the campaign.
Towson is the lone CAA program to opt out of the six-game campaign, a choice Tigers coach Rob Ambrose said was not made lightly
"We were in a coaches meeting and I said, 'Has anybody talked to their kids?'" he said. "They're the ones who are going to have to go do this.
And by this, Ambrose specifically refers to the turnaround from the spring season back to an autumn season later this year.
In speaking with his players, Ambrose said the initial split among those wanting to undertake the spring season and those wanting to hold off until fall was "50-50," with the former respondents skewing on the younger side.
Veterans, Ambrose said, wanted to focus on a fall season in which the Tigers are slated to host perennial powerhouse North Dakota State and have an opportunity to make an immediate statement on their championship worthiness.
That's not to downplay the championship aspirations of teams playing in the spring, of course — on the contrary, Ambrose cited the competitiveness in the CAA specifically as a reason behind the decision.
"In the spring, we usually have three controlled scrimmages where me as head coach can evaluate everybody, but I can control who lines up against who," he said. "Now we're going to go play league games, which I've said since taking this job, is like fighting Mike Tyson every single Saturday."
The CAA's competitive spirit and the physical toll of a season that will finish in mid-April for most teams, and as late as mid-May if a squad makes the National Championship Game, weighs on every member.
A spring season transitioning into fall might have looked much different than early indicators had the entire sport committed to a uniform timeline: kickoff in February or early March, wrap up in May, then delay the start of the autumn season until October or so.
As FBS conferences one-by-one opted in, however, that changed the prospects of a gradual return to competition in the fall. The FCS campaign to come thus becomes a balancing act of competing to win, while not risking the long-term prospects of players with heavy workloads.
"I think we can play a lot of people and still try to win a championship, try to be 6-0. Our goal is to win a championship, our goal is to go to the Playoffs," Huesman said, adding an example of load management. "We can play a lot of people to take snaps off of Kobie Turner. I don't want him playing 70 snaps for six games then come back for the fall and play a whatever-game season that is."
Deeper rotations, freshmen who may not have played in the fall but have had a year to acclimate in practices and weight sessions, perhaps even platoon systems could shape the spring season to come.
The conference itself will also work with its members to implement strategies for completing the spring season safely and shifting to the fall in record time.
D'Antonio said he was "not at liberty to roll out exactly" what the CAA has discussed yet.
"Suffice it to say," he added. "We've had extensive discussions about what next season could look like."