2019 Stony Brook vs Richmond | CAA Football
Meet The Conductor: Richmond's Kobie Turner Beats Blockers Like A Drum
Meet The Conductor: Richmond's Kobie Turner Beats Blockers Like A Drum
On game day, Richmond's Kobie Turner can beat blockers like a drum. Afterward, he can head into a studio and beat an actual drum.
Oct 29, 2019
by Kyle Kensing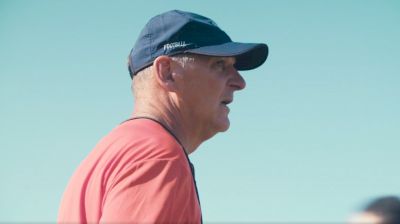 On game day, Richmond defensive lineman Kobie Turner can beat blockers like a drum.
Afterward, he can head into a studio and beat an actual drum; a few varieties. Or, strum the guitar. Or carry a tune.
"He's a unique individual," Spiders head coach Russ Huesman says of Turner. "Just a tremendous talent in all aspects of his life."
Watch Stony Brook vs Richmond LIVE on FloFootball
Those aspects cover a lot of ground. In football, he teams with likely NFL draft pick Maurice Jackson to form one of the most fearsome pass-rush tandems in the CAA. The duo has combined for 23 tackles for loss, each providing 11.5, and Turner's 5.5 sacks are second among all Spiders behind only Jackson's seven.
Away from the game, Turner is a double major — and his choices couldn't be much more different. He's pursuing his passion in music, but said he wanted to cover a "broad spectrum," with a degree in mathematics.
Reading a music sheet or a calculus equation may as well be deciphering a foreign language for a majority of people. Turner does both every day, while terrorizing quarterbacks on Saturdays.
And though he's enjoying a breakout season on the Richmond defensive line, music forged his road to the Spiders football team.
"In high school, I really just found a passion for music — to a point where, junior year, instead of doing the normal things a football player would to get recruited, I was looking more into the music route," Turner said.
Despite earning All-Virginia recognition at Clifton's Centreville High, his offseason focused less on recruiting camps and more on opportunities to perform in the choir.
"Build my music resume, if you will," as Turner put it.
#TheConductor you know, because he's a music major. #OneRichmond pic.twitter.com/cLpkJDZwAU

— Richmond Football (@SpiderFootball) October 20, 2019
He built that resume quite effectively. Turner said in addition to singing with the school choir, he led a capella groups and taught himself to play a variety of instruments.
Once Turner came to Richmond in 2017, he was a musician first, who happened to join the football team.
"He came here as a walk-on," Huesman said. "So we're extremely fortunate we got him."
From walk-on to an All-Colonial Athletic Association caliber defender, it's no wonder Huesman sings Turner's praises. And Turner has had the opportunity to bring his worlds together on the field, conducting an imaginary choir after a sack in Richmond's Oct. 12 win over UAlbany.
It was a moment the defensive lineman said was born of some fun he had with his teammates' pregame music in the locker room.
From that, begs a question: What does an accomplished musician have on his gameday playlist?
"Maybe five or so hours out, I'll listen to more relaxing things: Maybe some country, some R&B. Maybe even some pop or EDM," Turner said. "Once it locks in about an hour-and-30 minutes out, I have a playlist of Christian rap songs I've listened to for pretty much my entire life. The last song, every time before I go out, is 'Go Hard' by Lecrae."
Turner's the rare college football player who, if he so chose, could add to his playlist a track to which he contributed. Interning at BNDWTH Studios in Atlanta last summer, Turner played guitar on R&B artist Josh Waters' "24," streaming as a single on Spotify.
End of the Third Quarter | ? 27, ? 14

The Conductor! Kobie Turner up the middle brings down Rawlings for a 10-yard sack and force a 3rd and 17 when the 4th quarter starts#OneRichmond pic.twitter.com/joiHXwrIZ1

— Richmond Football (@SpiderFootball) October 20, 2019
Appearing on a track while still in school is quite the achievement for a self-taught guitarist like Turner. It certainly validates older brother Lamar push to get Turner an instrument back in the day.
Contributing to Waters' new album was also just one highlight in Turner's musical journey. He toured Europe with the University of Richmond choir in the spring, and sang the National Anthem at the Pentagon for an Air Force retirement ceremony over the summer.
Music plays a central part in Turner's life, and he wants to share that positivity with another generation once football ends.
"t was a huge outlet for me to be creative and express myself," he said. "My end goal, I want to be a high school choir conductor, and be able to help them find that creative outlet like I did, to help them through tough times."
And if any of his future students need to know how to barrel past a 300-pound offensive line, Turner might be the only choir conductor in the world who can teach them that, too.