2023 Duquesne vs Delaware
FCS Football Rankings For Week 6: W&M Football Drops; Rhode Island Ranked
FCS Football Rankings For Week 6: W&M Football Drops; Rhode Island Ranked
William and Mary Football drops five spots, while Rhode Island Football enters rankings ahead of rivalry game with Brown. Here are the FCS Football Rankings
Oct 2, 2023
by Joe Harrington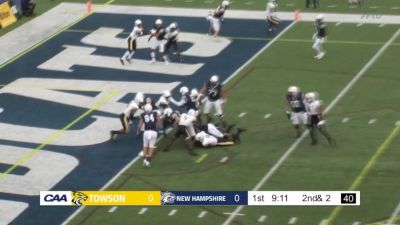 For the first time in 2023, William & Mary Football is no longer in the top five of the FCS Coaches Poll.
In the latest Week 6 rankings, the Tribe, which opened the season at No. 4 in the rankings and remained there in four of the first five polls, dropped to No.9. The fall comes two days after William & Mary was upset on the road to Elon, 14-6. It was not only the first loss of the year for W&M, but also the first loss of the CAA season.
Last year, W&M's only loss in the regular season was also to Elon, but it proved to be costly as it opened the door for New Hampshire to claim a share of the conference title.
Subscribe To FloFootball To Watch More Football Action
CAA Weekly Award Winners - Oct. 2
The Tribe remain the highest-ranked team in the CAA with 3-1 Delaware right behind them at No. 10. The Blue Hens were idle in Week 5 and rose two spots in the rankings.
While William & Mary took a tumble in the rankings, it was New Hampshire that dropped seven spots after losing to Towson 54-51 in Week 5. New Hampshire is now 2-3 on the season.
Rhode Island entered the rankings at No. 25 as the 3-2 Rams beat Bryant 49-26. Rhode Island faces rival Brown this weekend. The share the ranking with Eastern Illinois.
South Dakota State remains No.1 after beating then-No. 11 North Dakota 42-2. The Jackrabbits face No. 22 Illinois State on the road this week.
William & Mary faces Virginia this week on the road, while Delaware faces non-conference foe Duquesne this week. That game will stream live on FloFootball and the FloSports app.
FCS Football Rankings For Week 6
Here the latest FCS Coaches Poll rankings
South Dakota State 4-0
Montana State 4-1
Idaho 4-1
Furman 3-1
Southern Illinois 4-0
Incarnate Word 3-1

Sacramento State 4-1

North Dakota State 3-1

William & Mary 4-1

Delaware 3-1

11

North Carolina Central 4-1

Holy Cross 3-2

Montana 4-1

Weber State 3-2

North Dakota 2-2

Florida A&M 4-1

Western Carolina 4-1

228

UC Davis 3-2

Harvard 3-0

Chattanooga 4-1

South Dakota 3-1

Illinois State 3-1

UT Martin 4-1

New Hampshire 2-3

Rhode Island 3-2 and Eastern Illinois 4-1
Received votes: Northern Iowa 43, Fordham 36, Austin Peay 36, Central Arkansas 34, Youngstown State 32, Mercer 31, Eastern Washington 27, Hampton 25, Stephen F. Austin 10, UAlbany 10, Villanova 9, Jackson State 8, Grambling 4, Eastern Kentucky 4, Samford 2, Lafayette 1, Princeton 1