CAA
CAA Weekly Award Winners - Oct. 2
CAA Weekly Award Winners - Oct. 2
CAA Football has announced its weekly award winners for Week 5 of the 2023 season.
Oct 2, 2023
by Nicole Beckelman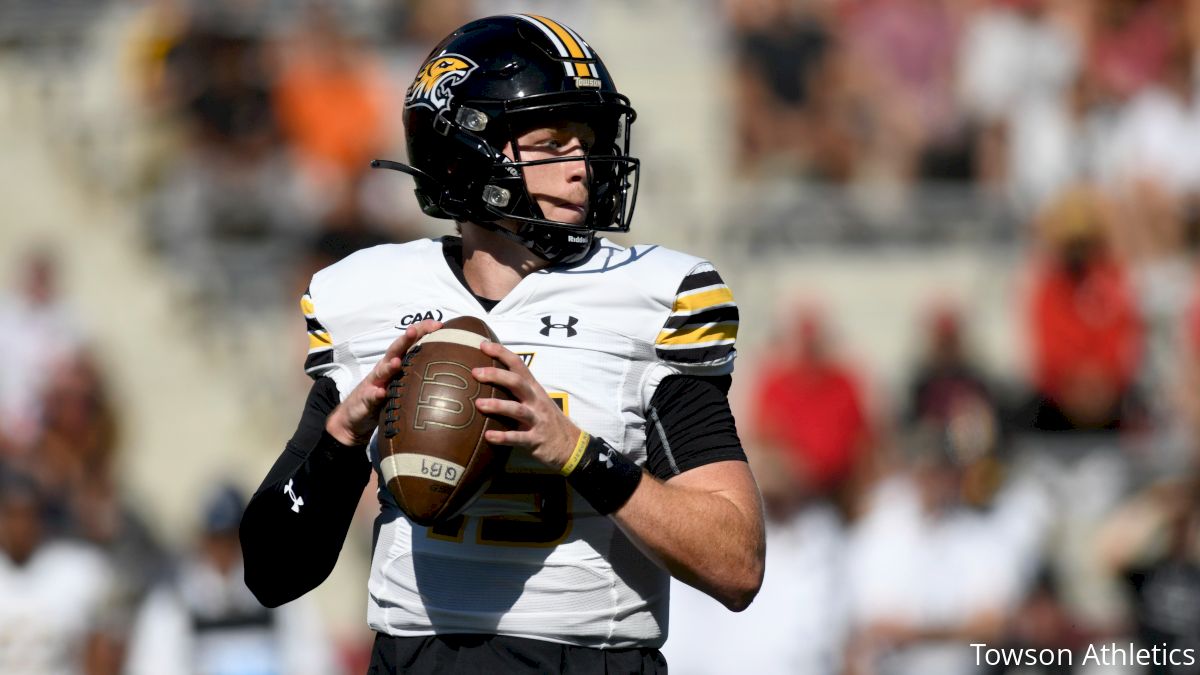 Towson junior quarterback Nathan Kent and Maine senior quarterback Derek Robertson were honored as the Co-Offensive Players of the Week. Sharing Defensive Player of the Week accolades were Elon sophomore defensive back Caleb Curtain and North Carolina A&T graduate linebacker BJ Turner. New Hampshire senior cornerback Charles Briscoe III was chosen as the Special Teams Player of the Week and UAlbany freshman running back Griffin Woodell was named the Rookie of the Week.
CAA Football Co-Offensive Player of the Week
Nathan Kent, Jr., QB, Towson (Eldersburg, Md./Liberty)
Kent completed 21-of-34 passes for a career-high 252 yards and a career-best 5 TD's and added 68 yards rushing on 7 carries to lead Towson past #14 New Hampshire, 54-51 in overtime. The junior threw three scoring passes in the second quarter and two more in the fourth to rally the Tigers from a 10-point deficit, including a 15-yard TD toss with 24 seconds left that sent the game into overtime.
CAA Football Co-Offensive Player of the Week
Derek Robertson, Sr., QB, Maine (Yonkers, N.Y./Bridgton Academy)
Robertson completed 25-of-30 passes for a career-high 394 yards and a career-best 5 TD's in Maine's 56-28 triumph over Stony Brook. It was the most passing yards for a Black Bears' QB since 2019 and the most TD's since 2018. The senior threw four TD passes in the first half to build a commanding 42-14 advantage and guided Maine to its most points in a game since 2017.
CAA Football Co-Defensive Player of the Week
Caleb Curtain, So., DB, Elon (Greensboro, N.C./Grimsley)
Curtain contributed a team-high 11 tackles and a sack to spur a dominant defensive effort in Elon's 14-6 triumph over #4 William & Mary, snapping the Tribe's 9-game CAA winning streak. The sophomore set the tone with a 4th-down tackle at the goal line in the first quarter and made a sack on the next possession. Curtain was part of a secondary that held W&M to just 36 yards passing and no TD's.
CAA Football Co-Defensive Player of the Week
BJ Turner, Gr., LB, North Carolina A&T (Greensboro, N.C./Page)
Turner recorded a career-high 19 tackles, 2.5 TFL's and a PBU as North Carolina A&T edged Norfolk State, 28-26. The grad linebacker made the most stops by an Aggies' player in nine years and the 19 tackles are tied for the 2nd-most in FCS in 2023. Turner's biggest play came when he hit the NSU quarterback to break up a game-tying 2-point conversion attempt with 3:07 to play.
CAA Football Special Teams Player of the Week
Charles Briscoe III, Sr., CB, New Hampshire (Bowie, Md./St. John's College)
Briscoe blocked two punts, recovered one for a touchdown and forced a fumble in New Hampshire's 54-51 overtime loss to Towson. The senior blocked a punt in the third quarter that set up a Wildcats' TD to go ahead 34-30. In the fourth quarter, Briscoe blocked another punt and recovered it in the end zone to give UNH a 48-38 lead. He also forced a fumble on the opening kickoff of the second half.
CAA Football Rookie of the Week
Griffin Woodell, Fr., RB, UAlbany (Glens Falls, N.Y./Glens Falls)
Making his first start, Woodell rushed for a career-high 107 yards and a TD on 16 carries and made four receptions for 38 yards and a TD as UAlbany beat #16 Villanova, 31-10. The freshman caught a 19-yard scoring pass just before halftime to snap a 10-10 tie and then put the Great Danes in control with a 3-yard TD run early in the fourth quarter.