2023 Limestone vs West Georgia
How To Watch: 2023 Limestone Vs. West Georgia
How To Watch: 2023 Limestone Vs. West Georgia
West Georgia Football hosts its first home game against the Limestone Saints on Thursday, August 31st. Here's what to know.
Aug 31, 2023
by Alexis Vasquez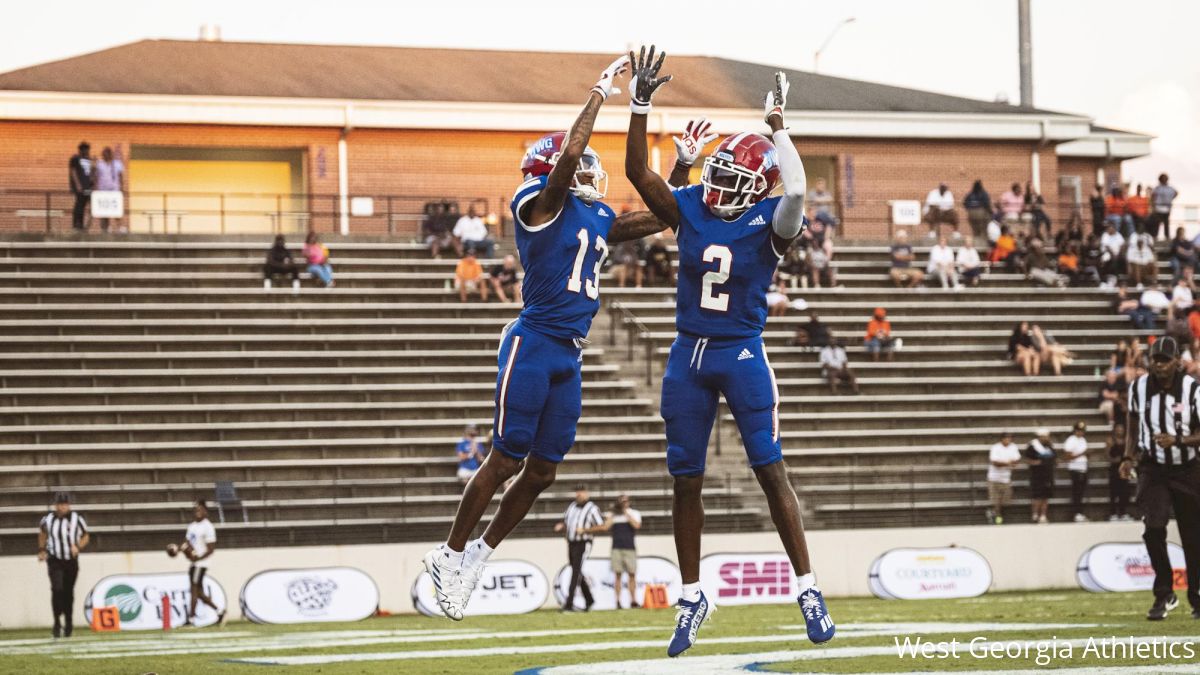 In this 2023 season opener, the No. 22 ranked team West Georgia will go against Limestone University on Thursday, August 31st at 7 p.m. ET.
The West Georgia Wolves hail from the Gulf South Conference, while Limestone is a part of the South Atlantic Conference, both are NCAA Division II.
The teams first met in 2018, with West Georgia taking a 41-14 win; then in 2019 with UWG winning 24-14.
In the preseason coaches poll, Limestone was picked to finish 4th in the South Atlantic Conference. West Georgia was picked to finish 3rd in the GSC preseason poll.
Subscribe To FloFootball To Watch All The SAC & GSC Football Action In 2023
Five Players To Watch During 2023 Gulf South Conference Football Season
Five South Atlantic Conference Players To Watch In 2023
Here's what to know about the Limestone vs. West Georgia football game.
What To Know About The Limestone Saints
The Limestone Saints went 8-4 last season in the SAC, eventually losing to West Florida in the NCAA Division II Playoffs. The program is entering its 10th year of football and 7th year as a member of the South Atlantic Conference. Nine members who were named 2022 South Atlantic Conference All-Conference are returning including players like junior running back Tre Stewart, senior quarterback Dustin Noeller, and senior wide receiver, Jelani Baker.
What To Know About West Georgia Wolves
In 2022, the Wolves ended the season 8-2, without making the Division II Playoffs. Wide receiver Terrill Cole enters his senior year, having accumulated 1,212 yards, with 39 catches for 529 yards last season. The team continues to be led by head coach David Dean, who became the UWG coach in 2017.
When Is The Limestone Vs. West Georgia Game?
The game will take place on Thursday, Aug. 31st at University Stadium in Carrollton, Georgia.
What's The Weather Forecast For Limestone Vs. West Georgia Game?
Weather forecasts anticipate a rainy game, with a 37 percent chance of rain, and an expected high of 86 degrees.
How To Watch Limestone Vs. West Georgia Game
Football action is streaming live on FloFootball and the FloSports app, including the Limestone vs West Georgia Game football game during Week 1. Replays and postgame highlights will also be available on both platforms.