2023 Chowan vs Barton College
Five South Atlantic Conference Players To Watch In 2023
Five South Atlantic Conference Players To Watch In 2023
One of the deepest and most up-for-grabs leagues in Division II football coming into the 2023 season will be the South Atlantic Conference.
Aug 27, 2023
by Ron Balaskovitz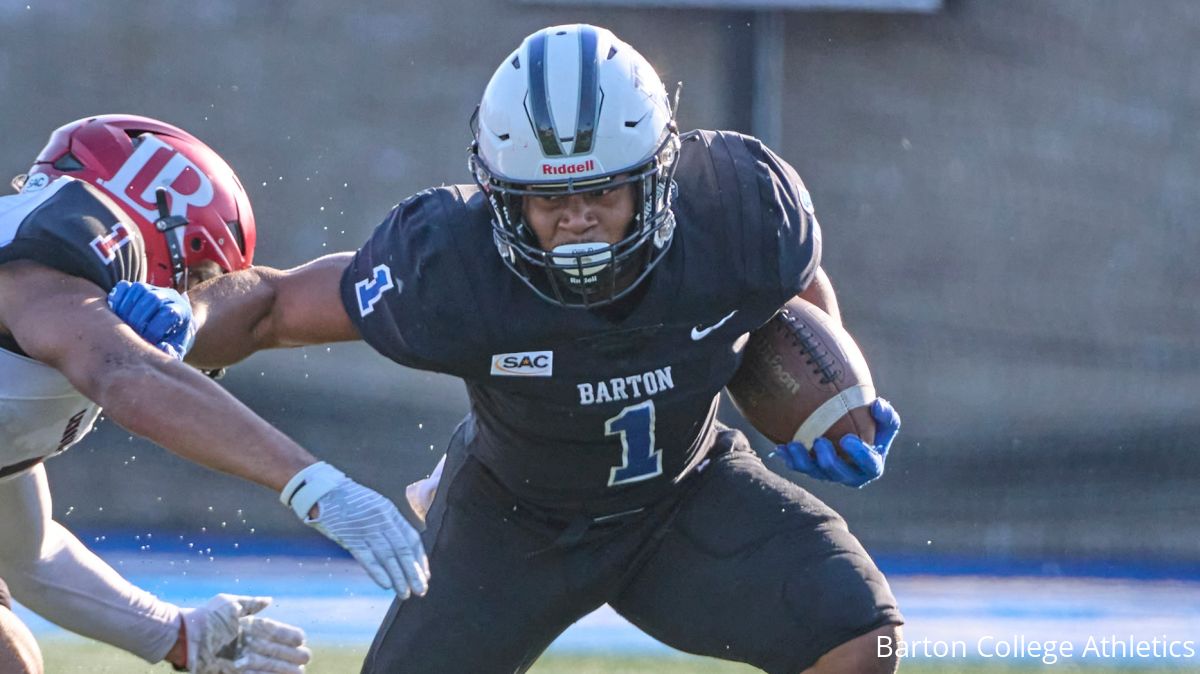 One of the deepest and most up-for-grabs leagues in Division II football coming into the 2023 season will be the South Atlantic Conference.
To give you an idea of just how deep the league is in terms of talent, both team and individual, in the preseason coaches' poll, four teams received votes to win the league title, and a quarterback for the league's ninth-place team was selected first-team All-Conference in the preseason awards.
Some returning stars already have garnered national attention, while others who have made their marks in the league in past seasons, look to garner those same national headlines with even bigger seasons in 2023.
Here's a look at five players to keep an eye on during the 2023 South Atlantic Conference football season.
Jordan Terrell, Junior Running Back (Barton)
The junior running back already is one of the most decorated backs, not just in Barton history, but SAC history, with nearly 4,000 yards over his 26 games, including more than 3,400 yards over the last two seasons.
Terrell burst onto the scene after a solid COVID-shortened 2020 season, breaking out in 2021 with a whopping 1,843 yards and 15 touchdowns on the ground, good for nearly 170 yards per game.
Last season, he was able to follow that with another 15 rushing touchdowns and 1,632 yards.
Terrell is the rare workhorse and gamebreaker combination, toting the ball over 300 times in each of the past two seasons, while posting touchdowns runs of over 80 yards in each season, as well.
There is not a more dangerous back in the league than Terrell, and the fact that he still has potentially two more seasons to add to his legacy, could see him finish his career as one of the greatest backs in Bulldog and SAC history.
Andre Jefferson, Senior Defensive Line (Lenoir-Rhyne)
A bowling ball of size and speed at 6-foot-2 and roughly 300 pounds, Jefferson is a record-setting defensive lineman who not only eats space in the middle, but absolutely can terrorize quarterbacks and offensive lines with his pass rushing ability.
After being a second-team All-Conference pick in 2021, Jefferson took his game to the next level in 2022, earning first-team honors and national recognition.
He went from 3.5 sacks in 2021 to 13 a season ago, including a school record 5.5 in one game.
Single-game sack record ✅
Player of the week honors ✅

Good weekend for @Dre__32 pic.twitter.com/FxN4Vbjydj

— #GOBEARS (@LRbears) November 14, 2022
You name the stat – total tackles, solo tackles, tackles for loss – and he made major jumps last season.
As if his work on defense wasn't impressive enough, Jefferson put fear in the hearts of opposing kickers last season by batting down three kicks.
With Jefferson anchoring the middle of the defense, the Bears have their eyes on a league title, being one of the four teams to receive first-place votes in the preseason poll, while Jefferson himself is on nearly every early-season award watchlist there is, as he prepares to close his already storied career for Lenoir-Rhyne.
Landon Honeycutt, Senior Linebacker (Mars Hill)
The definition of a ball hawk, Honeycutt was everywhere for the Lions defense in 2022, leading the team in total tackles, tackles for loss and sacks, and he was second in quarterback hurries.
His 90 total tackles were best on the team by 40, while his 40 solo tackles would have put him seventh on the team alone.
But it isn't just his ability to be near the ball and sure tackling that make Honeycutt an All-American, it's his ability to make big plays from his linebacker spot, constantly finding himself in the opposing backfield. He had 12 tackles for loss a season ago, along with 4.5 sacks and six quarterback hurries.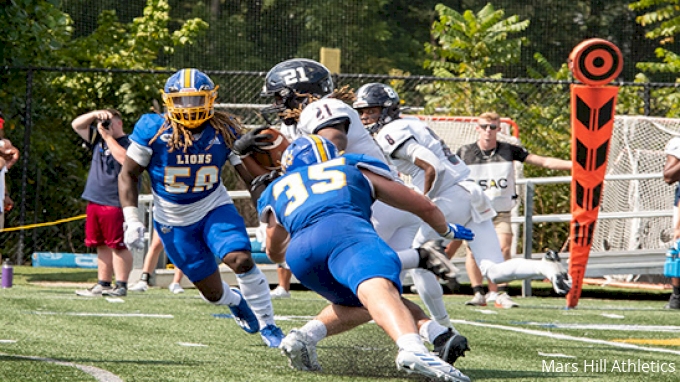 On a Mars Hill team that was picked to finish in the top half of the league, a lot of that responsibility and expectation lies on the shoulders of Honeycutt, who has earned a number of preseason honors, both nationally and from SAC coaches.
Tommy Washington, Senior Tight End (Newberry)
Back for his final season as a graduate senior, Washington is a big-play bowling ball at the tight end spot for the Wolves, where his soft hands and strong blocking make him one of the most complete tight ends in Division II football.
Washington checks in at 6-foot-1 and 245 pounds, giving him a strong, low frame when it comes to blocking opposing defensive ends or linebackers. But don't let his short-ish frame fool you – he can make big plays with the best of them.
In his three seasons at Newberry, he's posted three touchdowns of 40 yards or longer, including an 82-yarder back in 2021.
Washington collected 21 grabs last season, with four of them going for touchdowns, none bigger than hauling in the game-winning ball against Mars Hill in a 27-24 win in the SAC title game.
That CHAMPIONSHIP feeling 🏆#WeAreOne x #getNorgetout pic.twitter.com/dcRWiRHQmB

— Newberry College Football (@Newberry_FB) November 13, 2022
Washington also has been known to get a few carries over the course of the season, too, stepping in at fullback, where he averaged nearly four yards a tote and added a rushing score.
Washington and the Wolves will look to repeat as SAC champions in 2023, and his blocking, receiving and rushing abilities will play a big role for the defending champions.
Marquise Fleming, Junior Defensive Line (Wingate)
After being a rotational piece his first two seasons at Wingate, Fleming put his name on the map with a breakout season in 2022, seeing him lead a dominant defensive line in sacks, tackles for loss and forced fumbles, while also chipping in on pass defense from his hybrid lineman/linebacker role.
Fleming racked up 13 sacks a season ago, paired with an outstanding 22.5 tackles for loss, forcing 14 QB hurries and forcing three fumbles. That alone would be an outstanding season for any player, but Fleming also showed he could help in the passing game, credited with four combined passes defended and pass breakups.
At 6-foot-1 and 235 pounds, Fleming has the size and speed to play almost anywhere on the Wingate defense, which makes it that much harder to gameplan for him.
A Region-best NINE All-Region honorees including a region-best SEVEN 1st Team selections!

DJ Horne is the Defensive Player of the Year!

1st Team | Surgeon, Horne, Edwards, Gilmore, Mosley, Morrison & Evans - Fleming named 2nd Team!

Story | https://t.co/nTVohDLPC9#OneDog pic.twitter.com/3TNueHZFbj

— Wingate Bulldogs (@WU_Bulldogs) December 1, 2022
Fleming's big performance last season came against Tusculum, where he registered three sacks, two forced fumbles, three QB hurries and seven solo tackles.
The sky appears to be the limit for Fleming, and another strong season should see him continue to add to his impressive list of accomplishments.