2023 Kentucky Wesleyan vs West Florida
Five Players To Watch During 2023 Gulf South Conference Football Season
Five Players To Watch During 2023 Gulf South Conference Football Season
One of the deepest, most exciting leagues in Division II football - the Gulf South Conference - features a ton of returning star power in 2023.
Aug 25, 2023
by Ron Balaskovitz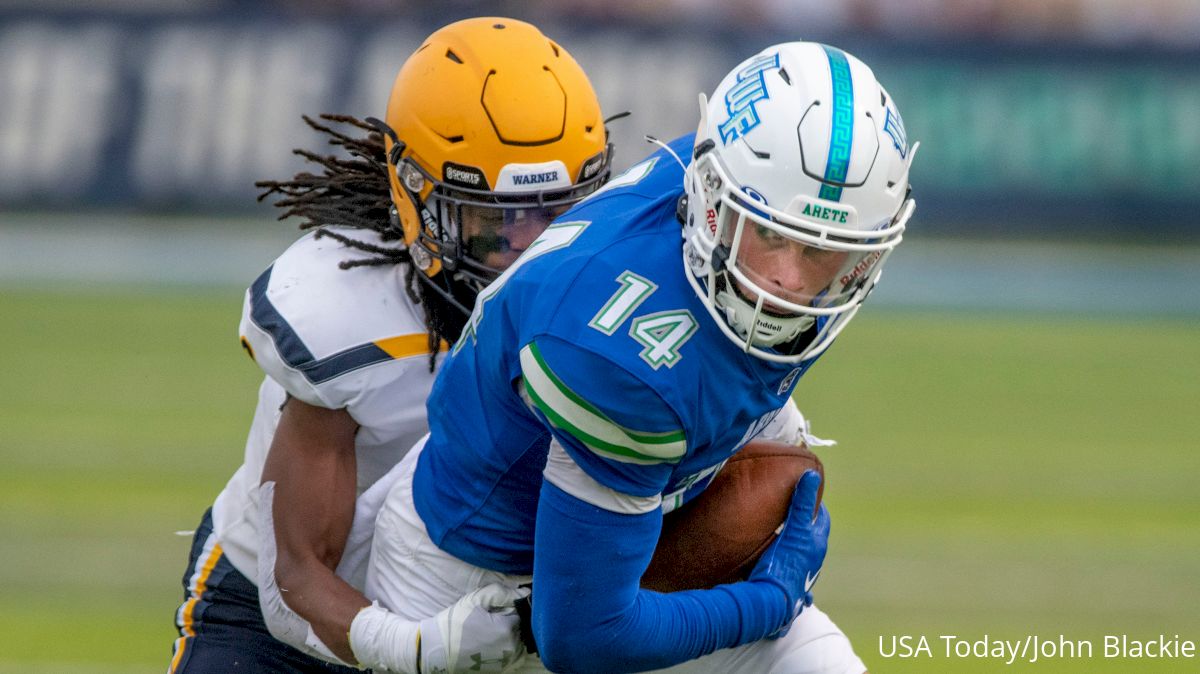 One of the deepest, most exciting leagues in Division II football features a ton of returning star power in 2023, including a pair of players who could be on the Harlan Hill watchlist.
There are a number of returning quarterbacks who will garner attention, along with a stable of running backs who have had big seasons.
And while the Gulf South Conference typically is known for its offensive fireworks, there's also no shortage of standout defenders set to take the field in the coming days.
Here's a look at five Gulf South Conference standouts to keep an eye on during the 2023 season.
Demario Martin, Junior Defensive Lineman (Delta State)
A combo LB/DL, Martin arrived from the JUCO ranks last season and immediately put the GSC on notice. He was one of Delta State's best defenders on the way to a conference title and playoff berth, while topping in the league in sacks.
In his first season for the Statesmen, the 6-foot-1, 236-pound junior was havoc on opposing backfields, posting a league-best eight sacks, an impressive total considering how many ground-heavy opponents there are in the GSC, and finishing among the leaders in tackles for loss with 13.5 on the season.
In all, Martin posted 33 tackles, including 24 solo stops, while also forcing a pair of fumbles for a DSU team that dominated the turnover margin a season ago.
With one season under his belt, and a full offseason in the DSU program, Martin looks primed for an even bigger junior season for a Statesmen team that looks to repeat atop the Gulf South.
ICYMI @DeltaStateFB is predicted to go back-to-back as @GulfSouth champions 😤

🗞️ https://t.co/Wdy44zXQok pic.twitter.com/uaqGkPBHRK

— Delta State University (@DeltaState) July 27, 2023
Caden Leggett, RS Senior Wide Receiver (West Florida)
During his junior season, Leggett proved to be a matchup nightmare for opposing defenses, using his 6-foot-2, 205-pound frame to put himself among the leaders for touchdown catches.
Leggett's strong season, which included nine touchdown grabs, got overshadowed by teammate David Durden, who led the GSC in yards and touchdowns. But Durden has departed, which means Leggett steps into the No. 1 receiver role for the Argonauts.
With that increased role, he should see a big jump from his 38 catches and 602 yards from a season ago, and it gives quarterback Peewee Jarrett one of the best red zone threats in the country.
Deontae Overstreet, Senior Defensive Back (West Georgia)
A two-time GSC first-team selection, Overstreet is a defensive back who plays much bigger than his 5-foot-9 stature and isn't afraid to mix it up in the run game, in addition to his pass defense skills.
Overstreet finished sixth on the Wolves last season with 34 tackles, 17 of them coming on his own, including three tackles for loss and one sack.
While his help bringing down ball carriers is a big plus, Overstreet is one of the toughest corners to get open against, swatting down six passes a season ago, and making his lone interception count, returning it for a touchdown against Morehouse.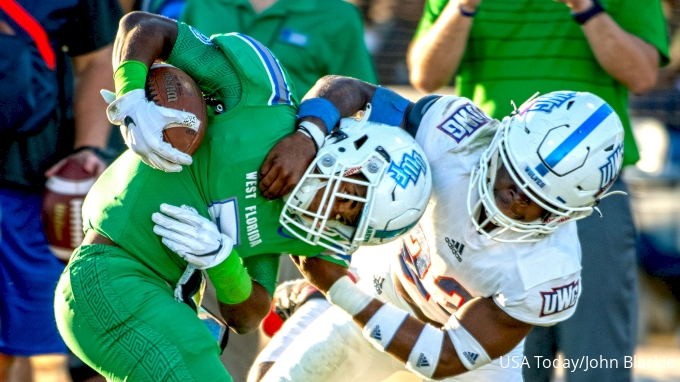 He should crack 100 career solo tackles this season, a big accomplishment for any defensive back, and will look to join rarified air as one of the few three-time first-team GSC selections with another strong season.
Estin Thiele, Junior Punter/Kicker (Valdosta State)
The GSC is fortunate to have two of the best kicking specialists in the league in Thiele and Delta State's Nick Herber.
But it's Thiele's double duty that makes him stand out and cements him as one of the more unique players, not just in the GSC, but all of college football.
Thiele boasts a big leg, whether kicking field goals, punting or kicking off after a VSU score.
On 30 punts a season ago, Thiele sent 10 of them 50 yards or more, while dropping nine inside the 20. Just two went for touchbacks on his way to nearly 40 yards per boot.
On kickoffs, of his 38 kicks, 24 went for touchbacks.
A REAL WHO'S WHO!

The 2023 #GSCfb preseason all-conference selections have been announced!

📰 » https://t.co/Ufnlqih7rK pic.twitter.com/6vr1Lsaffk

— Gulf South Conference (@GulfSouth) August 17, 2023
A kicker who eliminates the return game nearly two-thirds of the time is an incredible weapon to have.
As if that wasn't enough, Thiele was also one of the top place kickers in the GSC last season, connecting on 17 of his 22 tries, good for over 77%, including knocking home four kicks from beyond 40 yards, while being nearly perfect on extra points at 44-of-45.
Football is a three-facet game, and having a single player who can have such a big impact on special teams is a weapon many teams don't have.
Corey Watkins, Senior Running Back (North Greenville)
In a league that saw a dozen players top 700 yards last season, Watkins stands out for his durability and explosiveness for the Crusaders during his first season after transferring in from Furman.
Watkins ended up losing the league's overall rushing title last season by a mere 40 yards…but the man who beat him had five extra games to best Watkins' 1,064 yards, which he accomplished in just nine games.
While he missed out on the yards title, he did top the league in yards per game at over 104 per contest, all while being one of the most used backs in the league, carrying the ball 158 times in those nine games.
At just 5-foot-8 and 178 pounds, Watkins is an explosive runner, averaging nearly six yards per carry, including a long of 72 yards last season.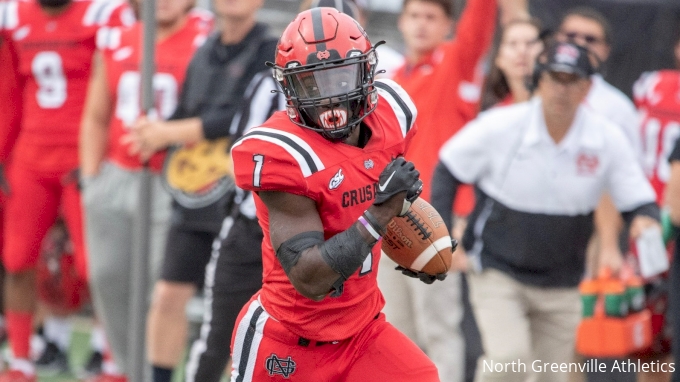 If North Greenville has plans to shock the GSC this season, it will be on the back of another big season from Watkins, who also chipped in last season with nine grabs and a touchdown as a receiver.
The league's coaches expect a big year from him as well – he earned preseason first-team honors.