2023 Maine vs Richmond
Richmond Football In 2023: What To Know About The Spiders
Richmond Football In 2023: What To Know About The Spiders
The University of Richmond football team returns to action in 2023 as a member of the CAA. Here's what to know about the program.
Aug 3, 2023
by Matt Cannizzaro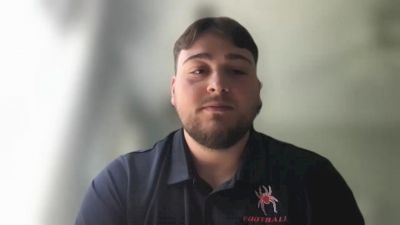 Following the 2022 season, the Richmond football team was No. 11 in the Stats Perform FCS Media Poll and 12th in the AFCA Coaches Poll.
The Spiders posted a 9-4 overall record in 2022, which included reaching the FCS Playoffs for the first time since 2016, when they were 10-4.
Their 2022 effort also featured a 6-2 mark in Coastal Athletic Association play. That ranked tied for third in the conference standings.
Subscribe to FloFootball For All The CAA Football Action In 2023
Richmond Football Schedule 2023: What To Know
W&M Picked To Win CAA, Shirden Named Preseason Offensive POTY
The Spiders' season came to an end in the second round of the playoffs with a 38-31 loss to Sacramento State.
Richmond has enjoyed four winning seasons in the six years Russ Huesman has been the team's head coach.
CAA Football returns eight programs that finished with winning records in 2022. That includes William & Mary, which went 11-2 overall and tied with New Hampshire atop of the CAA standings with a 7-1 record.
CAA football action will be streamed live on FloFootball and the FloSports app, including all of Richmond's CAA games.
Here's What To Know About Richmond Football:
What Year Did Richmond Start Playing Football?
The Richmond football team first took the field in 1881, playing two games against Randolph-Macon and winning both.
They met again in 1882, with Richmond winning again, before two years with no games played.
When Did Richmond Football Join Division I?
Richmond joined Division I football in 1976 as an independent team. The Spiders were Division I-A from 1978-1981 and Division I-AA from 1982-1985, now classified as a Division I FCS team.
Richmond's all-time record is 574-666-53.
How Many Times Has Richmond Football Made It To The FCS Playoffs?
The Spiders have been to the Division I-AA/FCS Playoffs 12 times, compiling a 16-11 record.
Their first appearance, and first win, came in 1984. They returned in 1987 but suffered a playoff drought lasting more than a decade, before returning in 1998. Richmond has been a consistent playoff team since the turn of the century.
In 2008, the Spiders defeated Eastern Kentucky, Appalachian State, Northern Iowa and Montana to claim the FCS national championship, the first title for Richmond in any sport.
When Did Richmond Football Join The CAA?
Richmond was part of the inaugural class for CAA Football in 2007.
The Spiders are 72-51 in CAA play over the years.
In the team's long history, Richmond has played independent and as part of many conferences—Eastern Virginia Intercollegiate Athletic Association, South Atlantic Intercollegiate Athletic Association, Virginia Conference, Southern Conference, Yankee Conference and Atlantic 10 Conference.
Richmond has claimed a dozen conference titles.
Has Richmond Football Ever Won The CAA title?
Yes.
Richmond has topped the CAA standings multiple times.
The Spiders shared the title with UMass in 2007, with Villanova and Elon in 2009, with New Hampshire, Villanova and Towson in 2012, and with James Madison and William & Mary in 2015.
Who Is The Richmond Football Head Coach?
Russ Huesman is the on-field leader for Richmond, and he recently signed a multi-year contract extension after a solid 2022 season.
Last year, Huesman led the Spiders to a 9-4 record, which included making it to the second round of the FCS Playoffs.
The 2023 campaign will be Huesman's seventh at the helm of the program, and he'll look to continue the team's forward momentum. The Spiders have had a winning record each of the last three seasons.
Huesman initially worked with the Spiders from 2004-2008 as the defensive coordinator, and his efforts helped Richmond to a national championship in 2008.
Between stints with Richmond, he spent eight seasons at his alma mater, Chattanooga, where he was named the Southern Conference Coach of the Year three times (2009, 2013, 2014) and was a three-time finalist for Eddie Robinson National Coach of the Year.
He previously held a variety of positions at the University of Memphis (1998-2003) and William & Mary (1985-1997).
As a player, Huesman helped Cincinnati's Moeller High School to a 43-0-1 record and a pair of state titles. That success helped earn him a football scholarship to Chattanooga, where he was a four-year starter as a defensive back (1978-1981). He also played baseball there.
His collegiate coaching career began at Chattanooga as a student coach in 1982, before a brief stint as a graduate assistant at South Carolina.
Who Is Richmond Football's Biggest Rival?
With a history that spans more than 140 years and many conferences, there likely are many teams that consider themselves rivals with Richmond.
Perhaps the most significant is William & Mary, who Richmond has played 133 times since 1898. They've met at least once a year in all but three seasons since, making "The Oldest Rivalry In The South" one of the longest-running matchups in history.
The series was named the I-64 Bowl from 1984-2008 and was renamed The Capital Cup in 2009 in reference to the two cities that have been the capital of the Commonwealth of Virginia.
Amazingly, the series is tied 64-64-5, with William & Mary winning the 2022 edition (37-26) on the way to a share of the CAA title.
Where Is The University Of Richmond?
The University of Richmond is located in Richmond, Virginia. It was founded by Virginia Baptists in 1830, originally known as Dunlora Academy, with just nine students.
The name of the school was changed to Richmond College in 1843, and became the University of Richmond in 1920.
Notable Richmond Alums
The list includes:
Charles Stanley (American Southern Baptist and founder/president of Touch Ministries)
Leland Melvin (engineer and retired NASA astronaut)
Jennifer McClellan (politician and former U.S. representative for Virginia)
Andrew Jackson Montague (former Virginia governor and U.S. Congressman)
Bruce Hornsby (singer-songwriter)
There have been 50 former Richmond players drafted into the NFL and even more getting the chance to play at the professional level.
Richmond Football Schedule 2023
Sept. 2: Morgan State, 6 p.m. ET, FloSports
Sept. 9: at Michigan State, 3:30 p.m. ET
Sept. 16: Delaware State, 3:30 p.m. ET, FloSports
Sept. 23: at Stony Brook, 3:30 p.m. ET, FloSports
Sept. 30: Hampton, 2 p.m. ET, FloSports
Oct. 7: Maine, 3:30 p.m. ET, FloSports
Oct. 14: at Rhode Island, 1 p.m. ET, FloSports
Oct. 21: at North Carolina A&T, 1 p.m. ET, FloSports
Oct. 28: Campbell, 3:30 p.m. ET, FloSports
Nov. 11: Elon, 2 p.m. ET, FloSports
Nov. 18: at William & Mary, 1 p.m. ET, FloSports
How To Watch Richmond Football In 2023?
All CAA football games will stream on FloFootball and the FloSports app this fall. Some non-conference games may not be available on FloSports.