2023 Richmond vs Stony Brook
Richmond Football Schedule 2023: What To Know
Richmond Football Schedule 2023: What To Know
Richmond Spiders Football returns to action in 2023 after a playoff season in 2022. Here's the complete schedule, featuring a road trip to Michigan State.
Jun 23, 2023
by Joe Harrington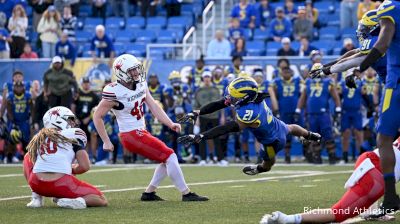 The Richmond Football team returned to the NCAA FCS Playoffs for the first time since 2016 and are ready to build off the momentum after the Spiders finished the 2022 season ranked No. 12 in the final FCS Coaches' Poll.
The Spiders returned to the playoffs under coach Russ Huesman, who enters his seventh season, and went 6-2 in CAA play and 9-4 overall. Richmond hadn't advanced to the playoffs since 2016, but did just that in 2022, beating Davidson 41-0 in the first round before falling to Sacramento State 38-31 in the second round.
This season presents a different challenge for the Spiders.
Last year started with a road loss to Virginia in Charlottesville, 34-17, but also a featured New Hampshire on the schedule. Ironically, it was the Spiders' 40-34 win over UNH that helped give rival William & Mary a share of the CAA Title.
The unbalanced CAA football schedule drops New Hampshire from the Spiders' schedule in 2023, but it doesn't get that easier.
Subscribe To FloFootball For All The CAA Football Action In 2023
Eleven CAA Football Players Recognized On AP FCS All-America Football Team
Richmond Vs. Michigan State Football, Trip To William & Mary On The Schedule
The Spiders travel to Big Ten country for their second game of the season to face the Spartans, who are trying to bounce back after a disappointing 5-7 season in 2022. Michigan State, coached by Mel Tucker, had gone 11-2 in 2021.
The last game of the season is, of course, against rival William & Mary.
Tribe coach Mike London won a national championship with Richmond in 2008 with Huesman as his defensive coordinator, and Huesman himself coached for the Tribe from 1984-1997 as an assistant. Last year, W&M won in Richmond 37-26 to clinch a share of the CAA Title.
Richmond hopes to payback the loss with a road win of its own in 2023.
Here's the complete Richmond football schedule:
Richmond Football Schedule 2023
Sept. 2: Morgan State, 6 p.m. ET
Sept. 9: at Michigan State, 3:30 p.m. ET
Sept. 16: Delaware State, 3:30 p.m. ET
Sept. 23: at Stony Brook, 3:30 p.m. ET
Sept. 30: Maine, 3:30 p.m. ET
Oct. 14: at Rhode Island, 1 p.m. ET
Oct. 21: at North Carolina A&T, 1 p.m. ET
Oct. 28: Campbell, 3:30 p.m. ET
Nov. 11: Elon, 2 p.m. ET
Nov. 18: at William & Mary, 1 p.m. ET
How To Watch Richmond Football In 2023?
All CAA football games will stream on FloFootball and the FloSports app this fall. Some non-conference games may not be available on FloSports.