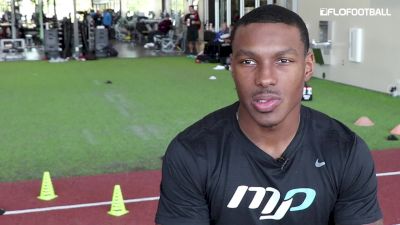 Mecole Hardman Explains Why Kickoffs Should Remain In The Game
Feb 17, 2019
In the days following its debut, the Alliance of American Football made headlines for, among other things, doing away with kickoffs.
Instead, AAF games simply begin with one offense starting from its own 25-yard line.
The move has garnered feedback from around the sport, with traditionalists—and special teams enthusiasts—less than pleased, while those intent on turning over every leaf in search of increased safety applauding the move.
Former Georgia wide receiver Mecole Hardman, who earned first team All-America honors as a kick returner, shared his thoughts on the removal of the play when we caught up with him at the Michael Johnson Performance Center, where he's training for the NFL Combine.
Hardman piled up 1,467 return yards during his three-year career with the Bulldogs and expects to contribute as a kick returner at the next level, as well.