2022 Stony Brook vs Monmouth
Monmouth's Jaden Shirden Made A Statement In A Season For The Ages
Monmouth's Jaden Shirden Made A Statement In A Season For The Ages
A student of the all-time greats growing up, Jaden Shirden delivered his own legendary performance in the 2022 season.
Nov 20, 2022
by Kyle Kensing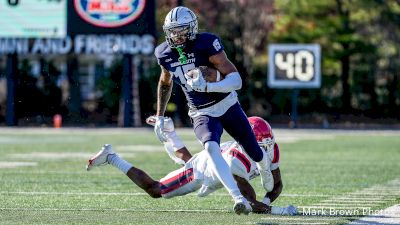 Barry Sanders, Marshall Faulk, Emmitt Smith, Tony Dorsett.
Some of football's greatest running backs have inspired generations, including Monmouth's Jaden Shirden. The West Haven, Connecticut, product's journey to winning the 2022 FCS national rushing title starts with watching film of this Hall of Fame quartet.
Well, their film and that of his dad, Duane Shirden, Jaden said.
A standout rusher himself, Duane Shirden played at Central Connecticut State before ankle issues ended his on-field career. He moved to the sidelines, coaching high school ball in Connecticut.
To that end, Jaden Shirden is the consummate Coach's Kid, starting with his childhood breakdown of film from the greats, to his present-day attitude as the breakout star of Monmouth's debut Colonial Athletic Association season.
"He's a great young man. A great guy to have on your team and be in your locker room," Hawks coach Kevin Callahan said, calling Shirden's "extremely dynamic," while adding, "But he's also extremely grounded. He's a guy [who] is focus is on going out and doing whatever he has to do to contributing to us winning the game that particular Saturday."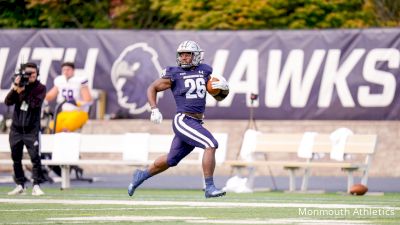 "And that's something that hasn't left him in spite of the success he's had [individually]," Callahan added. "He hasn't missed a practice yet since we came back Aug. 1. He's a guy [who]'s always going to work every day in practice, he's always going full-speed, and I think that's one of the reasons why he's so successful come Saturday."
Grinding it out in practice and grinding in the proverbial study hall: It may be a little cliche, but no less true than Shirden embodying the coach's son trope. And choosing to study the greats made Shirden one himself.
Just ask Delaware coach Ryan Carty, who said throwing on game tape in preparation for the Blue Hens facing the Hawks this season that Monmouth's No. 20 reminded him of "another No. 20...Barry Sanders."
A lofty comparison to be certain, but Shirden's 2022 earned any and all comparisons to past legends' production. With 155 yards in the season-finale win over Stony Brook, Shirden locked up the FCS rushing title — rather easily, in fact.
Shirden's 1,722 yards eclipsed Youngstown State's Jaleel McLaughlin by 134. The Monmouth standout could claim the rushing title for all of Div. I football this regular season, including among FBS ball-carriers playing an additional game: Illinois' Chase Brown needs 141 yards in the Fighting Illini's last contest to pass Shirden's total.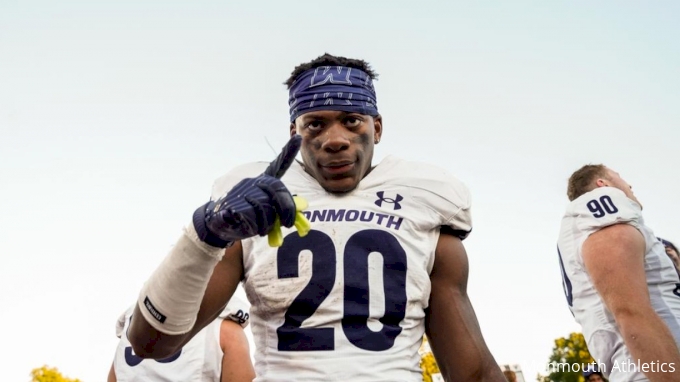 Shirden also closed the campaign with the nation's best yard-per-carry average at 8.36. That outpaced SEMO's Geno Hess for tops in FCS by 0.74 yards per carry; and while a handful of FBS rushers have higher YPC averages, none have carried even 90 times on the season. Shirden maintained his high per-carry output while settling in as Monmouth's every-down back.
"We believe that you have to run the ball to be effective," Callahan said. "We were fortunate to have a good running back in Jaden Shirden who has the ability to carry the ball 25 times, but he also has the ability to hit the home run and go the distance at any given time."
The assorted home-run carries filled out the highlight reel one can expect to see if Shirden is a finalist for the Walter Payton Award. A 95-yarder Week 2 against playoff-bound Fordham did not quite match the unbeatable Tony Dorsett milestone — Dorsett broke a famous, 99-yard touchdown run once on Monday Night Football — but it did set a fitting tone for Shirden's campaign.
.@MUHawksFB's first two drives:

▪️ 60-yard TD
▪️ 95-yard TD

Jaden Shirden takes it all the way to give Monmouth the lead!

📺 @SNYtv, @NBCSPhilly, @FloFootball
💻 https://t.co/wZhH1155bM pic.twitter.com/H19ue7agil

— CAA Football (@CAAFootball) September 10, 2022
His game-long carries for the rest of the season thereafter included 75 yards twice, 69 yards, 65, 47 and to close the season, 64.
The 64-yarder just 40 seconds in the Hawks' 24-21 win over Stony Brook was the electrifying, big-play back in full effect.
What are we supposed to say about this kid?!@shirden_20 is the best running back in the country.#FlyHawks pic.twitter.com/ZJN7PU3QfO

— Monmouth Football (@MUHawksFB) November 19, 2022
But Shirden got to show the other elements of the game he grew up studying as the contest wore on.
"I tried to get another [long touchdown rush], but I had to turn my game into a more physical type as the game went on," he said.
Carrying another 22 times demonstrated Shirden's importance to the Monmouth offense as a traditional feature back; the kind of ball-carrier who can pound out gains of 6, 7, 8 yards to consume clock and open the playbook on later downs.
That's the Emmitt Smith showing up in Shirden's film study.
"It goes back to when I was a kid, I always played like that," Shirden said of his balance this season "Whether I played how I usually play [breaking long runs] or bringing more physicality."
Emulating those greats of the past could result in Shirden's name being associated with another as a Walter Payton Award candidate.
Informally dubbed the Heisman of FCS, the Walter Payton Award has lived up to that billing in recent years, as both awards have belonged primarily to quarterbacks. The 2022 contenders figure to again be heavy on quarterbacks like Fordham's Tim DeMorat and Incarnate Word's Lindsey Scott Jr.
But with nine games rushing for at least 108 yards, 13 touchdowns and an easily secured rushing title, Shirden has a case for consideration even presented without context.
Add some background to his performance, and that case becomes all the more impressive.
"Defenses that had good stats, ranked [highly nationally], [against] teams that shut down FBS opponent's rushing game, I had more than 200 yards," Shirden said when asked about presenting his argument for the Payton Award.
Indeed, he produced well more than 100 yards against three different top 50 defenses, and his 202 yards against Delaware were 18 more than the Blue Hens allowed to Navy's triple-option offense as a whole.
In other words, Shirden delivered the kind of performances for Monmouth that a youngster generations from now could study for inspiration, not unlike the stars he studied as a kid.