2022 William & Mary vs Richmond
CAA Games Of The Week: Rivalries Come With Championship Stakes
CAA Games Of The Week: Rivalries Come With Championship Stakes
Longstanding rivalries need no extra motivation, but they get some in the CAA with playoff and championship stakes behind the Rivalry Week slate.
Nov 16, 2022
by Kyle Kensing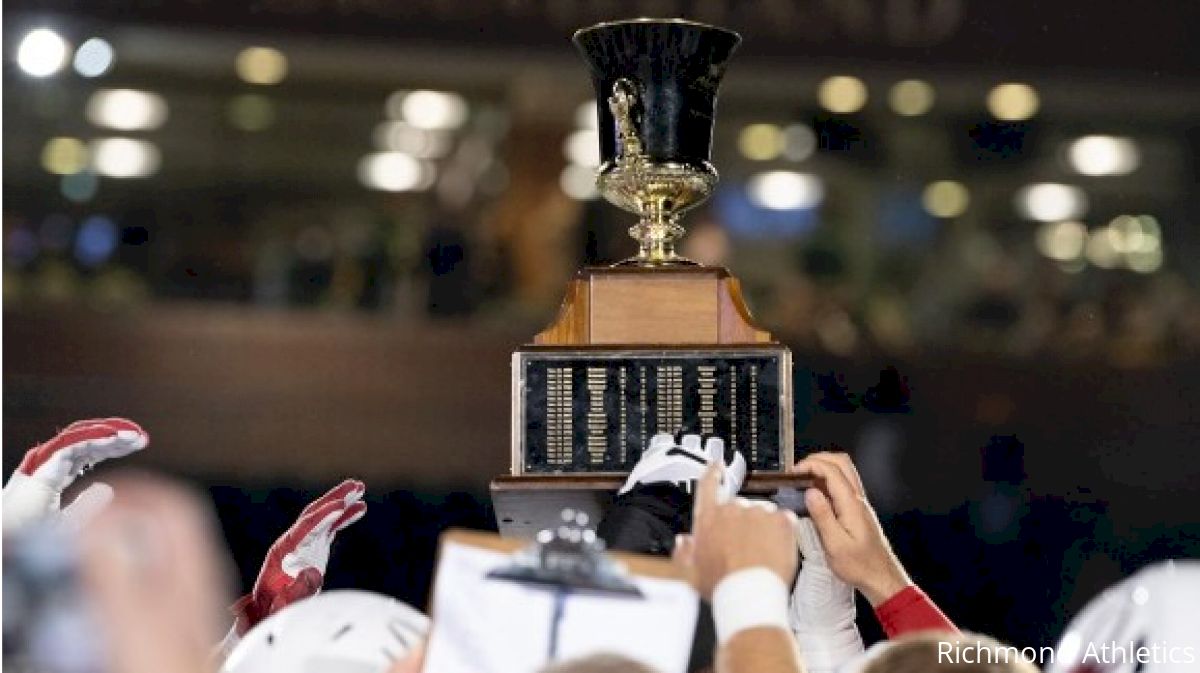 Rivalry Week ranks among the many qualities that make college football so unique in comparison to other sports. A season in which one, or even both sides of a rivalry otherwise struggle can create an enduring memory with a win in this most sacred of Saturdays.
But when Rivalry Week comes with championship implications? Well, that gives an already special occasion the potential to be truly historic.
The two oldest rivalries not just in the Colonial Athletic Association but in all of college football will determine the 2022 CAA championship, as each of New Hampshire, Richmond and William & Mary head into Week 12 tied atop the league.
One of the three is guaranteed to emerge from a Rivalry Week contest that dates back to the 19th Century with at least a share of the title, amplifying the stakes behind what are already dates of heightened importance.
William & Mary at Richmond
OK, so technically the Oldest Rivalry in the South isn't. But Dave Johnson's Tribe Scribe column nicely summarizes why the moniker isn't entirely inaccurate. The scores of matchups between the Spiders and Tribe fuel this series, which adds one of its most landmark installments in 124 years of games totaling 133 meetings.
The winner of Saturday's showdown at Robins Stadium is guaranteed no worse than a share of the CAA championship. Should Richmond beat William & Mary for a fifth time in the last six meetings, it's guaranteed the Colonial's automatic bid into the NCAA Playoffs.
That's a tall order, though, which Spiders coach Russ Huesman understands. Huesman said that in preparing for William & Mary, he saw "the most physical team" Richmond would play this season.
It may be easy to overlook given the razzle-dazzle and speed the Tribe display at the skill positions, boasting one of the most diverse offensive attacks in the nation. But William & Mary owes its 277 rushing yards and 33.7 points per game to a stout offensive line that dominates up front.
W&M has totaled at least 3⃣0⃣0⃣ rushing yards in four straight games with an average of 3⃣2⃣3⃣.5⃣ during the impressive stretch. #GoTribe pic.twitter.com/etuNq45kKZ

— William & Mary Tribe Football (@WMTribeFootball) November 14, 2022
Saturday's clash between the Tribe offensive line and Richmond's defensive front, a unit that embarked on the season with a bevy of questions that have been emphatically answered.
Marlem Louis returned from injury to dominate last week at Delaware, forcing a pair of fumbles and getting to Blue Hens quarterback Nolan Henderson for two sacks. Jeremiah Grant was also integral to the win, which effectively locked Richmond into its first playoff berth since 2016.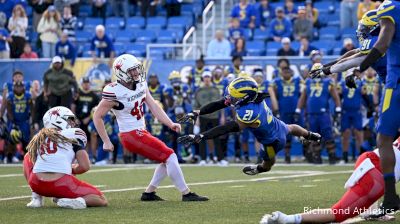 While Reece Udinski and the bevy of standout pass-catchers on the Richmond offense looking to solve an excellent William & Mary defense, featuring veteran standouts like Carl Fowler, Nate Lynn and Ryan Poole alongside young, dynamic game-changers John Pius and Jalen Jones, shouldn't be overlooked, the showdown up front is likely to determine this Capital Cup.
New Hampshire at Maine
Dating back to 1903, New Hampshire and Maine have squared off 111 times in the rivalry's history. Head coaches Rick Santos and Jordan Stevens are no strangers to the importance of hoisting the Brice-Cowell Musket, though Saturday marks the first time they will meet for the coveted prize as opposing head coaches of their alma maters.
UNH rolls into Orono on firm footing for the program's first playoff bid since Sean McDonnell's remarkable, 14-year streak of reaching the postseason concluded after the 2017 season. One more win, however, earns the Wildcats a share of their first CAA championship since 2014 and eliminates any likelihood of the playoff committee excluding them.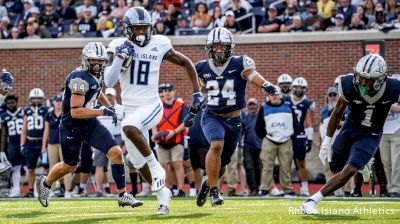 Circumstances are reminiscent of the last time Santos was head coach of UNH in the Battle for the Brice-Cowell Musket, albeit then in an interim capacity. However, the roles are reversed: Santos coached the Wildcats to a 28-10 upset of the Black Bears that denied Maine a bid to the Playoffs.
This year's Black Bears come in filling the role of potential spoilers. Maine comes in with a 2-8 record that belies how tough it's been in Stevens' debut season. In the Black Bears' current, four-game losing streak, the total margin is just 17 points following last week's 23-21 heartbreaker against UAlbany.
Since struggling in the season opener, Maine quarterback Joe Fagnano has been consistent. He's thrown at least one touchdown in every game and been a threat rushing, most recently reaching pay dirt to punctuate a 46-yard performance against UAlbany.
Over the weekend, Joe Fagnano became just the ninth player in program history to reach 5,000 passing yards in a career.#BlackBearNation | ⬆️ pic.twitter.com/IpmiqwuxAx

— Maine Football (@BlackBearsFB) October 31, 2022
Likewise, UNH's Max Brosmer has hit his stride over the course of the season. Brosmer has thrown at least two touchdown passes in each of the past three games, and totaled at least 217 passing yards in five straight.
Brosmer's dependability with 19 touchdowns against just five interceptions balances the effective rushing attack from Dylan Laube. The all-purpose difference-maker Laube needs 127 yards rushing to close the regular season with 1,000, a significant milestone and gaudy bullet-point to add to his All-American resume.
More important than individual accolades, however, is New Hampshire avoiding the upset receipt for 2019. A shared CAA championship is motivation enough, but in this case, doubles as the Wildcats' golden ticket into the playoff field.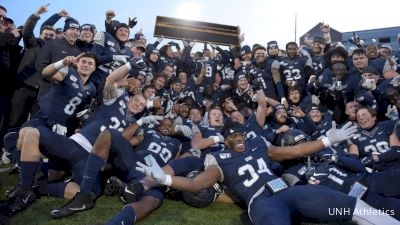 Delaware at Villanova
A late-season swoon dropped last season's CAA champion Villanova out of contention for the postseason, but the Wildcats can close their 2022 campaign denying their rivals a spot in the playoff.
Delaware can salvage its resume with a win at Villanova after dropping back-to-back decisions at Elon and last week's nail-biter to Richmond. A Blue Hens victory puts them at 8-3 with an FBS win and more than enough impressive performances to justify an at-large bid.
A third straight loss almost assuredly dooms Delaware, however, and the Battle of the Blue hasn't been kind to the Blue Hens for the past decade. Their spring 2021 win marked the Hens' only over Villanova since 2012, and last year's 21-13 final was the first decision of fewer than 21 points in the Wildcats' favor since 2015.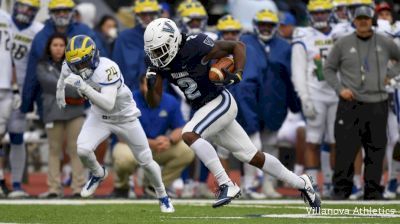 Two offenses that were among the CAA's most prolific for the season's first two months have sputtered down the stretch. Should Nolan Henderson or Connor Watkins recapture the efficiency of this season's early going, he'll lead his team to claim the Battle of the Blue Trophy.